"
One for the Road
" (2021) is a film directed by Nattawut Poonpiriya, a Thai director who previously had success with "Bad Genius" (2017).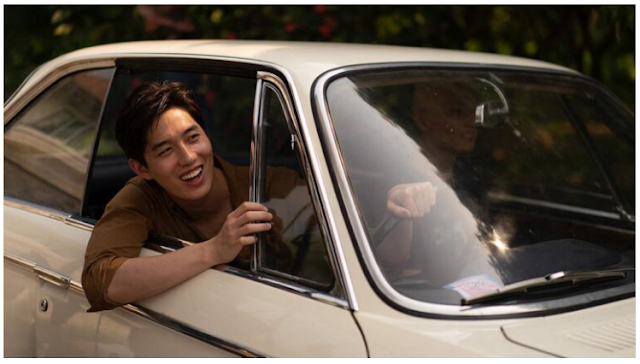 The film, which tells the story of the last journey of two friends, was written by Kai Nottapon Boonprakob, who also wrote the scripts for several Thai Box Office films such as "May Who" (2015) and "Suckseed" (2011).
This film is an international collaborative project between China, Hong Kong and Thailand, produced by Wong Kar-Wai. In "One for the Road" big names are not only present in the production line, this film also features big Thai actors such as Thanapob Leeratanakajorn, Ice Natara, Violette Wautier, Chutimon Chuengcharoensukying, and Ploi Horwang.
The first ride of "One for the Road" opens in New York City, where Boss (Thanapob Leeratanakajorn) runs a bar that is underperforming sales. A phone call from Aood (Ice Natara), his old friend, started the two friends' travel plans to visit various places in Thailand. Aood's final meeting mission with his ex-girlfriends is carried out to fulfill Aood's last wish before being defeated by a deadly cancer.
Apart from Boss and Aood's literal journey across several cities to return Aood's memorabilia with his exes, Alice (Ploi Horwang) a dancer who slipped away from Aood's life, Noona (Chutimon Chuengcharoensukying) the ex-girlfriend Aood had hurt, and Roong (Noon). Siraphun) someone who grew up well after parting ways with Aood. The film also tells of Aood's regrets as a bad son to his father.
In the second half, the film shifts the focus to Boss, how he lived his life before and after getting to know Aood. The Boss character develops into a central character who experiences many life problems in the film's flashback before his encounter with Aood. How Boss's relationship with his mother, his failed first love, and the peak of his past conflict with Aood are revealed only after the two make their last trip. This film flows with a great narrative that is full of sentimental feelings for the two main characters.
Following in the footsteps of Wong Kar-Wai's films, in the film "One for the Road" Poonpiriya puts elements of music in important moments in the film. In the moment of his first reunion with his ex-girlfriend Alice, Aood dances against the backdrop of "Tiny Dancer" Elton John.
In addition, music also embraces Aood's remorse as he sprinkles his father's ashes along the seaside road to the strains of "Father and Son" Cat Stevens. Memories of Aood and his father are also shown through a tape recording of his father's last radio broadcast with the songs Supertramp and Frank Sinatra.
Even though it seems manipulative, the transition of stories from Aood's ex-girlfriend is quite genius by being represented by changing side tapes for each different ex-girlfriend's memories. The selection of musical elements that blend with the narrative of this story adds to the sentimental impression of "One for the Road".
The film, which premiered on January 28, 2021 at the Sundance Film Festival and won the Special Jury Award for Creative Vision in the World Cinema Dramatic Competition, can now be watched on Netflix.
Source Article :
KAUM REBAHAN