The dry summer afternoons of Northern California have inspired the spray of the hose, colanders full of freshly harvested blackberries, and post-lunch respites under the shade of fully laden walnut trees. These are the days we spend together as families and companions, relishing the last minutes before the school entryways open. To honor the threshold between dirt and desks, I came up with a do-it-yourself back-to-school wardrobe project for the children who come to the "farm camps" I help host. It's an easy, and instantaneously successful T-shirt makeover that will mask all plum and watermelon juice stains that may have accumulated over the last few months.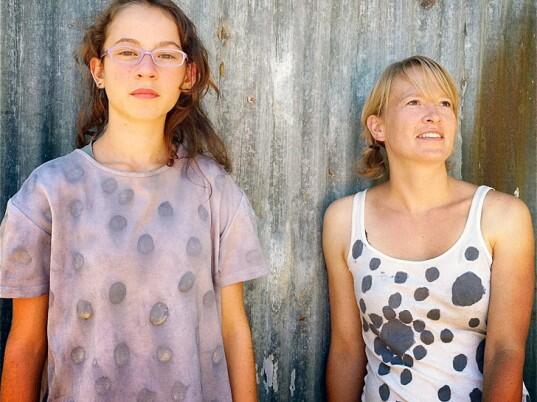 A PAGE FROM HISTORY



Direct from the recipe books of Leonardo da Vinci, this project is based upon a very old Renaissance ink concoction, traditionally made from iron shavings and oak galls. The natural dye world is filled with amazing reactions that occur between metal ions and plant pigments. Among the most fascinating is the reaction between iron and tannin, a compound found in wine, green tea, persimmons, oak galls, walnut husks, acorns, and a host of other plant species.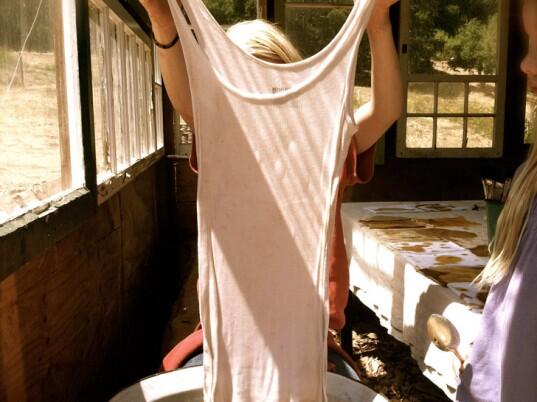 This project is based upon a very old Renaissance ink concoction, traditionally made from iron shavings and oak galls.



Depending on the variety of tannin used, myriad variations of purple, slate, and gray emerge from their alchemical collision. It's this chemical reaction that produced the dark shades of ink that Renaissance artists used to sketch scenes from the natural world with great clarity.




MAKING THE DYE


For this recipe, I created two variations with different sources of tannin: one from green tea and the other from a powdered oak gall. (I suggest experimenting with sources of tannin that you might find in your own neck of the woods.)




Husks, galls, and dried skins can be pulverized into a powder for use throughout the year.



Tannins are often infused into the part of the plant that is used to deter insects. The husk of walnut and macadamia nuts, the skins of pomegranate and grapes, and the material the oak trees use to encase the gall wasp, are all examples of natural materials that plants create as protection against external conditions.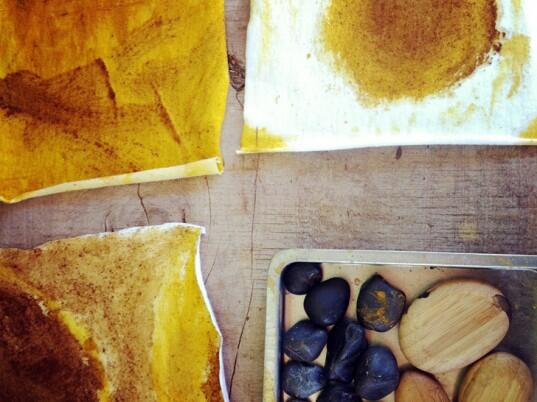 I enjoy harvesting oak galls as they drop to the ground here in Northern California in the late summer. To keep an available stock of oak gall tannin, I blend the galls in a high-speed blender and store the powder for later use throughout the year.


To create a quick dye concoction useful for a workshop environment, mix a small tablespoon of oak gall powder and a couple of teaspoons of iron powder with a gallon or two of steamy hot water. Your dye pot will yield hues ranging from lavender to very dark grayish-black, depending on the type of fiber you are dyeing. 


This dye pot is just a watered-down version of the original Renaissance ink recipes.
BEFORE YOU BEGIN: You can purchase both iron powder and organic gum (used to thicken natural dye substances) at art-supply stores that carry dyeing supplies, including Botanic Colors online.


You can also make your own "iron water" by tossing a handful of rusty objects into a ½-gallon jar of water. Add ¼ cup of white vinegar and place the jar in the sun for several days, mixing well before use. Because it's hard to determine the strength of your particular iron water, however, results will vary. For very accurate results, use iron powder.
 
T-SHIRT 1: BLACK ON WHITE

1. Soak your T-shirt in a warm bath of green tea (or other tannin water)
2. Let dry in the sun until it is completely free of any dampness
3. Place 1 teaspoon of iron powder (see rust water variation below) in ⅓ cup of water
4. Stir iron powder until dissolved
5. Stir in 2 teaspoons of organic printing gum to thicken your iron water if you'd like to create clear and strong images (such as the polka dots in the first picture). Otherwise using straight iron water is fine to create more "watercolor"-like images
6. Using your preferred size paintbrush, paint the iron mixture onto your shirt in any design you'd like. )You can also use stamps, stencils, or silk screens).
7. Let dry in the sun and let sit for several days before gently rinsing in cold water. Note: Iron can sometimes spread during rinsing creating a lighter shade of gray or lavender throughout the shirt.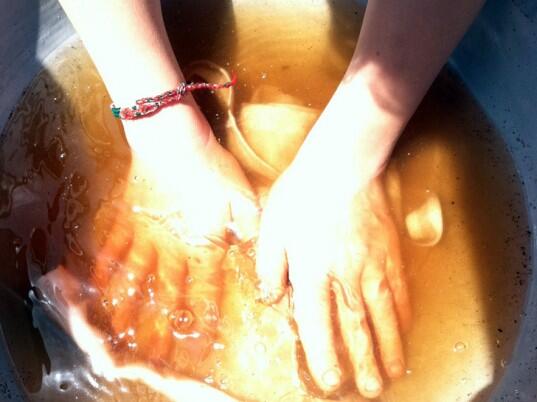 T-SHIRT 2: LAVENDER DOTS


1. Using the iron water mixture described above, paint your chosen design onto your T-shirt.
2. Let sit in the sun and dry fully.
3. Rinse your T-shirt in a tannin water made up of ½ gallon of water and 4 tablespoons of oak gall powder.
4. Gently move T-shirt in the tannin water for several minutes, then remove and rinse in cold water.
5. The T-shirt is done and ready for wearing once it is dry.


CARE AND MAINTENANCE: All T-shirts should be washed in cold and on their own the first few washings. I wash my iron T-shirts in the sink with a little dish soap.



You can do same operation to silky wedding outfit, it will also work great and colour will look so much charming.