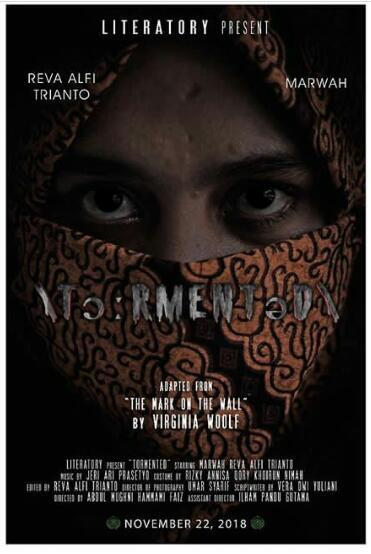 Director           : Abdul MH Faiz
Adapted from  : The Mark On The Wall By Virgina Woolf
-         Reva Alfi Trianti (Dianto)
-         Niti Nurmawati (Dianto's Mother)
-         Mrs. Lilik Untari (Diana's Mother) ect.
Genre              : Drama
     Set in one of village, the story begin when Dianto's mother give jarik to Diana and ask her to wear that jarik in wedding day. Jarik has an incomprehensible pattern as describing the role of women. In Tormented movie tells the role of women in the village, they are young married, do not work, and do not take proper education. 
Most of the movie is rather confusing, when Marwah as "Diana" all the day wear same Jarik, suddenly enter in the forest, and in other scene also. The artists and actors acting attractive, but sometime their acting unatural and it is not in accordance with  their respective role. The  backsound and music are rich and suitable for each scene. The important point is the position of shooting, unstable shooting because of that we as audience  do not enjoy the movie.




 Totally, it will be boring, you have to safe your time to do something which is important things than watch this movie

.