If you use Instagram as their main source of livelihood, you should be aware of the existence of the Instagram Analytic Tool to help you know how far the efforts to engage your followers on Instagram.
You would not know who and where your followers are from, and this will hinder your Instagram's growth if you have not used Instagram Analytic Tool.  Therefore, you should start choosing what Instagram Analytic Tool suits your needs.
Some Instagram Analytic Tools you may consider are; Analisa.io, Social Sprout, Iconosquare, Hootsuite, Hypeauditor. In this article will compare Analisa.io with Hypeauditor. To find out the performance of other Instagram Analytic Tools, you can visit the Analisa.io blog here.
1. Analisa.io
Analisa.io provides a full analysis of your Instagram profile. Not only that, Analisa.io also analyzes your Tiktok profile if you have one. Like other Instagram Analytic Tools, Analisa.io shows how much engagement is gained from your Instagram or Tiktok.
Starting at $ 69 per month, you will get unlimited Profiles & Hashtags that often appear on your profile. The data provided by Analisa.io will be useful for the advancement, whether you work for a brand, an advertising agency, even for you who aspires to become a Social Media Influencer.
On the website, you can scroll down to find out the report made by Analisa.io, so you will have an idea of how your profile will be analyzed. If you just want to try at first, you can analyze your Instagram profile for free, without the need to undergo a free trial for several days.
However, there are some weaknesses. At this moment, Analisa.io only analyzes 2 social media platforms. Analisa.io understands that by focusing on only 2 platforms, Analisa.io will provide comprehensive data, rather than collecting many platforms which it is feared will not provide concrete data.
2. Hypeauditor
Just like Analisa.io, Hypeauditor also analyzes your Instagram and Youtube profiles. Hypeauditor shows its 1000 Instagram profiles that were the most followed by users. This will be useful for potential customers to be enlightened how Hypeauditor works.
Also, Hypeauditor does not provide a free trial, and you can analyze your profile for free. Compared to Analisa.io, Hypeauditor only gives global rank, country rank, and category rank. While Analisa.io provides an average engagement that can be determined from a certain date interval, most used caption and hashtag.
Here is a comparison of the free package Analisa.io and Hypeauditor, analyzing one of the famous culinary influencers in Indonesia, Nex Carlos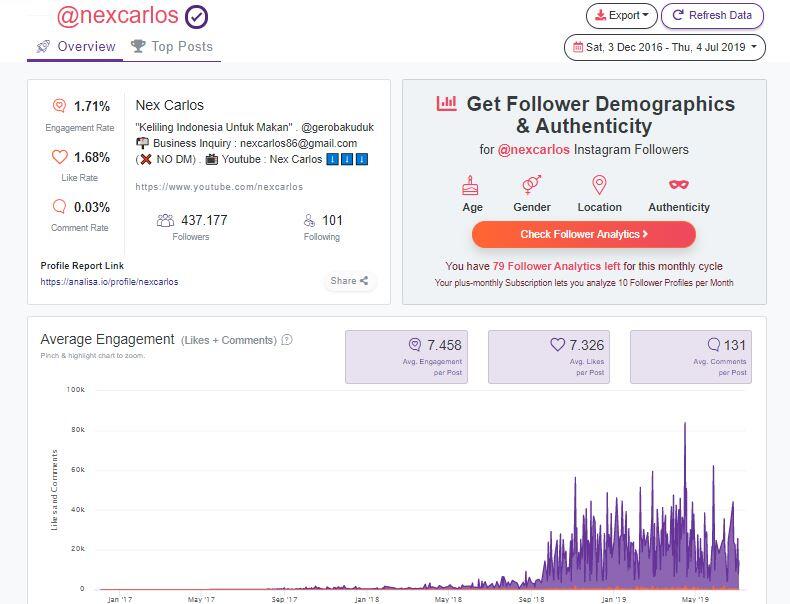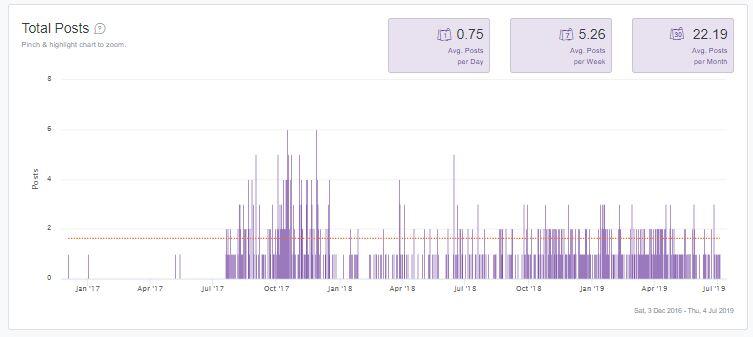 Pic 1: Free (Basic Package) of Analisa.io





Pic 2: Free package of Hypeauditor



In addition to that, Hypeauditor also charges each report separately. If you only need 1 report (for example: Followers' report engagements), you will be charged $30. To get the full report, you are charged $99 per month. This will be less efficient and much expensive. 

3. Conclusions
The Weaknesses of Analisa.io and Hypeauditor do not stop them for giving concrete numbers of engagements to your profile. Eventually, all will return to your preferences. If you have a Tiktok profile, you can use Analisa.io to analyze your performance on Tiktok. Meanwhile, if you are already focused on Youtube, you can use Hypeauditor.


The bottom line is you have to use one of these Analytic tools so you know who contributed to your engagement in each of your social media profiles.