LIVE:Bourke Street car explosion live: man shot after car bursts into flames on Bourke Street





6:07pm
One person killed by stabbing following car explosion

Police have said one person has died from stab wounds following the car explosion in Bourke Street.

Three people were stabbed, police said.

6:04pm
Witness says he could feel the hear from the car explosion
By Simone Fox Koob

Michael said he had been going to buy an iPhone cover when he heard a series of explosions "going bang bang bang" for a couple of minutes.

"The heat was so bad," he said.

"Bang, bang, everyone yelling bomb, so I ran to have a look and saw a car burning and a guy runs up the road covered in blood. A white guy, tubby, and he ran away.

"I looked back and there was a tall man fighting cops in the middle of the road. They dragged him down."

He said the man, covered in blood particularly around his head, tripped on the footpath as he was trying to get away.

"Some people came across and did CPR, I don't know who they were, they were bystanders.

"Another guy was sitting in the curb with his head in his hands."

He said the flames were metres in the air, reaching the trees above.

"It could have been me, if I was walking there a minute later..."


6:01pm
Witness: "It was pretty frightening"

3AW caller Sarah witnessed the car explosion on Bourke Street and has relayed her account of the incident to Tom Elliott.

5:58pm
Myer Christmas window opening cancelled.
By Daniella Miletic, Debbie Cuthbertson

City events are beginning to be cancelled including the opening of the Myer Christmas Windows that families were expecting to see unveiled at 6:30pm.

Andrew Lloyd Weber's School of Rock is also set to open tonight, with the Red Carpet from 6pm at Her Majestys Theatre.

The opening night is going ahead, a spokeswoman for the production said, after their security team spoke to police who have advised that the incident did not affect the area surrounding the theatre.

5:55pm
What we know so far
By Henrietta Cook

This is what we know so far about a violent incident on Bourke Street, which has brought Melbourne's CBD to a standstill.

The car exploded on Bourke Street, near the intersection with Swanston Street, about 4.20pm.
A man, believed to be the driver, stabbed two people and was then shot by police and survived.
Three people have been taken to hopsital, one with a suspected critical condition.
Trams along Swanston Street and Bourke Street are not running in either direction.
The central CBD is being evacuated and police are urging anyone who witnessed the incident to make a report at the Melbourne West Police Station at 313 Spencer Street.
Police will hold a media conference on the incident shortly.


5:49pm
Witnesses: man ran from burning car and tried to stab people
By Erin Pearson

Mass evacuations are underway in the central CBD and the alarm system is blaring out for people to leave the area.

Witnesses said they saw the man run from the burning car before attempting to stab people at random.

A man charges at police following a car explosion on Bourke Street.


5:44pm
Sheet covering body on Bourke Street
By Debbie Cuthbertson

Just after 5.20pm, a body was seen lying under a white sheet on Bourke Street, near the entrance to Russell Place.

There were a large pair of men's black lace-up shoes nearby. Only the soles of the person's feet were visible.

We do not know who this person is at this stage or their connection with the explosion.

5:41pm
Police to hold media conference at 5.45pm

Police will be holding a media conference about the car explosion on Bourke Street in about five minutes.

5:40pm
Centre of Melbourne CBD evacuated

The centre of Melbourne's CBD including Bourke Street Mall and the Myer and David Jones stalls have been evacuated.

There are anti-terror sirens going off in the city at the moment on loudspeakers.

This is the message being played: "This is Victoria Police, please evacuate the area. This is Victoria Police, please evacuate the area."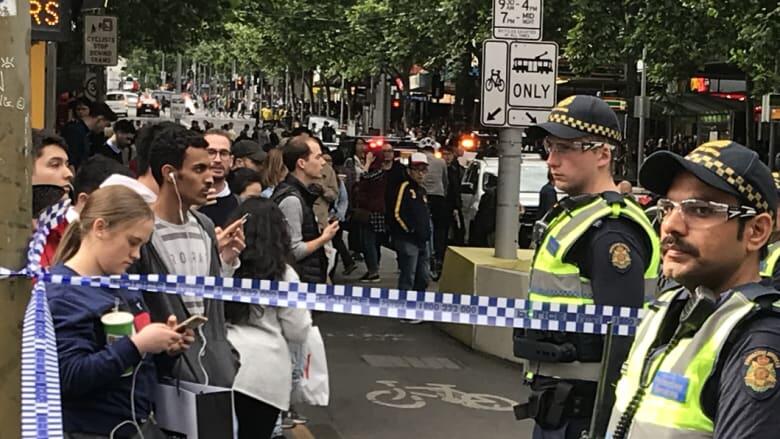 Police block off Bourke Street.

Police block off Bourke Street.Credit:Joe Armao
5:38pm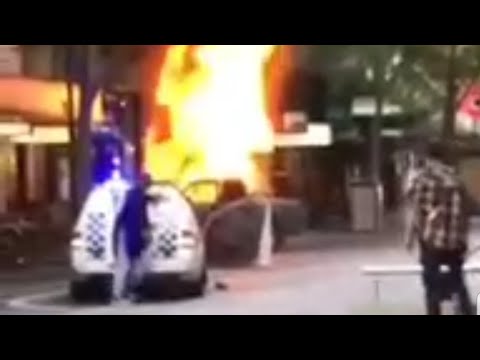 Twitter footage of the aftermath of the fire

This footage captures the moment the man charged at police following the car explosion outside the Target store on Bourke Street.

A bystander appears to try to stop the man by ramming him with a trolley but is knocked down.


5:32pm
Witnesses say they saw the man throw an item into the car before it exploded

Witnesses told The Age they were shopping in the area when they saw a man throw what they believed to be a bomb into a car before it exploded.

They had initially thought the man was running to catch a tram close by, before a nearby police car rushed to the scene. They said they heard screams and cries from the crowd before they were rushed from the area.

One witness, Sarah Krug said she was heading to the night noddle markets when "all hell broke loose".

Her immediate thought was "Oh no, not another Bourke Street incident," she said.

"I thought the car was coming for us," Ms Krug said.

"I didn't know what was happening there was just so much chaos and screaming."

5:30pm
Trams not running on Bourke Street or Swanston Street

Yarra Trams has advised trams are not running along Bourke Street or Swanston Street due to the car explosion.

5:28pm
Police urging public to avoid Bourke Street

Police are urging members of the public to avoid the intersection of Bourke Street and Swanston Street, near where a car caught fire and a man was shot in a confrontation with police.

They are reassuring the public they are not looking for anyone further at this stage in connection with the explosion.

Three people have been hospitalised.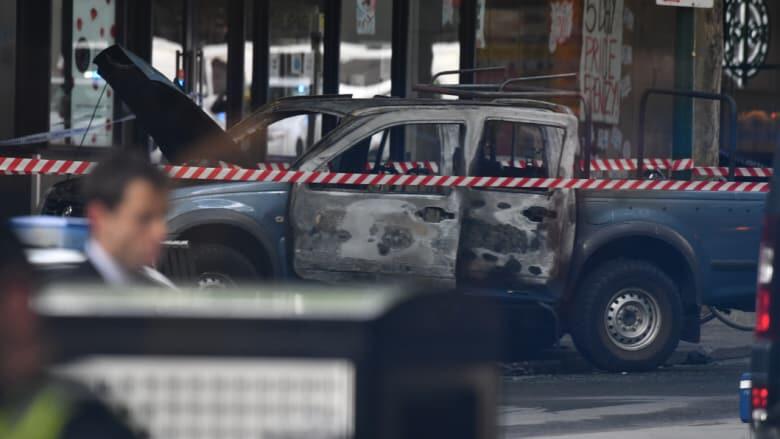 The burnt out vehicle in Bourke Street.


5:25pm
Statement from Ambulance Victoria

Ambulance Victoria has issued the following statement:

Paramedics have been called to an incident in Melbourne CBD.

Paramedics have assessed three people at the scene.

One person has been taken to hospital with a neck injury. They are in a suspected critical condition.

A second person has been taken to hospital with a head injury. Condition not yet known.

A third person has also been taken to hospital. Condition and injuries are not yet known.

Genders and age of patients are not yet known.

For further details talk to Victoria Police.

5:21pm
Witness: "I heard what sounded like a couple of gunshots"
By Simone Fox Koob

Frank Dicle was in his stall on the corner of Swanston and Bourke streets when he said he heard a "big bang" and saw a huge fire in the reflection of the shop opposite.

"I heard a massive explosion and looked through the window and there is this massive flame," he said.

"I heard what sounded like a couple of gunshots"

He didn't see the individual who started the blaze.

"There was just the flame, then the cops and ambulance."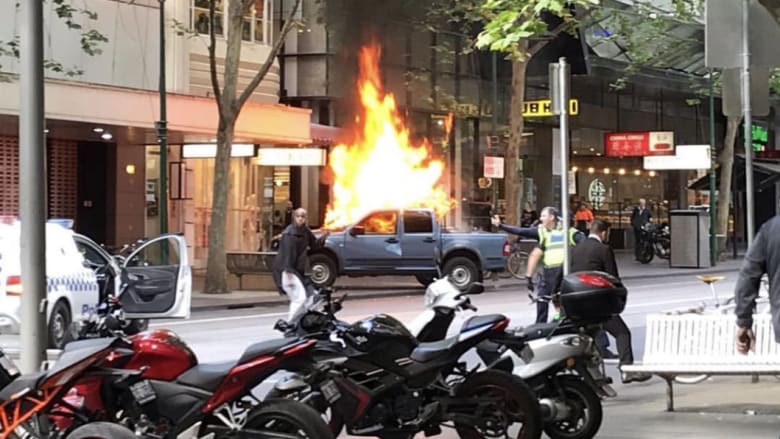 Police confront a man after a vehicle crashed and burst into flames on Bourke Street in the CBD.


5:19pm
Witnesses urged to make statement to police

Police have asked any witnesses of the car explosion on Bourke Street to go to Melbourne West Police Station on 313 Spencer Street to make a statement.

5:18pm
Do you know more about the incident?

If you were on Bourke Street and witnessed the car fire and the aftermath, please get in touch .



haiyaaa ciilaaka luuwa weelas waaa

Kek nyeee seru klo ade rame2 waaa!!!


RIP