Dead Rat in Hotpot News Sends China Restaurant Stock Sliding


A Chinese restaurant operator is in hot water after local media reported that a customer discovered a dead rat in a meal.

Shares of Xiabuxiabu Catering Management China Holdings Co. tumbled as much as 11 percent in Hong Kong on Tuesday, extending Monday's 6.1 percent decline. Authorities in Weifang city, in east China's Shandong province, are conducting food safety checks at one of Xiabuxiabu's restaurants there. Local website Weifang.sdnews.com reported after the market closed Friday that a customer found the rat in a hotpot meal on Sept. 6.

In a Sept. 8 statement on social media site Weibo, Xiabuxiabu said its own preliminary investigation ruled out the possibility the rat ended in the meal due to restaurant hygiene or operational reasons.

The statement has since been deleted.

==>ngaku jorok thoo!!!!

Authorities have ordered the restaurant to suspend operations, according to a statement on their official WeChat account, which also said the restaurant faces penalties, without elaborating.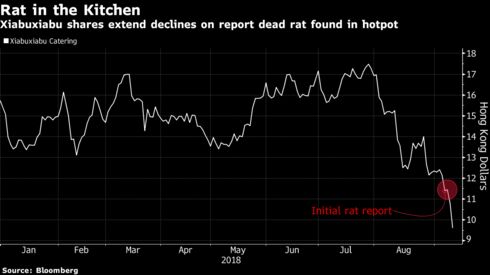 While there's never a good time to find a rat in your meal, this comes just as Xiabuxiabu becomes eligible for trading by mainland investors via the stock connect link between Shenzhen and Hong Kong. The Shenzhen Stock Exchange announced the changes on Monday.

Xiabuxiabu didn't immediately respond to a request for comment.

Hotpot is a popular meal in China, where diners add meat and vegetables to a soup simmering at their table. Yihai International Holding Ltd., which supplies flavorings to Xiabuxiabu's competitor Haidilao International Holding Ltd., rose 2.3 percent in Hong Kong. Haidilao is seeking to raise at least $10 billion via an initial public offering in the city.

haiyaaa ciilaaka luuuwa weelas waaa

Tikus aje diributin,itung2 ekstra protein gratis waaa