hai hai hai, kembali lagi di trit gua \

/ 

kali ini gua bikin trit RAGE 2, memang masih minim info krn baru ada 1 trailer gameplay yg singkat , tapi setidaknya yg sudah dipastikan tahun rilis gamenya yaitu 2019 di spring. nanti kalau ada update terbaru bakal gua update isi trit na.

about



storyline game ini kayaknya langsung lanjut dari setelah ending RAGE 1 (yg mana endingnya sucks krn singkat banget gamenya), di mana suku2 tribe makin kuat, dan aliansi melemah, teritori diklaim, so siapa yg kuat dia menang. di game ini bakal penuh ama ledakan n bejibun musuh serang kita, bakal kacau balau nantinya

kayaknya di game ini format mapnya open world (kayak mad max), mudah2an aja map nya jauh lebih gede dibanding mad max, krn dilihat dari trailer na map na gak cuma ada 1 tipe lingkungan, ada gurun pasir, ada juga hutan 

 so, kayaknya gak seboring RAGE 1 map na yg gersaaaaaaaaaaaang mulu.
di game ini juga kayaknya char na ada semacam skill, krn gua lihat dari trailer na , si char na ada keluarin skill gitu pas telapak tangan di depan musuhnya meledak, n ada skill buat ngelaunch kita ke udara n jadinya kayaknya bisa double jump gitu, mudah2an ada skill tree deh

gak cuma pertarungan melee atau senjata api, di game ini juga kayaknya bakal fokus juga bertempur pakai kendaraan kayak mad max / RAGE 1, mudah2an lebih chaos di RAGE 2 

harapan gua di game ini, mudah2an jauh lebih lama durasi gameplay na, bejibun senjata, good ending , optimalisasi bagus (krn pakai engine APEX buatan avalanche studio yg dipakai di mad max ama just cause 3).
nanti pas E3 bakal nongol vid gameplay baru kayaknya.
Quote:
RAGE 2 – Announce & Gameplay Trailer
Mankind is in peril. In the decades following an asteroid's devastation, most of the earth has become an unforgiving wildland where bloodthirsty factions vie for control of precious resources. Pockets of civilization have emerged to claim their space in the world, but the tentative peace they've established is being threatened. RAGE 2 follows Walker, the last Ranger of Vineland, as he fights to survive the chaos of the dystopian world into which he was born. With a wide array of weapons, vehicles and strange powers, Walker sets off to take down the tyrannical Authority. Get your first look at the insane action in the worldwide gameplay reveal trailer below and check out the live action teaser released on May 14 here. RAGE 2 will be launching on Xbox One, PlayStation 4 and PC in 2019.

The Open-World Shooterverse
It's the perfect mix: id Software's first-person shooter pedigree, Avalanche Studios' mastery of the open world sandbox, with a healthy dose of pedal-to-the-metal vehicle combat. From the swamplands and jungles where enemies lurk among the dense foliage, to the open deserts where a passing car is more likely to mow you down than offer you a ride, the world of RAGE 2 is not a gentle, nurturing place. The people who have survived in this landscape have had to learn to protect themselves and keep their heads on a swivel, especially with the reemergence of a familiar menace.

As if the gangs and mutants aren't enough, Walker also has to contend with the Authority, returning antagonists from the first game who threaten anything good remaining in the world. Led by General Cross, the Authority is on a renewed mission to hunt down the few remaining pureblood Arkists left in the world, and Cross is willing to slaughter everyone to achieve his goals. That's where Walker's wealth of unique guns and gear comes in – and he'll need every one of his powerful weapons to defend the wild wasteland he calls home.

Walker, Vineland Ranger
A Ranger's arsenal isn't limited to the abundance of upgradeable weapons and toys at their disposal. Fueled by Arkist blood, these elite fighters are the only people in the world who can harness special Nanotrite abilities. However, this blood has also made them a target for the Authority, and after years of fighting, Walker is the only Ranger still standing.

Among the arrows he can choose from his Nanotrite ability quiver are the power to crush enemies into paste from above in a devastating slam attack or send them flying away from him with a lethal energy push. Walker will also learn to channel these Nanotrites into his weapons, pushing them into an awe-inspiring Overdrive, a unique skill that lets him push his guns beyond their limits and unleash absolute hell on his foes. Chain these abilities together to make Walker a powerhouse of destruction, quickly refilling his Overdrive meter. While in Overdrive, Walker's guns do more damage, they gain new attributes, enemies drop better rewards and Walker's health starts to regenerate. When timed correctly, Overdrive is more than enough to tip the scales in a tricky fight.
Quote:
THE LAST RANGER
Bring the pain using a collection of upgradable weapons, devastating Nanotrite powers, and Overdrive, the ability to push your guns beyond their mechanical limits.

PEDAL TO THE METAL
From monster trucks to gyrocopters, use an assortment of rugged and wasteland-ready vehicles to speed across the badlands. If you see it, you can drive it.

FACTIONS & FOES
Fight against ferocious factions for control of the wasteland, each featuring a rogue's gallery of madmen, mutants, and monsters hungry for blood.

THE WASTELAND AWAITS
Seamlessly traverse a vast and varied landscape, from lush jungles and treacherous swamps to sun-scorched deserts in your pursuit of The Authority. The wasteland is massive, and you've got the arsenal to fight for every inch.
referensi
Code:
https://wccftech.com/rage-2-pre-order-bonus-avalanche-engine/



https://bethesda.net/en/article/3e2r0qB2zYGi6Y8eceGm8i/rage-2-announce-and-gameplay-trailer
so, segitu aja dulu, nanti gua update lagi trit na.
screenshot n vid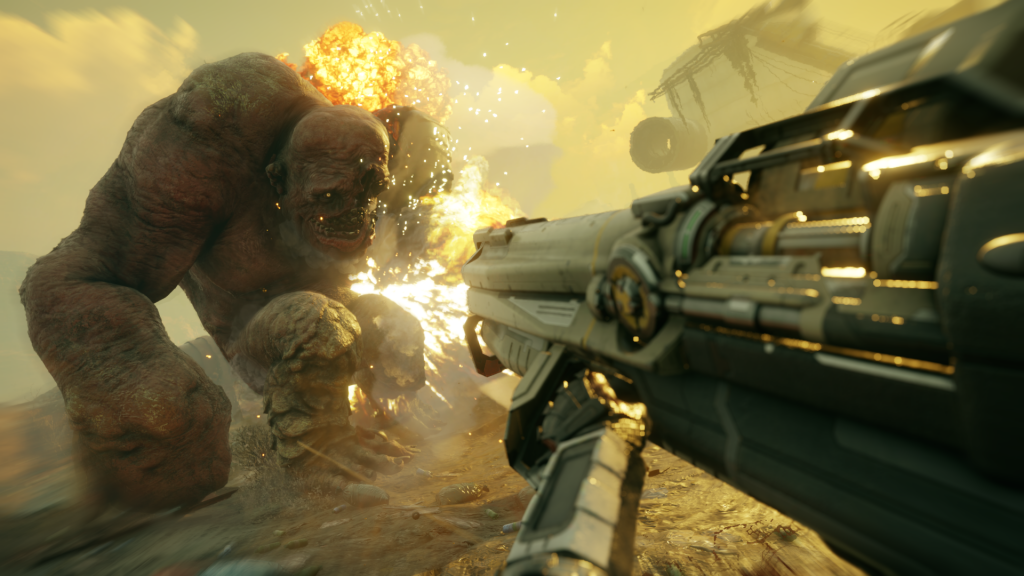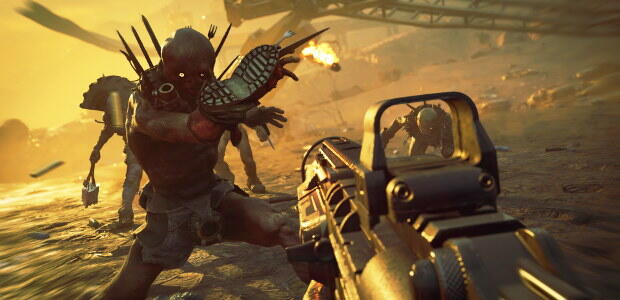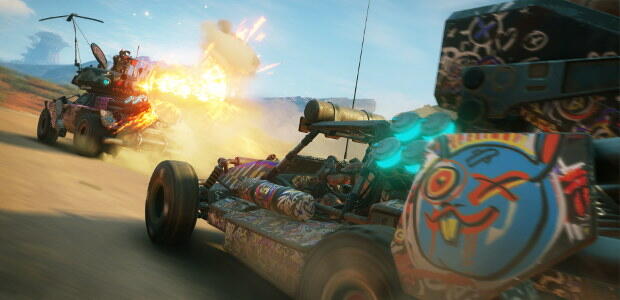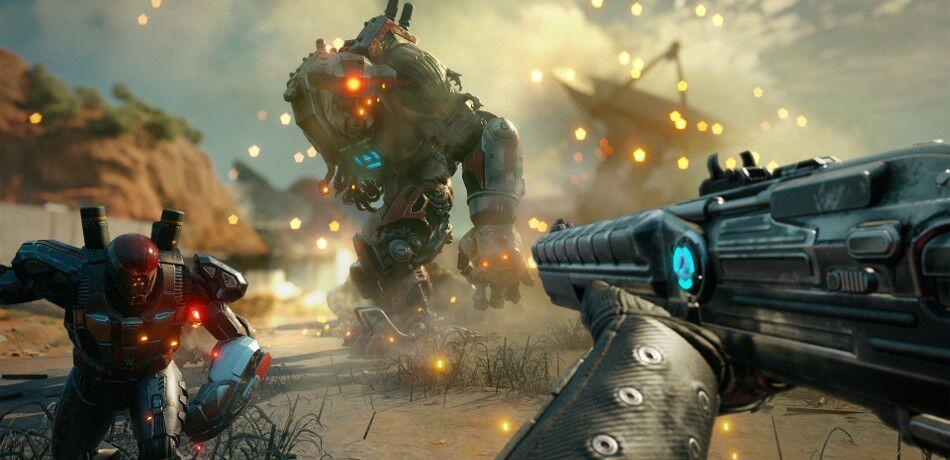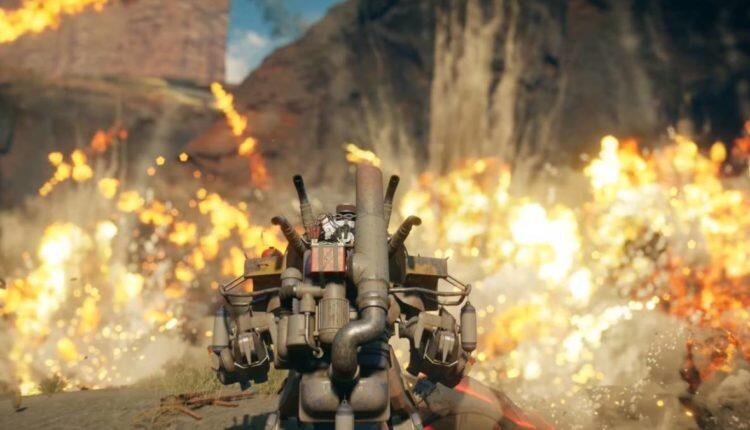 sys req

TBA

download

TBA

steam store page

TBA



-----------------------------------------------------------------------------------------------------------------------------------------------------------------------------------------------