Hisone to Masotan |

ひそねとまそたん




"I will fly the skies with you."
Shinji Higuchi

x

Mari Okada

x

BONES Original TV Anime Series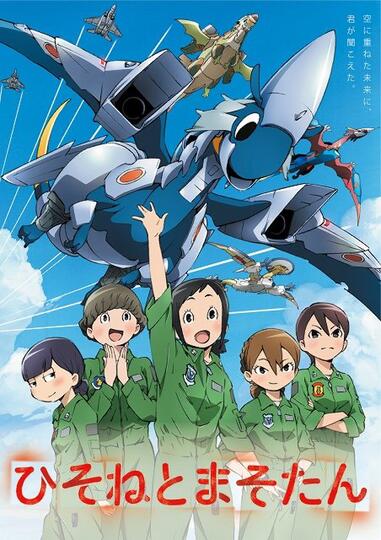 Story
Quote:
Straightforward and innocent Hisone Amakasu is a Self-Defense Force rookie stationed at the Air Self-Defense Force's Gifu Base. She was struggling with the fact that she sometimes hurts people unintentionally by her innocent words and decided to join the Air Self-Defence Force, hoping to maintain a certain distance from people. This decision led her to a fateful encounter which profoundly changed her life. It was the "OTF" dragon hidden in the base and it chose Hisone as his pilot. When it soared into the sky with Hisone, her fate as a dragon pilot was decided. It is said that dragons have a key to the future of the world…
Information
Quote:
Type: TV Series
Episodes: Unknown
Status: Not yet aired
Aired: April 12th, 2018
Producers: Warner Bros.
Licensors: None found, add some
Studios: BONES
Source: Original
Genres: Fantasy
Duration: Unknown
Rating: None

Staff
Quote:
Executive Director: Shinji Higuchi
Director: Hiroshi Kobayashi (Kiznaiver)
Series Composition: Mari Okada (Mobile Suit Gundam: Iron-Blooded Orphans)
Original Character Design: Toshinao Aoki (Kimi no Koe wo Todoketai)
Character Design: Yoshiyuki Itou (Space☆Dandy)
Mechanical Design: Shoji Kawamori (Macross)
Monster Concept Design: Shigeto Koyama (Tengen Toppa Gurren Lagann)
Concept Design: okama (Getsumen To Heiki Mina storyboard)
Military Supervisor: Keigo Koyanagi (Hanasaku Iroha setting)
Art Design: Akihito Hirasawa (Mahouka Koukou no Rettousei)
Art Director: Yuuji Kaneko (Little Witch Academia)
Color Design: Yuuko Kobari (Rolling☆Girls)
Director of Photography: Kouta Sasaki (Un-Go)
3DCG Director: Youta Andou (Noragami OVA)
Editing: Hiroshi Okuda (Tiger & Bunny)
Music: Taisei Iwasakii (Kekkai Sensen)
Sound Director: Haru Yamada (Hokuto no Ken: Ichigo Aji)
Sound Effect: Tooru Noguchi (Made in Abyss)
Studio: Bones

Cast
Quote:
Quote: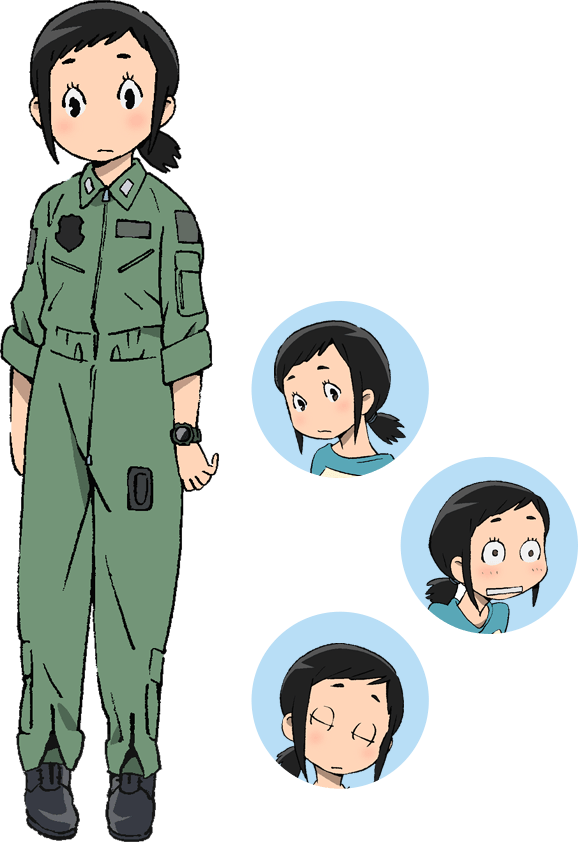 Hisone Amakasu CV:久野美咲 (Misaki Kuno)
Hisone is a rookie pilot at Gifu base of Japan Air Self-Defense Force (JASDF). She is a very honest person who can never lie, and this leads her to hurt people unconsciously. Early in her career she encountered a dragon, Masotan, and was swallowed by him. This is how he chose Hisone as his pilot. She gradually gets a thrill to fly with Masotan, and decides to live her life with the legendary dragon.
Quote: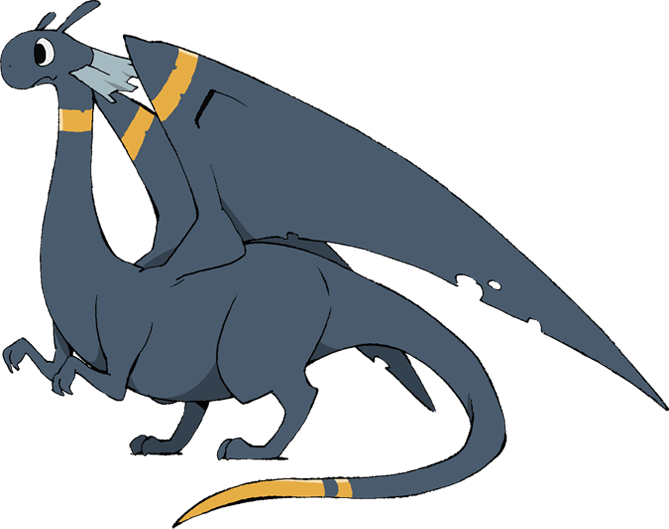 F-15J
F-15J
Nickname: Masotan
Disguise: F-15J Fighter aircraft
Affiliation: Gifu base
Pilot: Hisone Amakasu
Size: W 13.1m x L 19.4m x H 5.6m
Feature: Huge wings and long tale. Honest and serious, but having a fear of strangers.
Quote: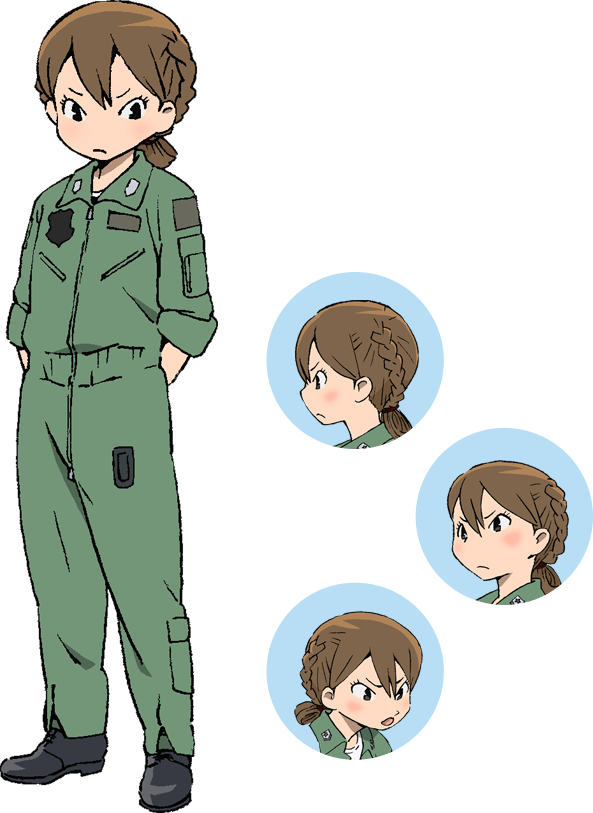 Nao Kaizaki CV:黒沢ともよ (Tomoyo Kurosawa)
Nao is a candidate for dragon pilot at Gifu base, who has a strong fighting instinct and always provoke a fight to anyone around. Her mother was also a dragon pilot. Although Nao was the prime candidate for dragon pilot until Hisone showed up, dragons didn't accept her. Being jealous of Hisone who was chosen by Masotan, Nao keeps teasing her. But she actually is such a hard worker.
Quote: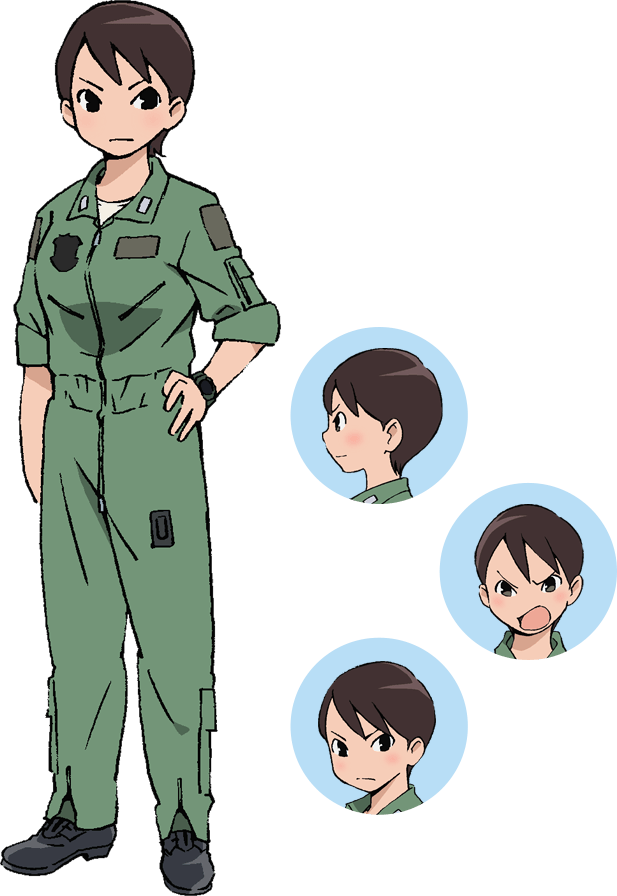 El Hoshino CV:河瀬茉希 (Maki Kawase)
El works at Tsuiki base in Fukuoka Prefecture as a dragon pilot. She is cool and dignified, very good at both academics and sports. El believes that she should be the ace among other pilots. But in fact her depth of understanding of OTF(dragons) is very low and her co-workers find it difficult to deal with her. She pilots a dragon disguising F-2A fighter aircraft.
Quote: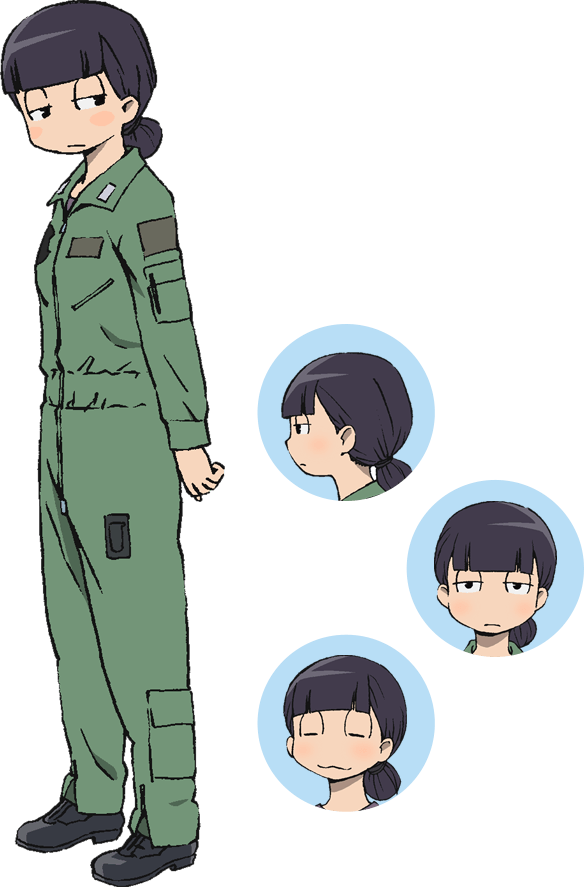 Liliko Kinutsugai CV:新井里美 (Satomi Arai)
Liliko is a cool and clever dragon pilot at Misawa base in Aomori Prefecture. She cannot help imagining worst-case scenario for everything, and always has negative thoughts. She fears catching others' eyes, always half crying and cannot live without handkerchiefs. Liliko is very competent and pilots a dragon which disguises E-2C, the Airborne Early Warning aircraft.
Quote: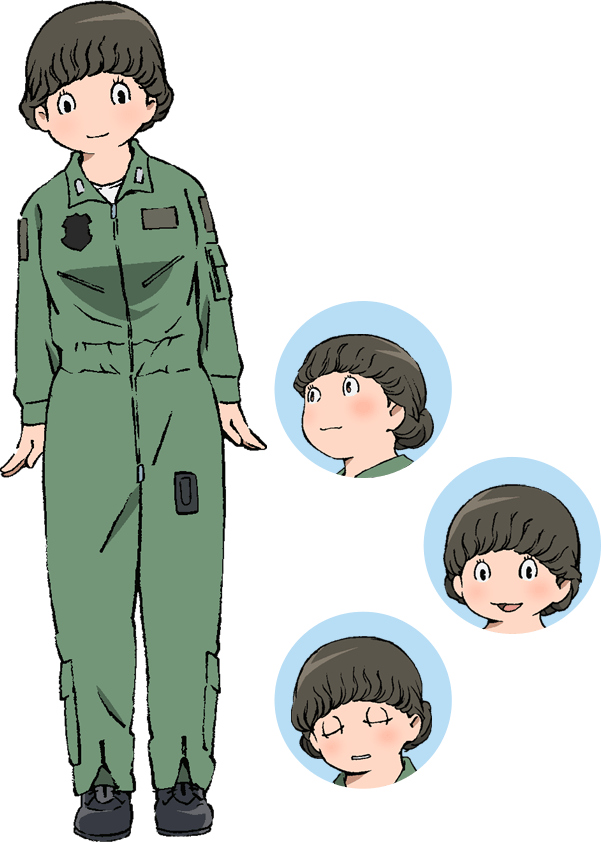 Mayumi Hitomi CV:名塚佳織 (Kaori Nazuka)
Mayumi works at Iruma base in Saitama Prefecture as a dragon pilot. She is big, slow, powerful and always smiling calmly. When she was working at a zoo, an employee of Iruma base witnessed that all savage animals were attached to her and scouted her for a dragon pilot. Mayumi understands dragons and tells their feeling to other pilots. She pilots a dragon which mimics C-1, the transport aircraft.
Quote: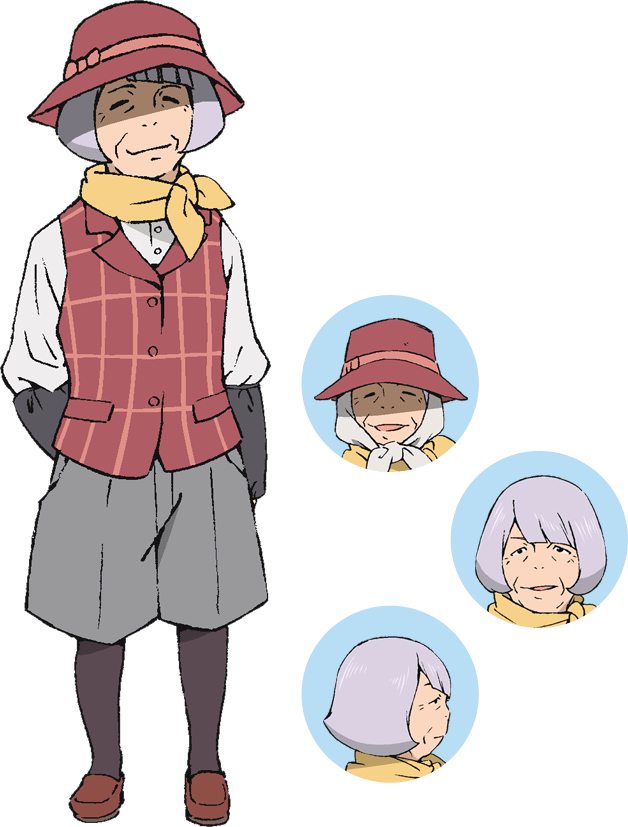 Sada Hinomoto CV:朴 璐美 (Romi Paku)
A mysterious old lady who comes in and out of the base to sell healthy drink. She always wandering around the base and gives Hisone significant advice. Although she seems to know very well about dragons, no one knows who she actually is.
Quote: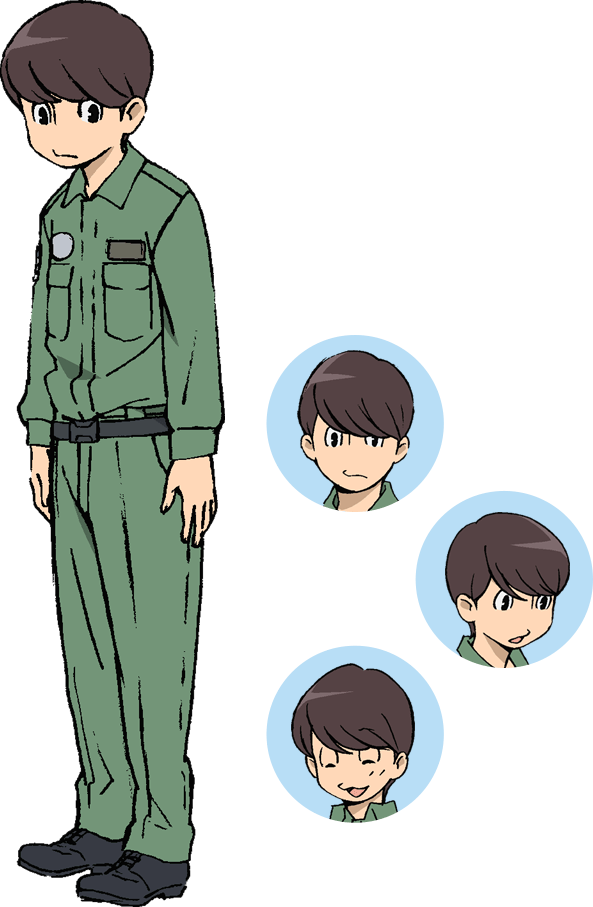 Haruto Okonogi CV:梶 裕貴 (Yuki Kaji)
Quote: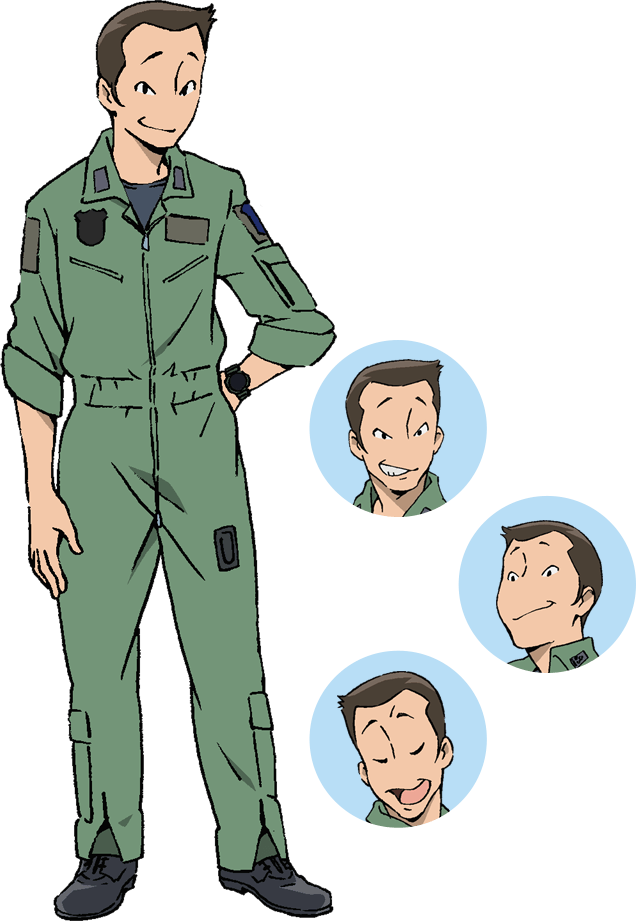 Yutaka Zaito CV:徳本恭敏 (Yukitoshi Tokumoto)
A fighter pilot at Gifu base. Yutaka is Hisone's supervisor and his directions during training are very exact. Despite his ability and broad experience, he looks like such a playboy. For Yutaka who tries to pick up all women regardless of age or looking, Hisone is the only woman who doesn't interest him.
Quote: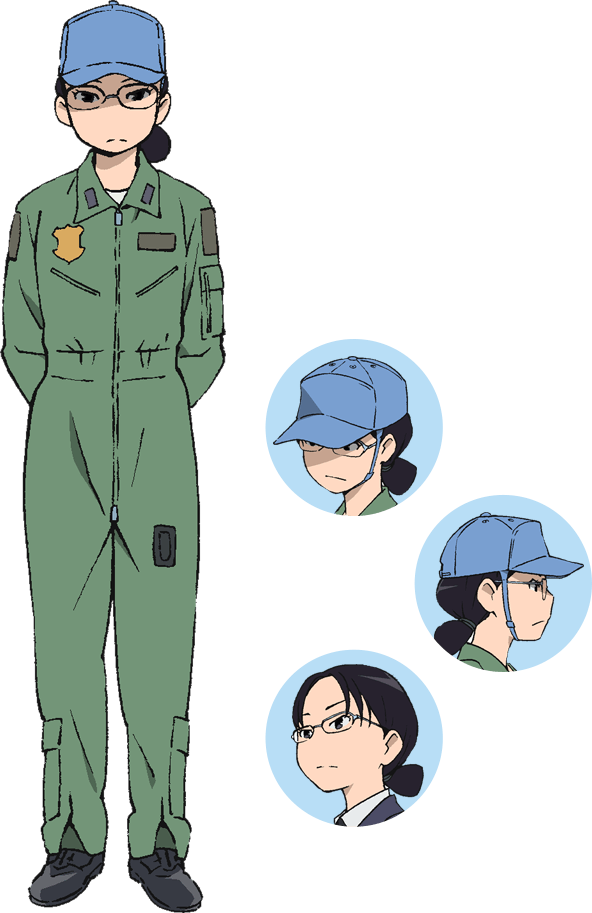 Remi Kakiyasu CV:釘宮理恵 (Rie Kugimiya)
Remi is a Lieutenant Colonel and a flight branch leader at Gifu Base. She has a cool beauty looking and strong mind, but in fact is easy to scare and cry. Though she is bad at getting along with dragons, pilots' safety is her priority #1.
Quote: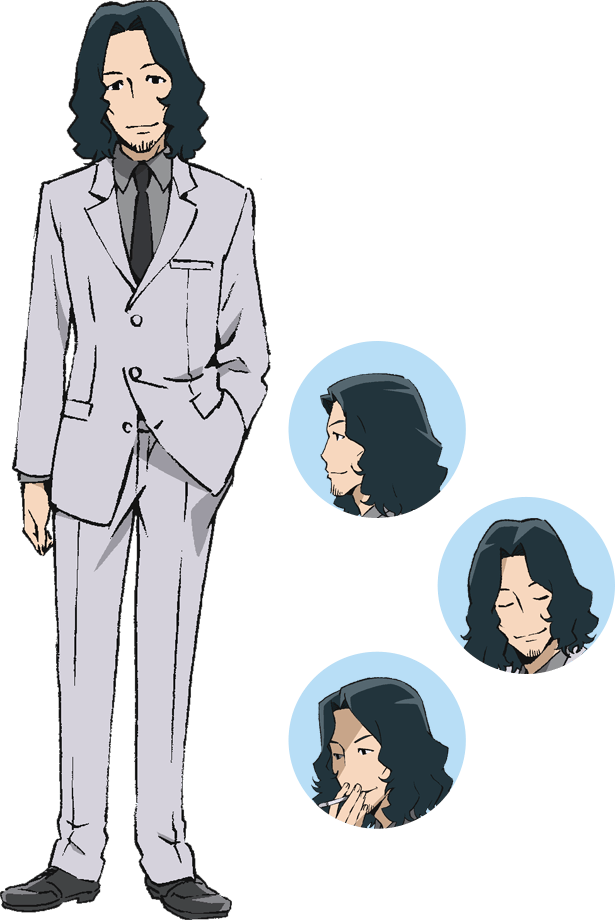 Hiroki Ikushima CV:諏訪部順一 (Junichi Suwabe)
Hiroki is an engineer who develops pilots' suits. Pilots need to wear those to get inside dragons. To obtain necessary information and data, he spends most of his time at the base. In spite that many women get a crush on him, his interest is only pilots' suits development.
Quote: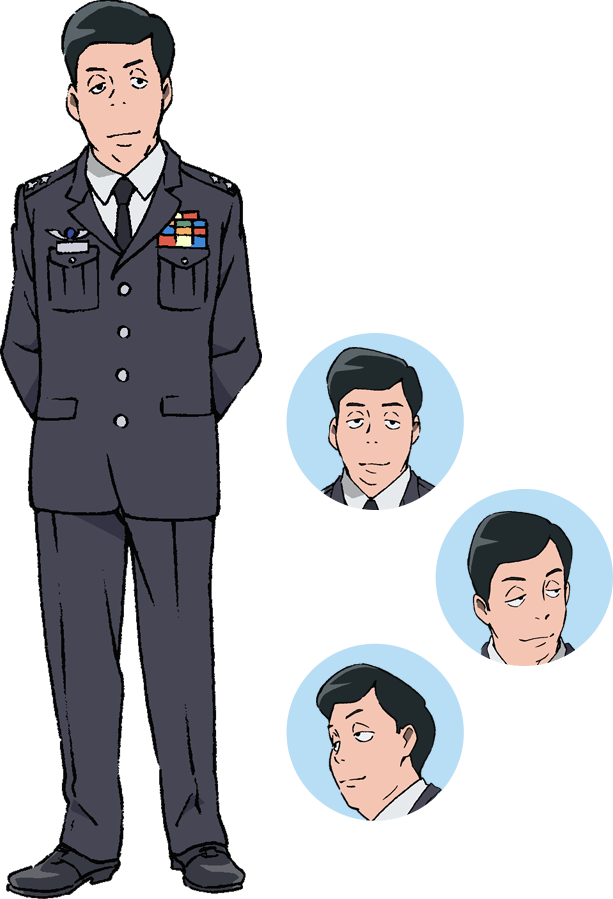 Hiroshi Sosoda CV:中田譲治 (Jouji Nakata)
Hiroshi is a commander of Air Development and Test Wing and Major General. In spite of his tough-looking, he actually is very easy going, and loves animals including dragons. He holds a national secret and value Hisone who was chosen by Masotan.
PV
Quote:
Official Website
Quote: