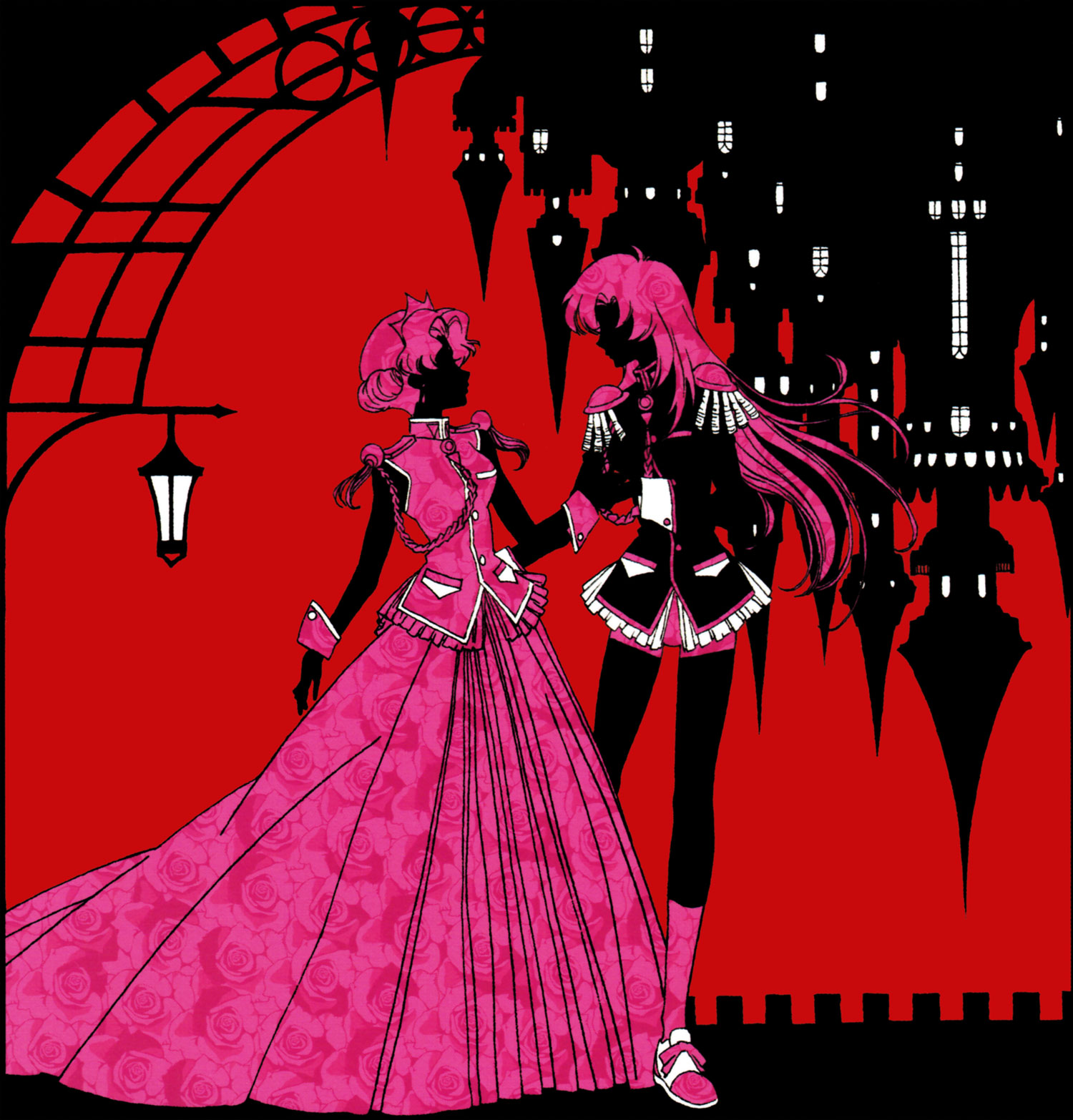 Quote:
Once upon a time in a faraway land, There was a little princess. This princess was very sad because her father and her mother had passed away. While she was in deep somber, a travelling prince appeared riding upon a white horse. He wore a regal dress, and had a kind smile.

The prince wrapped the princess in a rose-scented embrace, and gently wiped the tears from her eyes. "Little one...", he said, "...who bears alone in a deep sorrow, never lose that strength or nobility, even when you grow up. I give you this to remember this day. We will meet again. This ring will lead you to me, one day."

Perhaps the ring the prince gave was an engagement ring, this was all well and good for the princess. But the prince was impressed her so badly, that the princess vowed to become a prince herself one day.
But was that really a good idea?


Quote:
Synopsis
Utena lost her parents when she was six years old. While in despair, a mysterious boy with a scent of roses appeared and saved her life. The boy left her with a ring on which appeared a rose relief and the words, "If you keep your noble spirit, we"ll meet again". It"s been 7 years since then... Utena has grown up to be an honest girl, believing his word. She"s come to Otori Junior High School, led by the ring the boy gave her.

In a conference room with fashionable stained glass of roses and crests, the members of a student committee are sitting around a table. Everyone of them is an outstanding student at Otori High School, with high grade and attractive personalities. They wear a ring with the "Rose Crest" on their ring fingers. They receive a letter from a mysterious organization called "The Seekers of Armageddon". This letter states, "If you desire the power to revolutionize the world, the Power of Dios, you must defeat all challengers and be a sole protector of Anthy Himemiya, the "Rose Bride". Although all the members are friends, once they decide to accept this letter, they are also competitors --- Thus, the story of The Duelists begins. In the growing tension and hostility among the duelists, the mystery and intrigue of "The Seekers of Armageddon" will be revealed.
Quote:
Background
Childhood idealism, illusions, ambition, adulthood, sexuality, abuse, incest and identity are all prominent themes which are explored in what is essentially a highly metaphorical and symbolic coming-of-age story. Loss of innocence, both sexual and otherwise, is treated as a life changing event. Fairy tale archetypes such as the noble prince and the damsel in distress, as well as standard tropes of the shoujo and magical girl genre are incorporated, subverted, inverted, averted and deconstructed.

Shoujo Kakumei Utena won the Best TV Animation Award at Animation Kobe in 1997.
Quote:
Information
Type: TV
Episodes: 39
Status: Finished Airing
Aired: Apr 2, 1997 to Dec 24, 1997
Producers: TV Tokyo, Audio Tanaka
Studios: J.C.Staff
Source: Original
Genres: Mystery, Psychological, Drama, Fantasy, Shoujo
Duration: 23 min. per ep.
Quote:
Staff
Director: Kunihiko Ikuhara
Character Design: Shinya Hasegawa, Chiho Saito
Producer: Yuichiro Oguro
Series Composition: Kunihiko Ikuhara, Yuichiro Oguro, Yoji Enokido
Original creator: BE-PAPAS
Quote:
Character
Spoiler

for

Utena Tenjou

:
Utena Tenjou (VA: Tomoko Kawakami)

A beautiful 14 year old female, a junior at Otori Junior High School. Born on Dec. 29 as a Capricorn. Blood type, B. 5"3" tall. Weight - 100 pounds. Her hobbies are sports, wearing male attire, and collecting tea cups with rose relieves. She is a spirited girl with a strong sense of justice. When she was 6, she lost her parents and was in shock. Shortly after, a mysterious boy appeared and gave her a ring with the "Crest of the Rose". Possession of this ring qualifies its holder as a member of "The Duelist." She"s been longing to see this boy again and she comes to Otori High School looking for clues about him.
Spoiler

for

Anthy Himemiya

:
Anthy Himemiya (VA: Yuriko Fuchizaki)

A 14 year old junior at Otori Junior High School. Born on February 29 as a Pisces. Blood type, AB. 5"1" tall. Weighs 90 pounds. She is introverted in many ways and doesn"t have any friends. Her identity is a mystery. All the "Duelists" call her, "Rose Bride" and are destined to fight for her possession.
Touga Kiryu (VA: Takehito Koyasu)

A 17 year old High School junior. He"s the president of the student committee at the School. He"s one of the "Duelists" who fights to possess "Rose Bride." He"s cool and smart and a good-looking playboy with a dangerous aura. His behavior and its purpose are often mysterious. He is intrigued by Utena and her dueling skills.
Spoiler

for

Juri Arisugawa

:
Juri Arisugawa (VA: Kotono Mitsuishi)

A 16 year old High School junior. She"s a member of the student committee and also the captain of the fencing club. Her graceful carriage, dignified speech and action, and disciplined lifestyle make her a "heroine" to the female students at the school. She"s one of the "Duelists" despite of her sex, and she"s trying to possess "Rose Bride."
Miki Kaoru (VA: Aya Hisakawa)

A 13 year old Junior High School freshman. A member of the committee and also a "Duelist." He"s a genius which enables him to take college classes as a freshman at junior High School. His piano and fencing skills are also ranked as one of the best in the country. He"s popular among the females in upper-grader. Mickey falls in love Anthy as he is struck by "a spark" when he sees her. He"s a quiet boy because of his good upbringing and gentle nature. The power of the "Crest of the Rose" forces him to fight a duel with Utena.
Spoiler

for

Kyoichi Saionji

:
Kyoichi Saionji (VA: Takeshi Kusao)

A High School junior. The vice president of the student committee and the captain of the Kendo club. He"s a "Duelist" and also the rival of Tommy. He"s so ambitious and he will do anything to get what he wants. He"s a self- confident person, has high pride, and loses his temper easily. He used to be the "Owner" of Anthy, but was defeated by Utena and lost the "Rose Bride." He is still in love with Anthy, not as a "Duelist," but as a person.
Spoiler

for

Nanami Kiryu

:
Nanami Kiryu (VA: Yuri Shiratori)

A 13 year old Junior High School freshman. Touga"s younger sister. Although she has a "Crest of the Rose," she"s not a "Duelist" at her will. Since she adores her brother, she antagonizes Anthy and Utena, who are Touga"s interests. She"s always accompanied with her followers who take care of her in her personal "dirty work."
Quote:
Trailer/PV/CM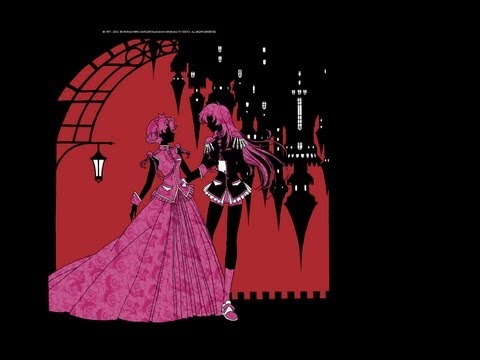 Quote: