before you read this love letter, notice that this is what i felt inside towards her.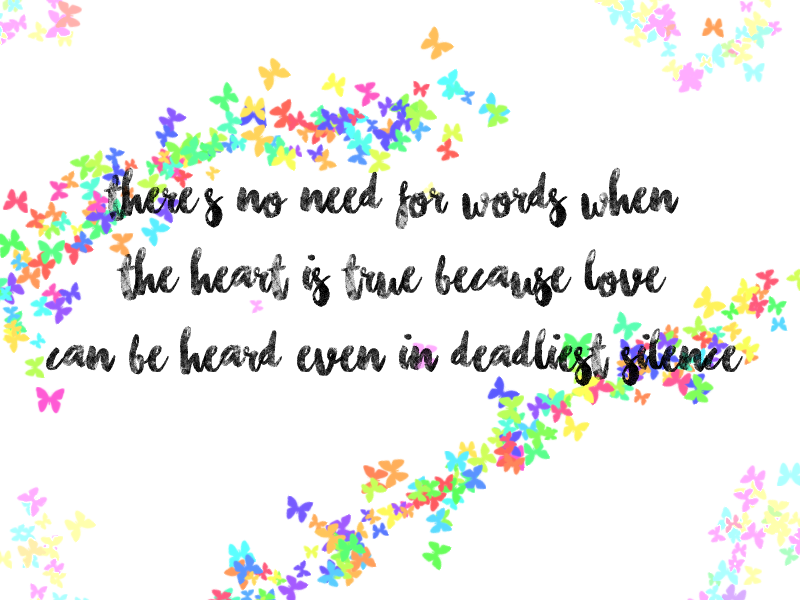 you, yes you.
you made me like this. you made me love you.
how come i never noticed you when i can? how did you do this to me?
i was just laying in my bed when suddenly, yeah, you popped in my head.
i don't know why, i don't know how. it felt strange though, but i'm happy at the same time.
i thought it was just a temporary-kinda feeling. as time goes by, i realized it wasn't just temporary.
i see something in you. something that just attracts me to you.
i want to know you better. i want to know you more. there i am, texted you.
honestly, that text was just for congratulate you for your birthday.
turned out, we never stopped! day and night we talked. even though i didn't see you in person, i'm glad.
every morning, i would just think about you. then i realized that i already know you better than yesterday.
every night, i would just think about you. then i realized that i will know you better tomorrow.
i felt like i'm closer to you. i don't know how you feel towards me. but i know for sure, that i love you.
i think about you everyday since i texted you first that day.
it's been two weeks now. i feel something different. is it me? is it you? is it us?
took me some time what's really going on. then i thought about the most depressed condition, you don't want me anymore.
i'm afraid that i annoyed you. i'm afraid you meet someone new that you left me here alone.
after all my depressing thoughts about you, i know for sure that you wouldn't just do that just to diss me.
because i know that you're kind, you're just too kind to do that. i'm trying to understand you, but i just can't.
i don't know how to reverse it.
i will always wait for you. i will always be there when you need me. every time you think that things just to rough for you, you could always depend on me.
i don't know if i some day, i would love you the way i am now but in silence, when it just me that notice it or i would confessed to you and taking all the risk.
hope our relationship last till we're together not as a friend, but more.
i love you. as i always do.
thankyou for your attention!