Love Live! Sunshine!!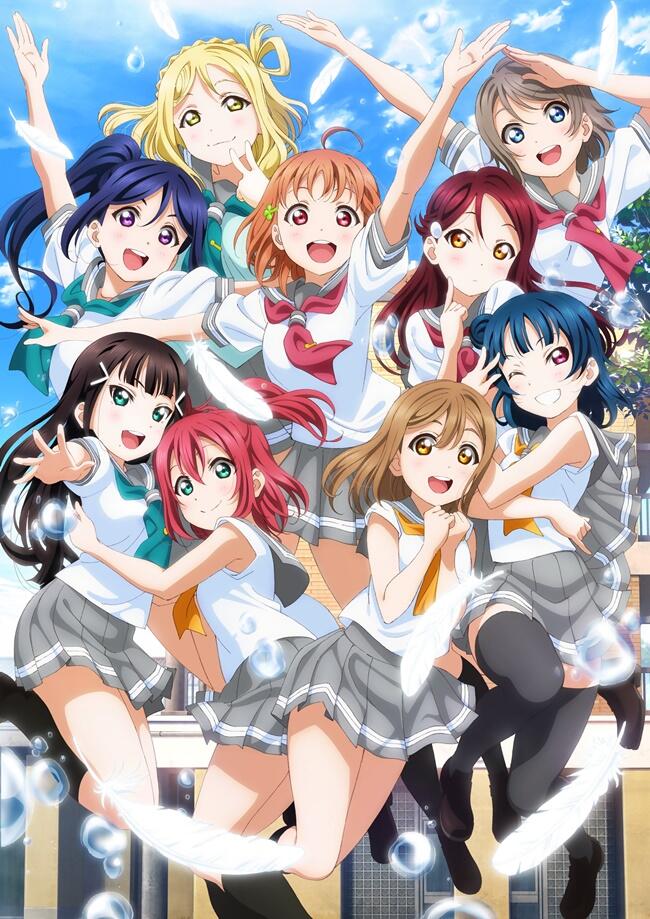 Quote:
The Love Live! Sunshine!! project was first announced in February 2015. The project's three key phrases are "Reader Participation," "Inspired by µ's," and "Seaside Town Setting." The group's name Aqours was chosen by fans by popular vote.
Quote:
Quote:
Uranohoshi Girls' High School, a private school in the seaside neighborhood of Uchiura at Numazu city, Shizuoka prefecture.
A small high school in a corner of Suruga Bay, it is home to nine teens, led by second-year student Chika Takami, driven by one seriously big dream: To become the next generation of bright, sparkling "school idols"!
As long as we don't give up, any dream can come true... All we have to do now is keep pushing hard for fame and glory!
Now their "School Idol Project" begins to make their dreams come true!
Quote:
Quote:
Type: TV
Episodes: 13
Status: Finished Airing
Aired: Jul 2, 2016 to Sep 24, 2016
Studios: Sunrise
Producers: Bandai Visual, Lantis, ASCII Media Works, Bushiroad
Genres: Music, School, Slice of Life
Duration: 24 mins/eps
Rating: PG-13
Quote:
Quote:
Director: Sakai Kazuo
Character Design: Murota Yuuhei
Music: Katou Tatsuya
Color Design: Yokoyama Sayoko
Sound Director: Nagasaki Yukio
Original Creator: Yatate Hajime & Kimino Sakurako
Art Director: Higashi Junichi
Editing: Imai Daisuke
Director of Photography: Sugiyama Hiroki
Quote:
Quote:
Spoiler

for

Takami Chika

: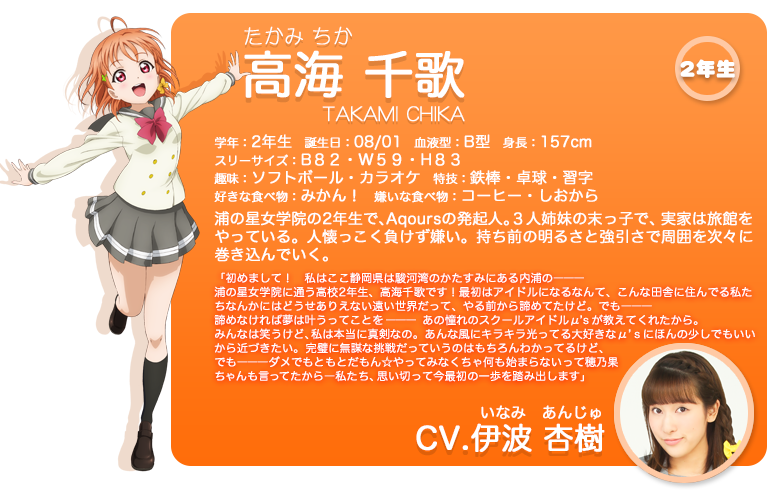 VA: Inami Anju
Year: 2
Birth date: August 1
Blood type: B
Height: 157 cm
BWH: 82-59-83
Hobbies: Softball, karaoke
Skills: Horizontal bars, table tennis, calligraphy
Food likes: Oranges
Food dislikes: Coffee, shiokara
Chika Takami is the second-year student at Uranohoshi Girls' High School who launched Aqours. The youngest of three sisters, she comes from a ryokan-owning family and is proud of their open-air, ocean-view bath. Sociable and rarely gives in easily. Her positive, can-do attitude gradually begins to affect everyone around her.
Spoiler

for

Sakurauchi Riko

: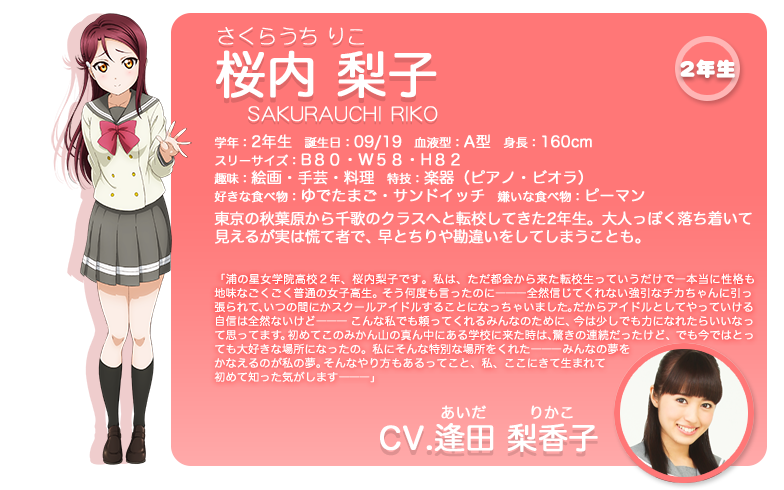 VA: Aida Rikako
Year: 2
Birthday: September 19
Blood type: A
Height: 160 cm
BWH: 80-58-82
Hobbies: drawing, handicraft, cooking skills
Skills: music (piano, viola)
Food likes: hard-boiled eggs, sandwiches
Food dislikes: bell peppers
A second-year student who joined Chika's class after moving from Akihabara, Tokyo. Reserved, modest, and likes indoor activities. She may look calm and mature, but she often flies into a panic, jumping to conclusions and making mistakes.
Spoiler

for

Matsuraa Kanan

: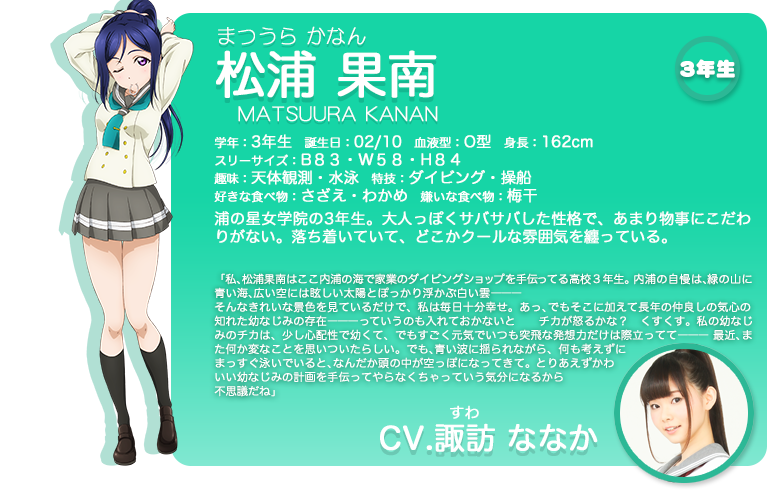 VA: Suwa Nanaka
Age: 17
Birthday: February 10
Blood type: O
Height: 162 cm
BWH: 83-58-84
Hobbies: astronomy, swimming
Skills: diving, ship handling
Food likes: sazae (sea snail), wakame (edible seaweed)
Food dislikes: umeboshi (pickled plums)
Kanan Matsuura is a third-year student living alone with her grandfather, who runs a diving shop on a nearby island. Breezily mature, she rarely sweats the details and usually maintains a calm, cool demeanor.
Spoiler

for

Kurosawa Dia

: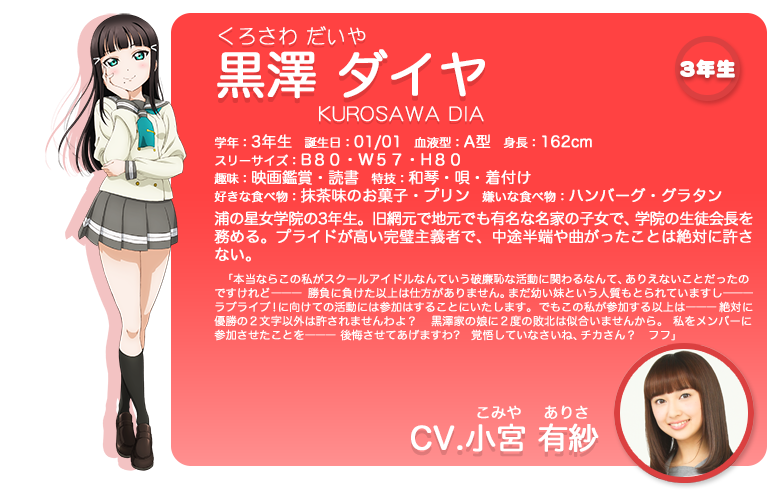 VA: Komiya Arisa
Year: 3
Birthday: January 1
Blood type: A
Height: 162cm
BWH: 80-57-80
Hobbies: Watching films, reading
Skills: Koto harp, singing Japanese songs, dressing up in kimono
Food likes: Green tea-flavoured sweets, flan
Food dislikes: Salisbury steak, gratin
A third year student who leads the school council. From an old fishing family whose name is well known around the area. Prideful and perfectionistic in her own way, she can't abide it when things are done sloppily or incorrectly.
Spoiler

for

Watanabe You

: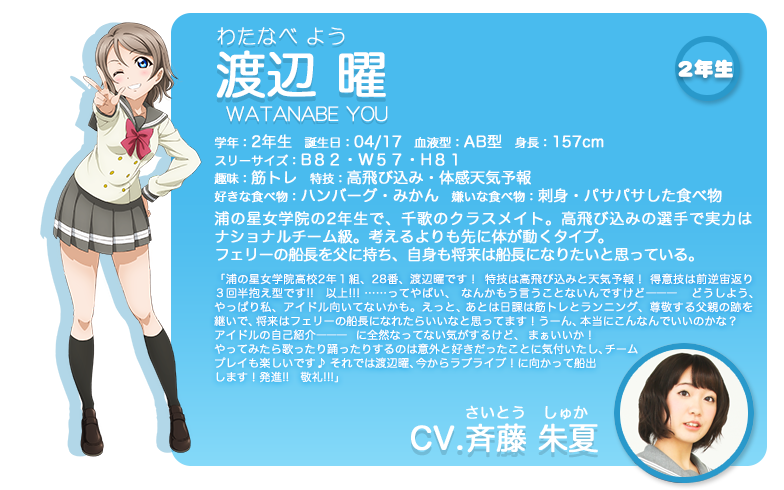 VA: Saitou Shuka
Year: 2
Birthday: April 17
Blood type: AB
Height: 157 cm
BWH: 82-57-81
Hobbies: weight training
Skills: high dive, intuitively forecasting the weather
Food likes: salisbury steak, oranges
Food dislikes: sashimi, anything too dry
A second-year classmate of Chika's. Good enough at the high dive to qualify for the national team. Weight training is her hobby, and she tends to take action without thinking matters over first. Her father captains a ferry, and she'd like to have his job someday.
Spoiler

for

Tsushima Yoshiko

: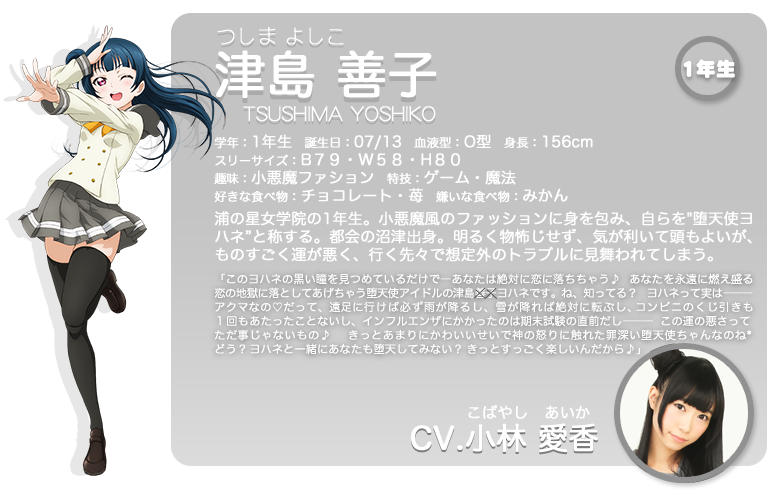 VA: Kobayashi Aika
Year: 1
Birthday: July 13
Blood type: O
Height: 156 cm
BWH: 79-58-80
Hobbies: "Little devil" -style fashion
Skills: Video games, magic
Food likes: Chocolate, strawberries
Food dislikes: Oranges
A first-year student who likes the "little devil" look and proclaims herself to be "Yohane, the fallen angel." Born in the urban side of Numazu city, she's bright, self assured, smart and thoughtful. She's also cursed with extreme bad luck, running into all kinds of unforeseen trouble wherever she goes.
Spoiler

for

Kunikida Hanamaru

:
VA: Takatsuki Kanako
Year: 1
Birthday: March 4
Blood type: O
Height: 152 cm
BWH: 83:57:83
Hobbies: reading
Skills: solo singing (member of choir)
Food likes: oranges, anko (sweet bean paste)
Food dislikes: milk, noodles
A first year student, the daughter of a family who's run a nearby temple for generations. A fan of reading, she has a deep fondness for Japanese literature. She's also a gifted singer, earning her a spot in the choir. Gentle and caring to those around her, but often finds herself going in circles anyway.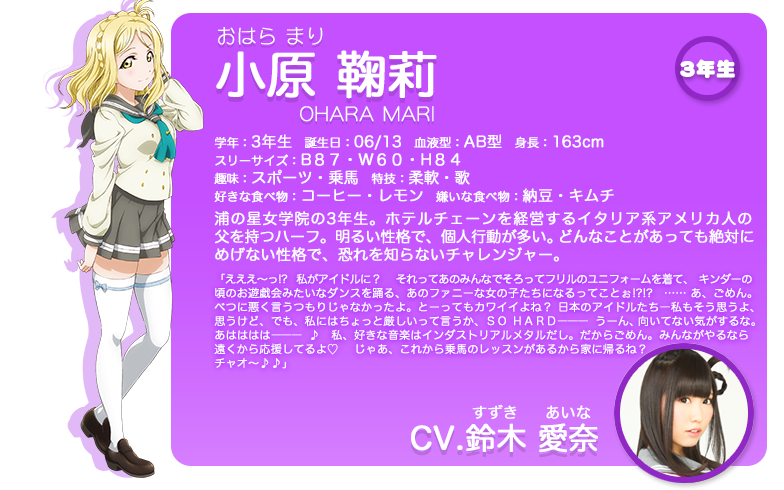 VA: Suzuki Aina
ear: 3
Birthday: June 13
Blood type: AB
Height: 163 cm
BWH: 87-60-84
Hobbies: Sports, horseback riding
Skills: Flexibility, singing
Food likes: Coffee, lemons
Food dislikes: Natto, kimchi
Mari Ohara is one of the nine main characters of Love Live! Sunshine!!. She is 17 years old and a third year in Uranohoshi Girls' High School. She was born on June 13. Her image color is purple.
Mari is of mixed descent. Her father is an American who runs a hotel-chain in Italy, while her mother is Japanese.
She does not feel she is very suited to become an idol. She has a bright personality and often prefers to take action by herself.
Her hobbies are sports and horse-riding, her talent is in her flexibility and singing. Her favorite genre of music is industrial metal. She appears to be the composer for Aqours.
Spoiler

for

Kurosawa Ruby

: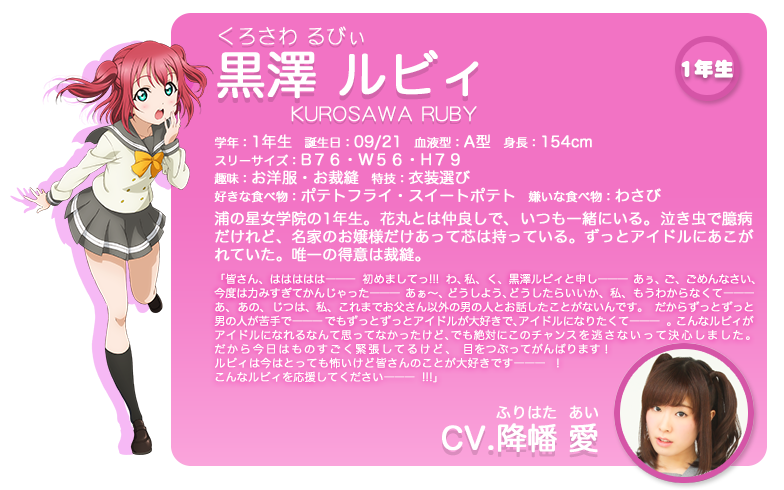 VA: Furihata Ai
Year: 1
Birthday: September 21
Blood type: A
Height: 154 cm
BWH: 76-56-79
Hobbies: clothing, needlework
Skills: selecting dresses
Food likes: French fries, sweet potatoes
Food dislikes: Wasabi
A first-year student who's almost always nearby her good friend Hanamaru. Fearful and tends to cry a lot, but still has a tough interior, forged by her role as a girl in a rich, well known family. Always looked up to pop idols. Needlework is the only thing she's really great at.
Quote:
Quote: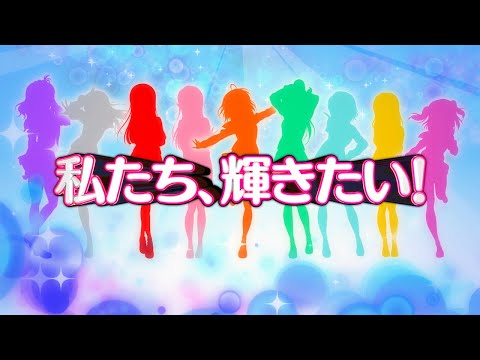 Quote:
Quote:
Thread ini adalah lanjutan dari thread sebelumnya: http://kask.us/gVYqL, Yang di-reborn karena TS lamanya sudah tidak aktif lagi. Silahkan gunakan thread ini untuk berdiskusi tentang Love Live! School Idol Project maupun Love Live! Sunshine!!