Love Live! Nijigasaki School Idol Club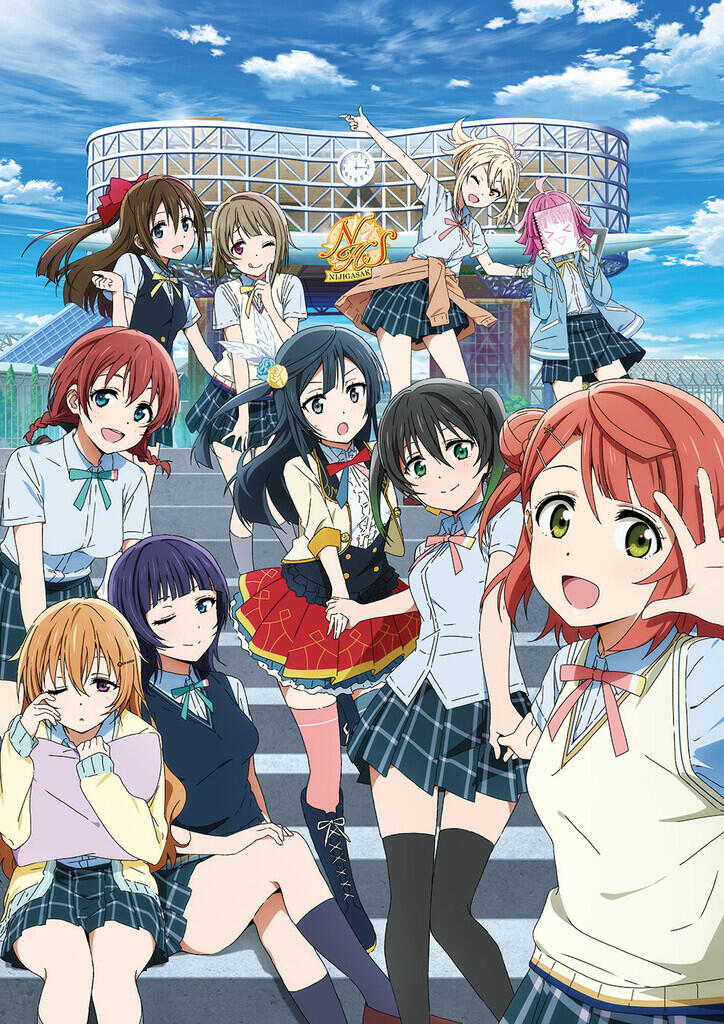 Quote:
Nijigasaki High School Idol Club, often abbreviated as Nijigaku, is the collective name of school idols from Nijigasaki High School. They were originally created as a new set of girls — joining µ's and Aqours — exclusive for the mobile game Love Live! School Idol Festival ALL STARS.
Quote:
Quote:
Nijigasaki High School is located in Odaiba, Tokyo. The school is popular due to its free school style and diverse majors. The story centers on the members of school idol club in Nijigasaki, and their attempt to prevent the club from being abolished.
Quote:
Quote:
Type: TV
Episodes: 13
Status: Finished
Aired: Oct 3, 2020 to Dec 27, 2020
Studios: Sunrise
Producers: Bandai Visual, Lantis, ASCII Media Works, Bushiroad
Genres: Music, School, Slice of Life
Duration: 24 mins/eps
Rating: PG-13
Quote:
Quote:
- Director: Kawamura Tomoyuki
- Original Creator: Kimino Sakurako
- Series Composition: Tanaka Jin
- Original Creator: Yatate Hajime
- Character Design: Yokota Takumi
Quote:
Quote:
Spoiler

for

Uehara Ayumu

: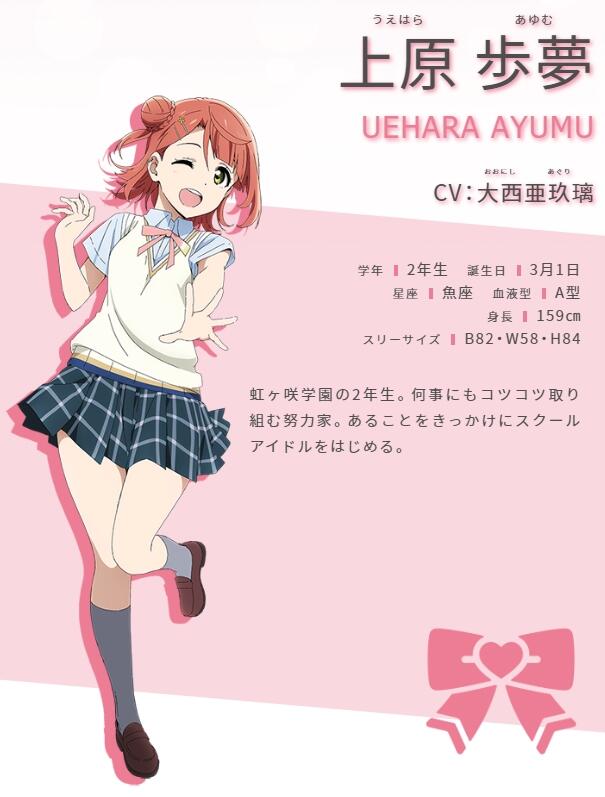 VA: Aguri Onishi
Year: Second Year
Birth date: March 1
Likes: Pokemon, study fashion, and girly things
Quote:
Ayumu is a hardworking girl that puts her everything into what she does. She is not very skilled in her school idol activities, but she continues to try her hardest. Sometimes, she becomes anxious about her capabilities, but she can be comforted by her fellow idols.

She is kind, innocent, and sincere, often responding to the mischief from Karin Asaka and Kasumi Nakasu in a pure manner, which throws the two of them off-guard. However, she doesn't do this intentionally and is truly a pure-hearted girl. She tries her best to be helpful to others.

She can also be rather clumsy at times.
Spoiler

for

Yuki Setsuna

: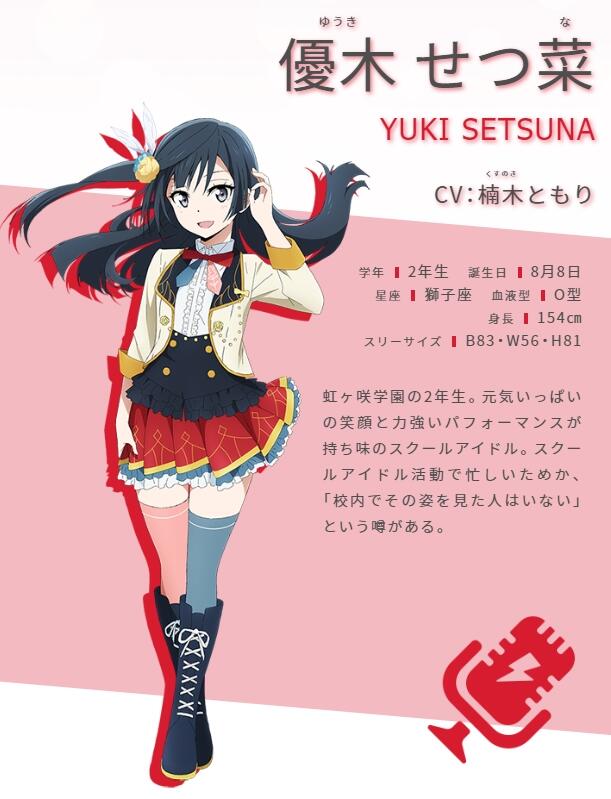 VA: Tomori Kusunoki
Year: Second Year
Birth date: August 8
Likes: Cooking, anime, manga, and video games.
Quote:
Setsuna has an energetic smile and a distinctive style of performing. She is easily excitable and full of energy, and she can be moved emotionally very easily. She lights up whenever she is asked a question about her interests, which include anime, manga, video games, and school idols.

She takes her passions very seriously, and with regards to being a school idol, always wants to improve. She wants to share her love of school idols with the world, and help others feel more comfortable saying what they love. She also strives to do well in school, so she always does homework as soon as possible and studies on her off days.
Spoiler

for

Miyashita Ai

: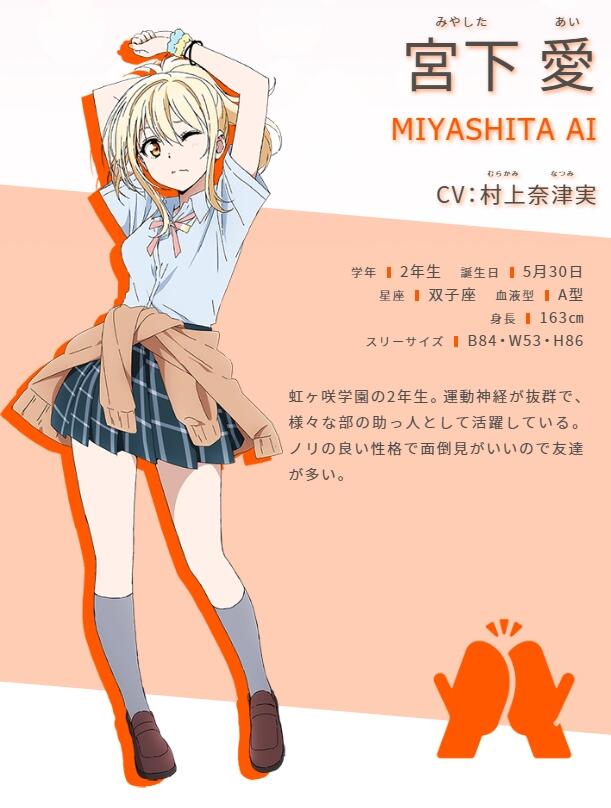 VA: Tomori Kusunoki
Year: Second Year
Birth date: May 30
Likes: Gyaru fashion, movile app/games, and Candy.
Quote:
As a suggestible person who's always willing to help, Ai has a lot of friends who can be seen chatting with strangers at any given time. She is also very caring, especially with her family and friends. In the neighborhood she lives, she tends to refer to all sorts of people around as siblings.

Because she is a gyaru, she can be mistaken as the type to skip school or be rebellious. However, she has very good grades and is very fun-loving and nice, but she can be a bit loud and sometimes serves as a mood-maker to her fellow idols.

Ai tends to speak very casually, using a lot of slang. She is also known for her puns, many of which are not very funny to those around her. She easily laughs at bad puns, too.
Spoiler

for

Nakasu Kasumi

: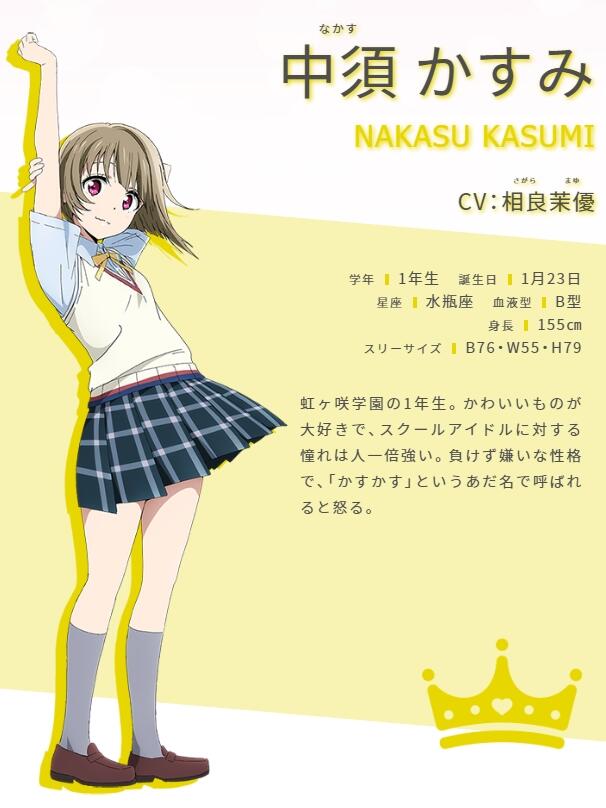 VA: Mayu Sagara
Year: First Year
Birth date: Jan 23
Likes: Making bread and watching idol videos.
Quote:
Kasumi loves all things cute, and her love for idols is unrivaled in strength and inspiration. Kasumi wants to be number one in any competition she's in, and often resorts to cheating or even sabotage to achieve that goal. As a consequence, she is a sore loser whenever she achieves anything other than first place.

She hates the nickname Kasukasu (かすかす) which roughly translates to "just barely" or "not quite", and gets in a bad mood when referred to with it.

Kasumi spends a lot of her time scheming or thinking up new ways to ensure her own victory; however, these plans often fail or aren't as devious as she thinks.
Spoiler

for

Osaka Shizuku

: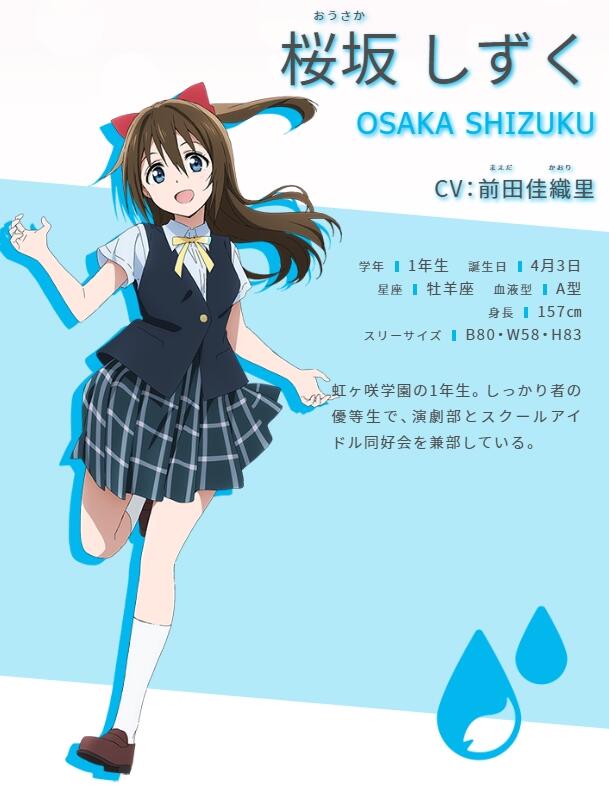 VA: Kaori Maeda
Year: First Year
Birth date: April 3
Likes: Enjoying acting and performing in plays.
Quote:
Shizuku is a level-headed and mature honor student. She is considered a traditional Japanese beauty, and is quite timid at times.

As seen in the Niji-Yon 4koma, she likes dogs. Shizuku can be easy to tease, however she is able to stand up for herself and others if teasing goes too far. She can sometimes be observed giving a stern talking-to to Kasumi, someone who is the opposite of Shizuku in terms of maturity.

Due to her responsible nature, Shizuku is also inclined to take on too much responsibility and keep her thoughts to herself. She worries about things quite often.

Shizuku is also rather passionate about acting, and is very skilled at getting into character.
Spoiler

for

Tennoji Rina

: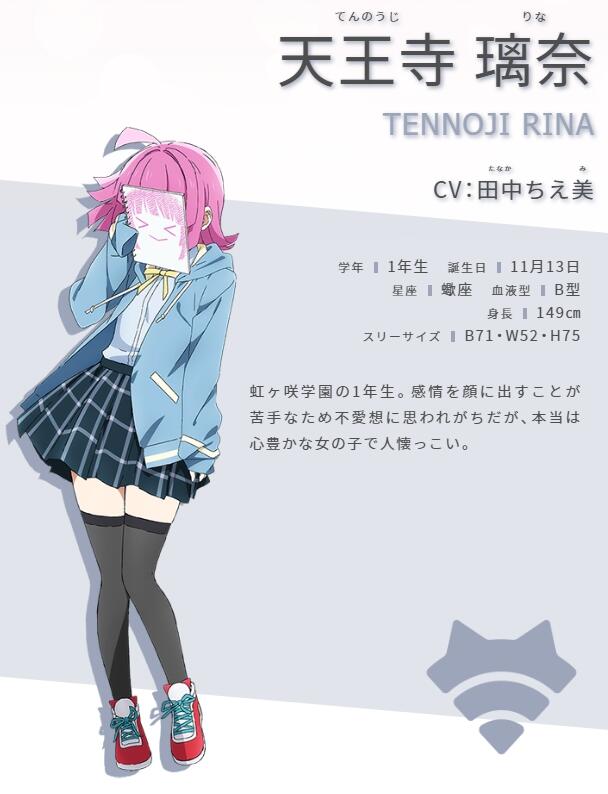 VA: Chiemi Tanaka
Year: First Year
Birth date: Nov 13
Likes: Science, playing drone, and working on laptop or tablet.
Quote:
Rina is a shy girl who is not good at expressiveness. Because of this, she hides her face with her "Rina-chan Board", a sketchbook that she draws her emotions on. She often insists on her cuteness since she refuses to show her face.

Despite her flaws, Rina is still trying to change herself by communicating and talking more with others. She admires Ai for her confidence and friendliness. Rina gets nervous easily but continues to try her best.

As a school idol, she hopes that people will cheer for her so she can show everyone her real face with a true smile.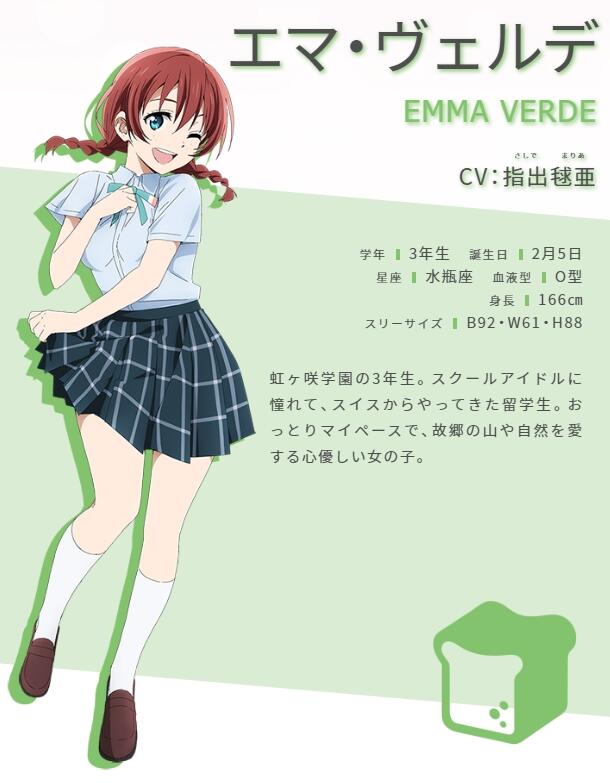 VA: Maria Sashide
Year: Third Year
Birth date: Feb 5
Likes: Go on woodland walks, play in the river, and enjoys quilting as well
Quote:
Emma is a kind and easygoing girl with a healing nature. She is very cheerful, pleasant, and tries to look after the other idols. She aims to be encouraging and to help others smile.

Like Shizuku, Emma tends to keep her worries to herself because she doesn't want others to worry about her. She gets nervous easily.

Having many brothers and sisters back home, she can relate to Kanata on the joys of being an older sister. Her family regularly sends her video letters so they can stay connected.
Spoiler

for

Konoe Kanata

: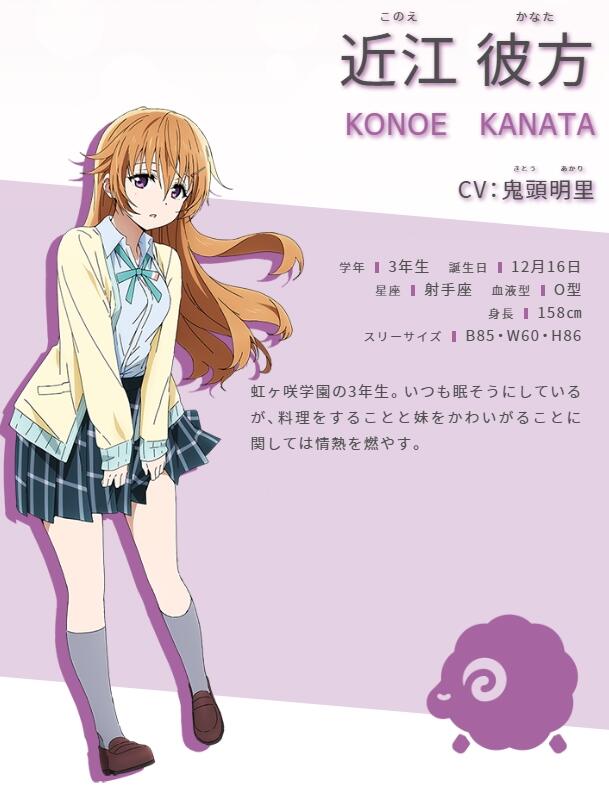 VA: Akari Kitou
Year: Third Year
Birth date: Dec 16
Likes: Cook and sleep.
Quote:
Kanata is very sleepy and is prone to taking naps during the day. She is very easygoing and prone to napping in the laps of others, though in the Niji-Yon 4-koma she seems to like Emma's lap the most. She also carries a pillow around with her at school. At times, she will appear to be sleeping but is actually awake and listening to what's going on around her.

Despite seeming always sleepy, she is motivated as a school idol by her younger sister and others' praise. She often mentions her dream of being able to take a nap with the audience during a live.

Kanata loves being doted on but is also very sisterly and capable of looking after others. She tends to look after the other idols in smaller ways. She loves being a big sister.

She can be very diligent in matters that are important to her. Her grades are good despite her sleepiness.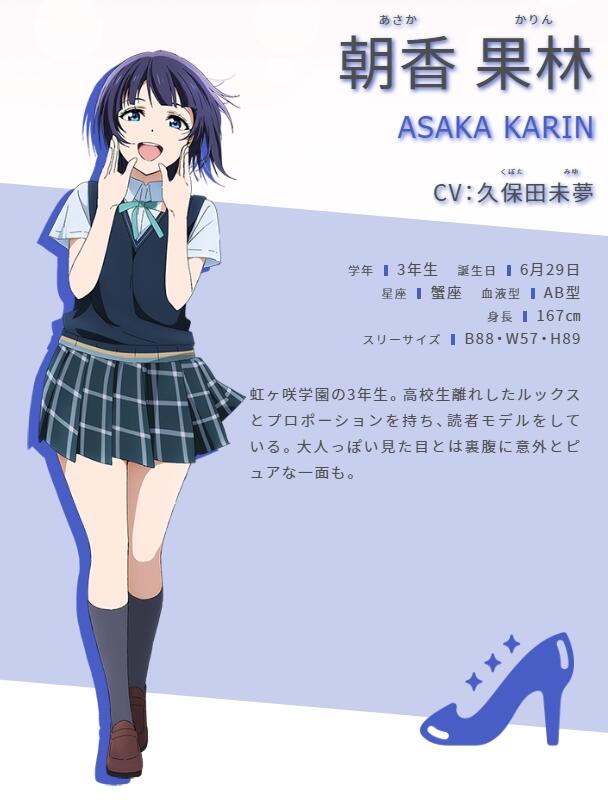 VA: Miyu Kubota
Year: Third Year
Birth date: June 29
Likes: Dancing.
Quote:
Karin is very mature and gives off a rather seductive vibe. She can use her adult-like looks to her advantage. Karin often tries to tease her underclassmen, or teach them lessons on how to be sexy and cool like her.

However, these lessons sometimes backfire when they begin to show her lots of attention or respond purely, as Karin will get embarrassed.

Sometimes, Karin is a bit more childish and nervous than she lets on, but she mostly keeps up her sexy/cool image.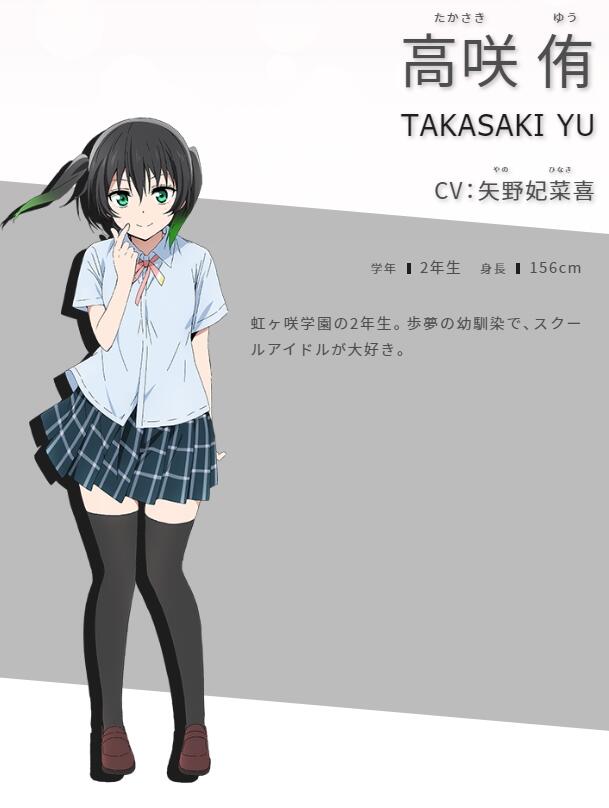 VA: Yano Hinaki
Year: Second Year
Birth date: -
Likes: Composing music.
Quote:
Even though she is supposed to be the player's self-insert, the game gives her a solid personality. Yu is described as insightful, reliable, quick to take action and very caring of the Nijigasaki idols. She is shown to have a deep passion for idols, which inspires her goals and actions in the game.

She is very perceptive about the girls' feelings and works very hard to be a good leader for them. She is initially shown to have the tendency of self-isolating when working on new songs, pulling all-nighters so she can achieve perfection. After losing to Maki Nishikino in a contest, she started composing with the other members next to her.
Quote:
Quote: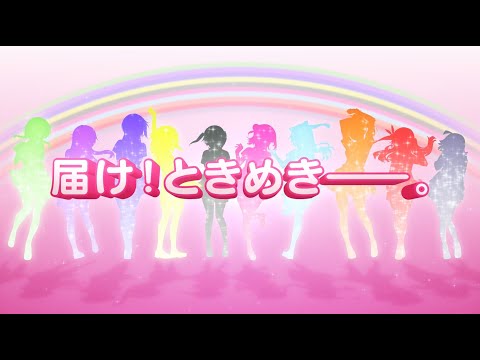 Quote:
Quote:
Thread ini adalah lanjutan dari thread sebelumnya, Yang di-reborn karena TS lamanya sudah tidak aktif lagi. Silahkan gunakan thread ini untuk berdiskusi seputar Love Live! School Idol Project Series.