Turkish police detain two suspected suicide bombers who it says were plotting an attack in Ankara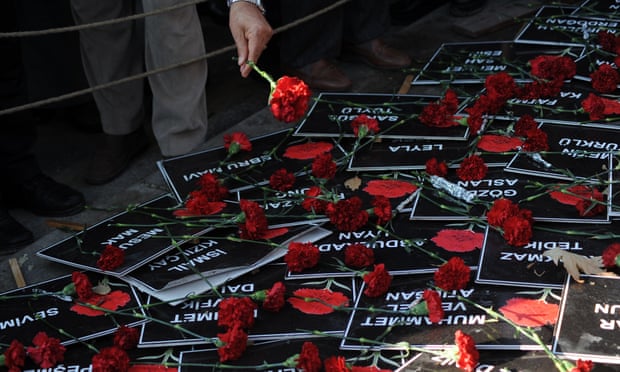 A man lays flowers on cards bearing the names of the victims of two suicide attacks outside Ankara's central station in October.

Turkish officials say police have detained two suspected suicide bombers linked to Islamic State who were plotting a New Year's Eve attack in Ankara.

Officials said the pair, whose nationality was not disclosed, were planning to strike an area in the centre of the city expected to be packed with revellers on 31 December.

The country is on high alert after 103 people were killed in October when two suicide bombers targeted a crowd of peace activists in Ankara, the worst attack in modern Turkey's history.

Counter-terrorism police arrested the suspects in the Mamak district in the outskirts of the capital, NTV television reported. They were planning to stage an attack in Ankara's main Kizilay square, state-run Anatolia news agency reported, citing the prosecutor's office. The Ankara governor's office said the suspects had already carried out surveillance on potential targets.

Officials said the suspects had planned to strike two spots in Kizilay: outside a big shopping mall and a street packed with pubs.

Police also confiscated a suicide bomb vest, a bomb mechanism with ball bearings and a rucksack with bomb-making materials, the governor's office said.

The October attack in Ankara was blamed on Isis jihadis, as were two other deadly strikes in the country's Kurdish-dominated south-east earlier in the summer.

In June, four people were killed in an attack on a rally of the main pro-Kurdish party in Diyarbakir, while in July, 33 people were killed in a suicide bombing targeting activists in the town of Suruç on the Syrian border.

Turkish authorities have kracked down on Islamic State's so-called "sleeper cells" throughout the country over the past few months. "Turkey is a target of terror because it is on the frontline in the fight against IS [Isis]," a Turkish official said.

Earlier this month, police arrested an alleged member of Isis suspected of planning a suicide attack on the US consulate in Istanbul. The Syrian national was detained at the bus station in the southern city of Kahramanmaras and then remanded in custody.

Long criticised by its allies for taking too soft a line against jihadis, Turkey is taking firmer action against Isis on the border with Syria after being shaken by attacks on its soil and the Paris assaults.

Ankara has vehemently rejected accusations of failing to properly police the 566-mile border, saying its sheer length makes it impossible to block off entirely. It has called for better intelligence sharing from its allies – a complaint also brought up by its western partners.

haiyaaa ciilaaka luuwa weelas waaa

Seru negh bakalan ade pesta kembang api waaa,aloha snackbar ISIS Indonistan bagaimana rencana anda menyambut Tahun Baru,over!!??

krskkk...krsskk...alloo...alloo....