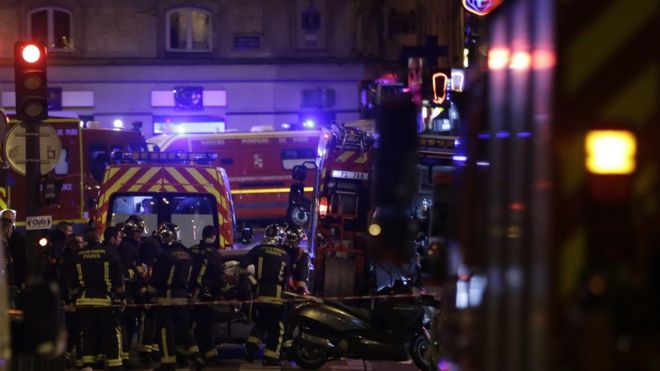 French police have foiled a terror attack on police and army personnel in the region of Orleans, the interior minister has said.
Bernard Cazeneuve said on Tuesday that two men, aged 20 and 24, were arrested on 19 December and were being held for questioning.
Both are thought to have had contact with a Frenchman who is believed to be in Syria.

France saw its worst attacks in decades last month, with 130 killed in Paris.
Speaking in the southern city of Toulouse, Mr Cazeneuve said 10 attacks had been foiled in France so far this year.
He said the investigation into the latest alleged plot south-west of Paris will look into whether the Frenchman in Syria, thought to be a jihadist, ordered the attack.
Paris attacks - in depth
One of the detainees confessed they had intended to attack police officers, military personnel and anyone identified with the French state, Mr Cazeneuve said.
Investigators think the suspects had raised money for the plot and were searching for weapons.
One of the men arrested is reported to be of Moroccan descent, while the other is said to be from Togo. One suspect was reportedly unknown to police, while the other was a known petty criminal.
Mr Cazeneuve also said 3,414 people had been denied entry to France since a state of emergency was declared in the wake of the Paris attacks, "due to the risk they present to security and public order".
http://www.bbc.com/news/world-europe-35160282
Toulouse - Badan intelijen Prancis, DGSI, berhasil menggagalkan rencana serangan kelompok militan di kota Orleans, Prancis. Dua orang ditangkap.
Dikutip dari AFP, Rabu (23/12/2015), Menteri Dalam Negeri Prancis, Bernard Cazeneuve mengatakan, penangkapan terhadap dua orang diduga terkait dengan rencana teror ditangkap pada pekan lalu.
"Rencana penyerangan yang menargetkan pasukan di Orleans berhasil digagalkan oleh DGSI pada pekan lalu," ujar Cazeneuve.
Menurutnya, kedua pria yang ditangkap pada tanggal 19 Desember merupakan warga Prancis yang berusia 20 dan 24 tahun. Polisi disebut mengantongi catatan tindak pidana ringan yang pernah dilakukan pria berusia 24 tahun.
Sumber di kepolisian seperti dikutip AFP menyebutkan mereka berkomunikasi dengan anggota militan dari Prancis yang berada di Suriah. Intelijen tengah menyelidik asal muasal perintah rencana teror terhadap dua orang yang ditangkap.
"Penangkapan ini adalah hasil kerja teliti badan intelijen kami dengan total jumlah penggagalan serangan di wilayah nasional sejak tahun 2013 menjadi 10 peristiwa," sambung Cazeneuve.
Dia juga menyebut ada 3.414 orang imigran di perbatasan Prancis ditolak masuk sejak keadaan darurat diumumkan pasca serangan Paris pada Jumat, 13 November 2015 yang menewaskan 130 orang.
Para imigran imbuh Cazeneuve ditolak masuk ke wilayah Prancis dengan alasan risiko keamanan dan ketertiban umum.
(fdn/fdn)
https://news.detik.com/internasional...gan-di-orleans

Prancis Tolak 3.400 Pengungsi dari Perbatasan
http://news.merahputih.com/eropa/201...batasan/36201/