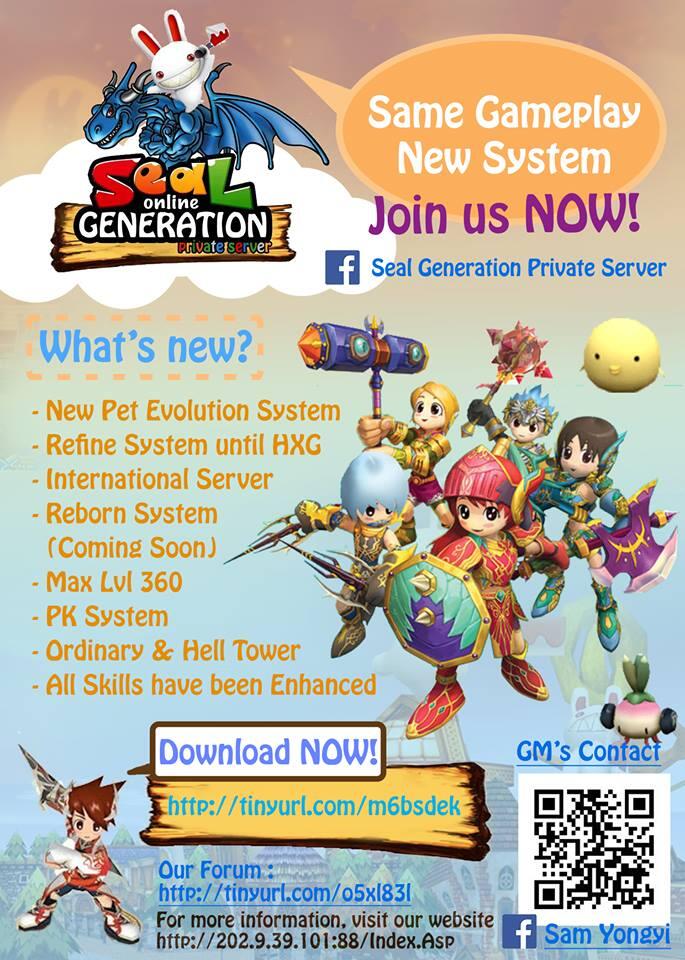 Come and Join uS
SEAL ONLINE GENERATION PRIVATE SERVER !
■Forum :http://www.pptgamen.com/sealonline/phpBB3/index.php
■Website :
http://202.9.39.101:88/Index.Asp
■Register :http://http://202.9.39.101:88/Register.Asp
■GM :
https://www.facebook.com/samyongkit
Download Area :
[Client] [url]http://www.medi*fire.com/download/2d...r(893MB[/url])
[launcher] [url]http://www.medi*fire.com/download/16...6v/CH_0605.rar[/url]
GAME SETTING
★Game Settings: New generation Privated seal server, we got colorful pets, colorful glove, stages 6-8 of colorful pet.
★Fishing can get four stage pet, evolution to 5 stage flying pet is 90%
★Lower the g requirement! G15 +7 can use for refine, G book material modification, just need fusion stone for refine.
★Fast transfer in game, can sent you to all map, As well as Ordinary and Hell tower, boss hunting map
★Fast transfer second job and skill learning npc available in elim.
★Brave tower, ordinary 10-story 10 BOSS. Hell 20 layers of hell, 20 BOSS. BOSS fall each chest.
After going Tower. There got Cegel and fame rewards, All player can get reward in tower, you will not lonely in seal world.
★Unlimited High Commission, Fame and money are official award X3 times.
★new enhanced system, G, DG equipped with enhanced diamond sapphire or strengthen +12. Just PM GM now.
★Attribute points to strengthen the attack is official X2 attack growing. intellectual growth official X2, physical growth is official X3, defense is official growth X1.5 times. Priest Growth X3 times.
★New website, lottery systems, Offline Kiosk system, reborning system, Exchange item system and etc
★Complete game map such Cross Mountain, Sky Island Alcanez ordinary, Sky Island Alcanez skilled, Cross mountain, Hell Tower, Blue eye, high level equipment direct drop.
★Game drop rate, normal monster drop G and normal chest DROP DG, Hell Tower XG and HXG, G book all in Hell Chest box or Blue eye, Cegel easy get in server.
★Event every week 4-5 time, reward is more than you cannot imagining.