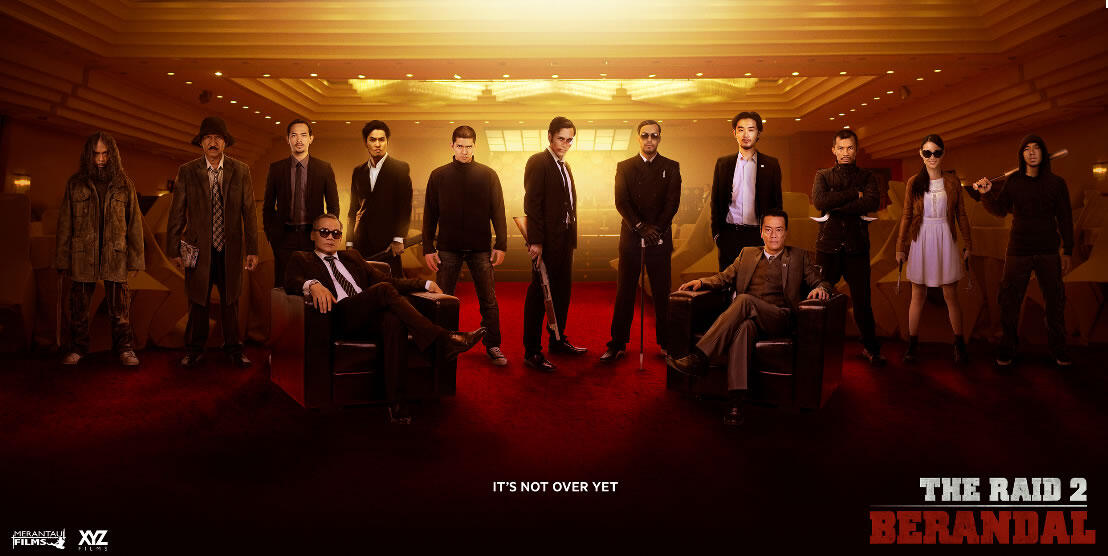 Seperti banyak diberitakan, penayangan world premiere The Raid 2 : Berandal di Sundance Film Festival 2014, Salt Lake City, Utah, AS mengundang standing ovation dari para penonton dan kritikus film setelah film berakhir.



Quote:

Seperti ini reaksi orang-orang di twitter :

Aaron Morgan @Aaron_Morgan

RAID 2 makes RAID 1 look like a Saturday morning cartoon. Enough here for 20 amazing action epics! I'm speechless. What did I just see?!?!

@Ethan_Anderton THE RAID 2 is bigger, badder, bloodier and one of the best action movies I have ever seen. Tops the first one in every way.

@Ethan_Anderton Never have I ever heard a crowd groan and cringe in pain collectively as frequently as during THE RAID 2. Tons of applause breaks too.

@Ethan_Anderton Seriously, @ghuwevans needs to teach a class to American action directors to show them how it's done. THE RAID 2 is an action masterpiece.

@Lucas_Shaw The raid 2 is a relentless 2 1/2 hours of beautifully shot, expertly choreographed hand-to-hand combat. Not sure I've seen a bloodier movie.

@ClomeMalone The Raid 2 is essentially The Godfather 2, the godfather 3 & the godfather all in one. #sundance2014 *beep*

@russfischer To deal with THE RAID 2, the MPAA is gonna need something heavier than NC-17. And probably some adult diapers.

@russfischer THE RAID 2 sets a spectacular new benchmark for vehicular action. The Fast and the What, again?

@LeNoirAuteur The Raid 2: beautifully brutal fight sequences stitched together by a plot I barely cared about

@LeNoirAuteur The fight sequences in the raid 2 are dazzling, the cinematography, choreography and editing really make them work

@lightsandcolors RAID 2 is like 30x the movie of Raid 1. Better on every single level. #raid2 #Sundance

Jason Gorber @filmfest_ca RAID 2 - mayhem, mud, and some of the most intense, grotesque yet balletic action ever filmed. More epic, more complex. Epic. #Sundance

source :

http://storify.com/anggastuff/the-ra...sfy.co-twitter





Quote:

Dan komentar kritikus film :

The running time of "The Raid 2" is almost an hour longer than the first, and an effort is made to add more character development this time around. But, who are we kidding? We see a movie like this for the fight scenes. As I was watching, all I kept thinking to myself was, stop talking; just keep fighting. And the fights do deliver – providing some of the best choreographed hand-to-hand action sequences that I've ever seen, which resulted in audience applause on at least four occasions. Though, the story itself … eh, what does it matter? Stop talking; just keep fighting. -

Mike.Ryan@huffingtonpost.com

I don't know about redemption, but there's more of pretty much everything in this sequel. That means it sacrifices some of the purity of the first movie, which had its share of weaponry but was rendered exciting and distinctive primarily by its virtuoso assaults of lethal fists and feet on flesh.

Visceral in the extreme, the bravura kickboxing and martial arts mayhem still take pride of place, choreographed again by lead actor Iko Uwais and Yayan Ruhian, who also appears, though as a different character from last time. But Evans expands the hardware beyond the usual guns and knives, giving some of his assassins their own special tools. Those include a baseball and bat, a pickaxe, some cool claw daggers and a pair of hammers wielded by a deadly female (Julie Estelle). There's also a sensational extended car chase sequence that withstands comparison to anything in the Fast and the Furious franchise. -David Rooney, Hollywoodreporter.com

Critics are raving following Tuesday's premiere of Evans' "Raid" sequel, which follows Iko Uwais' Rama out of the tenement building and onto the mean streets of Jakarta. By and large, reviewers agree that "The Raid 2" improves on the first film in significant ways, with some going so far as to call it the "Dark Knight" of action movies. High praise, to be sure. -Josh Wigler, Mtv.com

The Story

"Whereas the first movie was mean and lean, the sequel is epic and explosive with a twisting crime drama serving as the backdrop for some of the best action scenes you'll ever see. ... Picking up where the first film left off, Rama (Iko Uwais) has brought in corrupt cop Wahyu (Pierre Gruno), and is now being offered the chance to go after the big fish that are ruining the city. He's reluctant to join the cause, but when the increasingly powerful gangster Bejo (Alex Abbad) kills [REDACTED FOR SPOILERS], the super cop agrees to go undercover and bring down crime boss Bangun (Tio Pakusodewo). Rama goes into prison, befriends Bangun's son Uco (Arifin Putra), and once they're released, he gets into the organization. However, Uco's reckless ambition sets up a series of double-crosses that threaten to engulf the underworld in an all-out war." — Matt Goldberg, Collider

The Main Man

"This time out, Iko Uwais' Rama is much-less of the idealistic hero he was the first time out. Having been left to rot by his police handlers and forcibly separated from his family, Rama's much moodier, and Uwais' performance is bad-ass. More than ever, he feels like the heir apparent to icons like Jet Li & Jackie Chan. He was great physically in the first film, but here he gives a tough, gritty performance, even when he's not kicking the crap out of an opponent (or twenty)." — Chris Bumbray, JoBlo.com

The Direction

"Gareth Evans is the greatest living action filmmaker. This isn't even up for discussion; anyone who has seen 'Merentau' and 'The Raid' suspected as much, but a viewing of 'The Raid 2' puts the QED at the end of the whole argument. And with 'The Raid 2' Evans stakes an even larger claim, putting himself into the ranks of the great living filmmakers, full stop. There's no need to qualify it with a genre at this point - he's just simply a great filmmaker." — Devin Faraci, BadassDigest.com

The Violence

"'The Raid 2' is remarkable filmcraft, first and foremost, and it tells a solid, compelling cop story in a way that left me physically shaking. I cannot wait to see it again, and I am genuinely concerned that the MPAA is going to savage the version we saw because of the profound level of graphic violence it contains. It is a savage world that Evans portrays, though, and any attempt to tone that down will, oddly, make it more conventional and make the violence more generic." — Drew McWeeny, HitFix.com

The Final Word

"In this vibrant and ever-expanding world of cinema, it's rare that we ever get to experience something truly incredible in its concept and execution, something so amazing that it pushes an entire genre to new heights. That happened at the 2014 Sundance Film Festival on Tuesday night, as Gareth Evans' premiered his 2-1/2 hour sequel 'The Raid 2,' and I believe he's pulled off something akin to 'The Dark Knight' of action movies. It is a sequel that is much bigger, more ambitious, and considerably more epic in scope than the first, yet exceeds all expectations and achieves levels of legend in terms of martial arts action intertwined with story." — Alex Billington, First Showing





Quote:

Dan, sejauh ini rating 9.5/10.0 di IMDb.com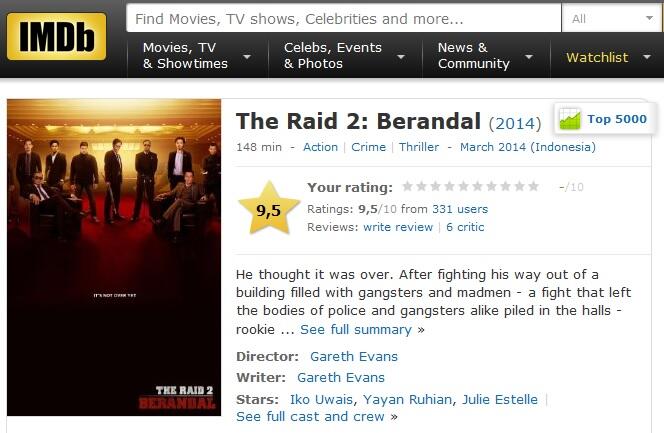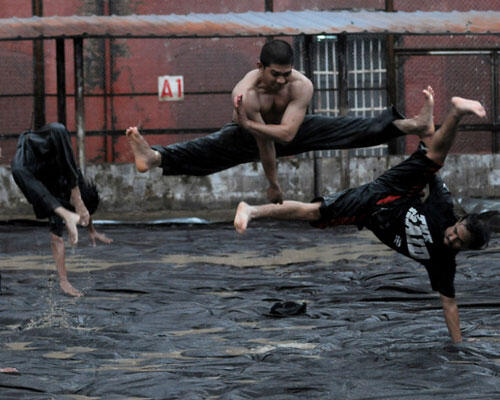 Thanks for the director & all of actors & actreess for this great movie.
Masih harus bersabar menunggu sampai tgl 28 Maret 2014 untuk release resminya..