Malaysia to establish marine corps, naval base close to James Shoal
Dzirhan Mahadzir, Kuala Lumpur - IHS Jane's Defence Weekly
15 October 2013

Malaysia is to set up a marine corps and establish a naval base close to waters claimed by China, Defence Minister Hishammuddin Tun Hussein said in a statement on 10 October.
According to the statement, the Royal Malaysian Navy (RMN) base will be established at Bintulu on the South China Sea (SCS) to protect the surrounding area and oil reserves.
Unstated by the minister is the base's proximity to James Shoal, which is 60 n miles away and was the location for the People's Liberation Army Navy (PLAN) exercises on 26 March that were the most recent example of China asserting its claims to most of the SCS.
Hishammuddin's description of the marine force only states that it will be established for amphibious operations, drawn from all three services and essential for security in the East Malaysian state of Sabah, where Sulu militants staged an incursion in February that was subsequently repelled by a military operation.
The statement did not give any further details but IHS Jane's understands that the marine corps proposal was planned before the Sulu incursion but has since been prioritised.
While the marines will be drawn from all three services, the bulk is expected to be drawn from one of the three parachute battalions of the 10th Parachute brigade, which will be redesignated as a marine battalion.
The 9th Royal Malay Regiment (para) and 8th Royal Ranger Regiment (para) have both conducted amphibious warfare training as a secondary mission, most recently in June during the CARAT exercise with the US Marine Corps (USMC) and subsequently in an amphibious landing exercise with French troops and the landing platform dock FNS Tonnerre .
The marines will be drawn from existing personnel because of a government cap on the number of armed forces personnel allowed on active duty.
The Ministry of Defence is yet to decide whether marines will fall under Malaysian Army or Royal Malaysian Navy control. Initial plans call for the unit to be an independent force under the control of the Malaysian Joint Force Headquarters until operational experience determines which service is better suited.
Malaysia is keen to draw on the USMC's expertise and has been in discussions with the United States (US) over support, training and expertise exchange. Malaysia has been without an amphibious naval platform since the loss of Newport-class landing ship-tank KD Sri Inderapura in an October 2009 fire.
Plans to obtain an LPD, with France offering a downsized Mistral design and South Korea offering a downsized Dokdo design, have been stalled due to budgetary constraints. The US has offered the LPD USS Denver , scheduled to be decommissioned from US service in 2014, to
Malaysia on a hot transfer along with some equipment, which likely includes AAV-7 amphibious vehicles
.
The US would welcome Malaysia's establishment of a marine force as current Pentagon regulations restrict the USMC to conducting exchanges and training with marine units of non-US treaty ally nations - an exception being in the case of multiservice exercises such as CARAT. Likewise, Malaysia has been keen to further develop joint amphibious training exercises and exchanges with the US but has been hampered by the absence of a marine force.
Other than equipment for the marines, the US has offered Malaysia surplus equipment from operations in Afghanistan, including infantry weapons and sights, night-vision goggles and mine-resistant ambush protected vehicles.
The US is also offering the AH-1Z Super Cobra to meet Malaysia's requirement for an attack helicopter. While Boeing has been marketing the AH-64 Apache, the prospect of a purchase by Kuala Lumpur is unlikely due to Malaysia's
disinclination to buy key military equipment in service with its neighbours: the Apache is in service with Singapore and on order by Indonesia.
France has been marketing the Eurocopter EC 665 Tiger for the same requirement and hopes to leverage the French Army's long-time assistance in training the Malaysian Army Air Corps.
Hishammuddin's announcement of a new naval base at Bintulu follows a number of unpublicised incursions by Chinese naval and maritime surveillance forces into Malaysian waters off East Malaysia and the Malaysian portion of the Spratly Islands.
Unlike Vietnam or the Philippines, Malaysia does not make public such occurrences to avoid jeopardising its strong economic ties with China. China's activities in its near waters are of concern to Kuala Lumpur, however, which has stepped up naval patrols in the area.
The RMN is hampered by its small fleet and the need to maintain a strong naval presence off Sabah to discourage further intrusions by Sulu militants. In this light, another portion of Hishammuddin's statement - that the first in class of the Second Generation Patrol Vessel - Littoral Combat Ship (SGPV-LCS) programme will start operations in 2018, gains greater importance.
Six of the SGPV-LCS corvette-class ships, which are based on the DCNS Gowind corvette family, are to be built by Boustead Naval Shipyard. Construction is expected to begin in 2014.
http://www.janes.com/article/28438/m...o-james-shoal?
Spoiler

for

Berita Sebelumnya

:
PLA Navy amphibious task force reaches Malaysia 'to defend South China sea'
Wednesday, 27 March, 2013
[img]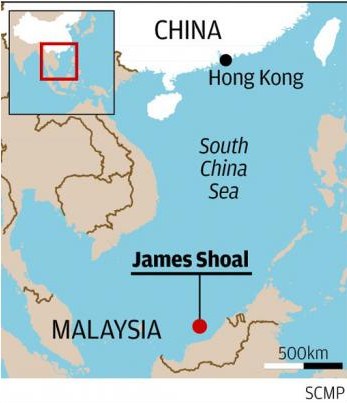 [/img]
A Chinese amphibious task force sparks jitters around the region by reaching the southernmost waters of its claimed domain
A fully equipped PLA amphibious task force has reached China's southernmost claimed possession in the South China Sea in an unprecedented show of force that is raising eyebrows across the region.
The four-ship flotilla headed by the landing ship Jinggangshan visited James Shoal - some 80 kilometres from Malaysia, less than 200 kilometres from Brunei and 1,800 kilometres from the mainland coast - close to the outer limits of China's "nine-dash line", by which it lays claim to virtually the entire South China Sea.
A Xinhua report yesterday described marines and crew gathering on the deck of the Jinggangshan - one of the PLA Navy's three 200-metre landing ships - to pledge to "defend the South China Sea, maintain national sovereignty and strive towards the dream of a strong China".
"It was a surprisingly strong message in sending out this task force, on such a new operational role from previous PLAN [PLA Navy] patrols in the region," said Gary Li, a senior analyst with IHS Fairplay in London.
"It is not just a few ships here and there, but a krack amphibious landing ship carrying marines and hovercraft and backed by some of the best escort ships in the PLAN fleet," he said, adding that jet fighters had also been used to cover the task force.
"We've never seen anything like this that far south in terms of quantity or quality ... it is hard to know whether it is just coincidence, but it does seem to reflect [President] Xi Jinping's desire for more practical operationally based exercises."
The landing ships are considered some of the most sophisticated vessels in the PLA and are thought to be key to any strategy to invade Taiwan. Their deployments are closely watched by regional rivals. The first of the landing ships, Kunlunshan, has been used in anti-piracy work off the Horn of Africa.
Photos circulating on mainland websites show marines storming beaches, backed by hovercrafts and helicopters dispatched from the Jinggangshan during several days of exercises that saw them visit all of China's holdings in the Spratly Islands.
The PLA took six Spratlys reefs and shoals from Vietnam in a sea battle 25 years ago this month.
The ships are due to head back north, crossing into the western Pacific for further drills via the Bashi channel between Taiwan and the Philippines, Xinhua said.
News of the Jinggangshan's appearance off James Shoal last night sparked chatter among military officials in the region.
"That is quite a show of sovereignty - an amphibious task force," said one military attaché monitoring developments. "It has got everyone talking.
"The Spratlys is one thing, but turning up at James Shoal is quite another. Once again, China is showing it is quite unafraid to send a message to the region - and in a year when Asean is chaired by Brunei, turning up down there in such a fashion is pretty strong symbolism."
PLA deployments into the South China Sea in 2009 and 2010 sparked fears across the region of a new assertiveness by Beijing. Those concerns in turn prompted fresh moves by several Southeast Asian nations to force the long-simmering South China Sea dispute back on to the regional agenda - and forge closer ties with the US
http://www.scmp.com/news/asia/articl...-near-malaysia
***************************************************************************************
Demi mempertahankan Kepulauan James Shoal yang jaraknya cuman 80 km dari Malaysia, nampaknya Malaysia akan belanja banyak dan melakukan segala cara nih...............
kata ane....RASAINNN LU.....