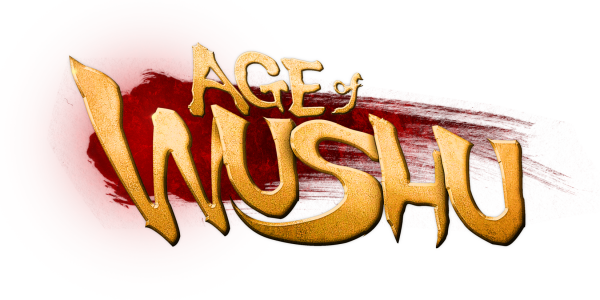 Game Title: Age Of Wushu | Genre: Martial Arts Action MMORPG | Developer: Snail Games | Publisher: Snail Games NA
NA Release Date : May 2013

Free 2 Play
Official Website
OVERVIEW
Age of Wushu is a free-to-play martial arts MMORPG (Massively Multiplayer Online Role-Playing Game) set in a charmingly realistic representation of medieval China, with 27 regions representing all geographical areas of the country, with an amazing 130 km² of open world to explore, and that doesn't even include instanced areas – all presented with stunning graphics and available to enjoy soon in English, French, and German. Many thousands of quests, vast and diverse regions to explore, and 20 challenging instances make Age of Wushu one of the most expansive and ambitious free-to-play MMORPGs to date.
You will not find elves, dwarves, strange monsters and other fantasy creatures here. Great care has been taken to create a medieval martial arts world that is so real, you can almost taste it. Yes, the kung-fu skills you can master are amazing and jaw-dropping – you can learn to glide through the air, run up walls, and across water – but no weird monster or magic being will cross your path and disturb the image of a perfectly crafted, realistic online world, just as it existed in China centuries ago.
The Age of Wushu RPG experience is an adventure like no other. There are no classes or levels, you hone your skills in various ways and can easily become immersed in the breath-taking living game environment: Over 20,000 NPCs inhabit the detail-rich landscapes, cities and villages, but they don't just stand around – they live their own lives, have their own personalities and react to your actions in sometimes surprising ways.
KEY FEATURES
No Levels, No Classes: Learn your opponents' true strength by fighting them. Proceed with caution! That beggar on the street may be a traveling Grand Master.

Random NPC Encounter System: Every encounter and event is determined by how NPCs and the game world perceive you. No online guide can tell you what each encounter and quest will entail.

8 Martial Arts Schools: Choose a school to build your craft. Seeking insight not offered at your current alma mater? Invade another to steal their secrets, or befriend a Wushu master for help.

Counter Combat System: Modeled after the traditional martial art, combat rewards those with the greatest skill, anticipation and execution. Never let your guard down!

Aerial Combat: Remember Crouching Tiger Hidden Dragon?

32 Guild Sites: Upgrade each guild site to mobilize and defend what you worked so hard to build.

5000 Equipment Types: Unique Wushu ways to enhance your ever-growing ancient skills.

17 Professions: Learn a trade to complement your fighting prowess.

30 Offline Activities: Not online to train? Keep your character progressing as an NPC. A true master never sleeps!

6 Unique Story Lines: Become the protagonist of your own story, not some insignificant bystander.

SYSTEM REQUIREMENTS
Minimum Specification
CPUPentium4 2.4Ghz or Same level CPU
Memory1GB
GPUGeForce6600 or Same level Graphic Cards
Video Memory128MB
Bandwidth1Mb
Hard Drive10G Free Space
Recommend Specification
CPUPentium Dual-Core E6 Series or Same level CPU
Memory2GB
GPUGeForce9600GT or Higher Level Graphic Cards
Video Memory512MB
Bandwidth2Mb
Hard Drive10G Free Space
LAUNCH TRAILER
SCREENSHOT

COLLECTION OF GUIDES
Spoiler

for

collection of guides

: