Website : http://dynastywarriors.aeriagames.com/
INTRODUCTION :
Ever dreamt of playing a Dynasty Warriors MMO? Well, now you can! Online games publisher Aeria Games just started closed beta registration.
First announced at TGS '09, Dynasty Warriors Online was planned as a PlayStation 3 exclusive, but it looks like Koei (now Tecmo Koei) had a change of heart; the beta will be PC-only, with no word on the original PS3 plans.
DWO will be totally free-to-play once released and boasts 24-player PVP battles, including classic DW peons as bots. In addition, players will have an in-game level system and a variety of battle modes, from "solo challenges to territorial control and conquest."
It'll still feature the same fast-paced crazy action Dynasty Warriors fans have come to expect from the series, and the visuals look pretty good for a free-to-play MMO too.
Dynasty Warriors Online is a free-to-play hack-and-slash MMO developed by Tecmo Koei and published by Aeria Games. The game is based on Dynasty Warriors, the popular 3D fighting game franchise, though it differs greatly from the fighting game in several ways. Dynasty Warriors Online features a PvP slant with numerous PvP options and an in-game leveling system that allows players to level up and develop their characters.
Key Features :

*
Vicious Head-to-Head Combat :
Unleash your skills in hard-hitting 4-on-4 brawls and 12-on-12 clashes against opposing players
*
Epic Online Battles :
Wage war supported by massive NPC armies across several game modes, including PvP, territorial control, story-based battles and more
*
Dynamic Character Growth :
Fight with a broad variety of weapons and level up your warrior mid-battle - start each skirmish with basic attributes and collect power-ups from the field
*
Rewrite History :
Change the dominant faction of the Three Kingdoms based on players' in-game performance and victories
TRAILER FROM AERIAGAMES :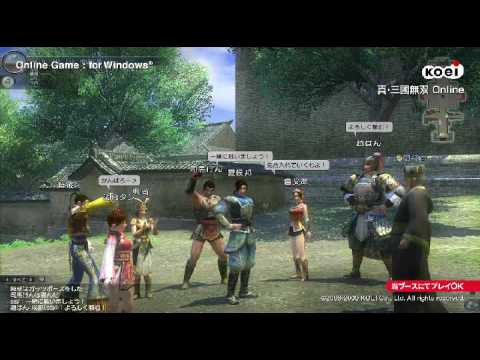 OPENING MOVIE [JAPANESE VERSION] :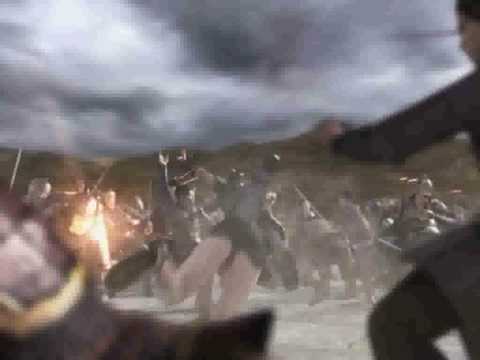 Gimana trailer nya?bikin ngiler ama merinding kan?

don't miss it guys

RULES :
1. No Junk Here
2. No Flaming Here
3. OOT dikit diperbolehkan tp jangan kejauhan OOT nya
SCREENSHOT :
Spoiler

for

Warrior of Kaskus

:
LINK DOWNLOAD OST DYNASTY WARRIOR :
LINK :
http://www.snesorama.us/board/showth...d.php?p=376319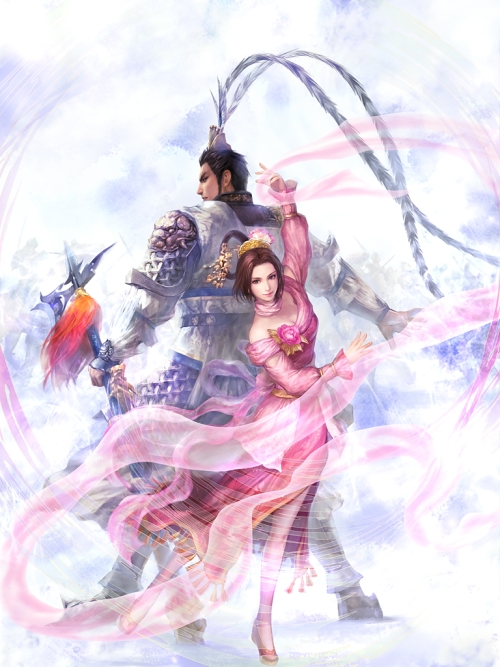 List OST :
- Shin Sangokumusou Original Sound Track Ultimate Box
- Sangokumusou Original Soundtrack
- Shin Sangokumusou 3 Original Soundtrack
- Shin Sangokumusou 4 Original Sound Track
- Shin Sangokumusou 5 Soundtrack
- Shin Sangokumusou BB Image Song "Fuu un Musouden"
- Shin Sangokumusou BB Original Soundtrack
- Shin Sangokumusou Original Sound Track Ultimate Best
FAQ
Q: Cara langsung jadi rank guard gimana sih gan?
A: Tutorial pertama kali maen usahain selesaiin sebelum waktu nya abis untuk dapet rank S,ntar abis selesai tutorial honor langsung 200 kok bisa quest promotion rank guard langsung.
Q: Cara cari gold yg cepet gimana sih gan?quest ambil nya dimana ya?
A: Gold bisa didapetin dari quest yg reward nya gold,semakin tinggi rank pas selesaiin quest semakin gede juga reward gold yg didapet sekitar (400-600 gold) atau ente jualin tuh barang2 yg ente dapet dari battle di market. soal quest? quest bisa diambil di bar manager tavern,npc2 di market atau pun dari jendral yg kita serve.
Q: Honor berat nih gan,cara cepet naekin honor gimana ya?
A: Honor paling cepet jika kalian maen training atau quick melee lawan player kingdom lain bisa dapet sekitar 10 - 15 honor klo menang, misalnya kalah pun dapet bisa sekitar 5 - 7 honor. untuk quick melee baru bisa klo pangkat dah rank minimal lt.mayor jadi klo pangkat masi dibawah itu training di intructor courtyard.
Q: Honor dah 500 nih gan, gimana caranya naek pangkat ke Lt. Colonel?
A: Pergi ke Courtyard, terus temuin Jendral yang ente layanin di kantornya, misal Zhao Yun. Ngomong ke dia pilih quest terus pilih Lt. Colonel test buat promosi. Abis itu pergi ke Clerk di Plaza (West/East/Central) Pilih Execute Quest udah deh Jalanin Questnya. Good luck!
Q: Quest naek pangkat ke Lt. Colonel apa sih gan?Susah ga?
A: Tergantung ente lah susah enggaknya
Questnya ngerebut 4 base terus nanti ngelawan Jendral yang ente layanin, misal Zhao Yun. Saran ane pas awal upgrade "Damage+". Karena rute untuk ngerebut base nya dihalangin pake tembok kayu, mesti di ancurin dulu biar bisa lewat.
Q: Nambah elemen ke senjata gimana ya?
A: Ente harus punya orb nya, beda ya ma orb yang biasa digunain pas battle. Nama orb nya kaya tahap dua nama orb sebelumnya, misal Fire Orb, Orb yang buat Add element api itu Inferno. Selain itu butuh Ore 6 biji. Kalo udah punya pergi ke Market, terus cari Communal Forge. Add element dah disitu. Persentase nya 6 % setau ane. Jadi rada hoki-hokian. Di OB nanti mungkin persentase nya bisa berubah tergantung stat kita.
Q: Senjata ane rusak nih, betulinnya gimana ya?
A: Cari NPC Blacksmith di Market, terus pilih Repair. Disini ada 2 repair, Temper ma Element. Temper repair itu buat nge repair senjata yang udah pernah di Temper. Tingkat kerusakannya bisa dilihat dari bar "Temper Durability". Kalo Element repair bakalan aktif kalo senjata agan udah di Add element. Kalo belon, g bakalan rusak/turun Element Durabilitynya. Temper repair butuh 1 gem apa aja jenisnya. Element repair butuh 3 ore.
Q: Mo beli/jual weapon/gear/item yang rare dimana ya?
A: Biasanya player lain jual nya di Broker gan, NPC nya ada di Market. Pilih
aja Purchase terus set filternya yang sesuai agan pengen. Kalo jual pilih pas ketemu NPC nya pilih Broker, nah disitu pilih jenisnya, mo jual senjata ato gear ato item. Kalo udah tentuin harganya, NPC nya bakalan minta "jatah" tapi Harganya yang di display nanti ditambah biaya yang dia pengen. Misal ente jual senjata 600 nanti di display nya 660 yang diliat player lain. Oh iya, kalo udah nge jual satu weapon ga bisa jual weapon lain, tunggu sampe laku dulu. Begitu juga dengan gear ma item.

Q: Dapetin letnan gimana caranya?
A: Pertama ambil quest Letnan di Instructor. Disitu agan dapet pengarahan. Nah nantinya kalo udah kelar di battle Melee yang agan ikutin kadang spawn Letnan, cari aja tuh di map nya, biasanya di neutral army (warna kuning) tempatnya cari yang paling rame dulu. Kalo udah ketemu, kalahin dah tuh. Nanti kalo udah kalah dia berubah jadi Lt. Soul, ambil aja. Pas dah kelar battle nanti ada quick event ngobrol ma dia sekaligus nentuin nama. Kasih aja nama sesukanya

Q: Ada yang bawa Letnanya keliling kota, itu gimana caranya gan?
A: Bawa terus letnan agan ke battle sampe level 40. Nanti seiring itu Affinity nya berubah. Level 40 itu level paling tinggi yang bisa di capai, g bakal naek level lagi. Tapi tetep aja bawa tu letnan ampe nanti Affinity nya Level B. Kalo udah, agan pas di "Quarter" ato Rumah, pilih letnan nya terus "Assign Bodyguard". Tu letnan entar bakalan ngekor agan terus2an dah.
How To Reduce Lag
Link to Aeriagames Forums :
http://www.aeriagames.com/forums/en/....php?t=1009859
Jasa Penjualan AeriaPoint di Indonesia
Link Thread :
http://www.kaskus.co.id/showthread.php?t=5894719
PATCH
Quote:
Original Posted By
dontiq
►
pach dari awal nih gan
PATCH 1.001
713 KB
PATCH 1.100
780 KB
PATCH 1.101
736 KB
PATCH 1.200
683 KB
PATCH 2.000
424 KB
PATCH 2.001
454 KB
PATCH 2.005
182 MB
PATCH 2.010
1.89 MB
PATCH 2.100
133 MB
smuanya resumable

jangan lupa backup dulu filenya seblom dijalanin, bakalan ilang soalna