Quote: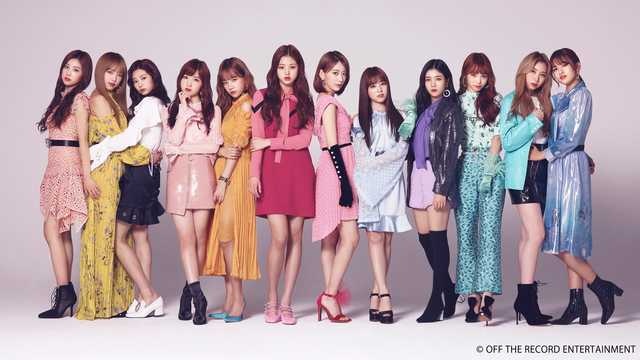 IZ*ONE (pronounced: Ais-wan) (아이즈원) (アイズワン) is a Korean-Japanese girl group formed by MNET's Produce48, the third season of Produce 101. Produce48 brought together Japanese trainees from AKB48 & their sister groups and Korean trainees from many different labels. The members consist of (sorted by Final Ranking) :
Jang Wonyoung, Miyawaki Sakura, Jo Yuri, Choi Yena, Ahn Yujin, Yabuki Nako, Kwon Eunbi, Kang Hyewon, Honda Hitomi, Kim Chaewon, Kim Minjoo, and Lee Chaeyeon
. Iz One made their debut on October 29, 2018, with their first extended play Color*Iz. The group is currently managed by Off the Record Entertainment in South Korea and AKS in Japan
Spoiler

for

story so far

:

Prior to appearing on the show, several members had already been active in the entertainment industry.
Hitomi Honda previously made her debut as a member of AKB48, while Sakura Miyawaki and Nako Yabuki debuted as members of AKB48's sister group HKT48 and considered among the top member of HKT48.
Kwon Eun-bi previously debuted with Ye-A in 2014 under the stage name Ka-zoo but left the group later.
Lee Chae-yeon previously competed in SBS' K-pop Star 3, and JYP Entertainment's own reality survival show Sixteen.
Jo Yu-ri was a contestant in the past 2017 Mnet competition show Idol School, where she came in 15th place.
Kim Min-ju had appeared as an actress in music videos and Korean dramas, notably the 2018 MBC television series,Tempted.

Izone was formed through the television competition show Produce 48, which aired on Mnet from June 15 to August 31, 2018. Out of an initial 96 trainees representing various South Korean agencies and the Japanese idol AKB48 Group, the final 12 were chosen by audience voting and announced via live television broadcast.

Name
The group's name, Iz One (stylized as IZ*ONE), was suggested by netizens through the official Produce 48 website and chosen by CJ E&M.[6] "IZ" is a numeronym for the number 12, a homage to their twelve members, while "ONE" indicates that they are one as a group. The asterisk (*) between "IZ" and "ONE" symbolizes the astrological signs of the zodiac

Similar to the previous group of I.O.I and Wanna One, the groups name, IZ*ONE was chosen through an online public voting during the shows period. 'IZ' is a numeronym for the number 12, a homage to the groups 12 members, while 'ONE' is the indication that the 12 girls is one as a group that was formed through Produce 48. They will debut on October 29, 2018.

In September 2018, Off the Record announced that they would take over the management of Iz One from Stone Music and Pledis.[26][5] All three Japanese members will halt activities with their respective 48 groups to focus on Iz One.

2018–present: Debut with Color*Iz

The group's debut extended play (EP) Color*Iz was released on October 29, 2018, with "La Vie en Rose" serving as its lead single. A debut showcase concert, entitled "Color*Iz Show-Con', was held in conjunction with the album's release at the Olympic Hall in Seoul, South Korea, in which the tickets to the showcase were sold-out within a minute of being on sale.In its first day of release, the EP sold over 34,000 units reported by Hanteo Chart, setting a new record for the highest number of albums sold on the first day of a Korean girl group's debut release.The music video for the lead single "La Vie en Rose" achieved more than 4.5 million views within 24 hours of its release on YouTube, making it the most-watched debut music video by a Korean act in 24 hours.[35] On November 8, Iz One garnered their first music program win for "La Vie en Rose" on M Countdown, becoming the fastest girl group to receive a music program win, just 10 days after their official debut.

On December 6, Off the Record announced that Iz One had signed a recording contract with Universal Music Japan's EMI Records label. It was also revealed that the group will make their Japanese debut on February 6, 2019.On December 15, Sakura Miyawaki and Nako Yabuki returned to Japan for HKT48's 8th anniversary concert. Although the news received criticism initially, Off the Record responded that Sakura Miyawaki and Nako Yabuki would participate in the concert as Iz One members.

Iz One won the Mnet Asian Music Awards 2018 as the best rookie group of the year.

On January, 20, 2019 IZ*One held their debut show-con in Tokyo Dome City Hall to promote their first japanese single "Suki To Iwasetai".Five days after the event, the group released the music video for the same song and views on YouTube surpassed 5 million within a week.

Quote:
A.
Pahami General Rules of Forum Music Kaskus
B. Jika ingin memposting gambar sesuaikan dengan KASKUS GUIDE, mohon untuk mengubah ukuran gambar dengan ukuran standart forum (640X480 pixel) & file size jangan melebihi 100kb untuk menghindari loading lama bagi pengguna koneksi rendah dan biasakan pake spoiler kalo mau ngepost gambar super HD/HQ
C. Minimalisir dopost/ double posting oleh satu ID yg sama,di hari yang sama. bila perlu tambahan input informasi dalam postingan ente,cukup edit post saja,gak usah posting lagi.
Dilarang keras membuat Postingan :
1. Postingan junk yg tidak disertai input yg berhubungan dengan thread
(OOT masih diperbolehkan selama masih dalam ruang lingkup k-pop/j-pop)
2. SUNDUL thread dan posting emoticon saja
3. Pornografi [NO Porn Pics or videos] (termasuk didalam nya foto dan video member dari angle yg kurang sopan,mereka Kpop/Jpop idol bukan Gravure idol,mohon dibedakan)
4. Disturbing Pics dan SARA
5. Tidak saling menghina/mencaci/menjatuhkan/menjelek-jelekkan antar kaskuser jika terjadi perbedaan pendapat, gunakan bahasa yang halus dan sopan agar tercipta kenyamanan dalam berforum.
All These Rules Above are Effective Immediately
dengan posting disini berarti diasumsikan ente sudah membaca & memahami rules diatas.
jadi jangan ngeyel+mewek+nyari alesan belom baca/belum tau rules nya. ketika kena tegor.
user yg masih bandel setelah 3X ditegur akan dilaporkan pada moderator setempat. untuk ditindak lebih lanjut.
Constructive Criticism is always welcomed and preferred
last but not least,enjoy your stay here.
demikian rules ini dibuat menyesuaikan dengan situasi,kondisi dan perkembangan jaman
bila perlu ada tambahan rules monggo pm/vm/quote @ Uesugikenshin,self proclaimed Lord of Ecchi-go & Kanto Kanrei.
beliau akan secepatnya menanggapi masukan dari kaskuser sekalian.
Sincerely
Heizo.K, National Producer Who Never Voted.