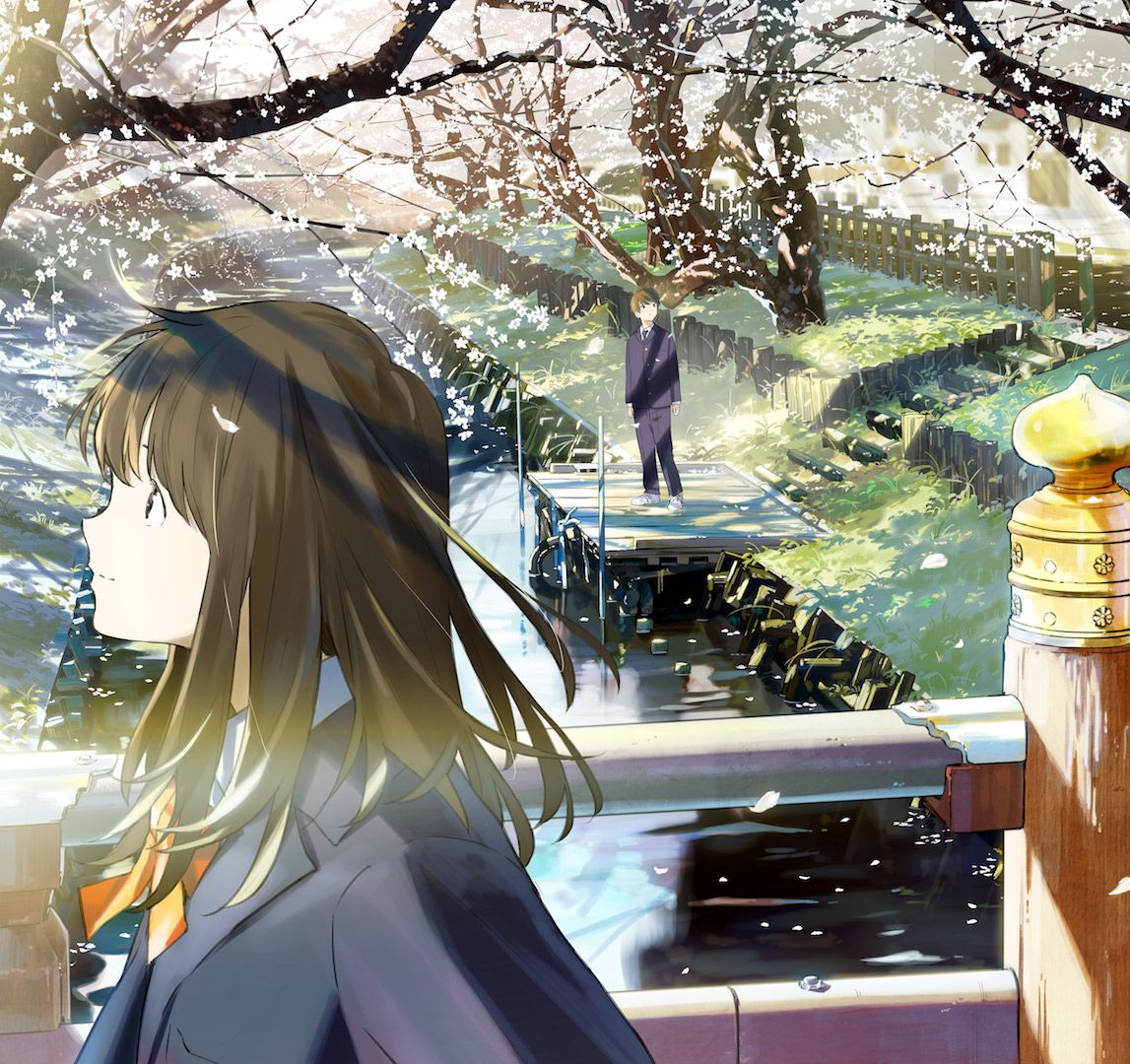 Synopsis
Quote:
Kotarou Azumi and Akane Mizuno became third year students at junior high school and are classmates for the first time. These two, along with fellow classmates, Chinatsu Nishio and Takumi Hira, relate to their peers through mutual understandings and feelings. As their final year at junior high school progresses, the group overcome their challenges to mature and become aware of changes in themselves.
Information
Quote:
Type: TV
Episodes: Unknown
Status: Currently Airing
Aired: Apr 7, 2017 to ?
Premiered: Spring 2017
Producers: flying DOG
Licensors: FUNimation Entertainment
Studios: feel.
Source: Original
Genres: Romance, School
Duration: 24 min.
Rating: PG-13 - Teens 13 or older
Staff
Quote:
Director: Seiji Kishi
Script: Yuuko Kakihara
Series Composition: Yuuko Kakihara
Original Illustrator: loundraw

Voice Actors & Characters
Quote:
●
Rie Murakawa as Chinatsu Nishio:
Chinatsu is also a sprinter on the track and field team. Together with Akane, and the running long jump specialist Mamoru Takizawa, they are known as the "Third Year Track Trio" of the track and field team. Bright and innocent, she is amiable with everyone and can cheer anyone up. This makes her very popular among the boys and girls. She does sometimes say that she wants something that someone else has, which leads her to sometimes 'that's nice~ Lemme have a little'. However it is never from a place of malice.
●
Shōya Chiba as Kotarō Azumi:
Head of the literary club, Kotarou loves books and is starting to think that he would like to become a writer. He was born to a father who was born, raised, and works all in the same place and his mother who is a housewife. Ever since he was a child, he has been in the orchestra for his local Shinto shrine. Having a culturally rich upbringing, he was taught the flute, taiko drums, and dance and he was raised to to have a strong bond with his neighborhood. He is an only child who lives in the house that his grandparents built. Because he acts carefree, he looks as though he does not get caught up in what is going on around him. Kotarou is not proactive in his studies, and as such, he is in the bottom half of his class. He does not stand out in his class.
●
Konomi Kohara as Akane Mizuno:
Akane has loved to run ever since she was a child. When she joined middle school, she joined the track and field team and excels at sprints. Due to her father being transferred frequently she transferred into Kawagoe as a fifth grader. She lives in an apartment. She had a carefree and optimistic upbringing with her hilarious father, her cheerful mother, and her older sister who has two years on her. She is diligent at her core, so she is studious and has excellent grades. Akane can be a bit of a braggart, but she actually desperately tries to read the atmosphere at school. Akane is prone to anxiety and so she uses "imo", a mascot character, as a good luck charm for relaxing.
●
Atsushi Tamaru as Takumi Hira:
Takumi is the head of the track and field team. He has good grades as well and ever since he was a first year student, he has continued to make it to the prefectural competition every year for sprints. As such, he is an accomplished athlete and student. Takumi naturally pays attention to those around him, and is a person of character whom is frequently relied upon. Akane also joined the track and field team, and Takumi has been thinking about her ever since. He, of course, has never told anyone about this. However other than Akane, it seems that others vaguely notice.
PV
Quote:
Quote: