The Ultimate
Genso Suikoden Series
Fan Thread & Discussions
RULES TYPE 1 - ETIKA BERFORUM
Quote:
Gunakan Bahasa Indonesia yang mudah dimengerti dan jelas.

Dilarang posting yang menyangkut SARA (Suku, Agama, Ras dan Antargolongan)

No Junk post (ijin gabung, ijin unduh, asdasd, nais info, sundul gan, dsb.).

No one liner post

No Flamming post.

Gunakan fasilitas multiquote.

Hindari dopost, tripost, dst.

Posting gambar harap diberi spoiler.

Respect sesama kaskuser dan sesama Genso Suikoden Series Fans, tak ada senioritas disini.

Harap selalu membaca dan mengingat rules ini.

Peraturan yang belum ada, dapat di tambahkan apabila diperlukan.

Diperbolehkan OOT tapi jangan melenceng terlalu jauh.

Dilarang promosi lapak karena ini bukan FJB.

Dilarang menyebarkan link yang mengandung pornografi/adult content (BB17++, dkk).

Dilarang jualan, promosi link.
RULES TYPE 2 - KONTEN DAN ISI GENSO SUIKODEN THREAD
Quote:
HARAP SELALU CEK DAN BACA PAGE ONE DAN PAGE TWO SEBELUM BERTANYA.

Hindari penyebaran HOAX dan GOSSIP. Kebohongan yang tersebar dari HOAX dan GOSSIP bisa sangat berbahaya.

Bila ingin memberi info berita terbaru tentang Genso Suikoden series pastikan terlebih dahulu berita itu akurat 100% bersumber dari KONAMI.

Adu argumen terkait pendapat, teori, temuan diperkenankan.

Beri penekanan bila memberi argumen, mana yang merupakan pendapat pribadi dan mana yang merupakan fakta official dari KONAMI - Genso Suikoden series. Selalu berikan argumen dengan fakta pendukung yang jelas.

Quote:
BIASAKAN BACA PAGE ONE!!!

GA USAH NANYA-NANYA

"KAPAN SUIKODEN 6 KELUAR?"

,

"KAPAN SUIKODEN BERIKUTNYA KELUAR?"

,

"BAKAL KELUAR DI CONSOLE/HANDHELD APA?"

,

"ADA SUIKODEN BUAT PC/KOMPUTER GA?"



BACA YANG TELITI, JAWABANNYA BISA DIDAPAT DENGAN CARA BACA SEMUA INFORMASI YANG ADA DI PAGE ONE

INFO DI PAGE ONE BAKAL TERUS UP TO DATE DENGAN BERITA TERKINI TENTANG GENSO SUIKODEN SERIES
JANGAN COBA-COBA NGE-JUNK DI THREAD INI
JUNKERS ARE NOT ALLOWED, '

BATA

' AWAITS YOU WHO DARE BREAKS THE RULE

SUMBER INFORMASI UTAMA GENSO SUIKODEN THREAD
Quote:
Genso Suikoden Series KONAMI Official Sites

Suikosource - Web & Forum

Suikox

Genso Suikoden series Web Ring & Fansite







Quote:

Suikoden​ (幻想水滸伝, Gensō Suikoden) is a role-playing game series originally created by Yoshitaka Murayama. The game series is loosely based on the classical Chinese novel, Shui Hu Zhuan by Shi Nai'an and Luo Guanzhong. Shui Hu Zhuan is rendered as 水滸伝 in Japanese, and read as Suikoden. Each individual game in the series center around relative themes of politics, corruption, revolution, mystical crystals known as True Runes and the "108 Stars of Destiny" — the 108 protagonists who are loosely interpreted from the source material.

Though the Suikoden games follow an irregular chronological sequence of events, the entire series takes place within the same world among continuing and overlapping histories. In some cases, several characters appear in multiple installations.



Sumber: http://en.wikipedia.org/wiki/Suikoden




SEKILAS TENTANG GENSO SUIKODEN



Gensō Suikoden (幻想水滸伝, atau yang biasa kita kenal dengan Suikoden, adalah RPG buatan KONAMI, dengan cerita yang ditulis oleh Yoshitaka Murayama, dan dia juga bertindak sebagai producer dan director sejak game Suikoden I pertama rilis hingga Suikoden III. Cerita game ini dibuat berdasarkan cerita novel klasik Cina, yaitu Shui Hu Zhuan (Water Margin/ Tepi Air) karangan Shi Nai'an (versi 70 bab) dan Luo Guanzhong (versi 120 bab). Shui Hu Zhuan bila dituliskan ke dalam kanji Jepang maka akan menjadi 水滸伝 (baca: Suikoden)
Maka serial game ini dibuat dengan nama 幻想水滸伝 (Gensō Suikoden)/menambahkan kata 'Gensō' yang berarti 'fantasi',karena setting cerita game ini berada dalam alam fantasi/dunia fiksional, dengan tetap mempertahankan unsur 'Suikoden' nya.

Dalam game Suikoden Series, gamer akan dibawa ke dunia Suikoden, dimana gamer akan terlibat dalam cerita yang berpusat kepada tema peperangan, politik, korupsi, revolusi/pemberontakan, dan juga kristal mistis yang disebut dengan istilah 'True Runes', serta cerita mengenai '108 Stars of Destiny' (108 ksatria/pejuang/protagonis yang diadaptasi langsung dari cerita novel aslinya).
Cerita dalam game Suikoden Series sendiri mempunyai timeline yang tidak beraturan/tidak kronologis, keseluruhan cerita mengambil setting dunia yang sama, dengan cerita berdasarkan sejarah-sejarah yang ada pada dunia tersebut, kadang berkelanjutan antara cerita satu seri Suikoden dengan seri Suikoden lainnya, dan terkadang terjadi overlap cerita.
Terkadang dalam seri Suikoden terdapat beberapa karakter yang muncul beberapa kali di tiap series, terkadang dengan peran mereka yang berbeda di setiap seri kemunculannya.
Yoshitaka Murayama sendiri sebagai creator dan juga penulis cerita Suikoden Series keluar dari KONAMI sejak akhir pembuatan seri Suikoden III akibat perselisihan dengan petinggi, terkait (berdasarkan rumor yang beredar) kebebasannya sebagai director dan pembuat cerita yang banyak dikekang.


Berikut game-game yang termasuk ke dalam Suikoden Series dan juga beberapa side-games/spin-off games nya.

GENSO SUIKODEN I

GENSO SUIKODEN II

GENSO SUIKODEN III

GENSO SUIKODEN IV

GENSO SUIKODEN V

RHAPSODIA/SUIKODEN TACTICS

GENSO SUIKODEN CARD STORIES

GENSO SUIKOGAIDEN I

GENSO SUIKOGAIDEN II

GENSO SUIKODEN TIERKREIS

GENSO SUIKODEN TIERKREIS: CASTLE OF STARDUST (MOBILE PHONE - DOWNLOADABLE APPLICATION - NOVEL)

GENSO SUIKODEN I MOBILE PHONE

GENSO SUIKODEN II MOBILE PHONE

GENSO SUIKODEN CARD MOBILE PHONE (DOWNLOADABLE APPLICATION)

GENSO SUIKODEN PACHISLOT (A PACHINKO GAME MACHINE BASED ON GENSO SUIKODEN IV)

GENSO SUIKODEN TSUMUGARESHI HYAKUNEN NO TOKI

GENSO SUIKODEN CARD GAME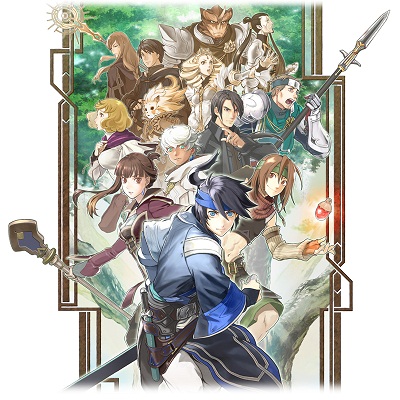 Index - Guide to Read This Thread


(All Posts are in First Page)
Post Number: