HAPPY HALLOWEEN 2018, Scariest Fest of the year is arrived again. Celebrate the Fiercest holiday season with spooky treats from VPS9.Net. Halloween vibes are spread around to trick us but VPS9.Net is offering Spooky Big 45% Onetime treat on All Unmanaged VPS Hosting Services.

SPOOKY HALLOWEEN OFFERS
In honour to the world's creepy holidays, take your business on Witchy Halloween Save Big Treat at VPS9.Net . Best opportunity to hallow host your business and get tricked & treated with BOO OFFERS.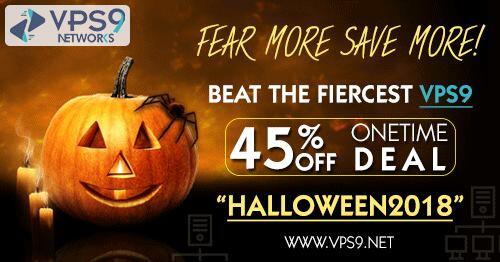 VPS9 VPS Hosting Features

1. Instant VPS Set-up

2. Full Root Access

3. 24/7 Expertise Customer Support

4. World Class Network Connectivity

5. FREE Solusvm Panel Access with Restart | Start | Stop | Reinstall OS | Monitor Resource Usage.

6. FREE DDOS Protection

7. One Free IP



ENJOY THE SPOOKY HALLOWEEN OFFERS

on ALL Unmanaged VPS ONETIME 45% OFF — Promo Code:

"HALLOWEEN2018"



1. UNMANAGED OPENVZ VPS

2. UNMANAGED KVM LINUX VPS

3. UNMANAGED WINDOWS VPS


*Halloween Offers T&C:

- Halloween Offer applicable for both new and old clients.

- Offers applicable only on Unmanaged VPS Services.

- 45% Onetime Discount applicable for Plan 2 of all Unmanaged VPS.

- Offer valid from Oct 8th 2018 to Nov 2nd 2018.

- Onetime Discount applicable only for one quantity.

This Halloween Season Grab ONETIME 45% OFF on ALL UNMANAGED VPS Hosting Services.



Hurry UP JUST $ DAYS LEFT .....Avail the Halloween Offers Before Nov 2nd.