Trump dan Kim Jong Un Menandatangani Kesepakatan Denuklirisasi

US President Donald Trump (2nd R) and North Koreas leader Kim Jong Un (2nd L) sign documents as US Secretary of State Mike Pompeo (R) and the North Korean leaders sister Kim Yo Jong (L) look on at a signing ceremony during their historic US-North Korea summit, at the Capella Hotel on Sentosa island in Singapore on June 12, 2018. Donald Trump and Kim Jong Un became on June 12 the first sitting US and North Korean leaders to meet, shake hands and negotiate to end a decades-old nuclear stand-off.

Presiden Amerika Serikat Donald Trump dan pemimpin Korea Utara Kim Jong Un menandatangani dokumen bersama di Hotel Capella, Singapura, Selasa (12/6/2018). Dokumen yang bersejarah ini menjadi jalan bagi Korut untuk memulai denuklirisasi dengan segera. Setelah mengadakan makan siang bersama, kedua pemimpin duduk bersama untuk menandatangani dokumen yang disebut sebagai perjanjian komprehensif oleh Trump.

"Saya ingin berterima kasih kepada kedua pihak, termasuk menteri Pompeo (menteri luar negeri AS). Ini sangat luar biasa," kata Trump kepada awak media, saat menandatangani dokumen tersebut. Trump sempat memperlihatkan dokumen yang telah ditandatangani keduanya. Setelah selesai, keduanya kembali berjabat tangan dan meninggalkan ruangan. "Kami sangat bangga dengan apa yang terjadi pada hari ini," ucap Trump. Sebelumnya, Trump dan Kim Jong Un bertemu secara empat mata. Dalam tatap muka selama 38 menit, Trump dan Kim didampingi penerjemah. Setelah keluar dari ruangan menuju ruangan lainnya, keduanya menyapa awak media dari balkon Hotel Capella, di Singapura.

"Sangat, sangat baik. Hubungan yang luar biasa," katanya, Selasa (12/6/2018).

Selanjutnya, Trump dan Kim melanjutkan pertemuan bilateral bersama penasihat mereka. Kemudian, diteruskan dengan penandatanganan dokumen bersama.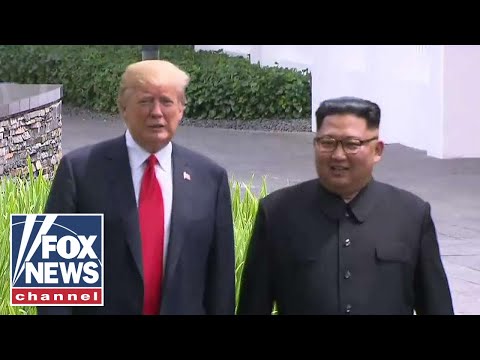 haiyaaa ciilaaka luuwa weelas waaa

Opa Trump bakalan dikadalin kyk Bule2 seblm nyeee ato 2nd Term M A G A haaa????