Fujifilm baru saja merilis kamera mirrorless dengan sensor medium format pertamanya, yaitu seri
GFX 50S
di ajang Photokina di Cologne, Jerman. Kamera
GFX 50S
merupakan mirrorless dengan sensor ukuran medium format pertama dari Fujifilm.
FUJIFILM GFX 50S
memberikan kualitas gambar terbaik di dunia. Ini menggabungkan resolusi yang luar biasa dari 51,4 megapixel, reproduksi warna maju dan lensa kinerja tinggi. Tingkat kualitas gambar adalah murni motivasi. Dunia di sekitar Anda berubah saat Anda memegang kamera ini di tangan Anda. Menghargai semua yang dapat dicapai dengan sistem medium format kamera mirrorless baru Fujifilm, GFX.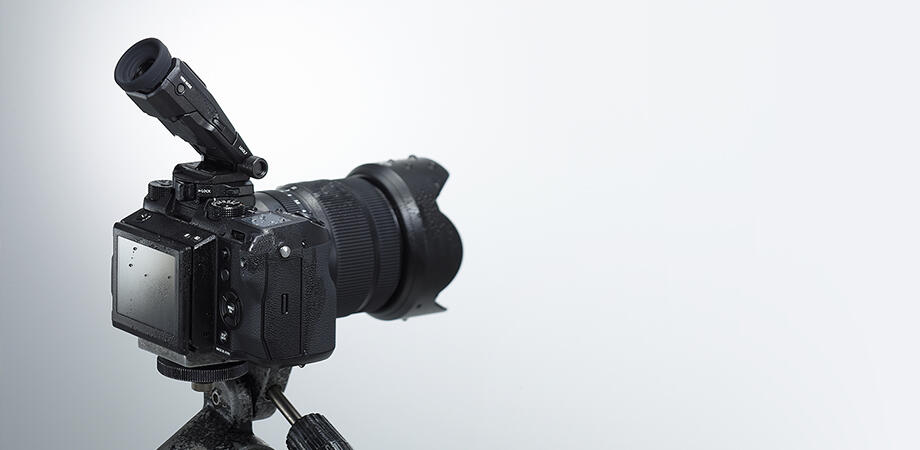 Fujifilm mengembangkan
FUJIFILM GFX 50S
dan Fujinon Lensa GF seri sebagai sistem untuk fotografer yang membutuhkan kualitas gambar yang lebih tinggi daripada yang bisa ditutupi oleh arus X Series lineup.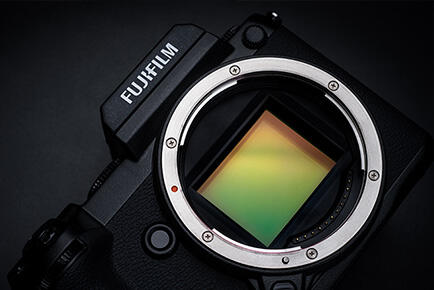 Tingkat tertinggi di dunia kualitas gambar fotografi dihasilkan oleh integrasi sensor CMOS 43.8x32.9mm besar (FUJIFILM G Format) dan teknologi desain gambar dibudidayakan oleh sejarah 80 + tahun Fujifilm.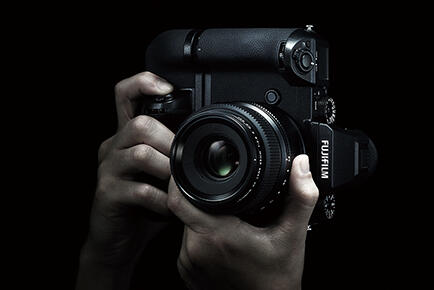 FUJIFILM GFX 50S
menjungkirbalikkan persepsi umum kamera digital medium format tradisional dengan tubuh kecil, ringan terbuat dari magnesium alloy dan dilengkapi dengan EVF dilepas definisi ultra-tinggi mengadopsi panel EL organik 3.69M-dot.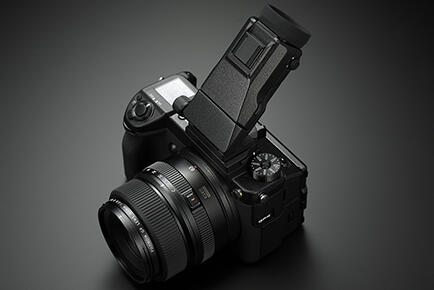 Rana fokus telah baru dikembangkan secara khusus untuk kamera mirrorless kami. Sementara mencapai kecepatan shutter maksimum 1/4000 detik. (1/16000 detik. Saat menggunakan shutter elektronik), kecepatan kilat sinkronisasi 1/125 detik. atau kurang, dan kinerja tinggi dan daya tahan dengan daya tahan shutter mendukung hingga 150.000 tembakan *, kamera juga mencapai getaran yang rendah dan shutter suara tenang.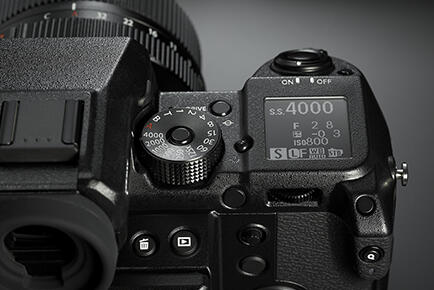 Berikut pengaturan Full HD didukung untuk Film Mode: 1920x1080 29.97p / 25p / 24p / 23.98p 36Mbps. Pengguna dapat merekam film berkualitas tinggi memanfaatkan baik reproduksi warna berkat kedalaman dangkal lapangan yang unik untuk sensor besar dan mode Film Simulasi.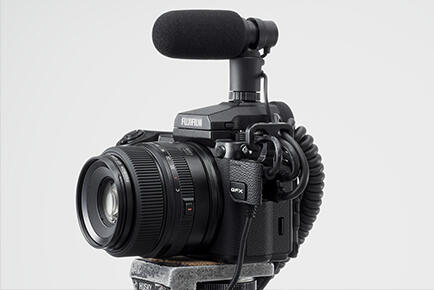 G Mount Lensa Fujinon GF mewarisi filosofi desain Lensa XF terkemuka, mencapai kekuatan yang sangat tinggi menyelesaikan dan reproduksi nada kaya.Selain pengaturan posisi A (Auto) yang ditampilkan di cincin aperture di Seri X, baru C (Command Dial) Posisi telah ditambahkan, memungkinkan untuk nilai aperture untuk diubah bahkan dari badan kamera.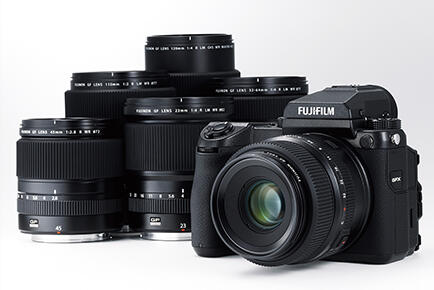 Menawarkan berbagai aksesoris khusus untuk membangun sebuah sistem yang dapat menanggapi permintaan rinci profesional, pengguna dapat memilih solusi yang paling mudah untuk menggunakan sesuai dengan lokasi penembakan dan metode.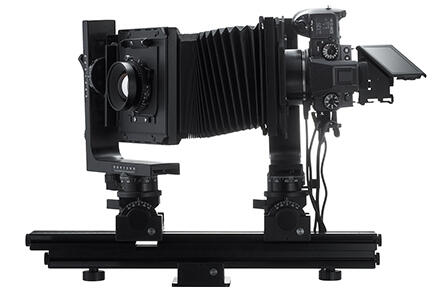 Seperti apa desainya dan fungsi lihat dibawah ini
Specifications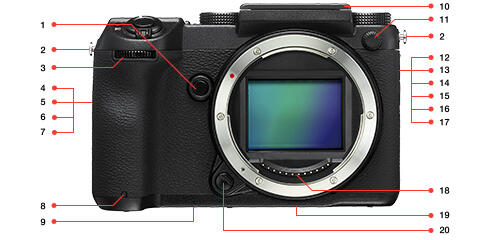 1.Fn2 button
2.Strap anchor
3.Front command dial
4.Memory card slot cover
5.Memory card slot cover latch
6.Memory card slot 1
7.Memory card slot 2
8.Self-timer lamp
9.Vertical battery grip connector cover
10.Hot shoe
11.Sync terminal
12.Connector cover 1
13.Remote release connector cover
14.HDMI Micro connector (Type D)
15.Remote release connector (⌀ 2.5 mm)
16.15 V DC-IN connector
17.Micro USB (Micro-B) USB 3.0 /
USB 2.0 connector
18.Lens signal contacts
19.Tripod mount
20.Lens release button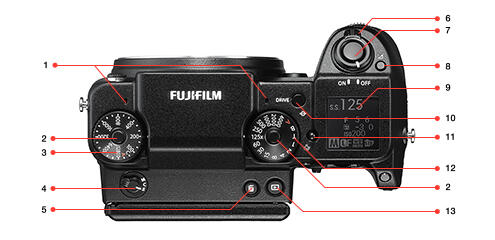 1.Microphone
2.Dial lock release
3.Sensitivity dial
4.Focus mode selector
5.(delete) button
6.ON/OFF switch
7.Shutter button
8.Fn1 button / (exposure compensation) button
9.Secondary LCD monitor
10.Drive button
11.Secondary monitor backlight button
12.Shutter speed dial
13.(playback) button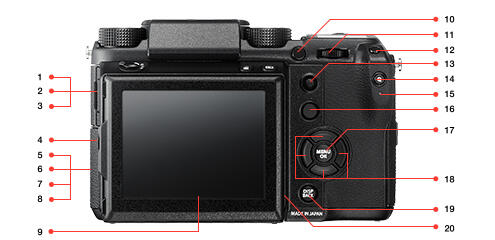 1.Connector cover 2
2.Microphone jack (⌀ 3.5 mm)
3.Headphone jack
4.Tilt lock release
5.Battery-chamber cover latch
6.Battery-chamber cover
7.Battery chamber
8.Battery latch
9.LCD monitor /
Touch screen
10.Fn4 button
11.Rear command dial
12.Fn3 button
13.Focus stick (focus lever)
14.Q (quick menu) button
15.Indicator lamp
16.Fn5 button
17.MENU/OK button
18.Selector buttons
19.DISP (display)/BACK button
20.Speaker
Model Name FUJIFILM GFX 50S
Number of effective pixels 51.4 million pixels
Image sensor 43.8mm x 32.9mm Bayer array with primary color filter
Sensor Cleaning system
Ultra Sonic Vibration
Storage media SD Card (-2G) / SDHC Card (-32G) / SDXC Card (-256G) UHS-I / UHS-II*1
File format
Still image
JPEG (Exif Ver.2.3)*2, RAW : 14bit RAW(RAF original format), RAW+JPEG, 8-bit TIFF(In-camera Raw Conversion Only)
Movie
MOV (MPEG-4 AVC / H.264, Audio : Linear PCM / Stereo sound 48KHz sampling)
Number of recorded pixels
L: (4:3) 8256 x 6192 / (3:2) 8256 x 5504 / (16:9)8256 x 4640 / (1:1) 6192 x 6192 (65:24)8256 x 3048 / (5:4) 7744 x 6192 / (7:6) 7232 x 6192
S: (4:3) 4000 x 3000 / (3:2)4000 x 2664 / (16:9)4000 x 2248 / (1:1) 2992 x 2992 (65:24)4000 x 1480 / (5:4) 3744 x 3000 / (7:6) 3504 x 3000
Lens mount FUJIFILM G mount
Sensitivity Standard Output Sensitivity : AUTO1 / AUTO2 / AUTO3 (up to ISO12800) / ISO100-12800 (1/3 step)
Extended output sensitivity : ISO50 / 25600 / 51200 / 102400
Exposure control TTL 256-zone metering, Multi / Spot / Average / Center Weighted
Exposure mode P(Program AE) / A(Aperture Priority AE) / S(Shutter Speed Priority AE) / M(Manual Exposure)
Exposure compensation -5.0EV - +5.0EV, 1/3EV step
(movie recording : -2.0EV - +2.0EV)
Image Stabilizer Supported with OIS type lenses
Shutter type Focal Plane Shutter
Shutter speed
Mechanical Shutter
4sec. - 1/4000sec (P mode), 60 min. - 1/4000 sec. (All modes)
Bulb mode (up to 60min), TIME:60min. - 1/4000sec.
Electronic Shutter*3
4sec - 1/16000sec (P mode), 60min - 1/16000sec (All modes)
Bulb mode (up to 60 min), TIME:60min. - 1/16000sec.
Electronic Front Curtain Shutter*4
4sec. - 1/4000sec (P mode), 60 min. - 1/4000 sec. (All modes)
Bulb mode (up to 60min), TIME:60min. - 1/4000sec.
Mechanical + Electronic Shutter
4sec - 1/16000sec (P mode), 60min - 1/16000sec (All modes)
Bulb mode (up to 60 min), TIME:60min. - 1/16000sec.
Electronic Front Curtain Shutter*4 + Electronic Shutter
4sec - 1/16000sec (P mode), 60min - 1/16000sec (All modes)
Bulb mode (up to 60 min), TIME:60min. - 1/16000sec.
Synchronized shutter speed for flash
1/125sec. or slower
Continuous shooting Approx. 3.0 fps ( JPEG:Endless Lossless compression RAW : 13 Frames Uncompressed RAW : 8 Frames)
*When Using the Electronic Front Curtain Shutter
Approx. 1.8 fps ( JPEG : Endless Lossless Compression RAW : Endless Uncompressed RAW : 8 Frames)
* Recordable frames depends on recording media
* Speed of continuous shooting depends on shooting environment and shooting frames
Auto bracketing AE Bracketing (2/3/5/7/9 frames) ±1/3EV - ±3EV, 1/3EV step
Film Simulation Bracketing (Any 3 types of film simulation selectable)
Dynamic Range Bracketing (100%, 200%, 400%)
ISO sensitivity Bracketing (±1/3EV, ±2/3EV, ±1EV)
White Balance Bracketing (±1, ±2, ±3)
Focus
mode
Single AF / Continuous AF / MF
type
TTL Contrast AF
AF frame selection
Single Point AF: EVF / LCD: 13x9 / 25x17 (Changeable Size of AF Frame Among 6 Types)
Zone AF: 3x3 / 5x5 / 7x7 from 117 Areas on 13x9 Grid
Wide/Tracking AF: (Up to 9 Area)
* AF-S : Wide
* AF-C : Tracking
White balance Automatic scene recognition / Custom / Color temperature selection (K) / Preset : Daylight, Shade, Fluorescent light (Daylight), Fluorescent light (Warm White), Fluorescent light (Cool White), Incandescent light, Underwater
Self-timer 10sec. / 2sec.
Interval timer shooting Yes (Setting : Interval, Number of shots, Starting time)
Flash modes
*When EF-X500 is set
SYNC. MODE
1ST CURTAIN / 2ND CURTAIN / AUTO FP(HSS)
FLASH MODE
TTL(FLASH AUTO / STANDARD / SLOW SYNC.) / MANUAL / OFF
Hot shoe Yes (Dedicated TTL Flash compatible)
Viewfinder 0.5 inch Approx. 3.69 millions dots OLED Color Viewfinder Coverage of Viewing Area vs. Capturing Area : Approx. 100%
Eyepoint: Approx. 23mm (from the Rear End of the Camera's Eyepiece) , Diopter Adjustment: -4 - +2m-1
Magnification: 0.85x with 50mm Lens (35mm Equivalent) at infinity and Diopter set to -1.0m-1
Diagonal Angle of View: Approx. 40° (Horizontal Angle of View: Approx. 33° )
Built-In Eye Sensor
LCD monitor 3.2 inch, Aspect Ratio 4:3,
Approx. 2,360K-dot Tilt-Type, Touch Screen Color LCD Monitor (Approx. 100% Coverage)
Movie recording [Full HD (1920x1080)] 29.97p / 25p / 24p / 23.98p 36Mbps up to Approx. 30 min.
[HD (1280x720)] 29.97p / 25p / 24p / 23.98p 18Mbps up to Approx. 30min.
Photography functions Color, Sharpness, Highlight tone, Shadow tone, Noise reduction, Long exposure NR, Lens Modulation Optimizer, Color space, Pixel mapping, Select custom setting, Edit/Save custom setting, Store AF mode by orientation, Rapid AF, AF point display, Pre-AF, Face/Eye detection AF, AF+MF, Focus peak highlight, Focus check, Interlock spot AE & focus area, Instant AF setting (AF-S/AF-C), Depth-of-field scale, Release/Focus priority, Touch screen mode, Mount adapter setting, Red eye removal, Movie AF mode, RGB Histogram, Highlight alert, Electronic level, Preview depth of field, AE lock, AF lock, AF-ON, Multiple exposure
Touch Screen Mode
Shooting Mode
Touch AF, Focus Area, OFF
Playback Mode
Swipe, Zoom, Pinch-in / Pinch-out, Double-tap, Drag
Film Simulation mode 15 modes ( PROVIA / Standard, Velvia / Vivid, ASTIA / Soft, CLASSIC CHROME, PRO Neg.Hi, PRO Neg.Std, Black&White, Black&White+Ye Filter, Black&White+R Filter, Black&White+Gfilter, Sepia, ACROS, ACROS+Ye Filter, ACROS+R Filter, ACROS+G Filter )
Grain Effect STRONG, WEAK, OFF
Color Chrome Effect STRONG, WEAK, OFF
Dynamic range setting AUTO, 100%, 200%, 400%
Playback functions Switch slot, RAW conversion, Erase, Erase selected frames, Crop, Resize, Protect, Image rotate, Red eye removal, Voice memo setting, Copy, Photobook assist, Multi-frame playback (with micro thumbnail), Favorites, RGB histogram, Highlight alert
Wireless transmitter
Standard
IEEE 802.11b / g / n (standard wireless protocol)
Encryption
WEP / WPA / WPA2 mixed mode
Access mode
Infrastructure
Wireless function Geotagging, Wireless communication (Image transfer), View & Obtain Images, Remote camera shooting, instax printer print
Other functions Exif Print, Date/Time, Time difference, 35 Languages, My menu setting, Sensor cleaning, Battery age, Sound set-up, EVF brightness, EVF color, LCD brightness, LCD color, Image disp, Auto rotate displays, Preview exp./WB in manual mode, Preview pic. effect, Framing guideline, Autorotate PB, Focus scale units, Disp. custom setting, Sub monitor setting, Focus lever setting, Edit/Save Quick menu, Function(Fn) setting, Selector button setting, Command dial setting, Shutter AF, Shutter AE, Shoot without lens, Focus ring, AE/AF-Lock mode, Expo. Comp. button setting, Touch screen setting, Lock, Auto power off, Shooting stand by mode, Auto power save, Frame No., Save org image, Edit file name, Card slot setting, Switch slot, Movie file destination, Copyright Info
Terminal
Digital interface
USB3.0 (High-Speed) / micro USB terminal
* connectable with Remote Release RR-90 (sold separately)
HDMI output
HDMI micro connector (Type D)
Other
ø3.5mm, stereo mini connector (Microphone) / ø3.5mm, stereo mini connector (Headphone) / ø2.5mm, Remote Release Connector DC IN 15V Connecter *Compatible with AC-15V (Optional) Only / Hot shoe / Syncronized terninal
Power supply NP-T125 Li-ion battery (included)
Battery life for still images*5
Approx. 400frames When GF63mmF2.8 R WR is set. (Auto power save ON)
Actual battery life of movie capture*5
*Face detection is set to OFF
Full HD : approx. 145 min
Continuance battery life of movie capture*5
*Face detection is set to OFF
Full HD : approx. 70 min.
Dimensions 147.5mm (W) x 94.2mm (H) x 91.4mm (D) / 5.81in. (W) x 3.71in. (H) x 3.60in. (D)
(Minimum Depth : 41.6mm / 1.64in.)
Weight Approx. 825g / 29.1 oz. (including battery and memory card), Approx 920g / 32.5 oz. (including EVF)
Approx. 740g / 26.1 oz. (excluding accessories, battery and memory card)
Operating Temperature -10°C - +40°C (+14°F - +104°F)C
Operating Humidity 10 - 80% (no condensation)
Starting up period Approx 0.4sec.
* Fujifilm research
Harga Body perkiraan diharga $6,499.00 kurang lebih Rp 87 Jutaan, diharga dollar persaat ini
Tunggu Kehadirannya di Camera.co.id
KLIK DISINI