Book Says Zhou Enlai, Chinese Premier, May Have Been Gay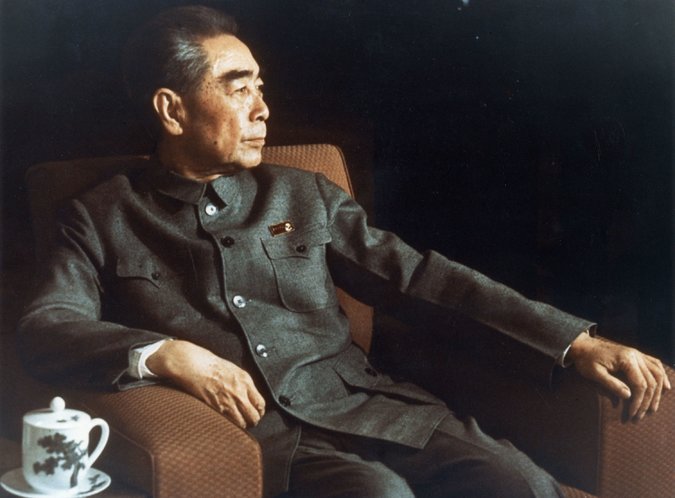 Zhou Enlai, the first premier of the People's Republic of China, in 1973. A new book offers a radical reinterpretation of Zhou's life: He was probably gay.

HONG KONG — He was a towering figure of the 20th century, instrumental in building the Chinese Communist Party from the battlefield to the halls of power. He worked alongside Mao Zedong for decades, and was revered for his rich intellect and even temperament.

And as the first premier of the People's Republic of China, Zhou Enlai met with Henry A. Kissinger in Beijing in 1971 to pave the way for President Richard M. Nixon's groundbreaking trip to China the next year, beginning a new era in global politics.

Now, a book being published this week offers a radical reinterpretation of Zhou's life: He was probably gay.

That assertion is sure to be contentious in China, where homosexuality is not widely accepted and where many may view it as an attack on Zhou's character. Indeed, the book is expected to be banned in mainland China, as are other unauthorized biographies of Zhou.

Tsoi Wing-Mui, the author of the book, "The Secret Emotional Life of Zhou Enlai," writes that Zhou's sexual orientation would explain several mysteries about his life, including his cool treatment of his wife at the time of their marriage and his careful relationship with Mao.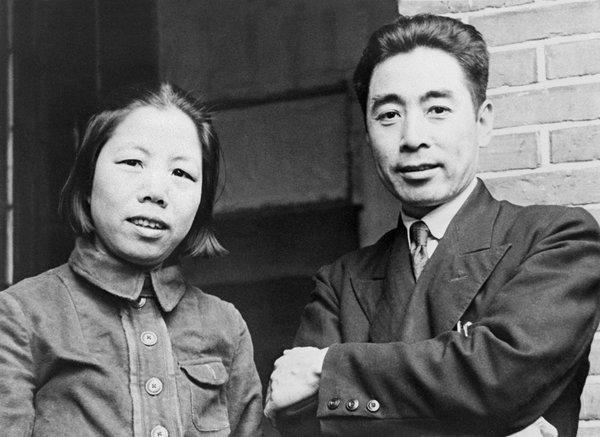 Zhou and his wife, Deng Yingchao, in an undated picture. He treated her coolly in a well-documented incident in 1925
Bini kyk Ayam Sayur.....laki2 yg normal pasti jadi gay laaa



Ms. Tsoi, a journalist who was the editor of a liberal political magazine in Hong Kong, presents no proof that Zhou was gay. There are no lovers with tell-all stories, only clues from his diary entries and correspondence with his wife.

Ms. Tsoi said she wanted her interpretation to add to the understanding of an important historical figure, giving texture to his personality. "Before writing this book, I really didn't have a good impression of Zhou Enlai," she said in an interview. "But afterward, I have a lot of sympathy for him."

She said one diary entry from when Zhou was a young man provided a clue to his yearnings.

In late 1918, Zhou, then 20, was living in Japan, where he planned to enroll in a university. Weeks earlier, he had left the northern Chinese port city of Tianjin. So had a young man two years his junior, Li Fujing, a classmate who had gone to study at the University of Hong Kong. Their separation proved wrenching for Zhou, as he noted in his diary.

"In these months, the moon or the morning breeze, the rain against my window, and flowers; all make me long for my family, and thinking of my brother Hui, I suffer terribly!" Zhou wrote, his Chinese characters rendered with bold and urgent brush strokes.

The relationship between the young Zhou and Mr. Li ("brother Hui") was more than a close friendship, Ms. Tsoi writes; Zhou was in love with Mr. Li.

Viewing Zhou as gay raises questions of what direction his life, and China's path, might have taken had same-sex relationships been accepted in Chinese society.

Zhou and Mr. Li stayed in touch and traveled to Britain in 1921 in hopes of going to a university there; Ms. Tsoi writes that they were living in London at the same time. Mr. Li was accepted to the University of Manchester, but Zhou was unable to afford the high cost of living in Britain. Despondent, he moved to France, Ms. Tsoi says.

There, Zhou received a stipend from the Soviet-funded Communist International and began his rapid ascent in the party's ranks.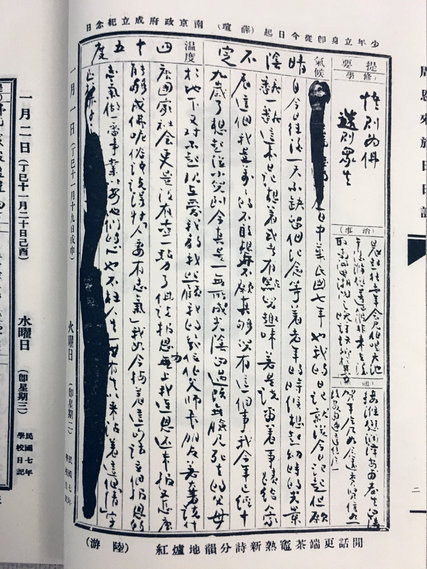 On a page from Zhou's diary in 1918, ink blots out part of a sentence that begins, "For the first time in my life I am immersed in this word 'love.'"

"We don't know what happened to them when they were in Great Britain," Bao Pu, the book's publisher, said in an interview. "It's impossible for them to be together, and they know it."

Viewing Zhou as gay adds a new interpretation to a well-documented incident in 1925, when Zhou's fiancée, Deng Yingchao, arrived in the southern city of Guangzhou. Zhou had proposed to her via postcard when he was in Europe, Ms. Tsoi writes. The couple had not seen each other in five years and had never been romantically involved.

Gao Wenqian, a former historian for the Communist Party and the author of the 2007 biography "Zhou Enlai: The Last Perfect Revolutionary," which is banned in China, wrote that Zhou did not meet Ms. Deng when her boat arrived.

So she set out to find Zhou at the Guangdong General Workers' Union.

"When he saw Deng enter the room, Zhou gave her a quick smile, but he continued his intense discussions, and, when the meeting ended, he got up and hustled out of the headquarters building without bothering to greet his bride-to-be," Mr. Gao wrote.

Official party accounts interpreted Zhou's less-than-warm greeting as a reflection of his total commitment to the Communist cause.

Far more consequential, yet also more tentative, is Ms. Tsoi's interpretation of how Zhou's sexuality may have influenced his relationship with Mao. Many historians, including Mr. Gao, believe he behaved in a more cautious manner than he could have.

Zhou, who outranked Mao in the Communist Party until the mid-1930s, failed to stop the rise of Mao's cult of personality, which led to the disastrous Cultural Revolution, which began in 1966 and is widely seen to have ended only with Mao's death in 1976, nine months after Zhou himself died. While Zhou is credited with saving many party cadres from the worst excesses of the marauding Red Guards, he was careful to stay loyal to Mao.

Sidney Rittenberg, 94, an American who joined the Chinese Communist Party, first met Zhou in 1946 at the party's base in Yan'an, in northwestern China. In the 21 years that Mr. Rittenberg had contact with Zhou, he said, he never suspected that he was gay. But he said that if he had been and it had become known, Zhou would have been ruined.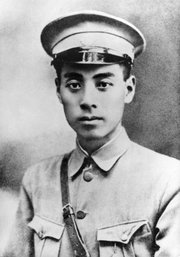 Zhou in the mid-1920s. The book presents no proof that he was gay, only clues from his diary entries and letters with his wife.

Roderick MacFarquhar, a professor at Harvard who focuses on elite Chinese politics, said, "My reaction is that if it is true and that this was known to Mao, then the chairman had yet another way of threatening Zhou."

Ms. Tsoi said Zhou might have been terrified that his sexual orientation would be revealed to the chairman. Mr. Rittenberg said he "would not only want to hide it, he would have to — if it came out, he would be ruined."

Ms. Tsoi said homosexuality was seen as a sin against socialism. "They viewed it as a capitalist way of life," she said.

While many top cadres cowered from Mao's dictates, some did not. Zhou, as head of government, was in a position to curb Mao's power.

"Why was he so afraid? Where did it come from?" Ms. Tsoi asked. "His original sin was his homosexuality."

But Rebecca Karl, a professor at New York University who wrote a 2010 biography of Mao, said that China was hardly unique in its homophobia and that, until recently, exposing a leader anywhere as gay would have ruined his or her career. Ms. Karl said that the book, which she has not read, may only "provoke needless controversy about Zhou."

"I think this kind of speculation is really not very interesting," Ms. Karl said in an email. "Fluid sexualities were not unusual in China (or anywhere), and deep male-male or female-female friendships and passions were (are still) a norm."

It may never be known whether Zhou's relationship with Mr. Li was more than that of a close friend. Mr. Li died in 1960.

And Zhou himself may have sought to hide his most intimate feelings. He kept a diary, discovered in 1952, for only a short time. In his first entry, on Jan. 1, 1918, he took account of his life so far, his dreams and his shortcomings. Then he opened his heart.

"For the first time in my life I am immersed in this word 'love,' as to the heart of the passion. ..."

A bold, thick brush stroke of black ink blots out the rest of the sentence.


haiyaaa ciilaaka luuwa weelas waaa