Quote:
Raheel Farook
WRITTEN BY
Katie Zavadski
KILLER?12.02.159:26 PM ET
Suspect ID'd in San Bernardino Massacre as Syed Farook
Syed Farook is one of three suspected gunmen who attacked a center for the disabled, killing 14 and injuring more on Wednesday
.
CORONA, CALIFORNIA — Law enforcement officials have identified Syed Farook as one of the suspected shooters who attacked a center for the disabled in San Bernardino, California, according to NBC News. The Daily Beast has learned that the police have just executed a search warrant at a Redlands, California address—an address that belongs to Farook's family.
Police pursued a car leaving from the Redlands address, Chief Jarrod Baraugan said at a Wednesday evening press conference. A male and female suspect were inside the car, and both of them have been killed. Both of the suspects were armed with assault rifles and handguns, Baraugan said. Police have apprehended a third man, but have not identified his relation to the attacks yet.
An eyewitness at the Inland Regional Center, where gunmen killed 14 and wounded at least 18 more, told police he saw a man leaving a meeting of county employees this morning, looking nervous. Poice officers named Syed Farook as that man in their radio communications. At approximately 11 a.m., at least two people entered the center and opened fire.
Farook, who also went by his middle name, Raheel,
was a business taxes representative for the California State Board of Equalization, according to his LinkedIn profile. He is a 2003 graduate La Sierra High School, and most recently studied finance at California State University Fullerton until 2013.
Records show Farook bought a two bedroom Corona home in March 2014. Farook's social media profile shows he is married and has at least one young child. His wife did not return messages left on Wednesday.
Farook lived at a home with his wife and children in Corona, California. The Daily Beast knocked on the home's door and was met by a man who said, "My name is Farook." When asked if he knew Sayed, the man said, "Of course I know him but I have nothing to say." When asked about Syed being named as a suspect, he said, "I have nothing to say."
Behind Farook, was a brightly lit home with low-slung sectional couches and boxes for appliances. The smell of basmati rice cooking came wafting through the door. A set of womens sandals sat outside of the security door.
Five minutes after he answered the door, Farook got into a white car and drove away, answering questions again with, "I have nothing to say."
The Daily Beast contacted Farook's sister, Saira Khan, by phone on Wednesday shortly after the shooting. She said the media was jumping to conclusions on identifying the suspect and said that her brother was at work. Khan said she would try to get in touch with her brother and pass along his contact information.
http://www.thedailybeast.com/article...ed-farook.html
Quote:
Syed Farook identified as San Bernardino shooting suspect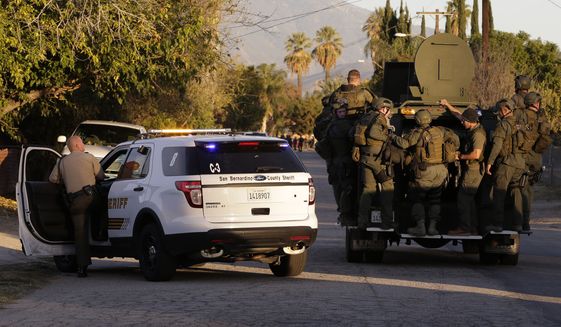 Law enforcement searches for a suspect in a mass shooting that occurred at a Southern California social services center on Wednesday in San Bernardino, Calif. (Associated Press) more >

By Victor Morton and Jay LeBlanc - The Washington Times - Updated: 10:18 p.m. on Wednesday, December 2, 2015

Syed R. Farook has been identified by multiple news outlets as one of the suspects in the San Bernardino mass shooting that ended in the death of one male and one female suspect in a gunfight with police.

A source told NBC News that Mr. Farook's brother also is believed to be a suspect.

These are the most toxic places on earth. You'll never believe #5!

These Celebrities changed our lives forever, but left too soon.

The Los Angeles Times, citing two law enforcement sources, reported that Syed Farook was the deceased male suspect, though the identity of the dead woman remained unknown.

The paper, citing public records, wrote that a Syed R. Farook was an environmental health specialist for the San Bernardino County government, though the paper cautioned that it might not be the same person as the suspect.

According to the New York Daily News, Mr. Farook's father, whom the paper did not name, confirmed in an interview that his son inspected restaurants and hotels for health violations, and was married with a child.

He also identified his son as "very religious. He would go to work, come back, go to pray, come back.

He's Muslim

."

Gunmen killed 14 people and wounded another 17 at an office party for the county's public health department. According to San Bernardino Police Chief Jarrod Burguan, there was an altercation that prompted someone to leave in anger.

Some news outlets reported that the angry person came back with one or more armed friends to carry out the attack.

"Someone did leave, there was some type of dispute at the party but we have no idea if those are the people who came back," Chief Burguan said.

It was unclear Wednesday night how many gunmen committed the attack — witness and victim accounts varied from one to three.



http://www.washingtontimes.com/news/...-shooting-sus/

Masya alloh 1 lagi mujahid dibantai tapir



Edit: ane tegaskan ya, beliau bukan terroris

beliau seorang Mujahid