Title: Bomb Me | Content Rating: Low Maturity | Genre: Arcade - Casual | Publisher: Efun Company Limited
Official Website :
Official Forum & Facebook :
Download :
iOS
Android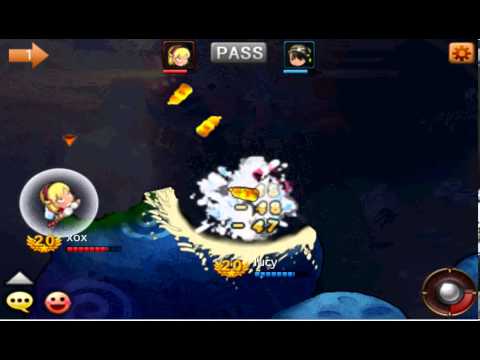 ★New version and new sever are coming. Come with us!!!★
★There's no doubt that playing such a nice game on summer holiday is very fantastic!★
★Come and join Ranking match for iPhone5!!!★
Who's ready to pass through the Fairy tale trail (witch, princess, King, Frog prince and Snow White… )?
Have you ever wanted to play DDTank on your smart phone? Join us in Bomb Me!
Girls love this game. Show off your shooting skills and make girls go crazy!
New version coming! Why not join us to have fun and enjoy some cool stuff at a great discount for one crazy day?
What people are saying:
It is an amazing game; It is the best shooting game that I have ever played. I love it! I got very nice, addictive and thrilling experience.
It is no doubt a very good time pass. One of the best game and one of my favorite time pass. RF.
I love this game!!! It's amazing!!!
Bomb Me and my phone are like peas and carrots. They're delicious together.
Features:
★Amazing-looking and special attack with terrific graphic and effect.
★Over 1000 types of sweet weapons.
★Play and date with beauties and get married.
★Easy and fun to play and the graphic is very amazing.
★Recommended by over 100 casual game sites.

HOW TO PLAY:
1. Tap on the screen and drag to aim your shoot, and release to shoot.
2. Tap right-bottom button to set the power and release to shoot.
3. Gear yourself up in the shop.
Menurut ane ini game sih mirip sama g*nbound, cara mainnya pun sama.
ini game nagih bgt asli daahh ane seharian ga mungkin ga main ini, walaupun baru download
Spoiler

for

Minimum Requirement

:

Requires Android : 2.3 and up
iOS : Requires iOS 4.3 or later. Compatible with iPhone, iPad, and iPod touch. This app is optimized for iPhone 5.
Q : ini cuma buat hengpon ya kk?
A : iya, saat ini blm ada pcnya, gatau deh bakal keluar apa engga buat pc
Q : online gaa?
A : online dong
Q : bisa lawan temen ga kk?
A : bisa kok, tapi kalo temennya ga main ya gabisa
Q : cara milih server gimana kk?
A : klik more, setting, server, pilih servernya



Q : cara add temen gimana kk?
A : harus level 8 baru bisa add temen, kalo dah level 8, klik friends, cari pake id
Spoiler

for

cara liat id

:

Q : disini ada guild/clan ga?
A : ada kok guildnya, bisa bikin, tp pake diamond

ane blm tau kalo gapake diamond bisa apa engga
Spoiler

for

Troubleshooting

:
1. Force close di android? cukup buka lagi, ini biasa terjadi 2-3x abis itu lancar kok

2. ada lagi?
UNTUK MILIH SERVER, PILIH YANG FAIRY VALE AJA SUPAYA ORANG INDO KUMPUL DI SERVER INI