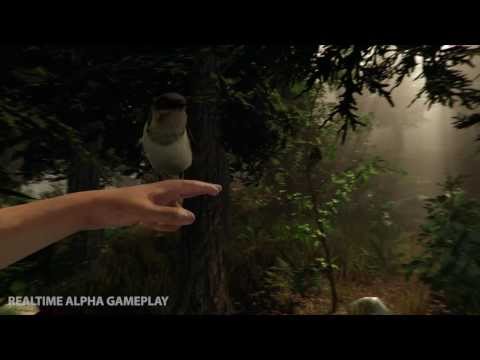 Quote:
Original Posted By
SlowTheFista
►
New Trailer Guys!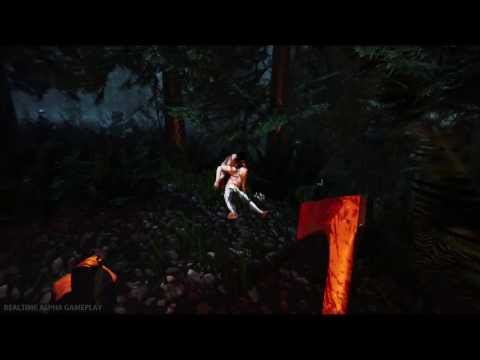 early access / beta 22 May 2014




judulnya adem ya

the forest adalah game survival crafting bersudut pandang orang pertama, musuh di game ini adalah orang kanibal gitu.
mirip kayak minecraft krn ada elemen crafting, bisa bangun gubuk, bikin perangkap, bikin senjata, kumpulin resource, n musuhnya muncul pas malam hari, so pagi ampe sore kita bisa atur strategi / kumpulin resource buat bertahan di malam harinya.
bedanya dari minecraft, selain grafiknya 180 derajat, mungkin di game ini ada jalan ceritanya n ada tamatnya.
ini list lengkap penjelasan dari dev na mengenai game ini:
Quote:
As the lone survivor of a passenger jet crash, you find yourself in a mysterious forest battling to stay alive against a society of cannibalistic mutants.

Build, explore, survive in this terrifying first person survival horror simulator.

KEY FEATURES:

The world
Enter a living, breathing forest with changing weather patterns, plants that grow and die. Tides that roll in and out with the day/night cycle. Below ground explore a vast network of caves and underground lakes.

Complete player freedom
Chop down trees to build a camp, or start a fire to keep warm. Scavenge food to keep yourself from starving. Find and plant seeds to grow food.

Build a small shelter or a large ocean side fortress. decorate your home with found items. Lay traps and defenses to keep a safe perimeter.

Gameplay
Explore and build during the day. Defend your base at night. Craft weapons and tools.Bunker down during the evening or bring the fight directly to the enemy.

Fight or Hide
Use stealth to evade enemies, or engage them directly with crude weapons built from sticks and stones.

A new type of open world, survival horror experience
Defend yourself against a clan of genetic mutant enemies that have beliefs, families, morals and that appear almost human.

Full VR experience
Support for the Oculus Rift VR headset for the most immersive experience possible.
sistem yang dibutuhkan


Minimum:
OS: Windows 7
Processor: Intel Dual-Core 2.4 GHz
Memory: 4 GB RAM
Graphics: NVIDIA GeForce 8800GT
DirectX: Version 9.0
Hard Drive: 5 GB available space
Sound Card: DirectX®-compatible

Recommended:
OS: Windows 7
Processor: Quad Core Processor
Memory: 4 GB RAM
Graphics: NVIDIA GeForce GTX 560
DirectX: Version 9.0
Hard Drive: 5 GB available space
Sound Card: DirectX®-compatible

download
Spoiler

for

The.Forest.v0.59b.v68b.kracked-3DM

:
Code:
https://openload.co/f/7nE_04sjNCs/3DMGAME-The.Forest.v0.59b.v68b.kracked-3DM.part1.rar

https://openload.co/f/BuZT4rCbV1M/3DMGAME-The.Forest.v0.59b.v68b.kracked-3DM.part2.rar

https://openload.co/f/mHMpG63gWUU/3DMGAME-The.Forest.v0.59b.v68b.kracked-3DM.part3.rar

atau

http://www.share-online.biz/dl/CYTWAHXO48YX

http://www.share-online.biz/dl/SDXWAHXOQHL

http://www.share-online.biz/dl/IU5XAHXOQJ6H

atau

http://uploadrocket.net/026ndtnobyas/3DMGAME-The.Forest.v0.59b.v68b._ed-3DM.part1.rar.html

http://uploadrocket.net/39atk2a46426/3DMGAME-The.Forest.v0.59b.v68b._ed-3DM.part2.rar.html

http://uploadrocket.net/7nto87mdzfzj/3DMGAME-The.Forest.v0.59b.v68b._ed-3DM.part3.rar.html


savean lama gak kompatible, main dari new game
jangan lupa ganti lokasi folder gamenya pas install kalau gak mau di partisi C
FAQ
lokasi savean
Quote:
Original Posted By
Cloud0Strife
►
..........
Copy save game ke
Code:
C:/user/AppData/LocalLow/SKS/TheForest
yang di atas itu lokasi save game default..

karna yg di share zuppaclub itu versi 3DM jadi ente harus cek lokasi save game settingan 3DM (buka data 3DMGAME.ini) isinya ada lokasi save.
klo mau lokasi save game nya di SKS/TheForest ya pindahin 3DMGAME.ini ke luar folder direktori The Forest

Kalo udh nemu, jangan lupa sedekah

, gk maksa sih

--------------------------
Quote:
Original Posted By
seschodizar
►
FAQ nya nih..tarok sini aja ya biar pada baca

Spoiler

for

The Forest Frequently Asked Questions

:
FAQ
Where can I submit a bug report?
Email your bugs and feedback to:
support@endnightgame.com
Will you support motion controllers for those actions performed in the trailer? (wood chopping, smashing heads, carrying birds)
We haven't announced official support for motion controllers yet, but we will be aiming to support the most popular motion controllers as the virtual reality platform develops.
Will this game run on my computer?
We haven't released official hardware specs, but we aim to have the game run well on as broad a range of hardware as possible.
Will there be co-op?
Co-op is not planned for the initial release. However adding some form of co-op play will be one of our focuses after the initial release of the game.
Will there be a peaceful mode?
Yes. You will be able to play the game as a more traditional survival/exploration simulator, with the horror elements effectively disabled.
Where can I buy the game?
The game will be available on Steam . We are also looking into other different options for selling the game and will update this question when things are confirmed.
How much will the game cost?
The initial Alpha release will cost $14.99.
Who is making this game?
Endnight Games is a 4 person indie studio based in Vancouver, Canada. We also make significant use of outside contractors, depending on production needs there have been anywhere from 5 to 10 people working on the game at a given time.
What game engine are you using?
Unity 4.
Why does it look so good for an indie game?
With our background in VFX and the use of some very talented artists/coders we have been able to aim as high as we can for the visuals of the game.
Will there be a wiki for the game?
Our official wiki will be on
http://theforest.gamepedia.com
Will I be able to build shelters anywhere? such as a hill, on the island or in a cave.
Currently you can build structures almost anywhere above ground.
Will there be more than one type of shelter?
Yes, you will be able to build many types of shelters, from basic leaf-covered to large wooden cabins and more.
Will the axe be an item I can craft in the game?
Yes, it is possible to craft simple axes from items in the environment.
Will you be able to climb trees or mountains?
Currently you cannot climb trees, although enemies in the game will make use of them. Access to mountain areas will be blocked off in the first alpha release.
Can you build defensive structure or bases in the caves and underground?
Not at this time.
Are there different suits you can wear like camouflage or ghillie suit like thing?
There will be clothing you can craft. As well you can cover yourself in mud/leaves as camouflage. Everything will be made from items found in the forest.
Are there bows and arrows in-game?
Not at this time
Will there be different areas like different cave (sedimentary, igneous or/and metamorphic caves) and will there be different surface environment with like different animals to hunt or kill (is there hunting?) and different plant areas like marsh, jungle, plains?
There will be different small animals you can hunt. There will also be different environments based on North American forest. The environment will include caves, swamps, lakes and mountains.
Can you scavenge from your plane?
Yes you can.
Can you play as a female character?
Not for the initial alpha release.
Why don't you guys give more regular updates?
We are a very small team working tirelessly to get the game finished. We get carried away making the game.
source:
http://survivetheforest.com/faq/
klo udah statement gitu siap2 aja kek state of decay yg akhirnya dibatalkan....jadi yg mengharapkan MP / co-op finger crossed dulu aja yah

support dev na (yang cuma 4 orang) dengan membeli gamenya
http://store.steampowered.com/app/242760/
kalau gak yakin worth atau enggak, bisa coba bajakannya dulu.