Argentina presents the first prototype of the jet trainer IA-63 Pampa III
Published: October 18, 2013

The company aeronautical Argentina, Argentina Aircraft Factory (FAdeA) introduced a new prototype aircraft type III Pampa IA-63, designed to train Air Force pilots South American country.
Pampa III measures a total of 10.9 meters long and has a span of about 9.7 meters. The weight of the new model is estimated at 2.82 tons. With a more powerful engine than the previous model, the Pampa III is capable of reaching a top speed of 815 kilometers per hour. These features allow the new Argentine aircraft conducting pilot training missions, and perform other tasks,
The developers expect the Pampa unit III has a great commercial success. The Ministry of Defense of Argentina and the company agreed to supply FAdeA and some units of the new model of training aircraft.
was expected after the tests, several dozen of Pampa lll join the Air Force Argentina. The FAdeA also intends to sell the new version of the IA-63 aircraft to foreign customers. The potential of the project construction is estimated at about 100 aircraft for both Argentina and other countries.
The IA-63 is one of the longest in the history of aviation Argentina. The development of the first version of the machine started in the late seventies of the last century. The Pampa prototype aircraft made ​​its first flight in 1984. Later prototypes were constructed two aircraft. In 1988 began series production of the first version of Pampa training aircraft. Until 1999, the Air Force Argentina received a total of 16 machines of this type.
In 2007, the first model of the plane was built in Pampa II aviation plant in Córdoba. During the creation of Pampa III engineers redesigned several important systems of the previous model and changed the whole radio-electronic equipment in order to improve performance. The first test flight of the aircraft prototype Pampa lll be held early next year. Until 2017, the FAdeA plans to build 40 aircraft of this type training to incorporate Air Force Argentina, plus 22 light attack aircraft.
http://actualidad.rt.com/actualidad/...nto-ia63-pampa
FAdeA to roll out new IA-63 Pampa III trainer variant
By: DAVE MAJUMDAR WASHINGTON DC
07:04 8 Oct 2013
Fábrica Argentina de Aviones (FAdeA) is expected to roll out a new version of its IA-63 Pampa III jet trainer on 10 October, which is also the company's 86th anniversary, in Cordoba.
Among the attendees will be Argentinian defence minister Agustin Rossi, numerous company and government officials, and 1,500 workers.
FAdeA is expected to produce an initial batch of 18 of the new aircraft, which will be powered by Honeywell TFE731-40-2N geared turbofans. Ultimately, the company hopes to build a total of 100 Pampa IIIs for Argentina and export customers. Some of those will be configured as an attack variant.
According to local press reports, the Pampa III is designed to avoid the use of any British-built components and this has included replacing the type's Martin-Baker Mk10 ejection seat with a Russian model.
While UK companies are being excluded because of a political dispute over the ownership of the Falkland Islands – the two countries fought a brief war over the South Atlantic islands in 1982 – foreign companies such as Israel Aerospace Industries, Elta Systems, Rockwell Collins, Liebherr and Sagem are supplying components for the Pampa III.
The Pampa III is expected to make its first flight in December 2013.
The Pampa III is the third iteration of the venerable trainer that was originally designed with assistance from the now-defunct German airframer Dornier Flugzeugwerke. Eighteen examples of the original design were built for the Argentinian air force in the late 1980s, while a second batch of modernised Pampa IIs was built in 2006.
http://www.flightglobal.com/news/art...ariant-391483/
Quote:
No British Parts For Argentina's Pampa III Trainer
After many years of performing MRO and modernization, Argentina's historic military aircraft factory at Córdoba is back in business building new aircraft. Now known as Fábrica Argentina de Aviones "Brigadier San Martin" or Fadea for short, the factory has put the IA-63 jet trainer back in production in a new-generation version, which is known as Pampa III.
The factory has amassed an impressive roster of international partners for the project, but there is no place for any UK supplier.
"We are not going to use any British-made components. It's impossible," said Raúl Alberto Argañaraz, speaking to AIN here at the show. "We have to remember we are civil servants of the government. Our policy is to defend and secure our national interests. We are always looking for the best alternatives to give us [technological] autonomy."
One element of the current Pampa that thus needs replacement is the original Martin-Baker Mk 10 ejection seat. Fadea has turned to Zvezda to provide the seats for the new IA-63 variant
. Argañaraz noted that the Russian company has offered good technology transfer terms, whereas none would be available from Martin-Baker. However, he conceded that, "If some customer prefers the Martin-Baker seat then we will offer it…if Martin-Baker are willing to work with us, of course."
Pampa III represents the third generation of the trainer. Designed with the help of Dornier, the original aircraft entered service in 1988, and 18 were built for the Fuerza Aérea Argentina (Argentine air force). The type was also proposed (in conjunction with Vought) as the Pampa 2000 for the U.S. Jpats competition. In 2004-05 12 were given a partial avionics overhaul to become Pampa IIs and were joined by six similar new-build aircraft.
As a first step to a third generation of Pampa, Fadea re-engined the aircraft with a Honeywell TFE731-40-2N engine (replacing the original TFE731-2-2N) to create the Pampa II-40. The "Dash 40" engine will also power new-production Pampa III machines.
This program got under way in October 2012 with the initial aim of producing 40 new aircraft for the FAA. Following on from that, Fadea is hopeful of selling another 60 or so aircraft and signed a deal with Grob to market the Pampa III jointly as part of an integrated training system with the Grob G 120TP. As well as the new engine and ejection seat, t
he Pampa III has an all-new avionics system provided by Elbit
. It has three large-screen displays and is integrated with a helmet-mounted display. The system allows data-linked training.
Fadea now has the first of an initial batch of 18 Pampa IIIs in production and is scheduled to roll out the first aircraft in October. First flight is expected in December, leading to certification by Argentina's military approval authority in May next year. The factory will deliver at a rate of one per month.
With development of the IA-63 Pampa III trainer version complete, Fadea and its partners are working on a light attack/weapons trainer version, designated IA-63GT. The final 22 aircraft of the FAA's order will be in the armed configuration. A first IA-63GT should be built next year, and all deliveries are scheduled for completion by 2017.
As well as Pampa production, Fadea is hoping soon to begin construction of the CZ-11 Pampero helicopter. This is a version of the Chinese Changhe Z-11, itself a copy of the Eurocopter AS350 Ecureuil. A prototype was built and has flown more than 200 hours as it moves towards certification.
In terms of international co-operation, Fadea is a partner in the Embraer KC-390 military transport and a major participant in the yet-to-be-named Unasur I regional basic trainer program that brings together a number of South American countries. The consortium is currently evaluating powerplant options for this project, which aims to produce a prototype by the end of next year. Final assembly will be conducted by Fadea, and it will be initially certified in Argentina.
Pampa III and Unasur I illustrate Fadea's desire to grow in capability through technology transfer and international collaboration. The company's management has high ambitions: referring back to two indigenous fighter projects from the 1940s and 1950s, Argañaraz remarked, "One day we would love to have an aircraft called Pulquí III."
http://www.ainonline.com/aviation-ne...pa-iii-trainer

Spoiler

for

Pampa III cockpit

: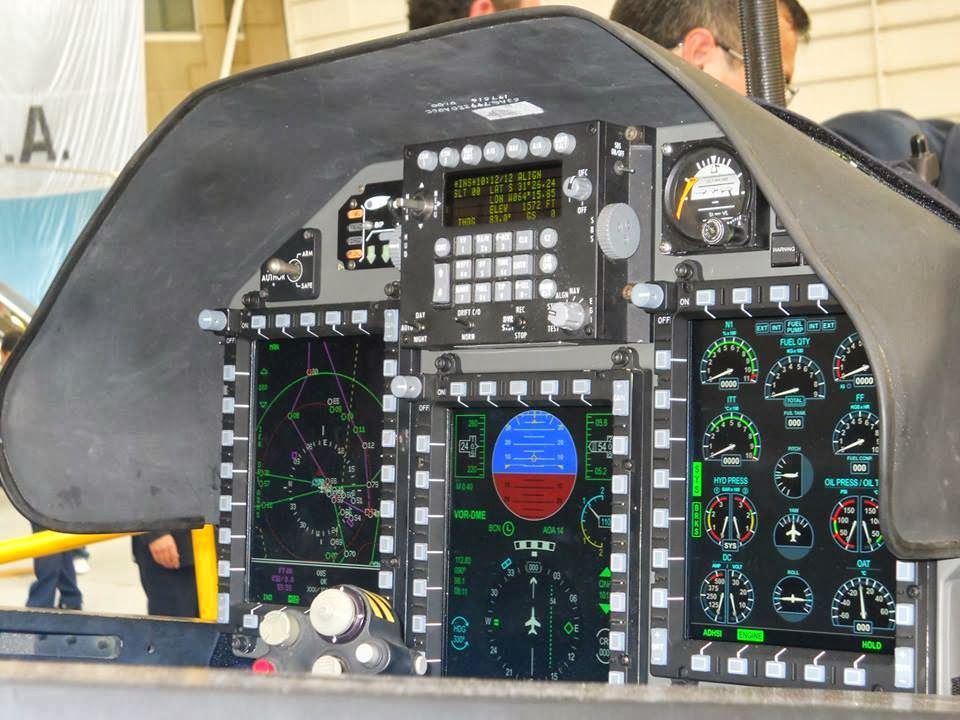 Spoiler

for

Pampa III Cockpit

:

Spoiler

for

Pampa III Cockpit

: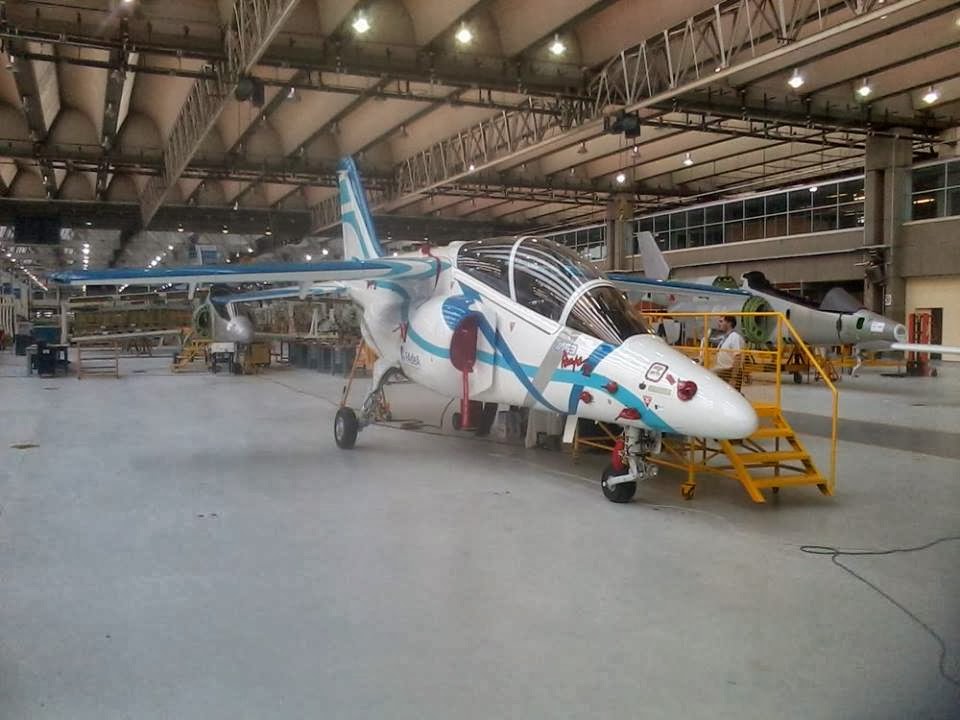 Spoiler

for

Pampa III Kursi Lontar Russia

:

Spoiler

for

Pampa III Kursi Lontar Russia

:




*****************************************************************************************
Saking bencinya Argentina dengan Inggris, sampai buat pesawat tempur rasa barat pun, kursi lontarnya pake ZVEZDA daripada pake Martin Baker....

Btw Mesin Amerika, jeroan Israel... cocok buat pesawat latih pinoy nih