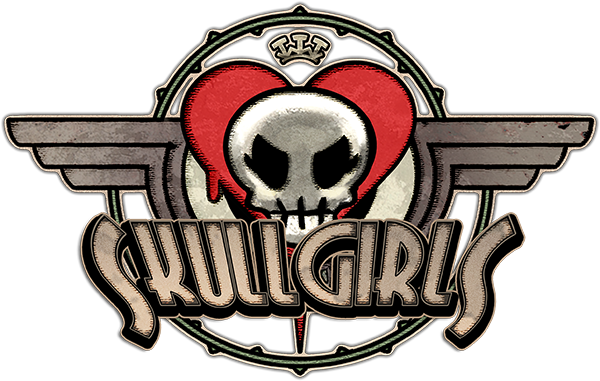 Genre
: Fighting
Developer
: Reverge Labs, Lab Zero Games
Engine
: Z-Engine
Released on
: PSN, XBLA (2012); PC (2013); Linux (coming soon)
Quote:
Skullgirls is a 2D fighting game independently developed by Reverge Labs and co-published by Autumn Games and Konami. The game was released through the PlayStation Network and Xbox Live Arcade in North America, Europe, and Australia from April–May 2012, and later received a Japanese release by CyberFront for the PlayStation Network in February 2013. A Microsoft Windows version, developed by Lab Zero Games and co-published by Autumn Games and Marvelous AQL, was released in August 2013. Skullgirls is also planned to be brought to Japanese arcades in late 2013.

Skullgirls takes place in the fictional Canopy Kingdom, a country "reminiscent of a 1940's post-war America tinged with magic and intrigue." In a world rife with conflict and dirty dealings, several individuals and organizations seek to obtain the mysterious artifact known as the "Skull Heart". Once every seven years, the Skull Heart grants one young woman's wish. However, if a woman with an impure soul attempts to use the Heart, her wish will be corrupted and she will be transformed into the next Skullgirl, a monstrous entity with immense power. Hundreds have sought after the Skull Heart, but none of its wielders have yet been deemed worthy and spared of its cruel power.

Seven years following the Grand War, a blood-soaked battle fought between three nations, the newest Skullgirl, Marie, has emerged and begun to terrorize the Canopy Kingdom. The game follows several fighters and their journeys to confront Marie and claim the Skull Heart. Each character has her own motive for seeking the Heart, whether to destroy the artifact or use its power for their own interests.
Features
Quote:
Skullgirls features the most frames of animation per character of any fighting game, hand-drawn at high resolution and enhanced by real-time lighting courtesy of a powerful 3D engine

Classic six-button play gives characters a huge variety of attacks and special moves

With the Variable Tag Battle system, players can pit mismatched teams of one, two or three characters against one another

Custom Assists let you outfit your team with a huge variety of attacks for nearly endless strategic possibilities

A robust anti-infinite combo system keeps competitive play free of abusive tactics

Robust tutorials and an AI designed to teach eases new players into the traditionally intimidating fighting game genre and helps you improve from there

Official GGPO netcode ensures lag-free fighting online

A stunning soundtrack by Castlevania: Symphony of the Night composer Michiru Yamane draws you into the game's unique "Dark Deco" world

Characters
Spoiler

for

Karakter utama

: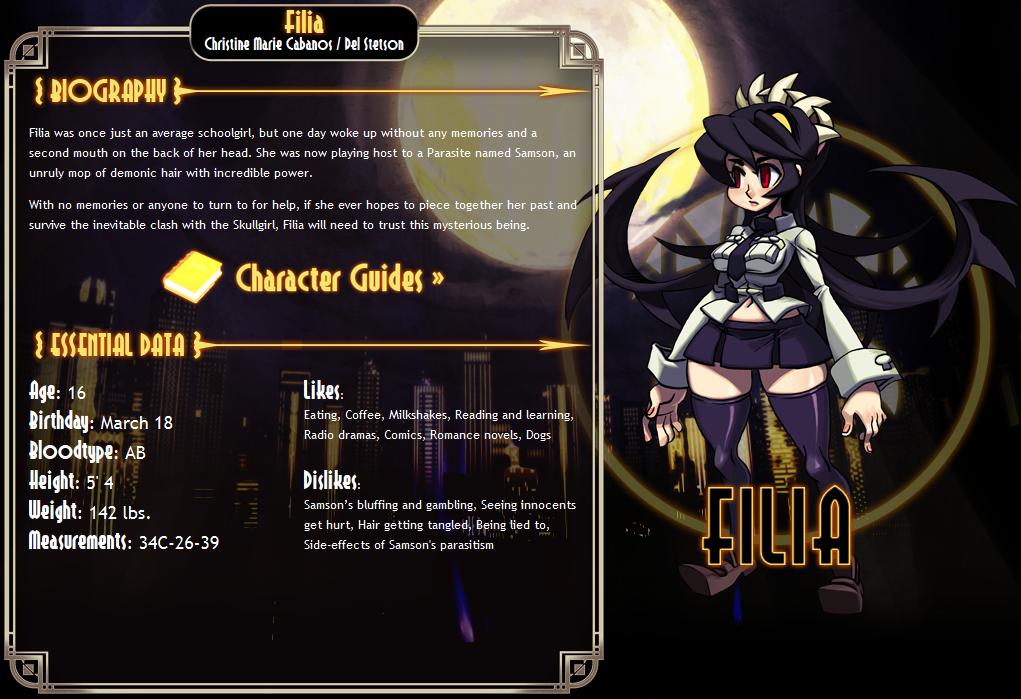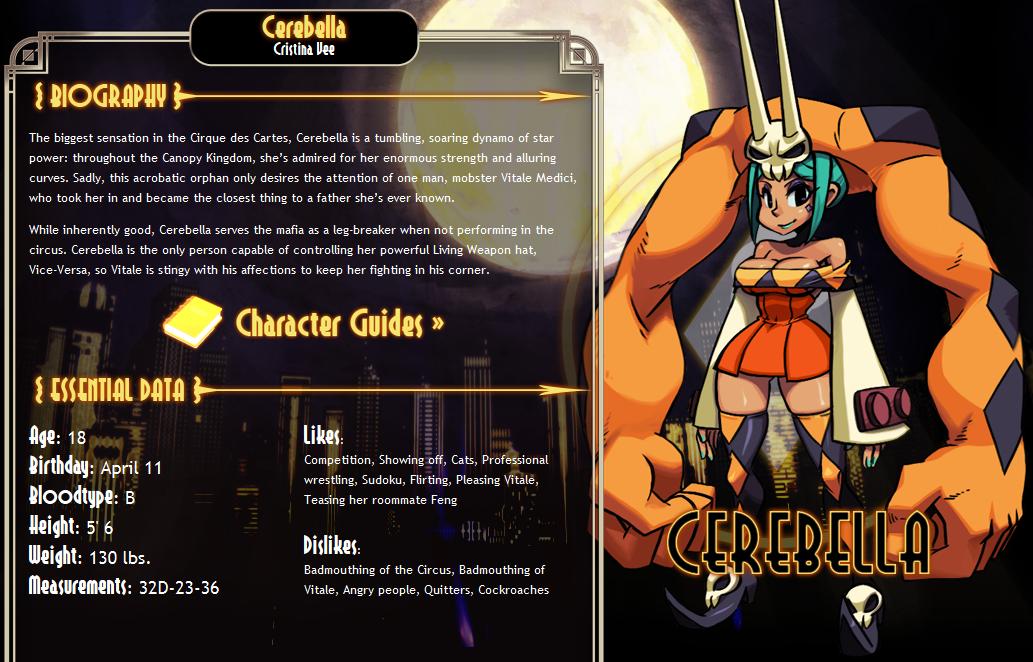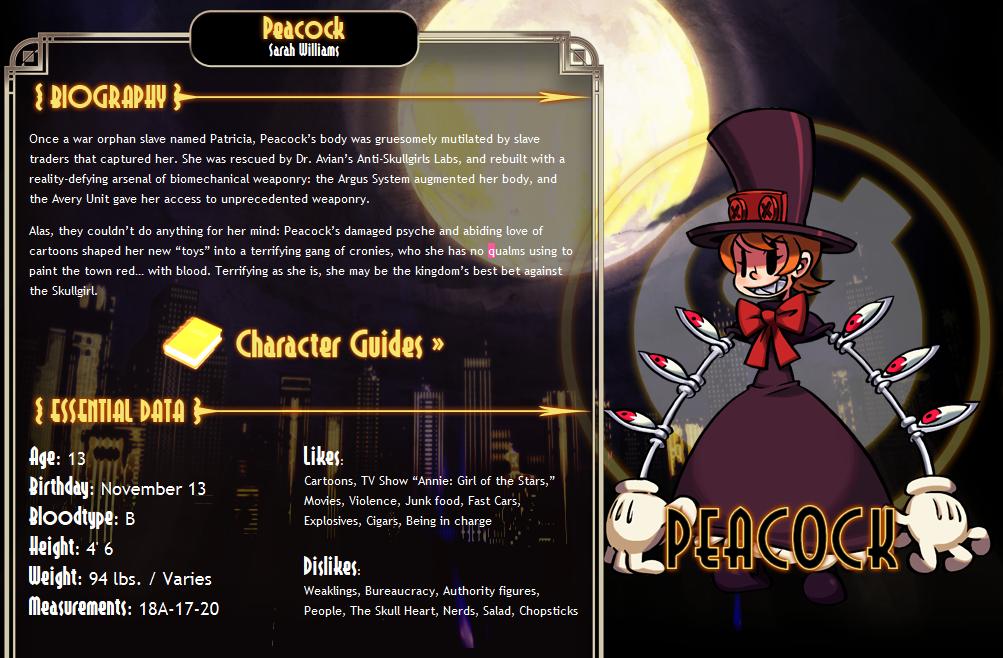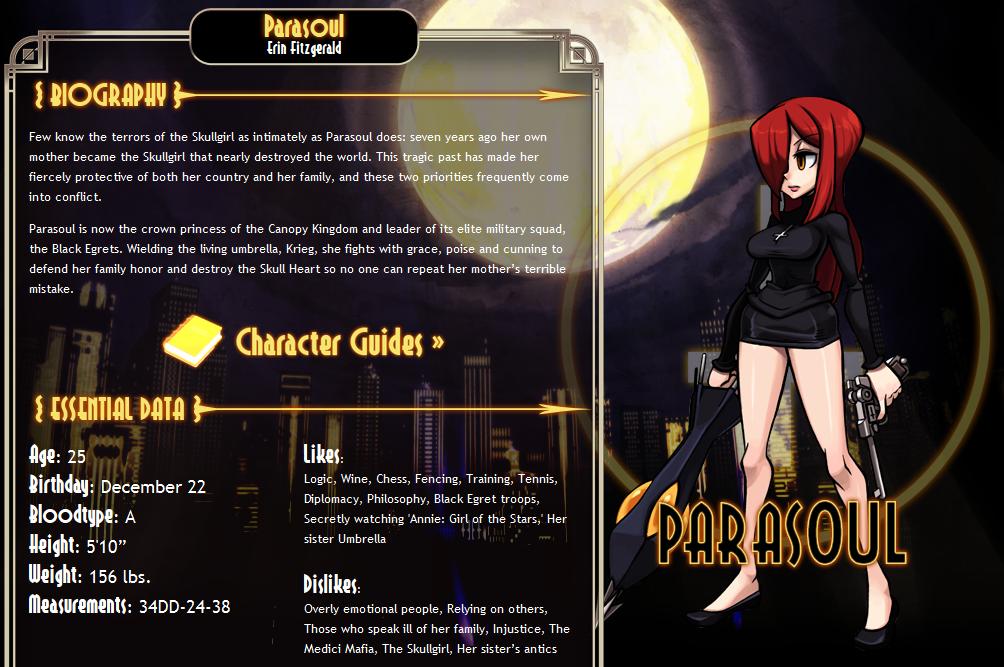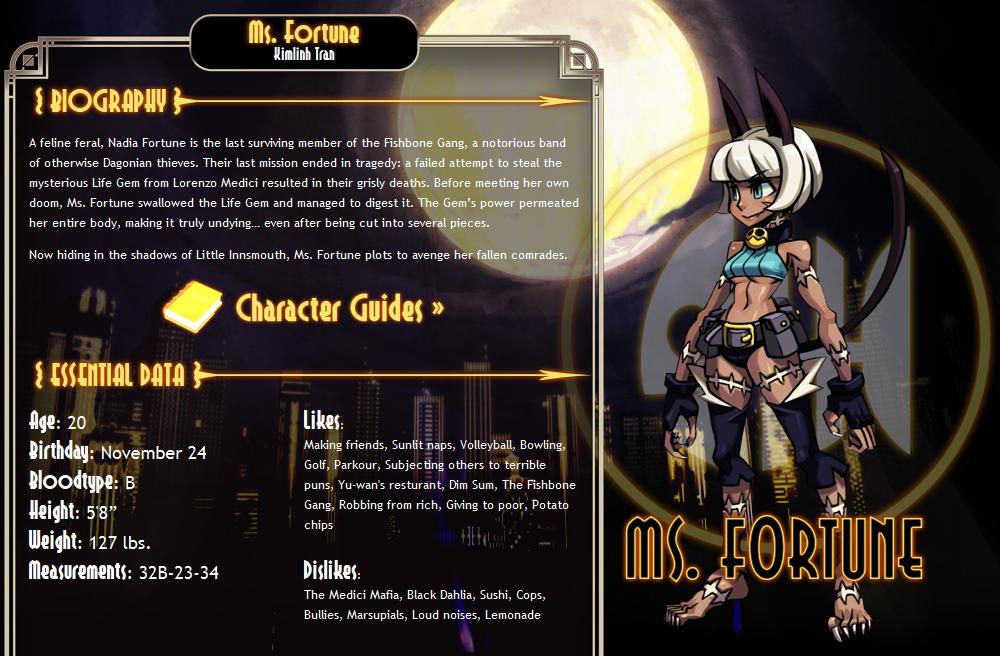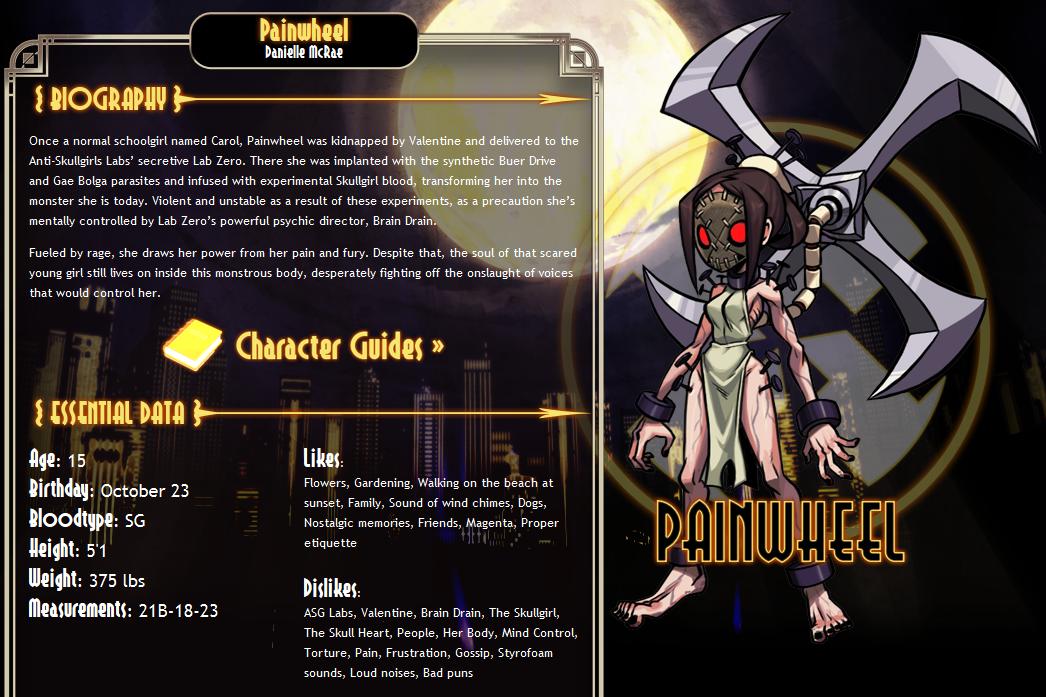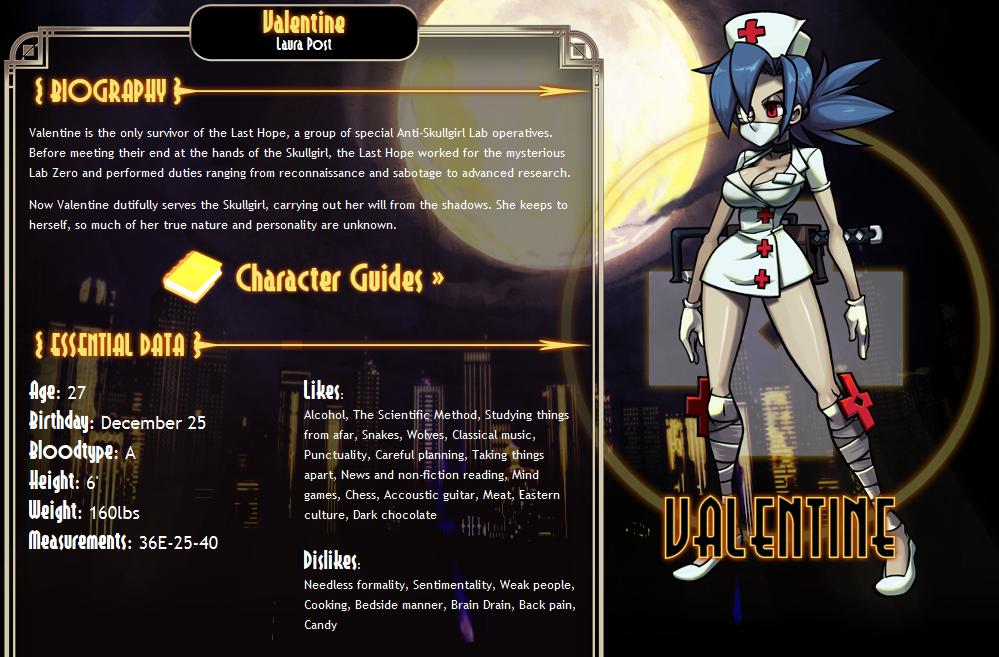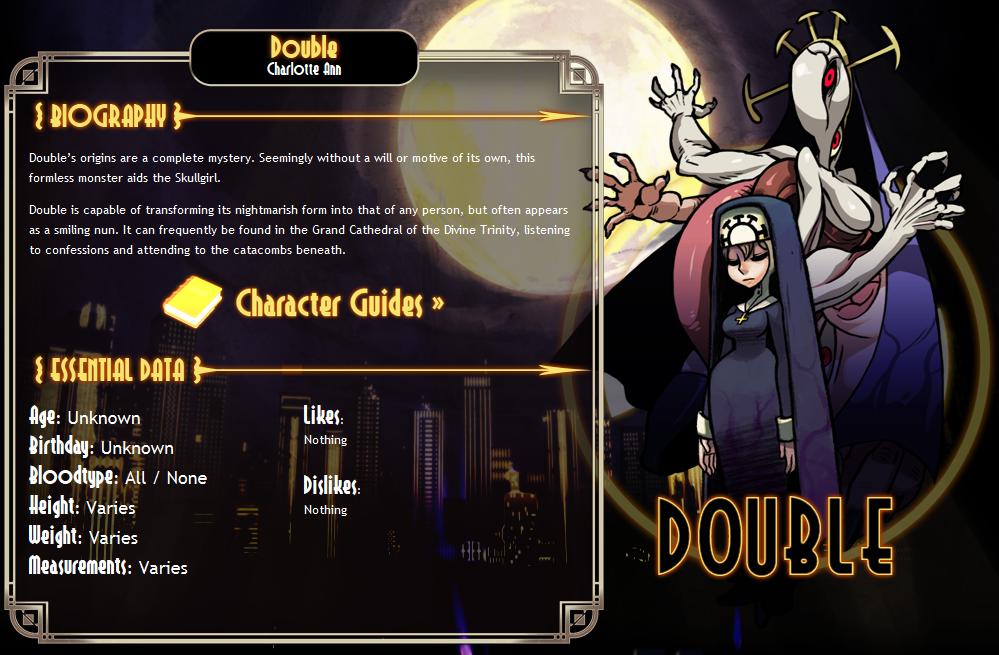 Spoiler

for

Karakter DLC

:
Squigly (Voiced by: Lauren Landa), an undead opera singer who was brought back to life by the parasite Leviathan (Voiced by: Liam O'Brien). She is the first DLC character.

Big Band (Voiced by: Rich Brown), a police officer who, after his corrupt unit left him for dead, received an experimental saxophone-like iron lung from the Anti-Skullgirl Labs. He is the second forthcoming DLC character.

Eliza, a celebrity diva who was blackmailed into working for the mafia. She is the host of the parasite Sekhmet, which can manifest itself in the pools of blood she leaves in battle. Selected by fan vote, she is the third forthcoming DLC character.

Beowulf, a retired professional wrestler who wields a folding chair called "The Hurting". Selected by fan vote, he is the fourth forthcoming DLC character.

Robo-Fortune (Voiced by: Kimlinh Tran), a robotic version of Ms. Fortune. Originally based on an alternate voice pack proposed by Tran, she is the fifth forthcoming DLC character.

Video
Trailer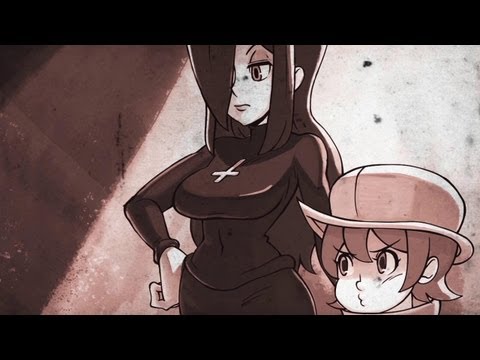 Skullgirls Gameplay in EVO 2013