U.S. Navy Delivers two more 35-meter Swiftships Coastal Patrol Boats to Iraq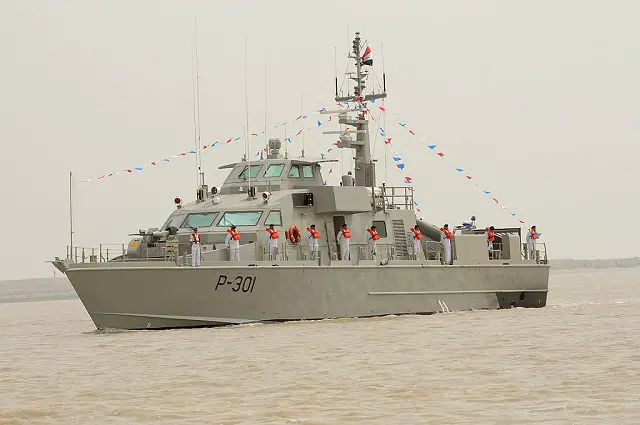 The U.S. Navy delivered two more 35-meter patrol boats (PB-310 and PB-311) to the Iraqi Navy at the Umm Qasr naval facility in Iraq, Feb. 17, after each craft successfully completed reactivation in Bahrain.
These are the 10th and 11th vessels in the 12-boat procurement which will assist in reconstituting Iraq's ability to enforce maritime sovereignty and security in the northern Arabian Gulf.
"Our Navy shipbuilding team has again succeeded in working closely with their Iraqi counterparts to deliver these important assets to the Iraqi Navy," said Frank McCarthey, Program Executive Office (PEO) Ships' program manager for Support Ships, Boats and Craft. "Together with the nine patrol boats previously delivered, these two new vessels are a significant step toward meeting Iraq's security requirements in the northern Arabian Gulf."
The U.S. Navy and Swiftships Shipbuilders, LLC, Morgan City, La., are supporting the Iraqi Navy in the procurement and construction of the patrol boats. The boat is armed with a 30mm gun weapon system, provides for a crew of 25 and is capable of reaching 30 knots.
The Support Ships, Boats and Craft Program Office in the U.S Navy's PEO Ships, is managing the acquisition of the patrol boats as a foreign military sales case, with the final patrol boat planned for delivery later this year. In addition, the program office delivered two 60-meter offshore support vessels to the Iraqi Navy in December 2012.
PEO Ships currently manages the design and construction of all U.S. Navy destroyers, amphibious ships, special mission and support ships, as well as a wide range of small boats and craft for U.S. agencies and allied nations.
http://www.navyrecognition.com/index...-to-iraq-.html
Iraq's Swiftships
The original Swiftship Interceptor design was a 40+ knot high-speed, waterjet-powered 35 meter patrol boat for a Central American county, but it's still awaiting funding. The "gray hull" picture here is a slower version that was produced for another country Swiftships declined to name, and the green Fort Jefferson that headlines this article is a propeller-driven derivative of that variant.
The Iraqis specified that they wanted propellers, so their Swift Interceptor patrol boats are closer to the Fort Jefferson than to the "haze grey" picture. Other differences from the photographs here will include moving the upper bridge forward; armoring on the lower bridge, upper bridge, and bridge wings; and armaments. Armament will includes the 30mm MSI deck gun system forward, a .50 cal machine gun aft on the 01 level, and 7.62 machine guns on the bridge wings. Northrop Grumman's Sperry Marine provides the integrated Bridge, CIC, and Radio Room equipment.
Swiftships Model 35PB1208 E-1455 specifications
Hull Length: 115'-0" / 35.06 m
Beam: 23' 9-1/2" / 7.25 m
Max Draft (Navigational): 8'-6" / 2.59 m
Depth (Midship): 11'-10" / 3.61 m
Engine Package: 3 MTU 16V2000 Marine Diesels
Propulsors: 3 Propellers
ABS Classification: A1-HSNC-Coastal Naval Craft – AMS
Water Capacity: 1000 Gallons / 3,785 Liters
Fuel Capacity: 7,000 Gallons / 26,495 Liters
Maximum Range: 1,500 Nautical Miles @ 12 knots
Endurance: 6 Days
Accommodations: 21 Crew, 4 Officers
Carries: RIB Willard aluminum hull high-speed 7 meter jet Rigid Inflatable Boat
Armament: MSI International DS30M-A2 30mm remotely-operated gun system, .50 cal/ 12.7mm machine gun, 2×7.62 machine guns.

MSI's 30mm RWS system will be very consequential. As South Korea has proven several times, a patrol boat equipped with a main gun that integrates advanced sensors, ballistic computing, and RWS control will severely punish or sink enemy vessels that depend on hand-aimed guns of similar or greater calibers.
http://www.defenseindustrydaily.com/...l-boats-05812/
Daftar Belanja New Iraq Army 2012
Transfers of major conventional weapons: sorted by supplier. Deals with deliveries or orders made for year range 2012 to 2012
Note: The 'No. delivered/produced' and the 'Year(s) of deliveries' columns refer to all deliveries since the beginning of the contract. Deals in which the recipient was involved in the production of the weapon system are listed separately. The 'Comments' column includes publicly reported information on the value of the deal. Information on the sources and methods used in the collection of the data, and explanations of the conventions, abbreviations and acronyms, can be found at URL <
http://www.sipri.org/contents/armstr...d/at_data.html
>. The SIPRI Arms Transfers Database is continuously updated as new information becomes available.
Source: SIPRI Arms Transfers Database
Information generated: 22 March 2013
Supplier/ Year Year(s) No.
recipient (R) No. Weapon Weapon of order/ of delivered/
or licenser (L) ordered designation description licence deliveries produced Comments
Bulgaria
R: Iraq 500 MT-LB APC 2012 Ex-Bulgarian; EUR76 m deal; modernized before delivery
Czech Republic
R: Iraq 24 L-159B Trainer/combat ac 2012 Part of $1 b deal; delivery possibly from 2015
4 L-159B Trainer/combat ac 2012 Ex-Czech; part of $1 b deal; delivery 2013
Germany (FRG)
R: Iraq 24 EC-135/EC-635 Light helicopter 2009 2011-2012 (24) EUR360 m deal; armed EC-635 version; ordered via France
South Africa
R: Iraq (300) Ingwe Anti-tank missile (2010) 2010-2012 (300) For EC-635 helicopters
Ukraine
R: Iraq 6 An-32/Cline Transport aircraft 2009 2011-2012 6 $80 m deal; An-32B version
(270) BTR-4 IFV 2009 2011-2012 (60) Part of $427-458 m deal; delivery probably 2011-2014
(150) BTR-4K APC 2009 2011-2012 (28) Part of $427-458 m deal; incl BTR-4K and BTR-4KSh command post, ambulance and BREM-4 ARV version; delivery probably 2011-2014
(2700) R-2 Anti-tank missile (2009) 2011-2012 (795) For BTR-4E IFV
USA
R: Iraq (565) K-6 120mm Mortar 2008 2009-2012 (565) M-120 version
140 M-1A1 Abrams Tank (2008) 2010-2012 (140) Ex-US M-1A1 rebuilt to M-1A1AIM version; option on 140 more
24 Bell-407 Light helicopter 2009 2012 15 Armed version; option on 26 more; delivery 2012-2013
6 C-130J-30 Hercules Transport aircraft 2009 2012 3 $293 m deal; delivery 2012-2013
9 Swiftships-35 Patrol craft 2009 2010-2012 9 $181 m deal
2 AMP-137 OPV 2010 2012 2 $70 m deal
80 ASV-150/M-1117 APC 2010 2011-2012 (60) $85 m deal; incl 8 command post version; delivery 2011-2013
(834) M-113 APC 2010 2011-2012 (834) Ex-US; M-113A2 version; modernized before delivery; incl command post, mortar-carrier, ambulance and other versions
120 M-198 155mm Towed gun 2010 2011-2012 (120) Ex-US; aid
1 AN/TPS-77 Air search radar 2011 $26 m deal; designation uncertain
9 Cougar APC 2011 2012 (9) ILAV version
18 F-16C Block-50/52 FGA aircraft 2011 Part of $3 b deal; F-16C Block-52 or F-16IQ version; incl 6 F-16D; delivery from 2014
3 Swiftships-35 Patrol craft 2011 2012 (3) $42 m deal; option on 3 more
(20) AAQ-33 Sniper Aircraft EO system 2012 $32 m deal; delivery by 2015
4 AN/APG-68 Combat ac radar 2012 AN/APG-68(V)9 version; spares for F-16 combat aircraft
8 Avenger Mobile SAM system (2012) Part of $105 m deal; 'ISFF' aid; selected but contract probably not yet signed
4 DB-110 Aircraft recce system 2012 $71 m deal; for use on F-16 combat aircraft; delivery probably by 2018
(24) F-124 Turbofan (2012) For 24 L-159B trainer/combat aircraft from Czech Republic
18 F-16C Block-50/52 FGA aircraft (2012) F-16C Block-52 or F-16IQ version; delivery 2018; selected but contract possibly not yet signed
(200) FIM-92 Stinger Portable SAM 2012 For Avenger SAM systems
6 M-1A1 Abrams Tank (2012) Ex-US M-1A1 rebuilt to M-1A1AIM version
8 M-88A2 HERCULES ARV 2012 $32 m deal; delivery 2014
http://www.skyscrapercity.com/showth...83784&page=158
New Iraqi Army SOF







Time For Upgrade Power..........