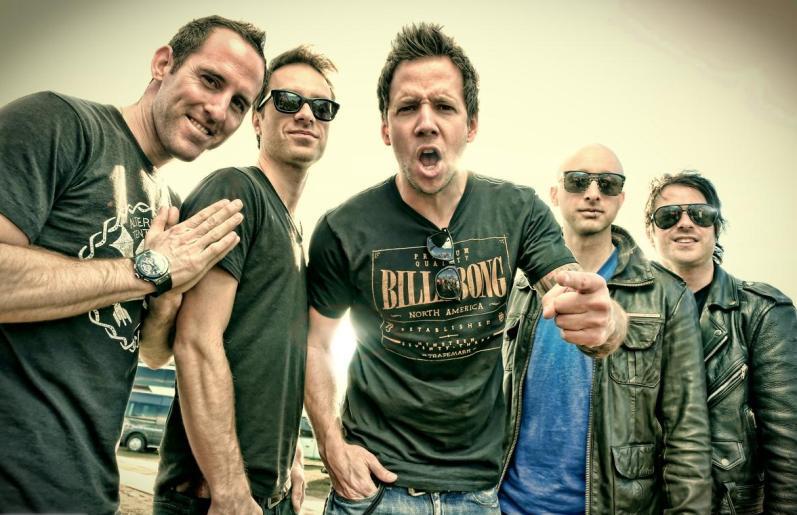 Origin of the name
Quote:
One of them is, that once the guys watched the movie "A Simple Plan" and they decided it's a cool name for a band.

Another is, the the guys claim, that they never wanted to be stucked in some office, but they wanted to play in a band and discover the world. It was some kind of a simple plan for them. And that's why they are called so.
According to one recent interview with David, it happened this way:
"The guys were like "we need a band name, we're playing a show!" and the producer guy had just been watching the movie 'A Simple Plan', and he was like "you guys should try that name", so they dropped the 'A' and just went with Simple Plan, and we ended up keeping the name. When we got signed we were wondering if we were keeping that name or not, and you know what, it is kinda Simple Plan because we get to do what we've always wanted to do for a living."
Little curiosity: While thinking up the name of the band, Mark Hoppus (Blink 182) came and suggested a name "one legged duck". However this name was rejected.
Band's history
Quote:
The history of Simple Plan starts in the middle of the 90s, when drummer Chuck Comeau and singer Pierre Bouvier, both 13 years old, were in a punk-rock band called Reset, which at that time has already been touring across the whole Canada. Reset released their first album in 1997 but shortly after that, mostly due to constant arguments with Pierre, Chuck decided to leave Reset and focus more on his studies. However just a few months after that, the drummer realized that music was the his calling in life and in 1999 he joined his old friend from high school – guitarist Jeff Stinco – and started a whole new project. After a little while, they contacted another old friend of theirs – Sebastien Lefebvre, who also used to go to the same high school and was a huge fan of Reset, and asked him to join the band. Seb agreed and together the three of them started forming a band that was almost complete. They were still missing a very important person though – the lead singer.
"We were searching," Comeau remembers. "We've tried out many singers, but the more we were thinking about it, the more we were certain that we needed Pierre in the band." Meanwhile, Pierre started being dissatisfied with Reset, where he had to handle way too many things.

"I wanted to give up, go back to school and forget about music," Bouvier said. "But then I met Chuck one night at a Sugar Ray concert in Montreal and he was like: "I have this band and we are looking for a singer." I went there and saw them practising and their songs were so new and modern, so I said that I'd give myself one more chance." And that's how Pierre joined Chuck, Jeff and Sebastien.

The guys started creating pop-punk songs, at that time still under the name "Canadian Plan", but were still incomplete. "We thought that something was still missing," Bouvier said. So, in May 2000 they were joined by David Desrosiers (who had replaced Pierre in Reset), who filled the position of the bass player.

After the band was complete, they knew they had to find a record label that would sign them. Chuck then called about 55 record labels in the States, pretending to be Simple Plan's manager (and using his mother's surname) and lying about how big Simple Plan already are, selling out venues etc. After many unsuccessful phone calls, Chuck finally got through to Andy Karp, who was the A&R manager for Atlantic Records. Andy Karp listened to Simple Plan's demos, enjoyed them, but still wasn't completely convinced.

At this trip to Montreal from New York, Andy was supposed to go see two bands: "Rubber Band" and "Simple Plan". Luckily, he liked Simple Plan a lot more and decided to sign them and not the other band. Through Andy, they got introduced to Eric Lawrence from Coalition Entertainment, who became their manager.

Ever since their formation in 2000, the Simple Plan have released the following albums – the first one in 2002 – "No Pads, No Helmets…Just Balls", the second in 2004 – "Still Not Getting Any", the third one in 2008 – "Simple Plan" (a self-titled album) and the fourth one in 2011 – "Get Your Heart On!"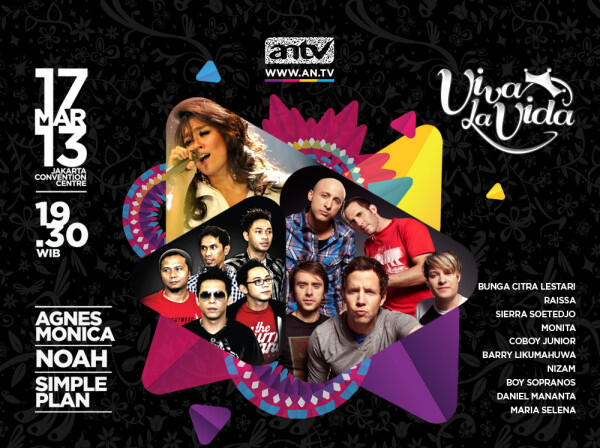 Quote:
@whatsonANTV: SIMPLE PLAN, AGNES MONICA, NOAH, COBOY JUNIOR, RAISA Dll Di VIVA LA VIDA ANTV, Minggu 17 Maret'13
Follow Twitter
@simpleplan
Indonesian FanBase
@SimplePlanID
Quote:
Mohon maaf buat sebelumnya sebenarnya trit Simple Plan sudah ada, ini dia tritnya Simple Plan Thread [Get Your Heart On #June21st], tetapi tritnya udah lama gak keurus, bagaimana kalau ane buat trit baru. Makanya sebelum ane edit banyak, ane tanya dulu ama Kaskuser, ini trit di lanjutin apa enggak. Kalo banyak yang gak suka, laporin ajah ke momod. Kalo ini dilanjut ane benerin tritnya, ane ubah jadi bahasa Indonesia