http://www.thejakartaglobe.com/comme...ng-memo/553964

Basuki Tjahaja Purnama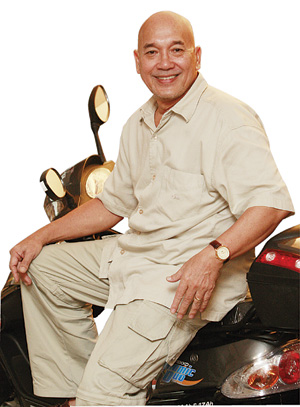 Peter F Gontha
Quote:
Letter to the Editor: For Jakarta Deputy Governor, a Post-Meeting Memo
Peter F. Gontha | November 03, 2012





Thursday afternoon, at around 6:15 p.m., was a painful moment for me, a resident of Jakarta who had the noble intention of meeting with his deputy governor to provide input on efforts to overcome the city's many problems. I appreciated the fact that Deputy Governor Basuki Tjahaja Purnama clearly wanted to engage with citizens and had quickly agreed to the meeting. But the experience soon turned into a bitter one because of the inappropriate behavior of the deputy governor and the presence of individuals who were not officials but who appeared to have an exclusive right to be inside the working office of the deputy governor.

As a citizen hoping for a sign that there would be something different compared to the leadership of the previous governor, I came with ideas I thought worthy of consideration — such as a short-term answer to Jakarta's notorious traffic congestion.

I am fully aware that I am no expert in city planning, or an expert in overcoming transportation problems. But as a resident of the city, I feel called to contribute to progress. The idea proposed may not have been a holistic solution, but a leader should at some point have the courage to make a decision, no matter how hard this is, rather than basking in a never-ending discourse. Residents are tired of hearing their leaders complain or blame each other. What residents are waiting for are breakthrough policies that could at least signal that there is an effort by the government to improve conditions.

Back to the atmosphere at the meeting that afternoon.

After some brief small talk, I presented the idea to help reduce congestion through vehicle-color-based restrictions on certain roads — an idea that I have presented on various occasions since 2010. For this Thursday afternoon, I had prepared a paper explaining this effort, which I was to hand over to the deputy governor after the brief presentation.

The gist of my thinking is that whatever the policy undertaken by the government, it should at least show the public that it has the courage to try and take steps that could be implemented in a brief period of time. The most logical solution, I think, is to manage the traffic based on a restriction on vehicles. Of course, the government should at the same time work hard to prepare a solution that is more holistic and long-term.

However, I had not even completed my explanation of the main points before the deputy governor interrupted to say that there already is an abundance of studies on how to alleviate the city's congestion. Some in a regulatory form, others involving a rejuvenation of the fleet of city buses and also long-term solutions through better management of macro transportation patterns. But whichever choice is made, these are not short-term solutions, as all would need time. Each proposal has its own weakness and could prompt protests from the public if implemented.

I do understand what the deputy governor was saying about the difficulties the authorities were facing, but as a leader, it would have been great if the deputy governor had been able to listen enthusiastically and respectfully — paying full attention to his conversation partner and allowing him to make his point.

But what happened instead? The deputy governor's warm and friendly welcome was quickly overshadowed by a situation that was certainly not worthy of a deputy governor and his close entourage. While I was explaining the reasons for the visit that afternoon — to try and help create short-term breakthroughs to curb traffic congestion — the deputy governor was busy typing on his BlackBerry.

I initially thought the deputy governor was busy processing my input, but it turned out that he was in fact communicating with others. Even more painful was that while the deputy governor was busy with his own thoughts, a member of his staff repeatedly interrupted the conversation and addressed the deputy governor using the "loe-gue" jargon for "you" and "me." I really did not get the impression that I was in the office of a deputy governor. Civility and protocol were simply ignored. This is something that is unacceptable in our culture.

The deputy governor's attempt to strive for egalitarianism, to not overly crave respect and to try to avoid excessive protocol is commendable and should be supported. However, this does not mean that in a civilized society, the deputy governor's working environment can do away with the spirit of respecting the institution of a deputy governor as a symbol of leadership. The loe-gue jargon is perfectly acceptable in daily interaction, but it is not appropriate for use in the official environment of a leader like the capital city's deputy governor.

The encounter offers a valuable lesson for those who have chosen to dedicate their lives to public service: learn to be a role model for the people, learn to listen. And stop complaining and blaming each other, because now is the time to really do something.

Peter F. Gontha is the group publisher of BeritaSatu Media Holdings, of which the Jakarta Globe is a part.

intinya:
-Peter F. Gontha (bos grup media BeritaSatu) ketemuan sama Ahok
-Dia ngasih usul pembatasan kendaraan berdasarkan warna ke Ahok
-Pas lagi ngejelasin, dipotong, dibilang usul dan studi untuk ngurangin kemacetan udah banyak
-Ahok sambil ngetik BB
-Sambil ngobrol, ada staf wagub yang ngomong "lu-gue" sama Ahok
-Peter F Gontha MERASA TERHINA