Quote:
MARI BANTU TS

JANGAN LUPA
Quote:

Insiden Laser kian panas ketika Twitter mulai jadi pelapiasan ungkapan duka atas kurang berjalan sportifnya permainan dalam laga Piala AFF Suzuki Cup 2010 beberapa saat lalu. Insiden Laser juga menimbulkan banyak perpecahan serta anggapan miring dari berbagai pihak.

Mengingat kejadian insiden laser, ternyata dalam Piala AFF bukanlah yang pertama dalam sepak bola dunia. Bahkan insiden ini (laser) pernah dialami beberapa pemain kelas dunia sekalipun. Seperti Cristiano Ronaldo, Didier Drogba, bahkan pelatih ternama berjuluk 'the Special One', Jose Mourinho sekalipun.
Quote:
Ini beberapa berita menegnai Insiden laser yang pernah dibahas dari media luar
No way Jose! Mourinho leaps to defence of Howard Webb after Spanish press attack English ref
Jose Mourinho has defended English referee Howard Webb from a torrent of abuse in the Spanish press after Real Madrid's fiery draw at AC Milan.
Webb has already suffered abuse for his handling of the World Cup final, with Spain incensed that the official did not send off Nigel de Jong for planting his foot in Xabi Alonso's chest.
So when the Yorkshireman and his assistants ignored a shout for offside to allow a late AC Milan goal on Wednesday night, the Madrid press vented their anger once more.
Substitute Pippo Inzaghi appeared to be marginally offside when firing his second for Milan with 12 minutes to go, but Madrid's Pedro Leon hit a last-ditch equaliser to salvage a 2-2 draw for Mourinho's men.
However, the goal was not the only issue for newspaper AS, who described the display as 'disastrous refereeing' and insisted Webb should have also shown red cards to Inzaghi and Ignazio Abate.
But former Chelsea boss Mourinho insisted: 'This referee is one of the best in the world and I'm not going to change my opinion for a mistake or for giving too few cards.
'I'd be happy to have him on the pitch in all my games, but he made a mistake awarding Milan's second goal. We all make mistakes. He is a fantastic referee.'
Mourinho also came under attack, though much of it was of the provocative Portuguese's own making.
The former Inter Milan boss appeared to taunt fans from the Madrid team coach on the way into the stadium and continued from the sidelines by waving three fingers at onlookers. Watch the video at the bottom of the article
It shouldn't be forgotten that Mourinho led Inter to the treble of Serie A, Italian Cup and Champions League titles last season.
Quote: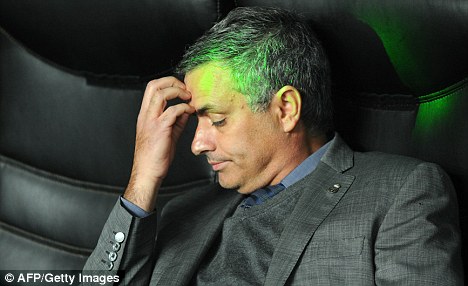 Green light: Mourinho is targeted by someone in the crowd with a laser
A Milan fan also targetted the one-time boss of their hated rivals by shining a green laser at Mourinho's face as he sat in the dugout.
Meanwhile, to complete an eventful night, there are claims in Spain that the game brought about an unlikely reconciliation for Zinedine Zidane and Marco Materazzi.
Quote: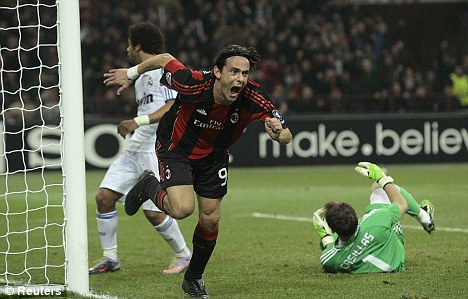 Zidane infamously butted the Italian in the chest in the 2006 World Cup final - the last disgraceful act of a glittering playing career for the France legend.
A war of words has prevailed between the two ever since, but Spanish newspaper Marca claims they spoke and even hugged after a chance meeting at a Milan hotel before the game.
http://www.dailymail.co.uk/sport/foo...h-referee.html
Spoiler

for

Didier Drogba

:
Blind rage as UEFA vow to get tough on Lyon over Ronaldo laser incident
Lyon have been warned that they could face heavy UEFA sanctions after a supporter shone a laser beam into the eye of Manchester United winger Cristiano Ronaldo in France on Wednesday night.
As a leading eye expert revealed that Ronaldo's performance could have been affected by the incidents in the Stade de Gerland, UEFA prepared to launch an investigation aimed at trying to stamp out a problem which is becoming widespread in French football.
Quote: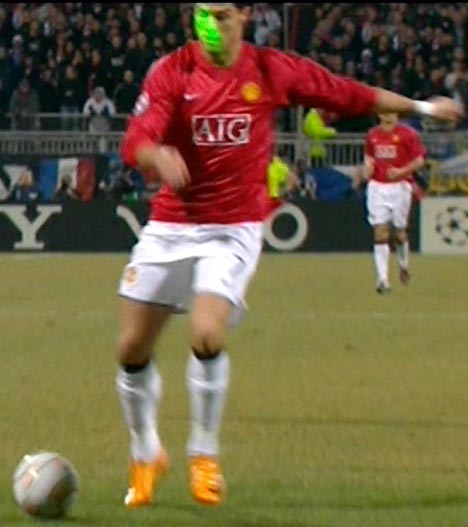 One in the eye: Ronaldo is targeted by a laser in Lyon
United manager Sir Alex Ferguson and his staff brought the issue to UEFA's attention before kick-off after kitman Albert Morgan noticed a tell-tale green spot flicking across Ronaldo's features, and although experts told Sportsmail last night that there is 'absolutely no chance' of permanent damage to the player's eye, Europe's governing body are taking the matter seriously.
UEFA director of communication Rob Faulkner said: 'We will get the delegate's report in, see if there is any mention of it and see in what way, if any, we can corroborate that.
'If there is a case, we will open an investigation and potentially after that there could be some disciplinary hearing with sanctions afterwards. 'If there is any action, then it would be something along the lines of a fine or so on.
'What we know so far is that there was definitely a laser pen aimed at Ronaldo during the warm-up. We tried to take some action before the game.'
Ronaldo is not the first player to be targeted in this way. English players have encountered these problems in France before, while Chelsea centre forward Didier Drogba was singled out by supporters at West Ham on December 3 last year.
The laser pens are manufactured for use in large lecture theatres as an aid to picking out key items on blackboards from a distance. Last night eye expert, Professor John Marshall of King's College, London, assured Sportsmail that Ronaldo faces no long-term effects but stressed that the pens should not be allowed to fall into the wrong hands.
He said: 'I have seen headlines in the past to suggest that these items can cause lasting damage. That is utter nonsense. But that does not mean I would condone their use. Their place is in the lecture theatre.
'Essentially, if a laser like this was shone into an individual's eye, then the equivalent effect is like that which occurs after somebody stares into a light bulb for a couple of seconds.
'There will be some impact on the vision and some brief disorientation and that would be it. That is obviously not ideal for a footballer but it will not harm him in the long term.'
Laser pens with a red light are available for purchase on the internet for a nominal price. However, the green pens, such as the ones used to distract Ronaldo and Drogba, are harder to obtain.
Quote: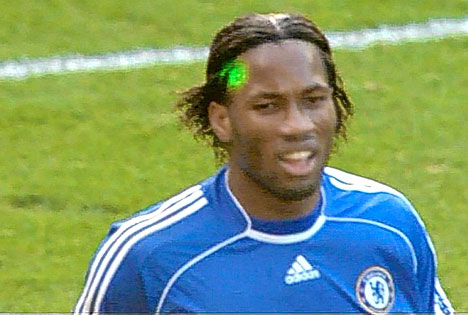 Previous hit: Drogba was targeted during a Premier League clash with West Ham
Professor Marshall added: 'I must admit that I was surprised to hear that this was a green one. They do have a stronger effect and are harder to find and therefore buy.'
United do not intend to push the issue any further with UEFA and Ferguson will not be terribly keen to encourage any bad blood with a club where he has some friends.
Ronaldo is understood not to be perturbed about the matter and has not said anything publicly about it after United and Lyon drew 1-1.
Last night the FA confirmed that incidents of this nature are rare in domestic football and, as such, there is no policy set down to deal with it.
But one sobering note for Ronaldo is that he is liable to become more disorientated by flash bulbs on a red carpet than he is by lasers shone on to a football pitch.
'People walking out of dark rooms to that kind of reception are much more at risk of disorientation,' said Professor Marshall.
Read more:
http://www.dailymail.co.uk/sport/foo...#ixzz19SebhbOO
Quote:
Inilah beberapa penampakan dari insiden laser yang ada dalam sepakbola :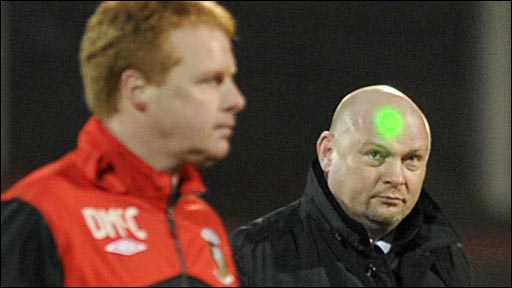 Quote:
begitu segan, bantu dengan comment buat sundul

apalagi dengan cendol

yang penting bukan bata