Japan has entered a new era. Hiden Intelligence, the leading company in the field of artificial intelligence (AI) has developed a way to utilize these A.Is in human form, known as HumaGear. They're no different from humans and have become a staple in both public and private life. However a terrorist organization known as "MetsubouJinrai.NET" has hacked into several of these HumaGears and turned them against society for the sake of eliminating humanity. In an effort to combat this, the government has established the Artificial Intelligence Military Squad, or A.I.M.S., to destroy these sabotaged HumaGears.

Meanwhile, a failed stage comedian Aruto Hiden has suddenly been appointed the chairman of Hiden Intelligence after his grandfather's death. Although he was initially uninterested, he witnessed firsthand of the terrorist attacks by "MetsubouJinrai.NET" and decided to fight as Kamen Rider Zero-One for the sake of keeping up appearances as chairman. From here on out, an explosive war has been ignited between Aruto, MetsubouJinrai.NET, and A.I.M.S.

Spoiler

for

Zero-One cast

:
Zero-One cast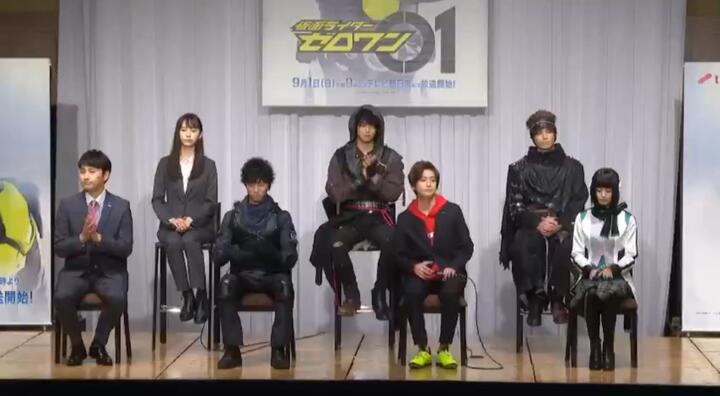 [img][/img]
- Fumiya Takahashi sebagai Aruto Hiden / Kamen Rider 01
- Ryutaro Okada sebagai Isao Fuwa / Kamen Rider Vulcan
- Hiroe Igeta sebagai Yua Yaiba / Kamen Rider Valkyrie
- Tsurushima sebagai Izu (AI robot)
- Daisuke Nakagawa sebagai Jin
- Shuuya Sunagawa sebagai Horobi
- Kojima Kazuya sebagai Jun Fukuzoe.


A new trademark for Kamen Rider Zero-One has been filed by Toei Productions.

Toei's application for a new Kamen Rider under the name Kamen Rider Zero-One has been approved via the Japanese Intellectual Property Database. Toei filed for the trademark on April 19th with the Japanese Patent Office under trademark number 2019-54945. This is the first trademark filed for the Kamen Rider franchise in the Reiwa era that began on May 1, 2019.