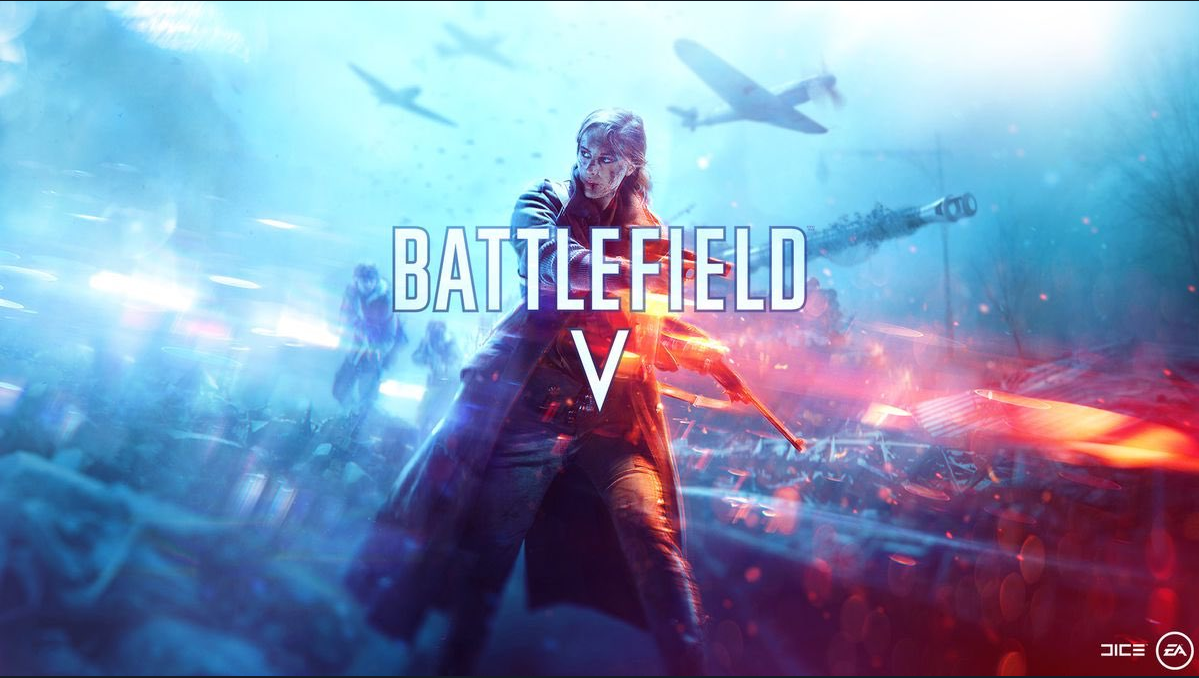 Spoiler

for

Official Trailer

: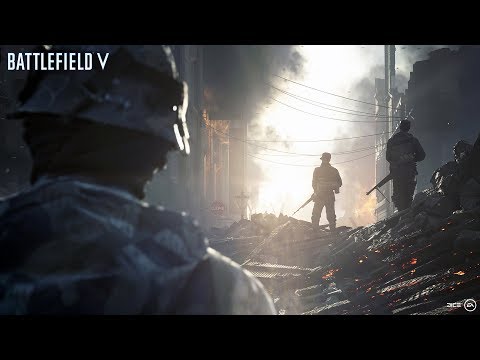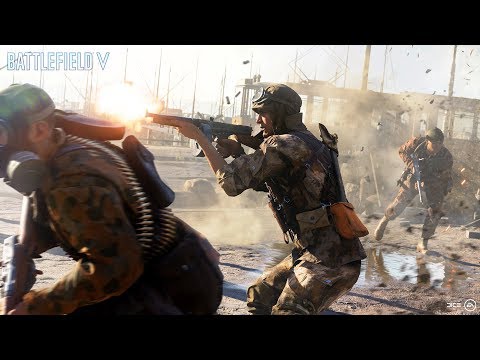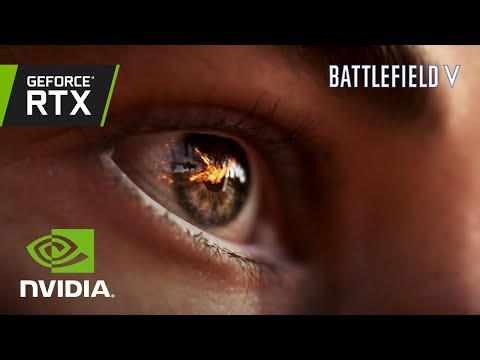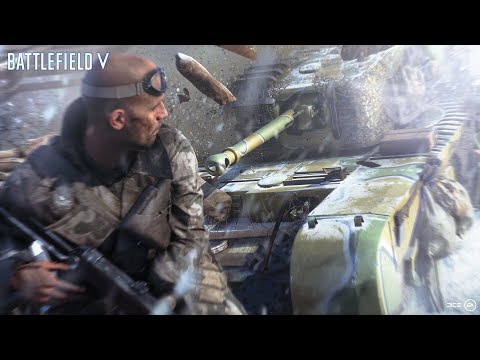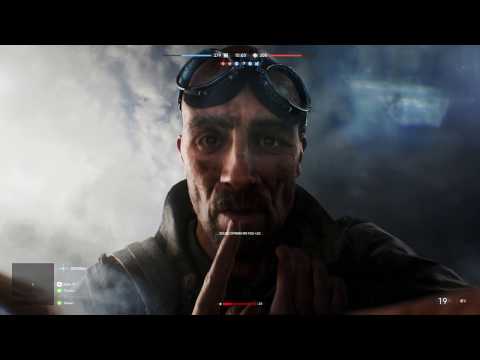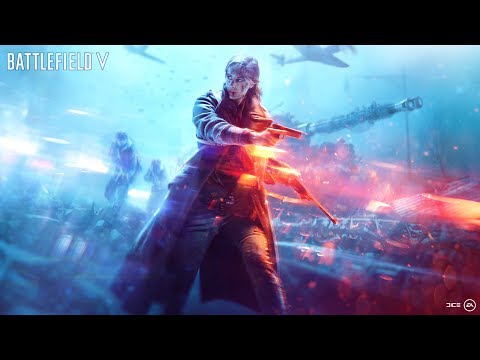 Quote:
Join Our BATTLEFIELD KASKUS COMMUNITY Discord Channel 
>>
https://discord.gg/v5j6EXR
<<
- bisa digunakan buat mabar dan diskusi gan
- lebih bagus kalo agan download dulu aplikasi discord di
https://discordapp.com/download
- buat account kemudian masukkan link discord di atas di join server
- dibuat Mabar segala macam game Battlefield, ato mungkin game2 laen kalo lagi gak mau maen BF
- discord yg memuat semua Battlefield series
update 15 Juni 2019 : Total Member sekarang  1187+ User, Aktif maen BFV dan BF2 laen tiap hari 5-20 orang
Code:
System Requirements

MINIMUM SPECS

OS: 64-bit Windows 7, Windows 8.1, and Windows 10

Processor (AMD): AMD FX-6350

Processor (Intel): Core i5 6600K

Memory: 8GB RAM

Graphics card (AMD): AMD Radeon™ HD 7850 2GB

Graphics card (NVIDIA): nVidia GeForce® GTX 660 2GB

DirectX: 11.0 Compatible video card or equivalent

Online Connection Requirements: 512 KBPS or faster Internet connection

Hard-drive space: 50GB



RECOMMENDED SPECS

OS: 64-bit Windows 10 or later

Processor (AMD): AMD FX 8350 Wraith

Processor (Intel): Intel Core i7 4790 or equivalent

Memory: 16GB RAM

Graphics card (AMD): AMD Radeon™ RX 480 4GB

Graphics card (NVIDIA): NVIDIA GeForce® GTX 1060 3GB

DirectX: 11.1 Compatible video card or equivalent

Online Connection Requirements: 512 KBPS or faster Internet connection

Available Disk Space: 50GB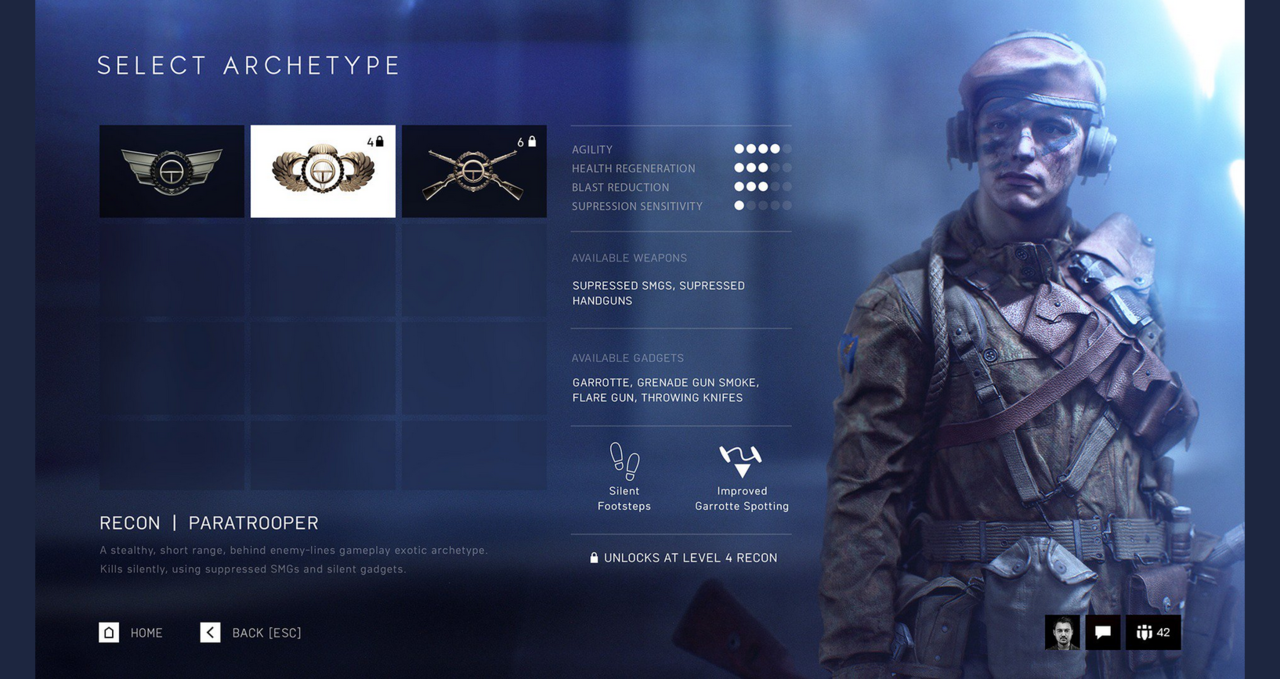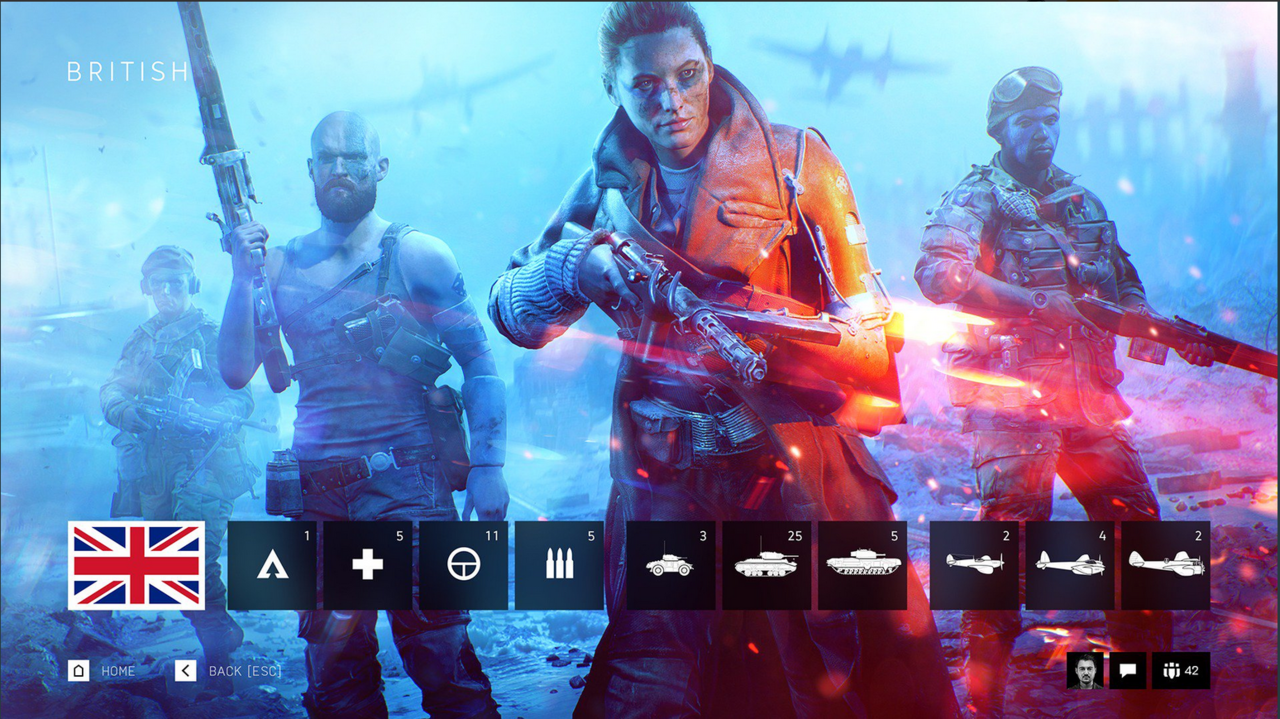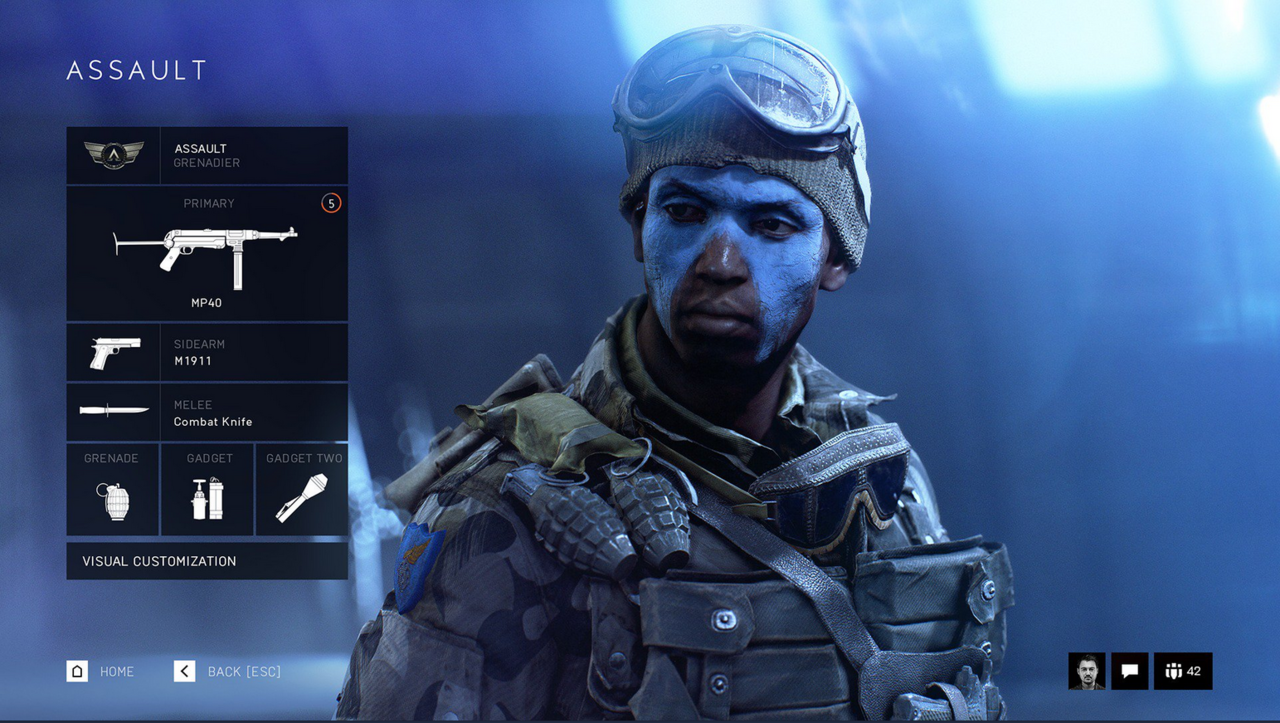 Quote: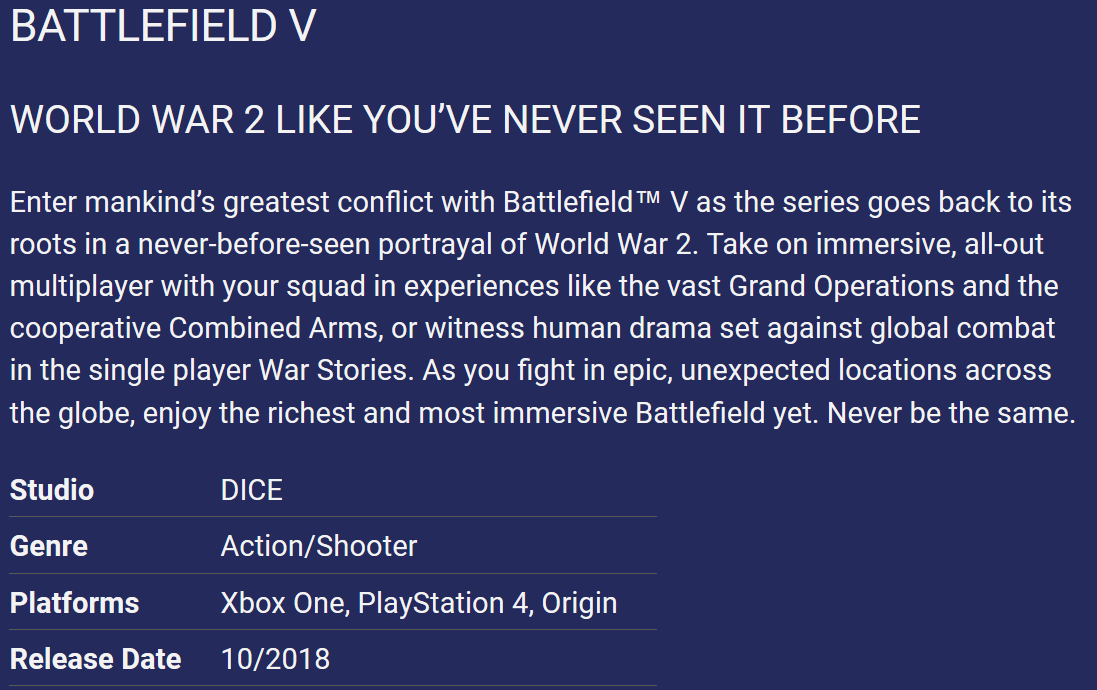 NB: Release date diundur jadi Tanggal 20 November 2018
Quote:
OPEN BETA Complete Guide & Info
PRE-LOAD OF OPEN BETA STARTS
September 3, 1 am PT (10 am CET) --> 3 September, 15.00 WIB (GMT+7)
OPEN BETA EARLY ACCESS STARTS
September 4, 1 am PT (10 am CET) --> 4 September, 15.00 WIB (GMT+7)
OPEN BETA AVAILABLE FOR EVERYONE
September 6, 1 am PT (10 am CET) --> 6 September, 15.00 WIB (GMT+7)
OPEN BETA ENDS
September 11, 7 am PT (4 pm CET) --> 12 September, 9.00 WIB (GMT+7)
Trus apa aja yg bakal ada di Open Beta ini bakal dijelaskan oleh gambar2 dibawah ini
Spoiler

for

Open Beta Detail

:
Quote:
PRE-ORDER BATTLEFIELD™ V TO GET:
• Early access to the Battlefield V Open Beta, Special Assignments, and a Special Soldier Set that can be chosen from eight available Sets in Battlefield V.
• Immediate Access to Five Battlefield 1 Weapons*: Ready for use in Battlefield 1, unlock five of the Great War's most modern weapons and bridge the technological gap between the two world wars.
Spoiler

for

Game Price and Feature

: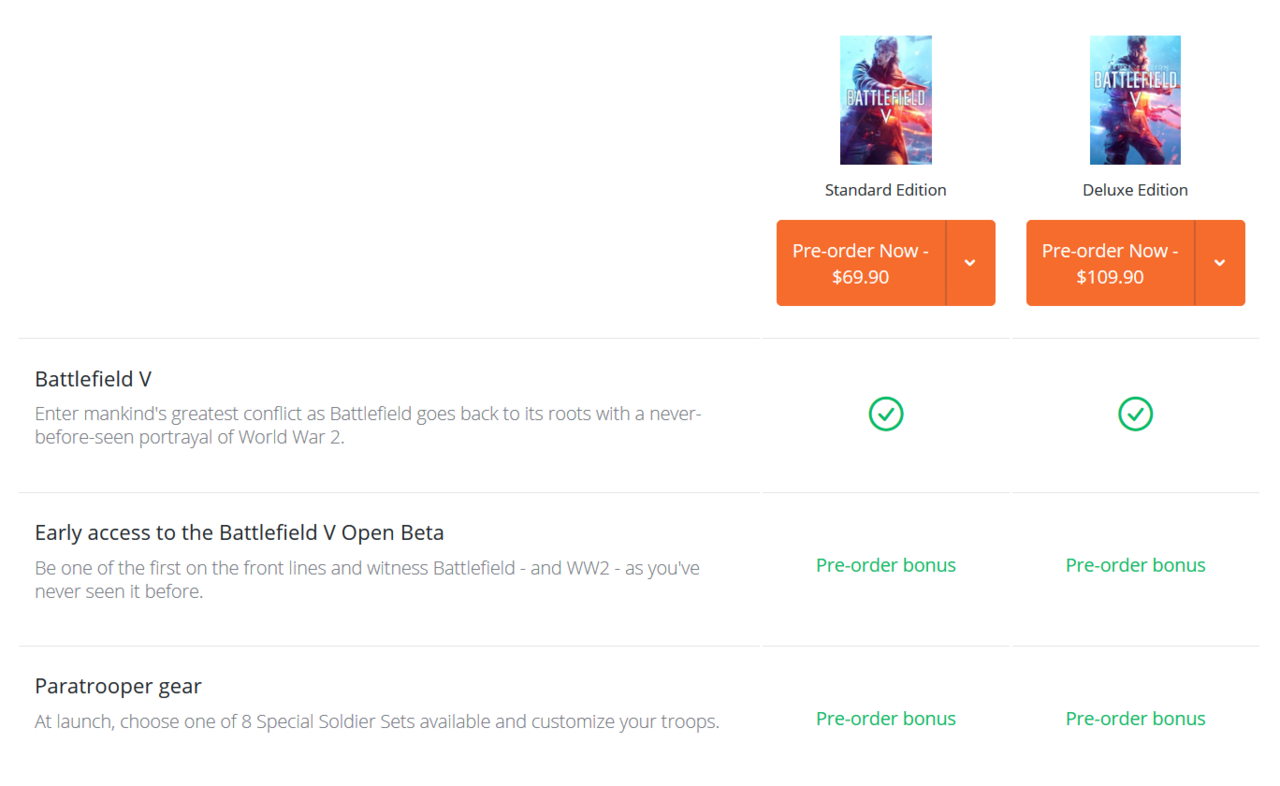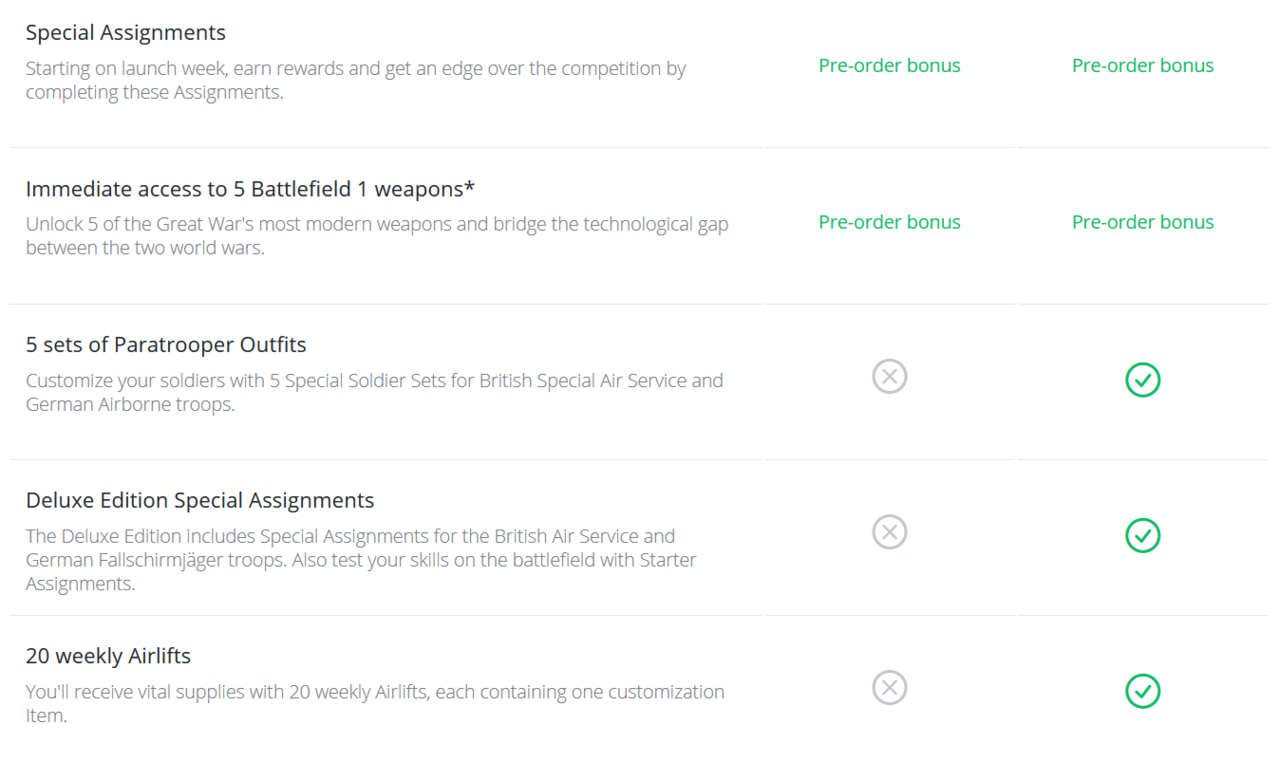 Quote:
Spoiler

for

Info mengenai Battlefield V, perbedaan dari game sebelumnya, dan segala macemnya dari event reveal ini rangkumannya (credit:reddit)

:
• No Season Pass
• Launch locations are France, Africa and Rottedam and North Africa desert
• Coop Mode called Combined Arms
• Single player War Stories return
• Fortifications are things like sand bags, trenches, tank stoppers. Only supports can build offensively defense fortifications such as machine guns, field cannons and are much faster at building everything.
• Predetermined areas to build such as at flags, can rebuild destroyed buildings
• Attrition system - health bar is in stages, only regen up to closet stage not to 100 anymore
• Physical interactions - every action in the game requires a player interact for things like medkits, spotting, ammo, ledge grabbing (example: healing requires walking over to a health pack, character animation to pick it up, then start healing)
• No more HUD/map spotting, spotting is based on movement/changes around you
• Attrition system - much less ammo on spawn, out of ammo after a few fights, but more ways to resupply ammo in the battlefield from packs, crates, or grabbing small amounts of ammo off of bodies (all requires physical interactions)
• Revive system has a full on animation, takes a few seconds to complete, no more revive trains, takes time to complete
• Ragdolls are server side, can now drag a downed player's body elsewhere
• Any class can do a squad revive, takes longer than a medic revive, does not give full health points
• Can call for help when down such as in the trailer
• Ragdolls (player bodies) effect the environment, push down grass etc.
• Gunplay completely changed
• No more visual recoil
• Each gun has a unique recoil pattern that can be learned and mastered
• Bipods easier to use and setup
• Bullet penetration through thin wood, sheet metal, walls
• Movement change, can now dive froward, backward, left and right similar to R6 Siege prone system
• Diving has a delay to prevent dolphin diving
• Crouch sprinting is in the game
• Can burst out of widows and commando roll, no destroying windows first
• Can catch, throwback or shoot grenades
• Less grenades because less ammo
• Can tow items in the game with vehicles such as previously stationary anti-air guns, teammate can use an anti-air gun while you tow it with a vehicle
• For example, can drive a tiger tank towing a field cannon behind it or a truck towing ammo crate to resupply teammates on the front line
• Destruction explodes inwards or outwards based on where the destruction happens. Throw a grenade inside of the building? The explosion sends things outside of it. Outside of it? Breaks inwards.
• Tank driving into a building slowly destroys a building, walls slowly krack/fall, not instant
• Heavily focused on squad play, instant placed in squad when joining a game
• New squad spawning system, squad deploy system that shows what squad mates are doing in third person in real time before the tactical map screen, so spawning on squad is kicker than spawning on tactical map screen
• Since squad spawning/deploying is faster than tactical map, squad wipes are serious
• Squads accumulate points that can be spent on "squad call-ins", only squad leader can spend them in
• Squad Call-ins are V1 or JB2 rockets as seen in the trailer, supply drops with ammo/health, a smoke barrage, heavy weapon pickups (not hero kits), squad only vehicles such as Churchill crocodile flamethrower tank or the Sturm tiger
• Elite classes are gone
• Behemoths are gone
• Large, non-fatal explosions can knock a player over
• Four classes are back: assault, medic, scout, support
• Create a solider, add them to a company of soldiers, then can customize things like gender, face look, face paint, outfit, accessories, etc. and assign them a class archtype
• Class archetypes highly customizable
• Can be an assault that specializes in anti-tank or anti-infantry only, or a mix of both, etc.
• Highly specialized archetypes called exotics such as a recon paratrooper, stealthy short-range behind enemy lines person who uses a suppressed SMG and silent gadgets like pistols and garrotes comes with silent footsteps and throwing knives
• Can change and add specialization trees such as agility, flak armor, suppressive resistance
• The more you play a class more you get more specializations/archtypes within said class

Battlefield V Live Reveal: Ten Things You Don't Want to Miss
Set your alarms for the reveal of the next Battlefield – war will never be the same
Spoiler

for

Reveal Information

:
On May 23, join comedian Trevor Noah and members of the DICE team as we present the
Battlefield
™
V
Live Reveal. As the live stream draws near, we've compiled the top ten things to look forward to.
1. A New Battlefield…
It's a brand-new experience and still everything you love about
Battlefield
– where every fight is different and brought to life across unexpected theatres of war. Discover the new challenges that will change war forever.
2. …in a New Setting
Battlefield 1
gave players the definitive World War 1 experience that brought the dawn of all-out war to life. But the next
Battlefield
happens on another frontline. The live reveal will give players the first look at DICE's immersive portrayal of the new setting.
3. Info Straight from the Developers Behind Battlefield V
Come for Trevor Noah, stay for the developers. Hear from DICE team members Andreas Morell, Senior Producer, Lars Gustavsson, Senior Producer, and Daniel Berlin, Design Director, as they fill you in on their
Battlefield V
vision.
4. Unseen Multiplayer Moments
You can of course expect large-scale multiplayer in the next
Battlefield
– but
Battlefield V
takes it to the next level. Prepare for multiplayer that spans multiple maps and modes, meaning you'll experience more varied and exciting
Battlefield
moments.
5. Unmatched Sights and Sounds
Battlefield
has always been about high-fidelity immersion, and
Battlefield V
isn't any different. Tune in, and you'll be among the first to hear and see the stunning environments that you'll soon be playing within.
6. New Modes and Experiences
A player-favorite from
Battlefield 1
, Operations have given you the chance to take epic journeys across several maps. Will this teamplay-focused experience be in the next
Battlefield
? You'll know if you watch the live reveal!
7. Gameplay Changes
While we don't want to scoop our own reveal, you can bet your favorite
Battlefield 1
weapon that exciting gameplay changes are coming. Because of this, we suggest not even blinking during the
Battlefield V
Live Reveal.
8. Trevor Noah
The comedian and host of The Daily Show is not only a gamer, but a defender of video gaming. Funny, smart, and loves video games? We couldn't think of a better person to host our live reveal then this South African legend.
9. The Return of War Stories
DICE believes in both all-out multiplayer and single player, and the live reveal will have more info on the returning fan-favorite War Stories. Prepare for untold, compelling narratives in a new setting.
10. Answers to All the Speculation
The recent
Battlefield
Easter Egg chase has turned much of the community into sleepless sleuths. Is your whiteboard covered in Morse code? Is your search history full of white horses? How close were you to the truth of
Battlefield V
? It's time to find out.
Watch the Reveal
live on stream, May 23 at 1 PM PT / 4 PM ET / 10 PM CEST via the following:
Battlefield Homepage :
https://www.battlefield.com
YouTube :
https://www.youtube.com/battlefield
Twitch : battlefield
Mixer :
https://mixer.com/battlefield
Spoiler

for

Artwork & Concept Art

: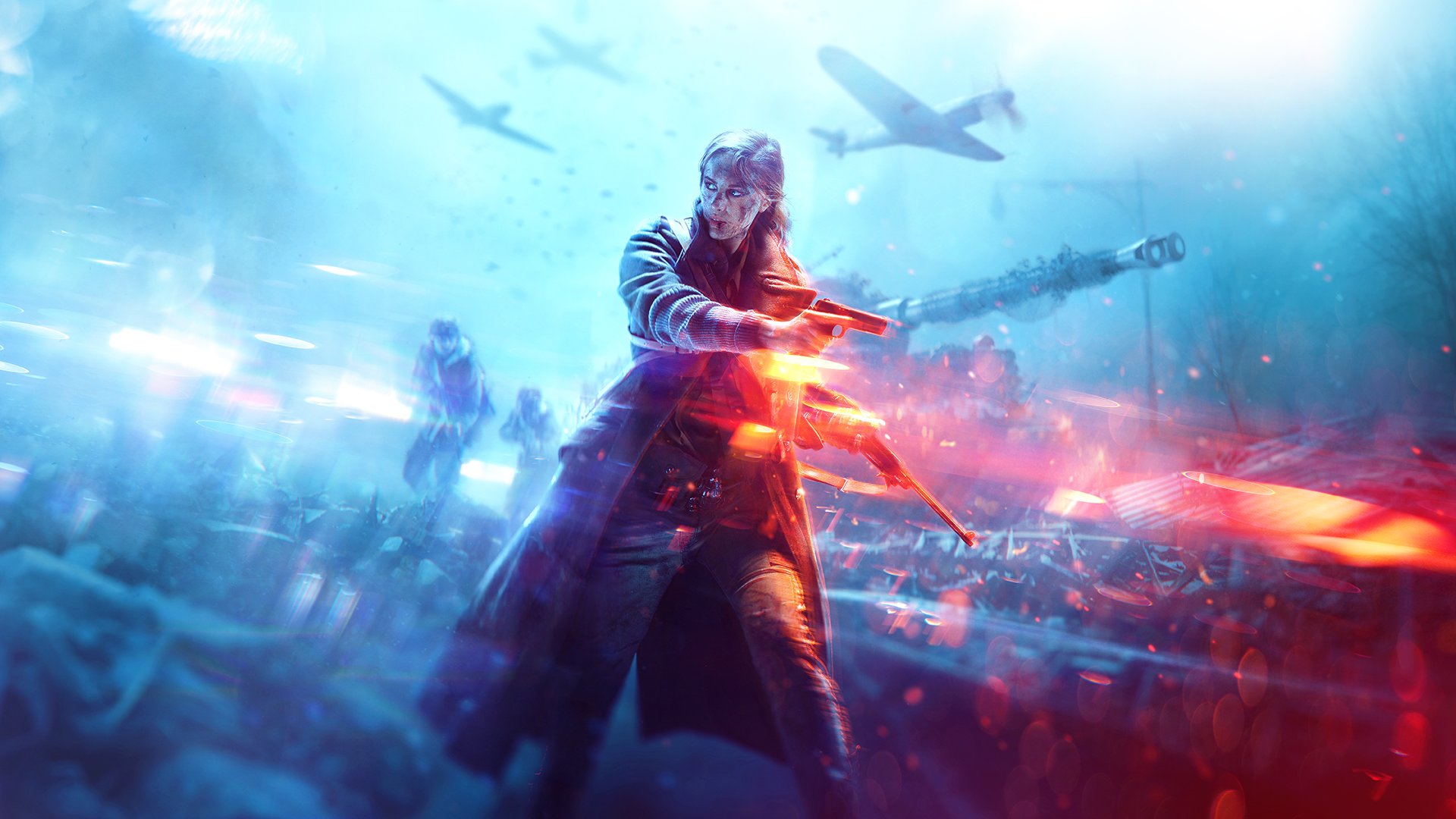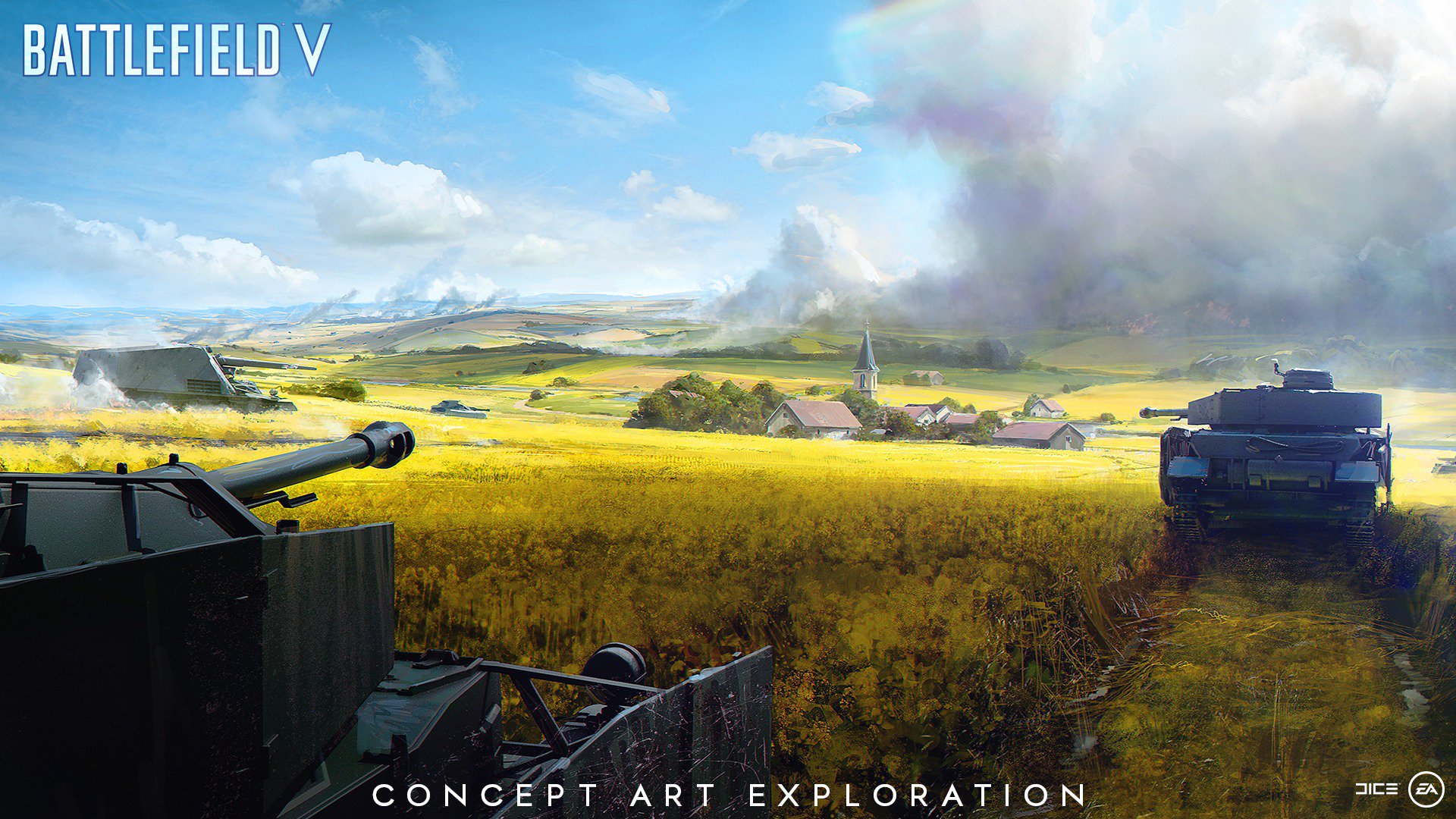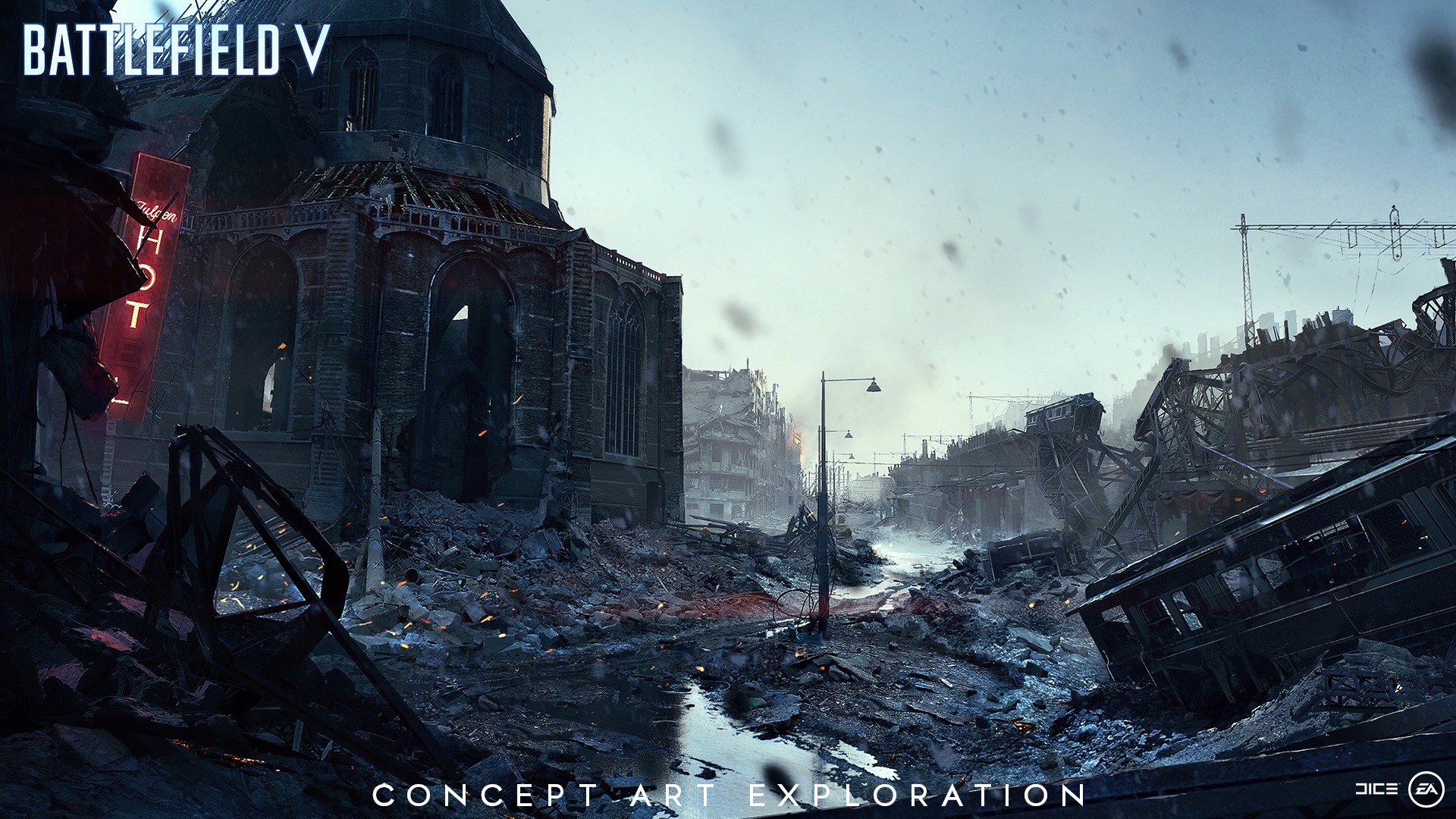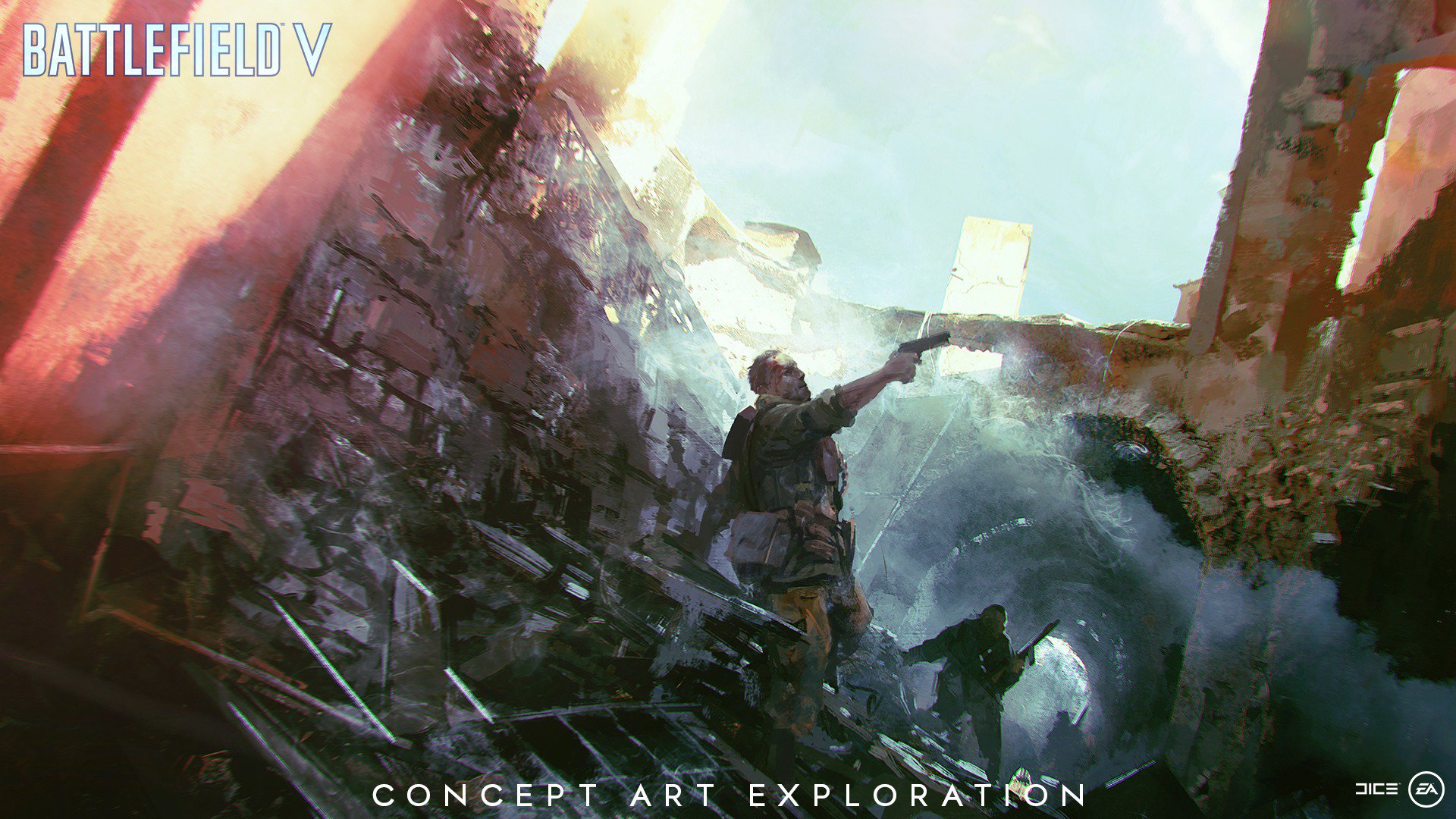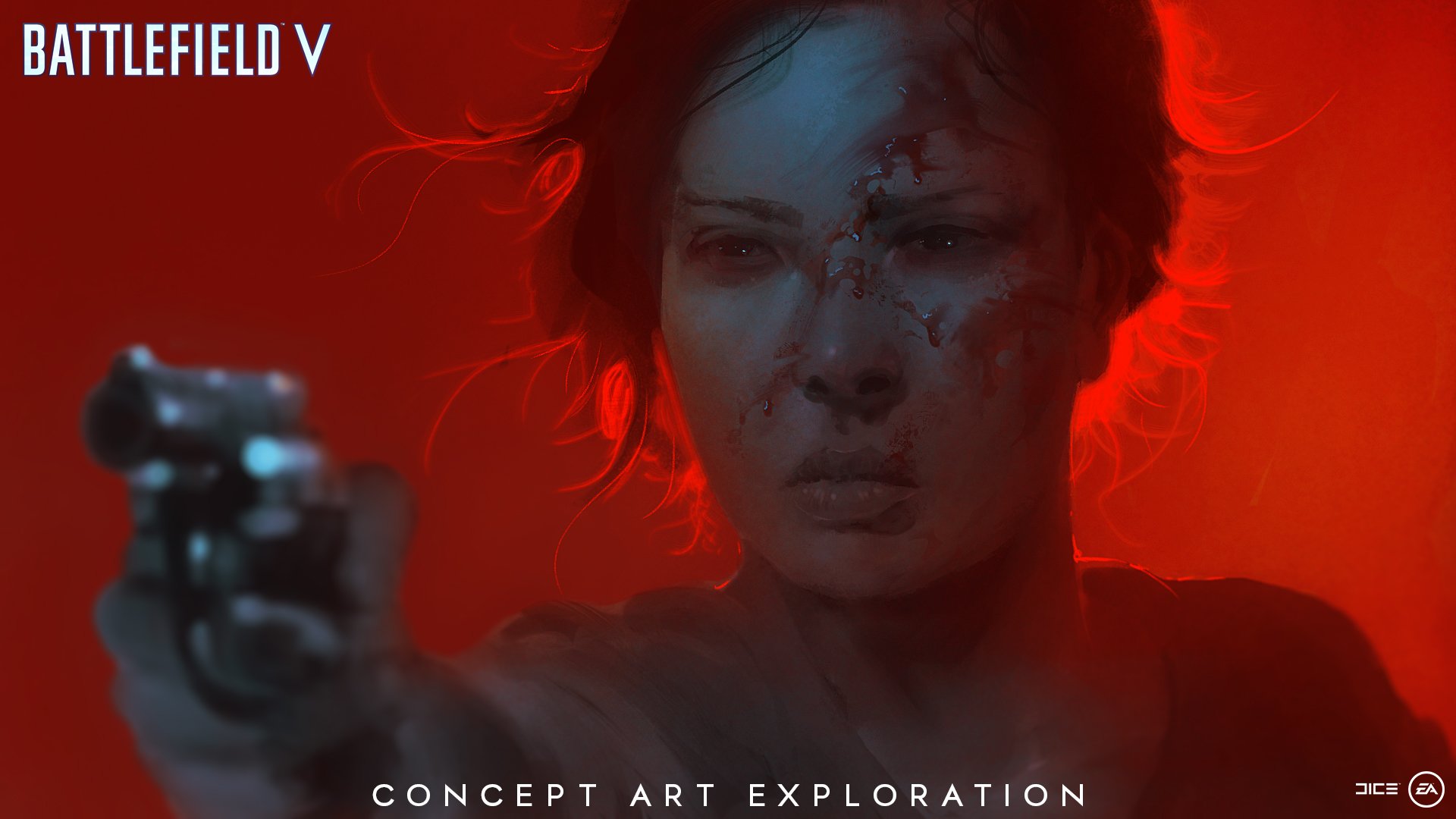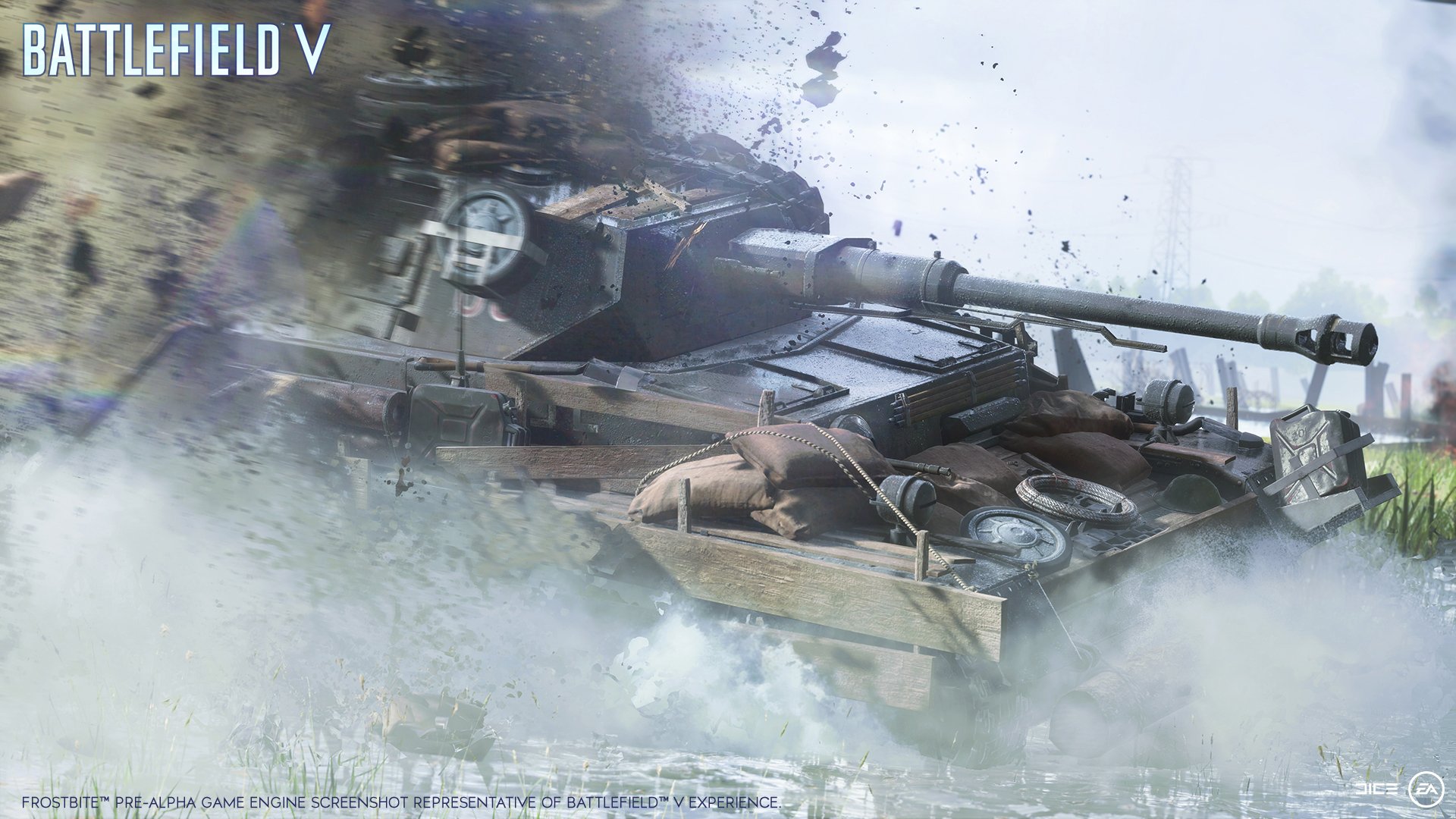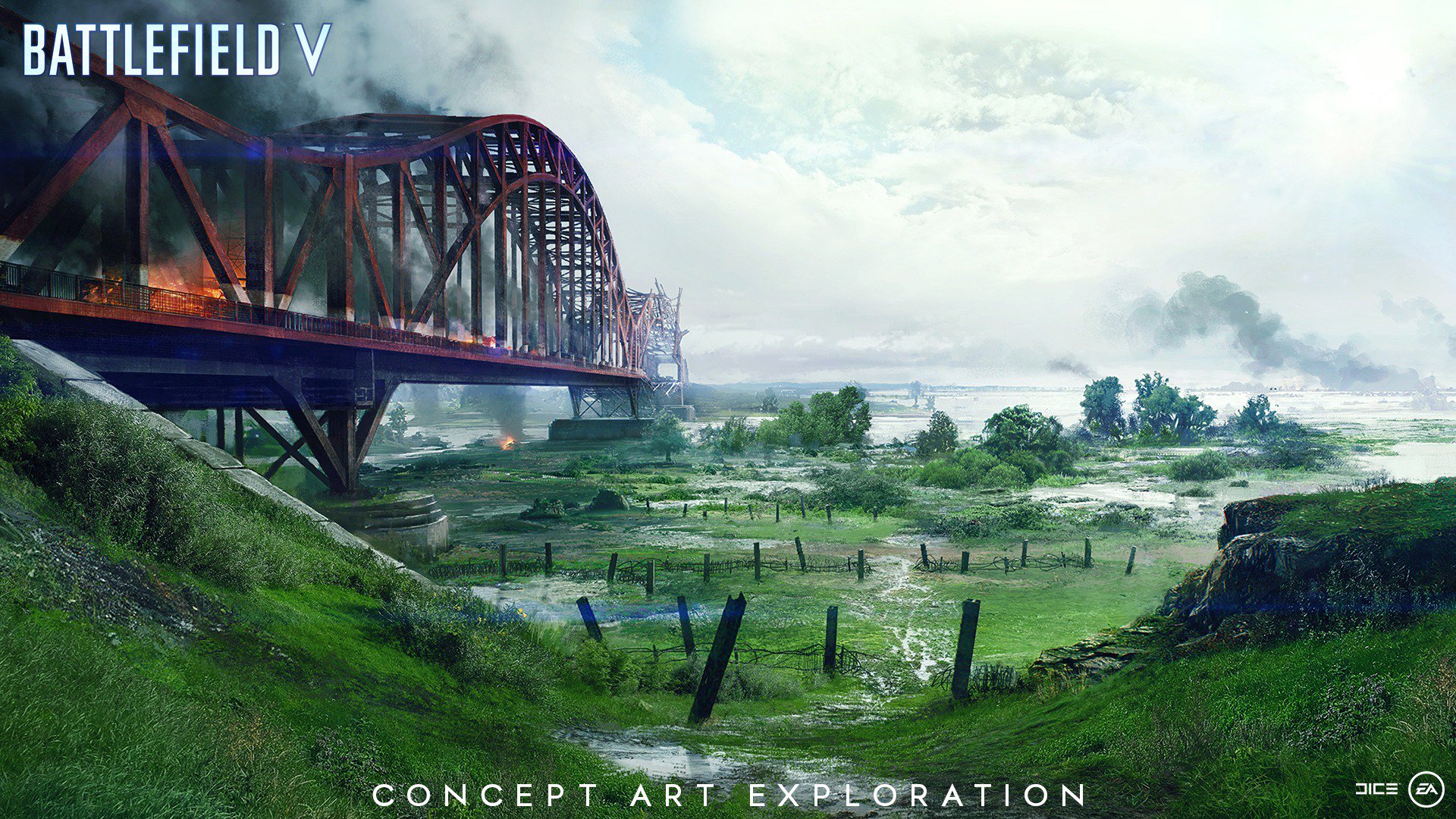 Spoiler

for

Live Reveal 23 May (24 May Jam 2 Pagi WIB)

: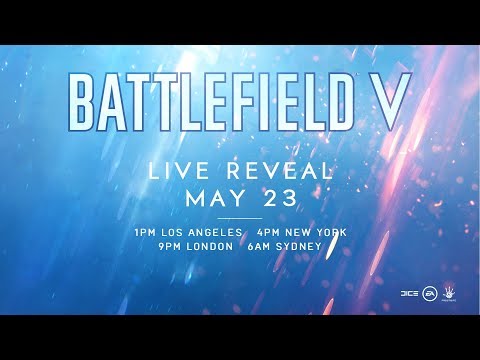 NB: Thread ini akan membahas seputar game official ya, urusak pak tani saya tidak akan membantu dan membahas, silahkan dicari di tempat lain