Quote:
Quote:
Mohon di rate ***** ya gan
dan bagi cendolnya




















thread by tkg isi hardisk


































Quote:
List software untuk keperluan ebay
Quote: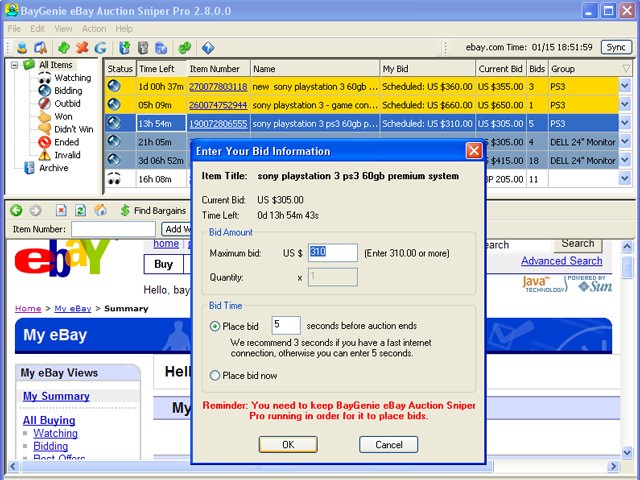 Have you ever lost a bid on eBay because someone else put a higher bid at the last seconds? Placing a bid just before the auction ends, also known as "sniping", is a strategy a lot of eBay bidders use to win auctions. BayGenie eBay Auction Sniper will snipe eBay auctions for you!
Download:
Code:
http://rapid*share.com/files/270380198/BayGenie.eBay.Auction.Sniper.Pro.v3.3.1.6-TE.rar
Quote:
HammerTap 3.1.1011.38 - eBay Tool
Description:
Quote:
How To Base Your eBay Success On Solid Research, Not Guesswork

Eliminate Risk
• Know if a product will sell and how much profit you'll make on it before you invest a dime.

Make More On Every Listing
• Arm yourself with the facts. Know the best end day for your auction, the most profitable start price to use and other ways to improve your listings to bolster your bottom line.

Sell More Often
• When you know which factors increase your chance to sell, you'll sell more often.

Find Emerging "Hot" Products Before Your Competition Does
• By the time a product makes the "hot list", the word's out. Find emerging hot products while profit margins reward you best.

Find Top Keywords eBay Users Use To Find YOUR Products
• Learn the power keywords and phrases buyers search with, because if they can't find your listings, they can't bid on them.

Discover Which Listing Features Make You More Profit
• Gallery pictures and other listing features are supposed to get your listings more attention. For your products, find out if they improve your chance to sell and how much more you'll make.

Know What Products To Sell
Base your decisions on facts. When choosing a lottery number, go ahead and feel free to guess. Just don't run your business that way.

You've got to get the right tools to ensure your success. If you're serious about making more money on eBay, you're going to need to invest in the right tools. You need solid research to consistently base your eBay listings on real-world listing data. Read on to see why HammerTap gives you the "Power to Profit."

Make More On Each Listing
There's no lack of eBay advice out there. Some tell you that to increase the closing bids of your auctions, use a low start price. Others will rant how you'll lose your shirt if you don't start higher. So who's right? They both are. Let me explain.

Every product performs differently at auction. A rule of thumb based in fact for one product may completely capsize your efforts if you use it on another type of product.

Start price is just the beginning. To make the most profit on each listing, you need to know what consistently works.

With HammerTap, you arm yourself with knowledge needed to predict future success based on many past listings.

Better yet, researching products you want to sell online only takes a few minutes with HammerTap. When you base your decisions on real data, you build confidence in your buying and selling choices. Trial and error are a thing of the past.

Sell More Products
To start with, you've got to know which products are selling well on eBay. When Beanie Babies were hot, you could sell every one you could get your hands on. If you were one of the fortunate who got in early enough, you probably made terrific money on them. Those who got in late were left holding the bag. They couldn't unload their inventory for even what they paid for them.

What Factors Make a Product Sell?
Here's just a few of the many factors which can make the difference between a profitable eBay auction and one that just costs you listing fees. In a minute or two you can research how each of these effects your chance to sell and your selling price with HammerTap:

• Best day of the week to start & end your auction
• The best start price to create a bidding frenzy
• Listing features (gallery pictures, bold, etc.)
• Keywords that get your auction found
• The best category to put your listing in
• ...and many more
Size:
11MB
Download Links:
Code:
http://hot*file..com/dl/12038723/9a7e7d3/HammerTap_3.1.1011.38_-_eBay_Tool.rar.html
Price:
Code:
$14.95
Quote:
Snipe with Auction Defender - the ultimate eBay tracking, bidding and sniping tool


Auction Defender is an eBay utility to monitor eBay auctions, alert you of bid changes, and automate bidding and sniping. It is an intuitive program that can track a large number of eBay auctions from a single screen, with the ability to bid bid just seconds before they close, to give you the best chance of winning at the lowest possible price. This new generation software is designed to use screen space as efficiently as possible, allowing for tracking hundreds of auctions at the same time, and completely eliminating the need for continued clicking and refreshing at the end of eBay auctions. Auction Defender saves you both time and money, it simply makes sense !

Auction Defender has a number of unique features beyond the capabilities of simple, even higher cost sniper only tools. Just try it free, and you will soon regard this intuitive software as your most valuable eBay tool. There are no hidden costs, or per auction fees, as with website bidding services. Your information is only shared with eBay, we both respect and protect your privacy. With a free trial, you have nothing to lose, try Auction Defender today !



Key Program Features:

Watch and bid on auctions from a single efficient screen interface.
Easy bidding while you're away from your computer.
Bid just seconds before the auction end (snipe), you will get that last bid in !
Alerts on any auction activity, such as high bid change, or when outbid.
Easy program interface that can be setup and mastered in minutes.
Add auctions with a single click using an integrated Internet Explorer or Firefox button !
Single-click import from the built-in internal browser as well !
Add auctions with drag/drop (or copy/paste) from any browser to the program.
Import auctions directly from "My eBay" watch lists.
Mass-import auctions directly from any eBay search results page !

Optional automatic deletion of old closed auctions.
Multi-threaded backend, completely independent bidding and refreshing.
Ability to bid on multiple auctions, even at exactly the same time.
Minimal network impact, even with hundreds of auctions loaded.
Periodic software improvements, we listen to our users' suggestions !
Minimizes to system tray.
No bid fees, no monthly subscription fees.
Use on up to 3 computers with a single license !
Free trial !
Free email technical support.
No spyware: we respect and protect your privacy. User ID information is only shared with eBay.
A lot more, too many features to list...


Homepage
Code:
http://www.auctiondefender.com/index.php
Size:
Code:
1.4 MB
Download + Fix:
Code:
http://rapid*share.com/files/21719131/Ebay_Auction_Defender_v1.9.2.7.rar
[/b]

















Tkg isi Hardisk

















Spoiler

for

dirate 5 star ya gan

: