Awas cakep gan



Ga Nyangka Berkat Neng NIXIA jadi HaTe,

Spoiler

for

BUKTI AKTA OTENTIK

: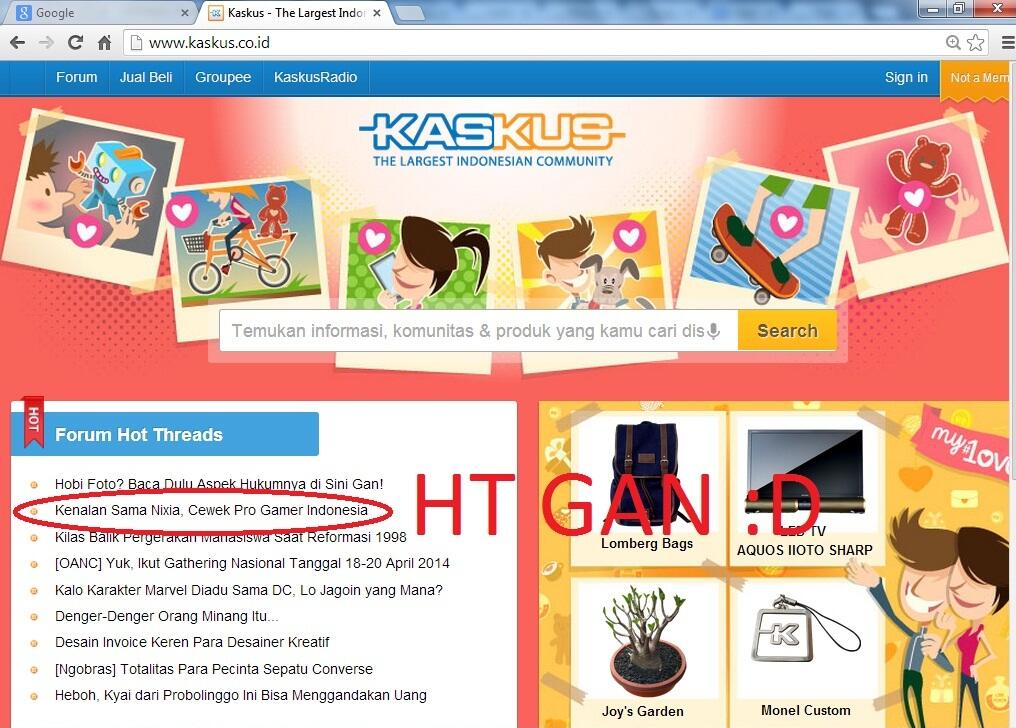 Ga nyangka Ane di kasi abu gosok sama Nex Nixia... Makasi Neng Nixia...

Spoiler

for

Makasi Cendolnya Ane do'ain makin panjang rejekinya

: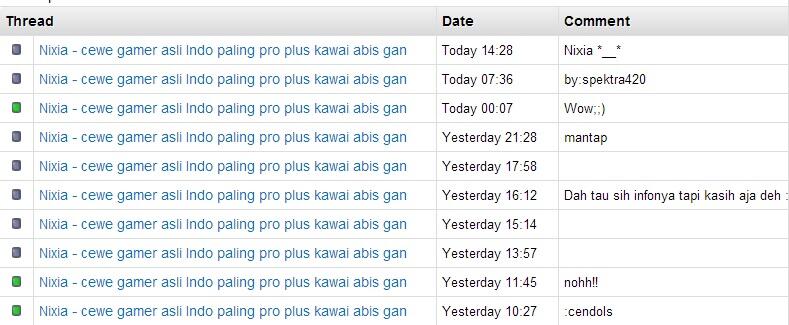 Spoiler

for

Kenalan Dulu Gan..

:
About Nixia
Monica Carolina atau lebih dikenal dengan nama 'Nixia' adalah
salah satu pro gamer wanita di Indonesia. Nixia sendiri mengawali
karirnya di dunia gaming dari tahun 2008 dan sudah beberapa
kali menjuarai kejuaran gaming baik nasional maupun internasional.
Nixia yang gemar dunia teknologi IT, sering membuat artikel dan
pernah menjadi freelance reviewer gadget & games di majalah
CHIP. Nixia sendiri pernah memanage website gaming sebagai admin
/ web content writer di Indonesiangamer.com dan indomog,
hingga saat ini memiliki portal sendiri yaitu nixiagamer.com.
Selain itu juga nixia masih menjabat sebagai moderator di beberapa
forum game, serta menjadi jurnalis di media-media gaming.
Hingga saat ini Nixia bekerja sebagai Community Manager &
Game Master di salah satu publisher game.
Nama : Monica Carolina
Nickname : Nixia, Nix1a, Nixia_latte
Twitter : @nixia
Facebook : Nixia Shaw
Website:
www.facebook.com/nixiagamer
Youtube : nixia17
Kaskus : nixia (beliau KASKUSER juga gan

Full Name : Monica C.
Nick Name : Nixia , Nix1a , Nixia_latte
Sex : Female
Address : Kelapa Gading, Jakarta, ID
Interests : Games, Computer & Gadget
Fav. Games : Battlefield 3 , Call Of Duty 4, Crysis 3, Diablo 3, Guitar Hero Series, Sim City 2013
Nationality : Indonesia
Fanpage :
www.facebook.com/nixiagamer
Twitter : @nixia
YM : nxa_gaming
Spoiler

for

PRESTASINYA Berjibun GAN

:
2008 – 2nd place Call of Duty 4 Tournament at WCG 2008
2009 – 1st place Guitar Hero Tournament at Hotgame FKI 2009
2009 – 1st place Guitar Hero Exhibition at iBox JCC
2009 – 2nd place Guitar Hero Tournament at WCG 2009
2009 – 2nd place Guitar Hero Tournament at IGT 2009
2009 – 2nd place Runes of Magic Online Photo Competition
2010 – 1st place Guitar Hero Tournament at Encore IGT Exhibition
2010 – 1st place Guitar Hero Tournament at Hotgame FKI 2010
2011 – 5th place Point Blank Ladies Tournament at Dnet Bogor
2011 – Best Player VS Fatal1ty (World Champion Gamer) play Quake at Level One
2012 – 1st Place Call of Duty 4 Hotgame Tournament, Indonesia Games Festival 2012 at JCC
2012 – The Winner of Tonix Computer Customer Show Off
2012 – 4th Place Battlefield 3 GamersPlatoon Asia-Europe Tournament
2012 – 1st Place Counter Strike Online Ladies Tournament @Megaxus Olimpiade 2012
2012 – 1st Place S4League Tournament at S4 League Lyto Press Conference
2012 – 3rd Place A.V.A Tournament at KotakGame 4th Anniversary
2013 – 4th place Call of Duty 4 Nvidia Seminar & Gaming Competition2012
2013 – 1st Winner Counter Strike : GO – MSI Gaming Night – Computex Taipei, Taiwan 2013
2013 – 7th Place CS : Go Tournament @ CS: GO Gamers Night
2013 – 3rd Place Counter Strike Online @Megaxus Olympiade 2013 – Central Park Jakarta
Spoiler

for

Spec PC & Notebook GEAR Do'i

:
Gaming Gear:
PC :
- 4th gen Intel Haswell Core i7 4770k – 4Ghz
- MSI Z87 GD65 Gaming
- 16 GB DDR3 RAM Corsair Vengeance Pro RED PC3-17066 (2133MHz)
- Nvidia GTX 780 MSI Twinfrozr OC Edition
- 128GB SSD + 4TB WDC HDD
- Samsung 27″ LED 3D S27″A950D
- NZXT Phantom Red White Case
- Corsair HX750 Gold
- Keyboard : Corsair K70, Ducky Shine3, Razer Blackwidow, Razer Marauder, Sidewinder X6, Steelseries 6GV2
- Mouse : Corsair M95, Steelseries Sensei, Roccat Cone Pure
- Mousemat : Corsair M600, Steelseries Tyloo, Steelseries Navi, Razer Goliathus,
- Headset : Corsair Vengeance V2000 Wireless 7.1, Razer Banshee, Steelseries Siberia SV2 Frost Blue
*Ps. (1 for use at home computer, and 1 other use for clan war at gamecenter or tourney)
Notebook :
MSI GT70 Dragon Edition 2 Extreme (Intel Core i7 Extreme 4930MX, 16GB DDR3, GTX780M, 384GB SSD Super Raid 2)
MSI GE70 ( Intel Core i7 4700MQ, 16 GB DDR3 RAM, GTX765M 2GB GDDR5, 128GB SSD Super Raid)
Console:
Xbox 360, with Guitar hero rig
Handheld:
NDS Lite Pink
Spoiler

for

Penampakan PC & Notebook Do'i

:
Spoiler

for

Biarlah ane jadi pengagum rahasiamu Nixia :D

:
Waktu Makan Malam Gan

Waktu di Taipei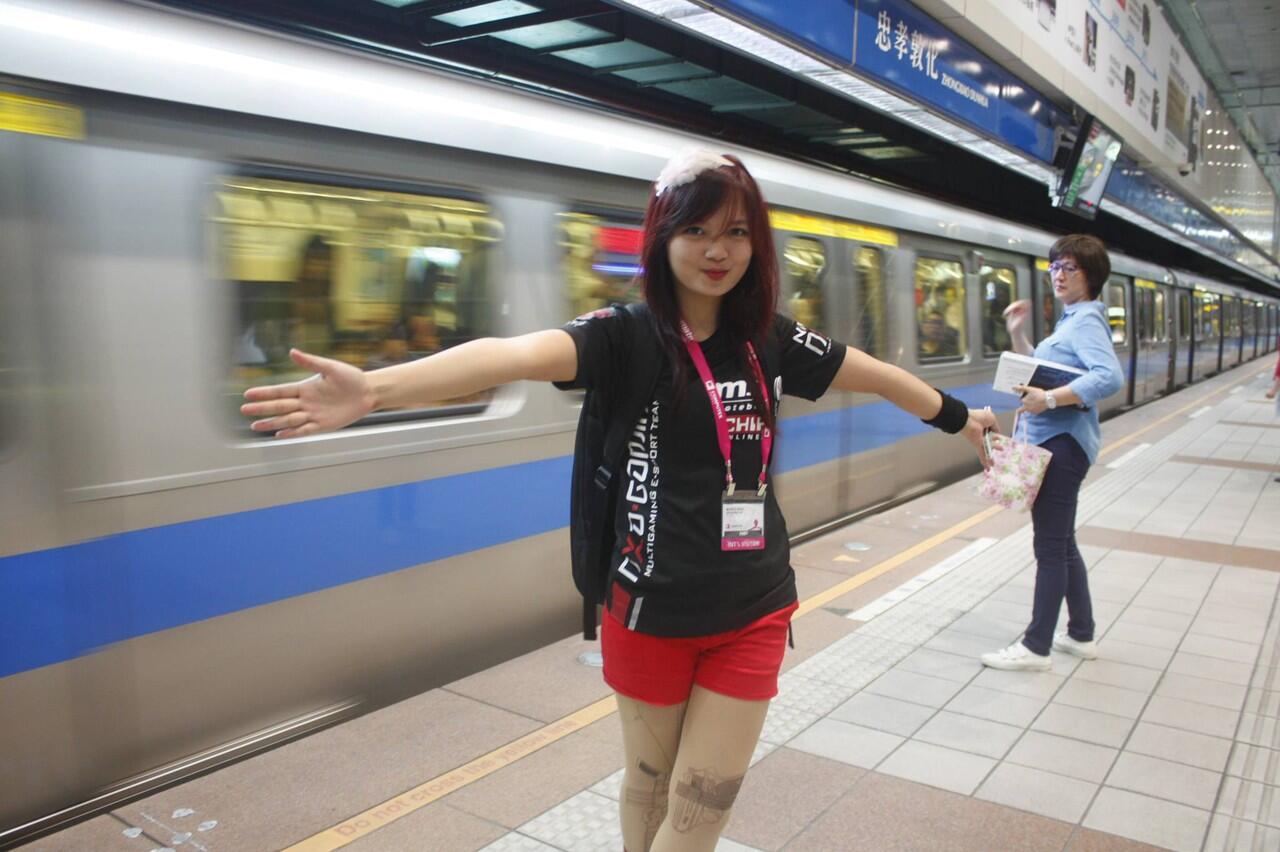 MSI gan sponsornya
Jakarta Banjir? Game jalan terus



Mohon maaf ya neng Nixia kalo ada salah2nye.. ane rela dah jadi selingkuhan eneng...



Sumber : https://www.facebook.com/nixiagamer & mbah google

TS ga nolak