Indonesia Harus Punya Regulasi Pengontrol Harga Sembako
Rabu, 03 Juli 2013 , 23:48:00
JAKARTA - Peneliti dari Yayasan Lembaga Konsumen Indonesia (YLKI) Ilyani, mengungkapkan bahwa gejolak harga sembilan bahan pokok (sembako) di dalam negeri bukan semata-mata karena ulah pengusaha. Menurutnya, tiadanya regulasi untuk mengantisipasi gejolak harga sembako membuat para pengusaha leluasa mendikte harga di pasar dalam negeri. "Indonesia belum punya regulasi pengendali harga kebutuhan pokok. Kalau ketersediaan Sembako menipis, pemerintah langsung ambil jalan pintas menyerahkan kewajibannya itu kepada pihak swasta melalui impor," kata Ilyani dalam diskusi di gedung DPD, komplek Parlemen, Senayan Jakarta, Rabu (3/7).
Ilyani menambahkan, selain tidak memiliki regulasi pengendali harga sebagai alat kontrol untuk mendorong harga sembako yang berkeadilan, pemerintah juga belum punya dasar hukum untuk mematok keuntungan berbagai komoditi yang menjadi hajat hidup orang banyak. Menurutnya, regulasi itu bukan berarti pemerintah mengintervensi pasar. "Tapi itu tanggung jawab negara untuk melindungi warganya dari praktik harga yang tidak berkeadilan. Amerika Serikat sebagai kampiunnya kapitalis dan negara-negara Eropa sudah memiliki regulasi pengendali harga dan penentuan keuntungan berlaku untuk lima tahun," ungkap Ilyani.
Ditambahkannya, Indonesia memiliki Bulog yang sebenarnya bisa dimanfaatkan untuk menetralisir harga sembako di pasaran. Sayangnya, Bulog di masa Orde Baru juga diperlemah oleh pemerintah. "Sepanjang regulasi pengendali harga tidak ada, stock manajemen kelembagaan tidak kuat, maka penegakkan hukum terhadap spekulan sembako menjadi tidak efektif dan gejolak harga akan menjadi rutinitas," imbuhnya
http://www.jpnn.com/read/2013/07/03/...Harga-Sembako-
Harga Sembako pasca BBM Naik ....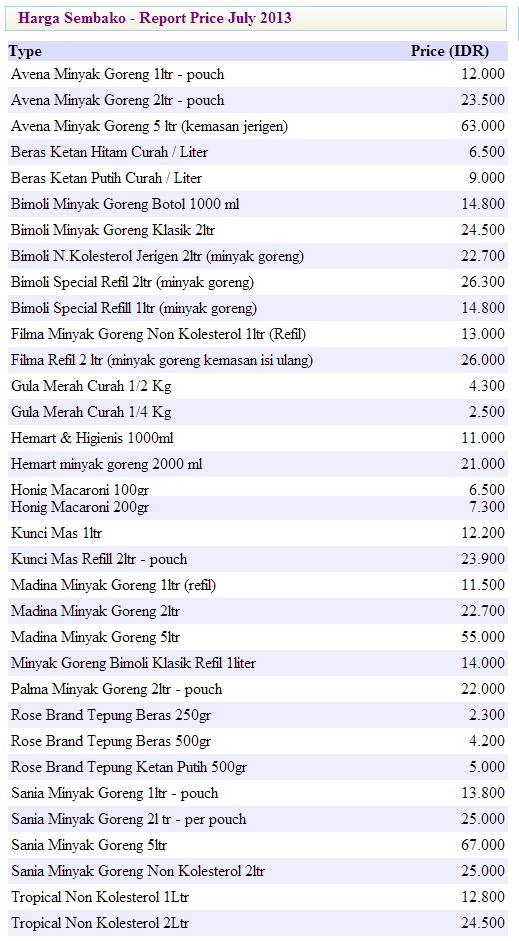 source:
http://www.daftar-harga.net/harga-sembako.php
Harga Sembako di Kota Semarang Terus Naik
RABU, 03 JULI 2013 | 18:25 WIB
TEMPO.CO, Semarang - Harga kebutuhan pokok di sejumlah pasar di Kota Semarang telah mengalami kenaikan sejak sepekan terakhir. Hingga hari ini, harga terus naik namun minat pembeli semakin rendah. "Hampir semua kebutuhan dapur naik, harga yang masih stabil hanya tomat," kata Peni Listiyaningsih, seorang pedagang di pasar Bulu Kota Semarang, saat ditemui Rabu 3 Juli 2013.
Dia menjelaskan kenaikan harga terus terjadi untuk cabe merah mencapai Rp 28 ribu per kilogram, dibandingkan sepekan lalu harga masih di bawah Rp 20 ribu per kilogram. Selain cabe, harga jual kebutuhan dapur seperti bawang merah, bawang putih dan jenis sayuran seperti wortel, kentang, bawang bombai serta kebutuhan rempah-rempah seperti ketumbar dan gula merah juga naik.
Menurut Peni harga bawang merah naik dari Rp 20 ribu per kilogram pekan lalu menjadi Rp 35 ribu per kilogram pekan ini. Harga bawang putih saat ini mencapai Rp 17 ribu per kilo gram atau naik dari harga semula Rp 11 ribu. Begitu pula wortel dan kentang dari harga Rp 6 ribu naik menjadi 10 ribu. Sedangkan ketumbar dan gula merah juga naik masing-masing harga semula Rp 10 ribu menjadi Rp 16 ribu dan Rp 100 ribu menjadi Rp 123 ribu per kilo gram."Kenaikan harga itu terjadi sejak kenaikan harga bahan bakar minyak bersubsidi, padahal sekarang menjelang puasa dan Lebaran, pasti harga akan naik lagi," katanya.
Pedagang lainnya, Muniroh, juga mengakui kenaikan harga barang –barang kebutuhan pokok tersebut. Dia mengeluhkan minat pembeli semakin berkurang."Selain itu masyarakat berbelanja hanya sedikit dan secara eceran. Tak seperti tahun lalu saat jelang puasa dan Lebaran sering memborong," katanya. Dia khawatir rendahnya minat pembeli akan terjadi hingga beberapa pekan mendatang. "Lama-lama banyak yang membusuk karena tak laku," katanya.
Dia menyatakan akan segera menggelar pasar rakyat di sembilan titik di Jawa Tengah. Dadang menjamin pasokan kebutuhan pokok di Jawa Tengah mencukupi. Total kebutuhan beras bagi 39,2 juta jiwa penduduk Jawa Tengah selama Ramadhan dan Lebaran nanti mencapai 285.918 ton. "Sedangkan ketersediaan stok beras di gudang Bulog hingga 18 Juni 2013 masih 427.425 ton," katanya.
http://www.tempo.co/read/news/2013/0...ang-Terus-Naik
Jelang Ramadan, harga sembako Palopo naik 40%
Rabu, 3 Juli 2013 − 21:16 WIB
Sindonews.com - Menjelang Bulan Suci Ramadan, harga kebutuhan pokok di Kota Palopo, Sulawesi Selatan, mulai merangkak naik. Cabe, beras, bawang merah, bawang putih, serta sayur mayur di beberapa pasar tradisional di daerah tersebut naik hingga mencapai 40 persen dari harga sebelumnya. ihak Dinas Koperindag Kota Palopo berencana akan melakukan sidak di setiap pasar tradisional untuk menormalkan harga bahan pokok jelang Ramadan.
Kenaikan harga kebutuhan pokok terjadi di beberapa pasar tradisional yakni di pasar Andi Tadda, serta pusat niaga Palopo, PNP. Kebutuhan pokok tersebut, seperti beras, yang naik dari Rp6 ribu menjadi Rp8 ribu per kilogram. Cabe naik dari Rp28 ribu menjadi Rp35 ribu per kilogram. Sementara bawang merah serta bawang putih naik dari Rp32 ribu menjadi Rp40 ribu per kilogram. Selain itu, sayur mayur juga mulai merangkak naik. Seperti sayur kol, sawi, wortel, serta kentang. Harga wortel naik dari Rp10 ribu menjadi Rp14 ribu. Sementara kol, naik dari Rp9 ribu menjadi Rp14 ribu per kilo, begitupun dengan kentang, serta sawi. Selain dipengaruhi oleh jelang Bulan Suci Ramadan, kenaikan harga beberapa kebutuhan pokok dipicu oleh kurangnya pasokan bahan pokok yang masuk ke Kota Palopo, sementara konsumen semakin meningkat.
http://ekbis.sindonews.com/read/2013...palopo-naik-40
Quote:
What Are U.S. Farm Subsidies?


"Corporate Giveaways" "Federal Welfare for Farm Businesses" "Slush Fund"






What are farm subsidies?


Farm subsidies are payments made and other support extended by the U.S. federal government to certain farmers and agribusinesses. Farm subsidies are also known as agricultural subsidies.

The original intent of U.S. farm subsidies was to provide economic stability to farmers during the Depression to ensure a steady domestic food supply for Americans.

"In the 1930s, about 25% of the country's population resided on the nation's 6,000,000 small farms," per Wikipedia. However, "By 1997, 157,000 large farms accounted for 72% of farm sales, with only 2% of the U.S. population residing on farms."

Per the USDA, 62 percent of U.S. farmers in 2007 did not receive cash subsidies.

And yet, per the Washington Post, "The Agriculture Department projects net farm income of $94.7 billion in 2011, up almost 20 percent over the previous year and the second-best year for farm income since 1976. Indeed, the department notes that the top five earnings years out of the past 30 have occurred since 2004."

How much does the U.S. government pay in farm subsidies each year?

The U.S. government presently pays about $20 billion in cash annually to farmers and owners of farmland. Between 1995 and 2005, the federal government paid about $250 billion in farm subsidies, per the Environmental Working Group in "Government's Continued Bailout of Agribusiness."

Congress legislates the amount of farm subsidies typically through five-year farm bills. The last, The Food, Conservation, and Energy Act of 2008 (AKA, the 2008 Food Bill) provided $299 billion for farm subsidies, and for other rural issues as nutrition, energy, conservation and rural development.

The 2008 Farm Bill was derided as bloated pork-barrel politics by a plethora of Congress members, both liberals and conservatives, who hail from non-farming communities and states.

However, the powerful farm industry lobby and members of Congress from agriculture-heavy states won out. Also, 2008 election year political pressure silenced critics who were seeking votes from the U.S. farm belt.

Who receives farm subsidies?

"More than 90 percent of agriculture subsidies go to farmers of five crops — wheat, corn, soybeans, rice, and cotton. More than 800,000 farmers and landowners receive subsidies, but the payments are heavily tilted toward the largest producers," per The CATO Institute.

"From 1995-2009 the largest and wealthiest top 10 percent of farm program recipients received 74 percent of all farm subsidies with an average total payment over 15 years of $445,127 per recipient – hardly a safety net for small struggling farmers. The bottom 80 percent of farmers received an average total payment of just $8,682 per recipient," per the Environmental Working Group.

From 1995 through 2009, seven states received the lions'share, 42%, of U.S. farm subsidies. Those states and their respective shares of total U.S. farm subsidies were:

Texas - 9.4%

Iowa - 8.5%

Illinois - 7.1%

Minnesota - 5.8%

Nebraska - 5.7%

Kansas - 5.5%

North Dakota - 4.7%


source: http://usliberals.about.com/od/FoodF...-Subsidies.htm






The 9 Foods the U.S. Government is Paying You to Eat


August 03, 2011

In 2009, the U.S. federal government paid $12.3 billion to America's farmers. Even as farmers profit from increased demand, the government remains a major player in the food business. The Atlantic has put together a list of the top nine products that the government most heavily subsidizes:

Corn

Wheat

Soybeans

Rice

Beer

Milk

Beef

Peanut Butter

Sunflower Oil


Corn, at the top of the list, raked in over $77 billion from the government between 1995 and 2010, and the subsidies have only been going up. There's a common belief that healthy food is inherently more expensive, and thus can only be for the wealthy. But in fact, healthy food could easily be more affordable for everyone, if not for agribusiness CEOs, their lobbyists and the politicians in their pockets.

Lawmakers whose campaigns are underwritten by agribusinesses use billions of taxpayer dollars to subsidize the commodities that are the key ingredients of unhealthy food -- corn, soybeans, wheat, etc. This manufactured price inequality helps junk food undersell nutritious food.

According to Salon:
"Corn -- which is processed into the junk-food staple corn syrup ... -- exemplifies the scheme ... It is a bargain, but one created by deliberate government policy that serves the corn industry titans, not by any genetic advantage that makes corn derivatives automatically more affordable for the budget-strapped commoner."

The Environmental Working Group (EWG) also released its 2011 Farm Subsidy Database, although the USDA has reportedly refused to release all the data to confirm exactly who the billions in farm subsidies are being paid out to. Still, as EWG stated:

" … despite lawmakers' boasts of enacting major reforms in the 2008 farm bill, the new data clearly show that wealthy absentee land owners and mega farms awash in record income are once again the main beneficiaries of federal farm programs – while struggling family farmers go begging.

And once again, the database shows that many farm subsidy recipients get those fat government checks at addresses in New York City, Miami, Chicago and Los Angeles – not exactly farm country, and a far cry from the programs' original intent".
http://articles.mercola.com/sites/ar...ou-to-eat.aspx






The Hidden Costs of US and EU Farm Subsidies


An interview with David LaBorde, contributor to the 2012 Global Food Policy Report
May 1, 2013 by Peter Shelton




The world food situation continues to be vulnerable. A series of weather-related shocks in 2012—including severe droughts in Central Asia, Eastern Europe, and the United States—contributed to global food prices remaining high for a fifth consecutive year, leading many in the development community to call for an end to "costly and distortionary agricultural subsidies in Europe and the United States." Yet both the US and EU opted instead to increase domestic agricultural subsidies that experts warn may have lasting detrimental effects on the global food system, as well as on food security in other less developed countries for many years to come.

IFPRI Senior Research Fellow David Laborde, who contributed to "The Subsidy Habit", chapter 6 of the 2012 Global Food Policy Report, recently described how agricultural subsidies in rich countries such as the US and EU as well as emerging economies such as India and China are threatening global food security.

"Food security," he says, "is not just about producing more food. It's also about raising incomes across the board, particularly for the poorest and most vulnerable members of society." Yet emerging policies in the US and the EU are having the opposite effect; they are protecting and raising incomes for their farmers at the expense of fair prices that would help raise incomes among poor, smallholder farmers in developing countries. In the US, for example, the bulk of agricultural subsidies are for growing specific crops such as tobacco and cotton, and in the future more and more will go toward protecting farmers against losses in revenue. In the EU, the European Commission is calling for changes to the current Common Agricultural Policy that will increase direct payments to farmers. According to Laborde, although both proposals stop short of providing direct production incentives, they help US and EU farmers out-produce (and, hence, out-compete) their counterparts throughout the world.

The fundamental problem with such policy approaches, Laborde states, is that they do not reflect the fact that in increasingly globalized markets "everyone is connected to everyone else." In the long run, these policies will lead to protectionist policies in other countries and restrictive markets, which, in turn, will increase market instability and food price volatility for all. According to Laborde, such policies already are cropping up in key emerging economies such as China and India, which could have an even greater impact on food security in developing countries in the years ahead. A recent G-20 interagency report on food price volatility calls for greater trade cooperation among nations and an end to policies that excessively protect farmers from the risks inherent in agricultural production. The report includes not only US and EU agricultural subsidies but also rising investments to protect Chinese producers.

Assessing the impact agricultural subsidies and other protection measures have on the global food system is extremely complex. For example, the impact varies by whether the country is a net importer or exporter, by whether the population being analyzed is a net food producer vs. consumer, as well as by changing market conditions. The Doha Round of trade negotiations, which began in 2001 and have remained stalled since 2008, increasingly has called for an end to distortionary agricultural support and protection. Yet, as Laborde emphasizes, until global leaders such as the US and EU as well as emerging economies such as China and India start "walking the talk" by leveling the playing field with fair and non-distorting policies, developing countries will not be able to compete in the global marketplace and provide food security for their people. In the end, he says, all the world's economies, large and small, will suffer the consequences.
http://www.ifpri.org/blog/hidden-cos...farm-subsidies



EU reaches deal to overhaul farm subsidies


26 June 2013, 23:06 CET

(ROME) - European institutions on Wednesday agreed to reform the Common Agricultural Policy to favour small farms over big business and promote environmentally friendly farming in an overhaul of the EU's most costly programme.

The Irish presidency of the European Union announced on its Twitter account it had reached an agreement between member states and the European Parliament and the European Commission.

The deal is to be confirmed by Parliament committee later on Wednesday.

The CAP accounts for about 38 percent of the EU's budget.

CAP reform is due to be implemented starting in 2014 but the new subsidy system would not be in place before 2015 due to delays in negotiations on Europe's next budget.

Under the current rules, 80 percent of CAP payments go to the top 20 percent of intensive farm businesses since several countries still link the subsidies to production levels.

Details of Wednesday's agreement have not been disclosed,but under a previous draft member states would have to ensure that by 2019 each farmer receive at least 60 percent of the average national or regional subsidy per hectare.

The reduction in subsidies that this would entail for big farms would be limited at most to 30-percent. EU negotiators had also agreed on boosting subsidies for young farmers and obliging member states to allocate 30 percent of subsidies for farms that use eco-friendly farming methods.
http://www.eubusiness.com/news-eu/ag...lture-food.pfu

---------------------------
Di negara-negara maju, seperti AS, Uni Eropa, Jepang dan Australia, itu harga sembakonya (seperti roti, daging dan susu) selalu diawasi dan dikontrol ketat oleh Pemerintahnya. Kalau kemahalan, langsung di subsidi besar-besaran. Disana Pemerintahnya tak membeda-bedakan si kaya dan si miskin dalam hal mengkonsumsi sembako itu. Tak ada diskriminasi harga berdasarkan status soial-ekonominya. Makanya di negeri seperti itu, meski biaya hidup tinggi, harga sembkonya pasti terjangkau dan relatif murah. Hal sama juga dilakukan Malaysia terhadap rakyatnya. Kalau makanan di restoran disana mahal, itu bukan karena bahan baku makanannya yang mahal, tetapi karena jasa memasaknya dan jasa pelayannyanya yang tinggi akibat mahalnya upah buruh di neger-negeri itu, termasuk kalau anda jadi buruh masak (koki) di restoran atau pelayannya. Mahasiswa Indonesia yang pernah tinggal di negara-negara maju, pasti bercerita kalau dengan memasak sendiri bahan-bahan mentah itu, biaya makan perbulannya sangat-sangat murah dibanding makan di restoran atau kantin sekolah.

Bagaimana dengan negara kita, INDONESIA? Disini mah gila, oleh pemerintahnya yang katanya demokratis itu, semua dilepaskan mengikuti mekanisme pasar, mulai harga beras, minyak goreng, gula, dan jenis-jenis sembako lainnya. Lebih gila lagi, beberapa pejabatnya bahkan melakukan korupsi dan mengambil untung besar dari perdagangan pangan dan sembako itu, memanfaatkan 'ekonomi rente' yang menjadi sumber korupsi, seperti kasus 'daging berjanggut' itu contohnya. Itu yang terjadi pada kasus ekonomi beras, ekonomi daging, ekonomi kedele, dan sejenisnya! Kita itu sesungguhnya lebih super liberal dibanding AS, Jepang, dan Uni Eropa dalam penetapan kebijakan ekonomi untuk bahan pangan, khususnya sembako.