Terlepas dari kemampuan perangkat kerasnya yang mampu menangani hampir semua game yang tersedia di pasaran saat ini, PC memang masih terhitung dinomorduakan. Melihat sebuah game konsol yang tidak dirilis untuk platform ini memang bukan lagi pemandangan yang aneh, apalagi jika ia dikembangkan oleh developer Jepang. Hal inilah yang terjadi pada sebagian besar game fighting berbasis anime yang tersedia di pasaran saat ini, termasuk seri populer – Naruto. Setelah hanya dapat menggigit jari dan mengembangkan rasa iri terhadap gamer Playstation 3 dan XBOX 360, harapan untuk menikmati seri terbaru – Naruto Shippuden: Ultimate Ninja Storm 3 di platform PC akhirnya menemukan sebuah titik terang.
Informasi ini sendiri mengemuka setelah situs gaming – VGLeaks menemukan registry terbaru yang masuk ke dalam database game Steam, layanan distribusi game secara online dari Valve. Di dalam registry ini tertulis dengan jelas nama "Naruto Shippuden: Ultimate Ninja Storm 3 Early Access Comp", mengindikasikan port menuju PC yang mungkin terjadi. Apakah ini berarti seri game fighting terbaru ini PASTI akan menuju PC? Belum ada yang bisa dipastikan, setidaknya hingga Namco Bandai membuka mulut dan mengkonfirmasikan rumor yang satu ini. Di lain pihak, Steam Registry bukanlah sebuah sistem tanpa celah yang selalu terbukti benar. Kasus yang sama pernah terjadi dengan Halo 3, yang tidak pernah menunjukkan batang hidungnya di PC hingga saat ini.
Quote:
Registrasi Steam inilah yang menjadi sumber harapan bagi gamer PC yang kini berkemungkinan untuk mencicipi Naruto Shippuden: Ultimate Ninja Storm 3 di platform kesayangan mereka. Namco Bandai sebagai pihak publisher sendiri belum mengumumkan dan memberikan konfirmasi atas apapun.
Namun jika melihat tindak tanduk Namco Bandai yang kian melirik PC sebagai platform yang potensial, termasuk keputusan untuk menghadirkan Ace Combat: Assault Horizon, maka bukannya tidak mungkin bahwa berita ini akan menjadi kenyataan.
So, cross your fingers, PC gamer..

sumber
update!
Quote:
A Naruto Shippuden: Ultimate Ninja Storm 3 announcement is incoming.

The announcement is scheduled to take place during the Wondercon 2013 which is held in California. This particular announcement will take place on March 30th, at 4:00pm – 5:00pm in room 207BCD.

Hiroshi Matsuyama, who is a famous CEO over at the Japanese developer CyberConnect2, will be holding a panel discussion. Matsuyama will be talking about the history and evolution of the Ultimate Ninja series. Furthermore fans will get a special look in the past of the franchise and the future of it. If you attend you will also be able to fight Matsuyama in his own game.

The announcement of this event comes in wake of Ultimate Ninja 3 appearing in the Steam registry, hinting at a PC release.

More details about the event can be https://www.facebook.com/events/352401391531261/
Quote:
[Keterangan]

Don't miss out on a chance to be part of the GREATEST PANELS OF ALL TIME!@#!@

NAMCO BANDAI Games America Inc. is inviting attendees at this year's WonderCon in Anaheim, California a chance to meet with the minds behind two fan favorite franchises from NAMCO BANDAI Games. Hiroshi Matsuyama CEO and President of CyberConnect2, developer of NAMCO BANDAI Games' NARUTO SHIPPUDEN: Ultimate Ninja STORM 3 and Tales of Xillia producer Hideo Baba will be hosting special panels devoted to their respective series.

They will also be available throughout the weekend for signing sessions with fans at the NAMCO BANDAI Games America booth (#1307). WonderCon will be held in the Anaheim Convention Center on March 29-31, 2013.

*Note - This is a TWO Day Event

======================================

Event Details:


Tales of Xillia panel
FRIDAY, March 29, 2013
3:00pm – 4:00pm Room: 207BCD

Details: Tales of series producer, Hideo Baba will be making his first North American appearance in 2013 to speak with fans about the popular RPG series' 15th anniversary for North America and about this summer's anticipated release of Tales of Xillia. Fans will also be able to meet the English voice actors for Tales of Xillia's lead characters as they talk about their interpretations and inspirations for Jude Mathis and Milla Maxwell. Guests who dress up as their favorite Tales of characters will receive a special group picture with Hideo Baba!

RSVP here: https://www.facebook.com/events/5520...ontext=create#


NARUTO SHIPPUDEN: Ultimate Ninja STORM 3 panel
SATURDAY, March 30, 2013
4:00pm – 5:00pm Room: 207BCD

Hiroshi Matsuyama, President and CEO of famed Japanese developer CyberConnect2 will be hosting a panel discussing the history and evolution of NAMCO BANDAI Games' Ultimate Ninja series. The hour-long panel will give fans a special inside look at the franchise's past and future, a special NARUTO SHIPPUDEN: Ultimate Ninja STORM 3 announcement and a chance to challenge Hiroshi Matsuyama at his own game!

======================================


Hiroshi Matsuyama and Hideo Baba will also be hosting signing sessions throughout the weekend in the NAMCO BANDAI Games America Inc. booth (booth #1307). Exact times and dates for each signing will be announced next week. Please follow www.twitter.com/namcogames, www.facebook.com/namco, and www.facebook.com/tales for more information.

KomenG:
WonderCon akan dimulai pada 29 Maret, jadi mudah-mudahan, jika rumor terbukti benar, kita akan mendengar tentang rilis PC dalam bulan depan atau dua.
update:BIG ANNOUNCEMENT nya GAN !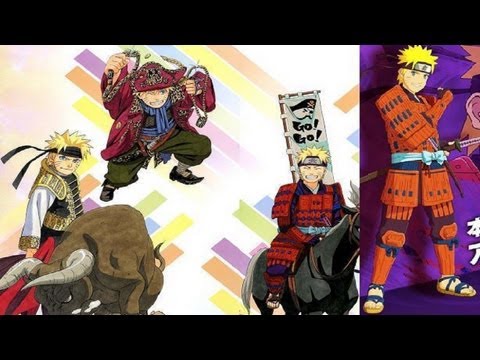 Quote:

jadi ternyata "big" announcement nya cuman DLC kostum naruto
kemungkinan semakin kecil, tinggal berharap info dari steam dan konfirmasi namco
>>>>>>>>>>Update !<<<<<<<<<<
Akhirnya NSUNS3 Menuju PC