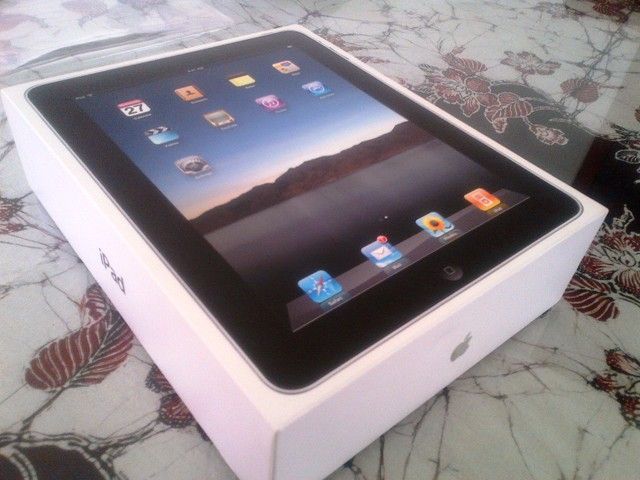 Langsung aja gan, ane mau jual iPad 1 16gb wi-fi only kesayangan ane dengan penampakan sebagai berikut :
iPad 1 16gb Wi-fi only

Condition : 90% (10% bekas pemakaian)

Storage : 16GB

Connectivity :

Wi-fi only



OS : iOS 5.1.1 (iOs paling baru untuk iPad 1)

Status Jailbreak : BELUM PERNAH DI JAILBREAK

Status Servis : Belum pernah di servis apalagi di bongkar

Fungsi : Semua fungsi berjalan baik 100%, semua tombol berjalan baik 100%

Kelengkapan : Charger, booklet lengkap, stiker Apple (ALL Original)

Price :

SOLD, Thx buyer and KASKUS



Kontak :

08561082612



Untuk yang di sekitaran Jakarta sebaiknya COD untuk membuktikan kemulusan. Untuk yang diluar Jakarta sebaiknya REKBER biar sama-sama tenang.

Pic :
Spoilerfor iPad 1 16gb wi only:
PERHATIAN, BONUS BAGI YANG NAWARNYA NGGAK AFGHAN:
Hard Candy Street Skin seharga 499k (RARE ITEM)
BEBERAPA TESTIMONIAL :
Quote:
Original Posted By FdzProject ►
sold to me.. thx bro.. mantap barangnya with nice price! hahaha
recommended seller!!
Quote:
Original Posted By Wileska ►
wah kebanyakan duduk samping lo hedon deh gw....heheheh...



sold to me... recommended seller, gokil deh TSnya hehehe
Quote:
Original Posted By nokhara ►
gan sepatu udah nyampe!!!!!
thx bgt yah...
barang sesuai ma digambar..(harus dicuci lagi deh...kotor amat gan)
en nyampenya cepet (cuma 2hari)...

ow ya masalah pembayarannya udah aku transfer ke rek bca lwat m-banking mandiri...
kalo ampe besok ga masuk uangnya (1x 24jam) aku transfer lewat bank lagi deh...
soalnya berita acara dari m-banking na belum masuk ke hp q...
inget jangan ragu sms aku bwt konfirm..

btw...
dengan ini saya nyatakan agan sebagai.......



RECCOMENDED SELLER!!!!!!!!!!



gudd luck ma dagangan nya yang lain..thx

-gede jaya wisesa-

Quote:
Original Posted By rasfi ►
bro,barang dah nyampe,,keren bgt!!!hehehehe,,

dengan ini anda dinyatakan sebagai recommended seller!!!
Quote:
Original Posted By laboonn ►
halo gan sepatunya udah lama banget sampe..jadi ga enak baru ngasi testi

pokoknya

sepatunya mulus gan pas sampe..BTW,belinya dimana sih gan tertarik nih ane ama ruckus enak makenya..hehe