Kondisi Barang : New
Harga : Rp. 123.456
Lokasi Seller : -
Jabra BT2046
Rp 255.000,-
Deskripsi Barang:
Bluetooth headset for mobile phones
A wireless, Bluetooth headset that can be paired with two devices simultaneously and gives you up to 8 hours talk time
Easy to use, wear and enjoy
Attractive design
Clear sound
Multiuse™ - connects to 2 Bluetooth® devices simultaneously
Up to 8 hours' talk time and up to 10 days' standby time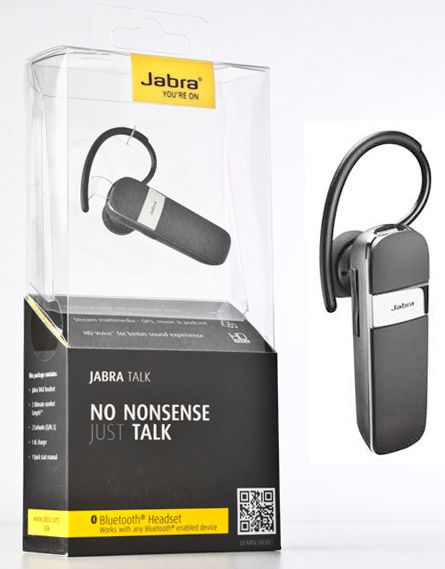 Jabra TALK
Rp 385.000,-
Deskripsi Barang:
Direct access to your favourites When you're not talking, get your favourite music, GPS directions, podcasts and other multimedia streamed directly to your Jabra TALK – wirelessly.
Specifications
Connectivity
Wireless Technology: Bluetooth
Supports Bluetooth™ for wireless connectivity
Bluetooth version: 3.0
Supports Bluetooth™ version 3.0
AVRCP: No
This device does not support AVRCP, meaning you cannot control your music directly from the device
Auto Pairing: Yes
With Auto Pairing, a device pairs automatically with Bluetooth® devices supporting this feature
NFC Near Field Communications - Perimeter Pairing: No
This device does not support NFC
Music Streaming: Yes
Device can stream music from a source, such as a Smartphone, Bluetooth enabled laptop, tablet, or MP3 player
EU SPEC With One-Year-Manufacturer Warranty
PACKAGE CONTAINS
JABRA TALK HEADSET
2 ULTIMATE COMFORT EARGELS
2 EAR HOOKS (S/M/L)
AC 2 PIN ADAPTOR/CHARGER
QUICK START MANUAL
Jabra EASYVoice
Rp 385.000,-
Deskripsi Barang:
Product features
• Easy to use, wear and enjoy
• Spoken battery and connection status
• Multiuse™ - connects to 2 Bluetooth® devices simultaneously
• Crystal clear sound and voice (DSP technology)
• All day comfort with Jabra Ultimate Comfort Eargels™ and ear hook
• Bluetooth® technology v. 2.1 for simple and secure pairing
• Up to 6 hours talk time and up to 8 days standby time
Package Contains:
* Jabra EASYVoice headset
* 2 Jabra Eargel
* 2 earhooks
* AC Charger
* Quick start manual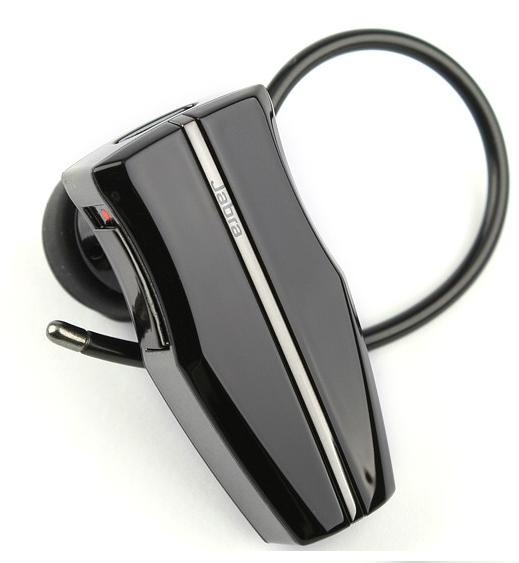 Jabra ARROW
Rp 435.000,-
Deskripsi Barang:
Jabra Arrow Bluetooth Mono Headset
Now, you have got the latest Jabra Arrow Bluetooth Mono Headset with its salient features! You can easily make or receive calls even if you are driving anywhere! This lightweight headset can be worn with your Jabra ARROW by the ear-hook. Jabra Arrow Bluetooth Headset allows you to operate your phone smoothly!
Jabra Arrow Bluetooth Mono Headset Specification
Key Features
- Crystal clear sound and voice (DSP)
- Dimensions: 38 x 19 x 9.5 mm
- Weight: 10 gm
- Charging: Micro-USB.
- Standby Time : 200 hours
- Talk Time: 4.5 hours
- Bluetooth: 2.1
- On/Off Button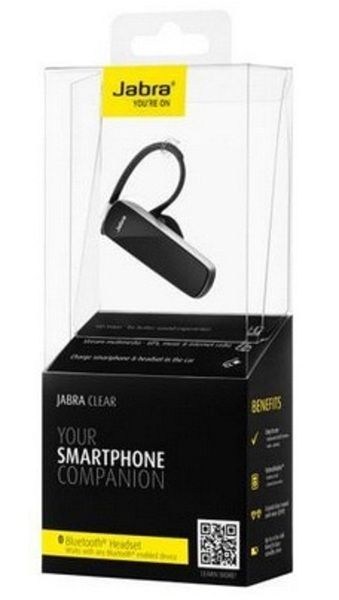 Jabra CLEAR
Rp 475.000,-
Deskripsi Barang:
Free up your hands to swipe, browse and play with the new Jabra Clear, the Bluetooth® headset that lets you get more from your smartphone. By going Hands Free, your choose exactly when you want to manage your smartphone hands-on and when you want quick and easy access
to your calls, songs and media without any wires or hassle.Answer and end calls directly from the Jabra Clear, and check battery levels and connectivity at a glance with the built-in status display. When you're on the phone, DSP technology automatically adjusts the sound on your calls to best suit your surroundings, so that every word comes through in astounding detail. But it's not all talk. Multimedia streaming lets you listen to music, GPS directions and even Internet radio directly through your Jabra Clear. It even comes with a convenient car charger so you can charge both your smartphone and your headset on the move. Charging cable for iPhone included. Available in Glossy Black or Glossy White, so you can choose which color fits your style. You'll never miss a beat with Jabra Clear.
-HD Voice enhances your sound experience on every conversation
-Stream your favorite multimedia including GPS, music and internet radio
-Charge smartphone & headset in the car
-Color Variaant : Black
Untuk mencari produk lainnya bisa langsung kunjungi web kami

www.aksesoris4sale.com

Bukalapak/prima_gadget

Terima reseller juga gan !
CP: 085717646888
PIN BB: 2A0643B6
WhatsApp: +6285717646888
WeChat ID: Nana_maulana
LINE ID: nana_maulana
YM:aksesoris3@yahoo.com