Ane cari thread mengenai T-Square kok belum ada ya..
Ane penggemar berat T-Square ni. Beberapa lagu yang paling ane suka : Twilight In Upper West; Breeze and You; Sweet Sorrow; From Tanijavur; Wonderful Days; Truth.
Siapa itu T-Square? (bukan T pangkat dua lho ya
)
Bisa diliat
disini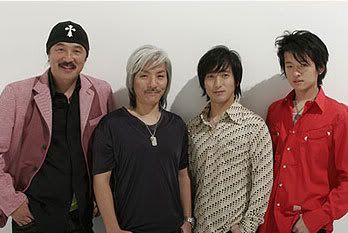 Quote:

T-Square is a Japanese jazz fusion band that was formed in 1978. They became famous in the 70s along with other Japanese fusion bands. Its most successful lineup included guitarist Masahiro Andoh, bassist Mitsuru Sutoh, saxophonist, flutist and EWI player Takeshi Itoh, keyboardist Hirotaka Izumi, and drummer Hiroyuki Noritake. They are known for songs such as "Truth", "Japanese Soul Brothers", "Takarajima", and "Omens of Love" among others. "Truth" was used as the theme for Japan's Formula One (F1) racing events from 1989 to 2000. Its successor, "Truth 21c" was used as the theme for Japan's F1 2001 and 2002, respectively, and other remixes of "Truth" were used from 2003 to 2006.

Discography

* Lucky Summer Lady (1978, First album as The Square)
* Midnight Lover (1978)
* Make Me A Star (1979)
* Rockoon (1980)
* Magic (1981)
* Temptation of Shapely Legs (1982)*
* The Water of the Rainbow ( 1983)*
This album includes a track called "Hank and Cliff", which features Ichiro Nitta's Spectrum Horn Section, which would go on to play on the Japanese leg of Casiopea's World Tour, which took place 5 years later.

* Adventures (1984)
* Adventures Live (1984)
The Square's first Live Release.

* Stars and the Moon (1984)
* R.E.S.O.R.T (1985)
Includes "Omens of Love", which would later be lyricized and covered as "Wink Killer" by Kyōko Koizumi.

* S.P.O.R.T.S (1986)
* Truth (1987)
This album features one of T-Square's best-known songs, and their most remixed song, which the album itself is named after, "Truth".

* Yes, No (1988)
* Wave (1989, First Album as T-Square)
* Natural (1990)
* T-Square Live (featuring F1 theme)
This is Masato Honda's first recording with T-Square. However, he played in the Background, with a Brass Section.

* New-S (1991)
Takeshi Itoh is replaced by Masato Honda.

* Refreshest (1991, first album as T-Square and Friends)
* Impressive (1992, as T-Square)
* Human (1993)
* Summer Planet (Original Title: 夏の惑星/Natsu no Wakusei, 1994)*
* SOLITUDE -Dedicated to Senna- (1994, as T-Square and Friends)
* Welcome to the Rose Garden (1995, as T-Square)
Includes a track named "Prime Time", which is an arrangement of "Prime" from "R.E.S.O.R.T."

* Miss you in New York (1995, as T-Square and Friends)
* T-Square and Friends Live in Tokyo (1995, as T-Square and Friends, VHS Release)
o This is the first Live Release from T-Square and Friends.

* B.C. A.D. (1996)
* Blue in Red (1997)
* Gravity (1998)
Takahiro Miyazaki replaces Masato Honda.
The Limited Edition Version of this album includes "Japanese Soul Brothers", featuring both of T-Square's (at the time) Ex-Saxophonists (Masato Honda and Takeshi Itoh) and the (at the time) newcomer, Takahiro Miyazaki.

* 20th Anniversary Performance at Yaon de Asobu (Live Broadcast, July 25, 1998)
This is the Only Live Concert to have featured all 3 Saxophonists.

* Farewell and Welcome Live 1998 (VHS)
Although the Video was released on July 28, 1998 (only 3 Days after T-Square's 20th Anniversary Concert), This concert was held on January 1998, to commemorate Masato Honda and Hirotaka Izumi's Farewell, and the Welcome of Takahiro Miyazaki and Tadashi Namba.
Also, more songs were performed at the Actual F&W '98, compared to the VHS release.

* Sweet and Gentle (1999)
Tadashi Namba was replaced on keyboards by Keiji Matsumoto.

* T-Square (2000)
Due to creative differences, Takahiro Miyazaki, Mitsuru Sutoh, Keiji Matsumoto and Hiroyuki Noritake left the group after the release of this album.

* Friendship (2000)
Takeshi Itoh, the group's original Saxophonist, returned to the group, however, the parts of Sutoh, Matsumoto and Noritake would be played by Session Musicians.

* Friendship Live (2001)
This was Keizoh Kawano's Debut recording with T-Square as a Support Keyboardist. From here on, Kawano would perform with the group Live, but didn't record with them in Studio until 2002.

* Truth 21c (2001)
This album contains arrangements of T-Square's best known songs, including, as the album name should imply, "Truth" (1987).

* New Road, Old Way (2002)
* Vocal2 (or Vocal Square, released 2002)
Keizoh Kawano's First Studio Album with T-Square.

* Spirits (2003)
This album marked the official return of Mitsuru Sutoh, Hiroyuki Noritake and Hirotaka Izumi.

* T Comes Back (2003)
This album includes arrangements of well known tunes, Such as "Omens of Love '03".

* Groove Globe (2004)
This album includes songs written by Keizoh Kawano, who finally became a Full-Fledged member of T-Square.

* Passion Flower (2005)
This album marked the Debut of Satoshi Bandoh on Drums and Shingo Tanaka on Bass.

* Blood Music (2006)
* 33 (2007)
The name of the album implies that this is their 33rd Album.

* Wonderful Days (2008, as T-Square Super Band)
This album featured former members, Takahiro Miyazaki, Hiroyuki Noritake, Mitsuru Sutoh, Toyoyuki Tanaka, and Current Members, Satoshi Bandoh, Keizoh Kawano, Takeshi Itoh and Masahiro Andoh.
Shingo Tanaka wasn't involved in the Super Band recordings, or the Live Anniversaries, because he was a Support Member.

* Concert Tour 2008 Final Wonderful Days (2008, DVD)
This is a Live Concert from the Super Band.

* The Square ~ T-Square Since 1978 30th Anniversary (2009, DVD and Blu-Ray, as T-Square Super Special Band)
This Concert includes former members, such as Tohru Hasebe, Toyoyuki Tanaka, Yuhji Mikuriya, Yuhji Nakamura, Takahiro Miyazaki, Michael S. Kawai, Mitsuru Sutoh, Kiyohiko Semba, Hirotaka Izumi, Hiroyuki Noritake and Junko Miyagi, and the 4 Official Members.

* Discoveries (2009, as T-Square)
* Time Travel (Original Title, 時間旅行/Jikan Ryoko, 2010)*
This album is made to give more exposure to the Songwriting work of the newer musicians of the group; Drummer Satoshi Bandoh and Keyboardist Keizoh Kawano.

* Treasured Songs – T-Square plays The Square (Original Title, たからのうた/Takara no Uta – T-Square plays The Square, 2010)*
As the title implies, this album includes T-Square covering their music from 1978 to 1988, when they were known as "The Square".

Singles
* Jungle Strut (1982)
Included in Sony Walkman demo tapes sold in 1982.

Kalo bicara T-Square, mesti dibandingin ama other Japanese Fusion-Jazz yaitu Casiopea. Kalo ane sendiri lebih suka T-Square dibanding Casiopea (walaupun ane juga suka Casiopea), karena warna musiknya lebih beragam. Seperti di Breeze and You yang agak2 disko, atau From Tanijavur yang agak2 timur tengah, atau Islet Beauty agak2 Amerika Selatan.
Selain itu, yang menjadikan T-Square lebih ane sukain adalah adanya Blowing Instrumen (Sax, Flutes, Ewi, dll) yang dimainkan oleh Takeshi Itoh dan permainan Masahiro Andoh yang lebih shred daripada Issei Noro. Skill sih mungkin dibawahnya Issei Noro (menurut ane). Tapi kembali lagi, selera musik orang berbeda-beda.
Bagaimana menurut Ente?
Yang mau share tentang T-Square silakan dimari.
Spoilerfor link download mp3: