INAZUMA ELEVEN GO 2: Chrono Stone
Quote:
The story is set after the end of Holy Road tournament finals of the first Inazuma Eleven GO anime, and Tenma returns to Raimon Junior High School. However, this is not the Raimon that Tenma remembers, and the members of the Raimon team no longer play soccer.

Tenma realizes that this is a parallel world when Alpha, the captain and forward of the Protocol Omega team, appears before him. Alpha is part of a secret project in the future to wipe out soccer.

To aid Tenma in his adventures, the Inazuma Caravan van seen in previous Inazuma Eleven anime has been modified into a flying time machine.
Inazuma Eleven GO Chrono Stone tayang hari rabu pukul 19.00 waktu setempat di tv tokyo
Rules Subforum Anime
Inazuma Eleven GO

..!!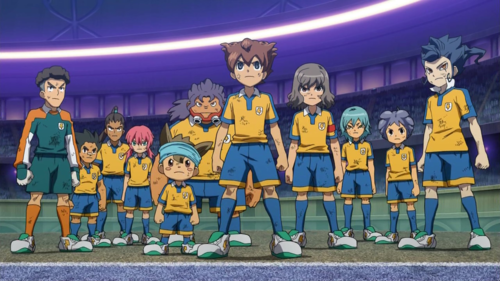 Quote:
Matsukaze Tenma, a first year who loves soccer, has exceptional dribbling skills, but still has lots of room for improvement. The story starts with him entering Raimon Jr. High ten years after the first Football Frontier International, where Raimon has become famous for its soccer. However, an organization called Fifth Sector has taken control of soccer over the years, and the passion that Raimon once had for soccer is no longer there.
INAZUMA ELEVEN
Season 1