Kondisi Barang : New
Harga : Rp. 1.000
Lokasi Seller :
UNIQUE AUDIO
08161187408
www.uniqueaudio.wordpress.com

WHAT HIFI 5 STAR

STEREOPHILE RECOMENDED PRODUCT

Limited production, Limited stock
Hrg 14,999 jt


KEF LS50 50th Anniversary are innovative speakers derived from the legendary LS3/5a, the LS50 mini monitor speaker, a professional studio monitor designed to bring recording studio quality sound into your home. Enjoy your music more by hearing it accurately and more closely to the original sound.

[B]Review
'Given a little space to breathe and mounted on a pair of solid stands these monitors sound terrific. The first thing that strikes us is the quality of the bass performance...for boxes that stand just 30cm high, these speakers deliver deep, agile and powerful lows from the likes of Massive Attack's Flat of the Blade. But, unlike most small speakers that deliver big bass, the LS50s don't over-egg things – everything sounds balanced...move up the frequency range and these KEFs continue to impress. Kate Bush's vocals on 50 Words For Snow are as clear and articulate as you could wish for. These speakers communicate the energy and drive in a piece of music brilliantly' (What Hi-Fi magazine)
'We're impressed by the speaker's seamless integration too, as we are by the way it sets up a huge stereo image populated by securely focused sounds...and, perhaps most importantly, these speakers are fun to listen to. It's not something (we think) KEF has always managed with its products. Here it has' (What Hi-Fi magazine)
'Of course, the LS50's innate transparency means that any flaws in the partnering kit will be apparent. But get it right and you have what is one of the best standmounters below £1000, and easily one of KEF's most musical efforts in years' (What Hi-Fi magazine)

Specifications
- Model: LS50
- Design: Two-way bass reflex
- Drive units: Uni-Q driver array:
- HF: 25mm (1in.) vented aluminium dome
- MF: 130mm (5.25in.) magnesium/aluminium alloy
- Frequency range (-6dB): 47Hz - 45kHz
- Frequency response (±3dB): 79Hz - 28kHz
- Crossover frequency: 2.2kHz
- Amplifier requirements: 25 - 100 W
- Sensitivity (2.83V/1m): 85dB
- Harmonic distortion: 2nd & 3rd harmonics (90dB, 1m) <0.4% 175Hz-20kHz
- Maximum output: 106dB
- Nominal impedance: 8Ω (min. 3.2Ω)
- Weight: 7.2kg (15.8lbs.)
- Dimension (H x W x D): 302 x 200 x 278 mm (11.9 x 7.9 x 10.9 in.)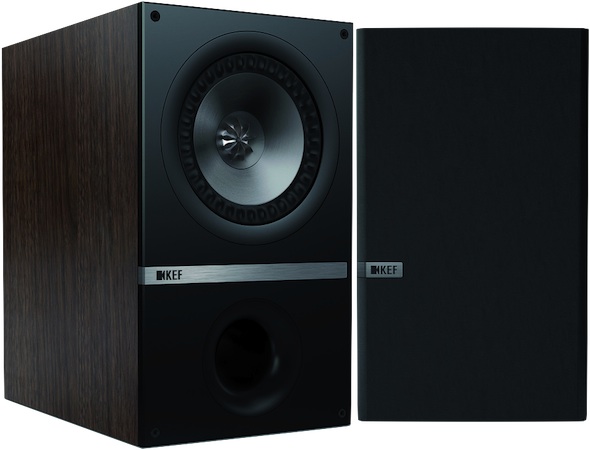 # Q100: 2 way stand mount, 5.25" Uni-Q driver array including 1" HF unit.
Hrg 7,55jt
# Q300: 2 way stand mount, 6.5" Uni-Q driver array including 1" HF unit.
Hrg 8,75 jt
MONITOR AUDIO BX2
What Hi-Fi? Sound and Vision - October 2010WhatHiFi


'The fact of the matter is that the Bronze BX2s are just a tremendous all-round proposition with no major weaknesses. The benchmark at this price has been well and truly raised.'
The BX2 develops the considerable talents of its award-winning BR2 forerunner to a new intensity. Improved crossover and driver designs combine to re-calibrate the capabilities of an acknowledged class champion, bringing greater dynamic expression, mid-range clarity and lower distortion to lovers of music and film sound. Loaded with a 165mm (6 1/2") C-CAM® bass mid range driver and 25mm (1") C-CAM® tweeter, the BX2's high quality cabinet mirrors the unobtrusive dimensions of the celebrated BR2, and so is easy to position, even in smaller rooms. Compact in size, but equipped to reproduce sound of immense stature and detail, the BX2 is our new definitive budget blockbuster.
* New C-CAM® tweeter has greater sensitivity and a wider bandwidth beyond 30kHz.
* New C-CAM® bass and mid-range drivers refined by FEA analysis.
* Single bolt-through drivers. A design feature which means the driver is not fixed to the front baffle and cannot transmit vibrations and therefore colouration to the cabinet.
* Improved cabinet rigidity and stability.
* HiVe®II port technology to speed the transit of air from the cabinet, resulting in more dynamic bass.
* High-quality terminal panels blend easy access with high-end functionality.
* Choice of four high quality vinyl wood finishes.
Barang baru.
Hrg 4,5jt
berminat hub 08161187408

NOTE : MENYEDIAKAN SEMUA SERI MONITOR AUDIO : M Series, BX, RX< GX dan PLATINUM. APEX, RADIUS DAN CEILING

Monitor audio RX2
woofer 8in
hrg 10jt
T + A KR 450
Made in German
hrg 18jt
The KR 450 is a bookshelf monitor offering outstanding sound characteristics. The high-quality drive units are very carefully matched to the cabinets: a 25 mm woven dome high-frequency unit and a special 150 mm bass unit endow
the speaker with a very open, transparent sound with tremendous deep bass.

The sophisticated cross-over units produce a flat frequency response and expand the low bass range, ensuring perfect radiation characteristics even when the speakers are shelf-mounted.
The KR 450 generates an extraordinarily potent, dynamic sound image with an impressive level of deep bass.
Although these speakers look very small, their net volume is surprisingly large; this is possible because the cabinets are made primarily of aluminium - a material which provides very great structural strength and rigidity even with walls which are relatively thin.
Specifications \t
Nominal power \t80W
Music power \t120 W
Impedance \t4 Ohm
Frequency range \t40 Hz - 30 kHz
Sensitivity (1 Watts / 1 m) \t86 db
Drive units, bass mm \t1 x 150
Drive units high-frequency mm \t1 x 25
Crossover frequencies, Hz \t2200
Finishes \tBlack cabinet with silver aluminium covers
Dimensions (H x W x D) \t30 x 19 x 27 cm
T+A Ks300
Coincident Triumph
hrg 18,5jt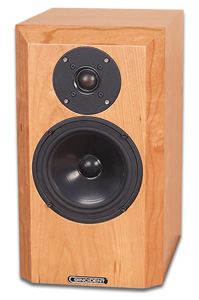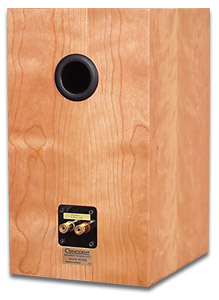 Spesification:
Frequency Response: 45Hz - 35Khz
Impedance: Flat 8 ohms
Sensitivity: 94 db @ 1M-1Watt
Power Requirements: 3 watts - 200 watts
Dimensions: 16" H x 9" W x 11.5 " D
Weight: 28 lbs.
Price: $2599 US/pr.
Harbeth P3esr
Transducer system \t2-way: Harbeth 110mm RADIAL2™ mid/bass; 19mm Ferro-cooled tweeter with HexGrille.
Freq. response \t75Hz - 20kHz +/-3dB free space, 1m with grille on with smooth off-axis response.
Impedance \t6 ohms – easy to drive.
Sensivity \t83.5db/1W/1m
Amp. suggestion \tWorks with a wide range of amplifiers, ideally from 15W/channel.
Power handling \t50W programme
Connector \tTwo 4mm gold-plated binding posts for wires or plugs
Dimensions (hxwxd) \t306 x 189 x 202 mm (inl. grille and terminals)
Finish \tCherry, black ash, maple, rosewood, eucalyptus.
Space needs \tIdeally > 0.30m from rear wall
Stands \tTypically 24+ inches
Weight \t6.3kg each (without packing)
Packing \tOne matched pair per protective carton
Barang baru. Hrg 19.25jt
Berminat hub 08161187408
Usher Dancer Mini Two
Brg baru, hrg 37,5jt
with Diamond Tweeter