Permisi gan... Silakan diliat2, dipilih2 mobilnya trus langsung pesan ke:
[SIZE="4"][COLOR="Blue"]021 99978760 (call only) / 085711277779 (call & sms).

[CENTER]

PERSEDIAAN BARANG & HARGA AKAN TERUS DIUPDATE. LANGSUNG CEK KE SINI YA: [url]www.rafishop.com[/url]






[FONT="Comic Sans MS"]Yg ini RC Car gan.... Keren-keren loh... Silakan dilihat2, dipilih2 trus diorder deh...



[B]1:10 DRIFT V-MAX TURBO (SANZUAN) full 4WD, Rp 280.000
Bisa diisi 2 batterei, jadi 2 kecepatan (cepat & cepaaat sekali)
Klik foto untuk model2 mobil yang lain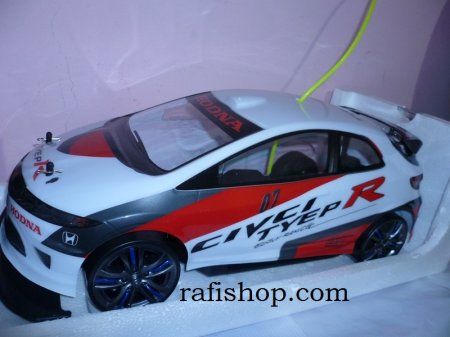 (www.rafishop.com)




1:10 RC DRIFT full 4WD Sanzuan, Rp 270.000


Klik foto untuk model2 mobil yang lain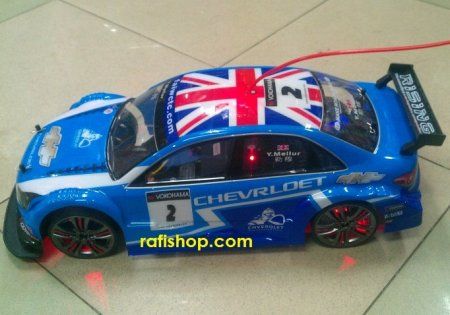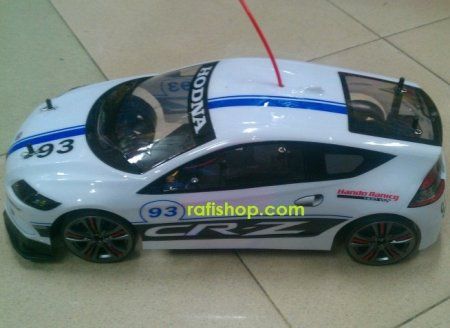 (www.rafishop.com)





1:10 RC RACING DRIFT full 4WD NQD, Rp 280.000.


Mobil-mobil RC model lain silahkan KLIK foto:


CAMARO


(www.rafishop.com)
Seri Drift Racing 4WD
skala 1:10

Real drift mobil balap remote control!
Anda dapat menjadi ahli balab Drifting
Teknologi Japan, dinamo gold
Remote control distance up to 50m
The 4WD chassis with it's true 4 Wheel Shaft-Drive System
Maximum speed up to 18km/h
High speed racing motor
rechargeable Ni-Cd 9,6V battary include

Packet include:
mobil,
remote,
antena,
4 ban drift,
charger,
batterei Ni-Cd 9,6V,
batterei remote 9V
1:10 NITRO Race For Speed 2WD; FERRARI, Harga: 240.000



(www.rafishop.com)
1:10 RC AMPHIBIOUS POWER, Rp 425.000

(www.rafishop.com)
1:10 RC AMPHIBIOUS POWER
BISA DI DARAT & DI AIR
AMPHIBIOUS CAR
WORK IN WATER & LAND

Goes on floor, dirt, pavement, ice, snow, water, sand, land, grassland.
A boat in the water, a car on the land
High power, double motor design
Goes on fresh water (pool, pond or lake, not salt/sea/ocean water)
True amphibious vehicle. Rear rubber wheels

Battery: 9V NiMH/ NiCd
Charging time: 4 hours
Working time: 20 minutes
Size: 40x25x22 cm
Box size: 50x27x25 cm ==> Berat kirim= 6kg
Package include: mobil, remote, antena, battery, battery remote, charger, manual book

Features:
The marine car, by applying 4x4 drive, can run on land, grassland, snow land, beach, water. With a anti shock frame, you may use it easily. When you move back suddenly when the car is running forward, fantastic scene, in which the car stands on the 3 back wheels and the 2 front wheels in the air. On the contrary, the car stands on the 2front wheels and the 2 back in the air. If you are skillful enough, you can spin the car clockwise or anticlockwise 360".

ROCK CRAWLER KING
OFF ROAD 4WHEEL DRIVE
Rp 300.000


[URL="http://www.rafishop.com/product/39/489/ROCK-CRAWLER-KING-OFF-ROAD-4WD/?o=default#/image-product/img1064-1337239889.jpg"]


(www.rafishop.com)

[/URL]
Ready To Run
NQD (Newqida)
1/12th Scale Electric 4WD
The 4WD Chassis With it's True 4 Wheel Shaft-Drive System
Rechargable 6v Battery Included
Quick Spek:
Required to Complete (Kit Version)
Class: 1/12th Scale Electric 4WD Rock Crawler
Type: Chasis Kit Electric
Motor: 280 Type
Battery: 6V Ni-Cd Battery Pack
Control Distance: Over 60m
Body: PVC Suction
Likes
Performance and ability
Articulate suspension
Cool selection of options

Get Crawling Fast and Easy
Makes getting right into crawling simple and fun with the excellent Crawler King ready to run truck kit!
With its tall Rock Grabber tyres, heavy beadlock wheels, super-narrow chassis, front-mounted battery and motor, full-time 4WD and locked gearboxes, you will be king of the mountain!
Crawling allows you attempt the impossible by attacking near-vertical cliffs, slick rock faces and piles of mountain rubble!
Super Climber (mini RC Car), Rp 150.000


Wah, mobilnya keren banget... bisa nempel & jalan di dinding kayak cicak...



(www.rafishop.com)
1:14 Drift The Racing 4WD (Four wheel drive). Rp 175.000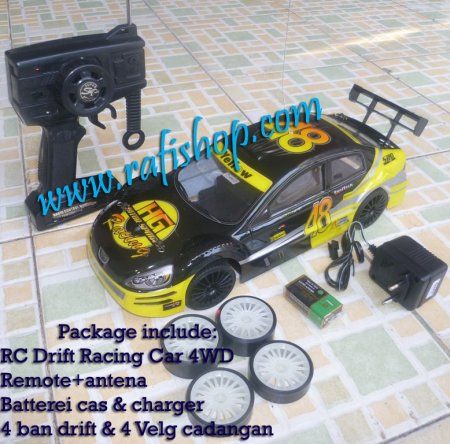 (www.rafishop.com)
ACROBATIC CAR: X STUNT, BEN 10, DINO. Rp 155.000


(www.rafishop.com)
Spoiler for Spesifikasi Acrobatic Car:
RC Car: 1/8 BIG FOOT MANIC, Rp 500.000

JUNGLE RESCUE RC CAR, Rp 450.000






RACER CAR 2 SPEED 1:10, Rp 260.000





[B]

FORMULA-1 (2WD), Rp 180.000






R/C MAX 4WD Big Foot, Harga Spesial: 200.000




Spoiler for Foto lain MAX:
Lanjut ke bawah Gan.........