Kondisi Barang : -
Harga : Rp. 2.750.000
Lokasi Seller : -
SALE EPSON LQ 2180 DOTMATRIX GARANSI 1 THN (Service & Parts) 100% NEW PI !!!MURAH BGT, HARGA PROJECT !!!!
- Printing Metho
d
Copy capability Original + 4copies, Buffer memory 64 Kb , Copy capability Original + 4copies, Buffer memory 64 Kb , Pixel Resolutions Max.24 million lines Print Speed BlackHigh Speed Draft 480 cps (10 cpi), Draft 360 cps (10 cpi), LQ 120 cps (10 cpi) Print Speed Colorn/a InterfaceStandard Bi-directional parallel interface Monthly Usage Volume1000 pages Ink Catridge Blackribbon Ink Catridge Colorn/a OS CompabilityPC & Mac
Dus, Kartu Garansi Resmi 1 Tahun Distributor Store, Barang SEGEL !!
Price : Rp.2,800,000,-!! (NEGO FOR QUANTITY)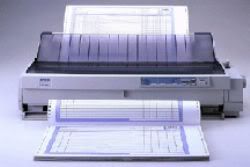 Kalo ada yang berminat mengambil quantity boleh Nego lagi dech....
Apabila ada masalah barang yang bergaransi boleh langsung menghubungi Service Center tiap product-product diatas sesuai ketentuan Warranty Card, atau Contact Kami, kami siap menjemput dan mengecek langsung unit yang bermasalah tanpe di kenakan biaya .
*Free Biaya Kirim Jakarta Only.
*Pembayaran : C.O.D / Transfer / Cek Tunai.
*Pembayaran Term Of Payment After PO ( Khusus Perusahaan-Perusahaan Besar / telah di Survey oleh Team kami.)
Apabila ada yang kurang jelas mengenai informasi, seperti : speak, merk dan harga, anda dapat mengubungi :
Phone : +62 21 70105334
HP : + 62 812 1021223
YM : urhylaso
email :
urhy@hotmail.com
/ cc :
urhylaso@yahoo.com
Lapak sebelumnya :
http://www.kaskus.co.id/showthread.php?t=1014246
http://www.kaskus.co.id/showthread.php?t=1208604
Testi RECOMMENDED :
Quote:
Original Posted By Joe1MA ►
Misterius top dech
recomendedd seller
Quote:
Original Posted By habsis ►
maaf nich baru sempet kasih testi buat bos...

saya beli sony vaio, ke bos misterius.. karena harganya yang mantap....
saat pemesanan barang lumayan cepat...
dengan follow up (recommended bgt), karena driver vaio hanya menyediakan vista, bos misterius mencarikan untuk yang XP
driver lengkap...


tanpa basa - basi.. RECOMMENDED SELLER

lain kali kalo beli.. dapet bonus yach bos... sukses...
Quote:
Original Posted By mrr3e ►
bro,barang udah gw terima,barang masih muluzzzz 99.9999%...

RECOMENDED SELLER!!!
Quote:
Original Posted By blexfabian ►
gw kasih testi disini aje ye bos...
barang udh diterima bos...kondisi pun ok bgt...kelengkapan sesuai
( kalo ada ape2 lsg gw claim ye selama msh dlm garansi )
tnx...
RECOMMENDED SELLER you are
Quote:
Original Posted By sinbad2007 ►
Gan....barang sudah di terima...... kelengkapan ok... ni lagi di test ...mudah2 an mulus2 aje.....

so far i can say the misterius guy is a RECOMMENDED SELLER


Quote:
Original Posted By kayta ►
Bos, server Dell T300 sudah di ane lengkap dengan tambahan LCD, HD 1 tera, memory, dll.

Barang dipesan jum'at sore dan berhubung sudah telat, barang ane ambil ke gudang. Seller sangat membantu.

Intinya: misterius = Recommended Seller
Quote:
Original Posted By tank-bustaz ►
halo bro ury, sorry lupa kasi testi,
buka kaskus berat banget pake koneksi 3G

baru beli printer ini sama si bro, lalu dipake agak problem pita tintanya gak mau narik,
terus aku lapor ke bro ini, langsung diganti yang baru lagi, mesinnya pun diganti baru

PENANGANAN CEPAT BEGITU ADA KOMPLEN,
BERTANGGUNG JAWAB DAN GAK BERTELE-TELE, RECOMMENDED SELLER DAHHHH, AAAAAAAAAAAAA+++++++++

kalo sis mau beli2 lagi diskon lohhh yah hehehe

*Gan, Klo ada yang sudah pernah Order dan Merasa Puas, jangan lupa minta Cendol dan Testi nya yach?!!
: