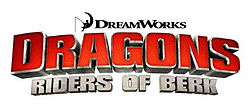 Studio - Dreamworks
Watch in Cartoon Network
Quote:
After Hiccup Horrorendous Haddock III discovered dragons could be trained, the island of Berk appeared to be safe, untill its residents realized how many dragons that's actually there! Now the only option is to train them all!

Through their training, the kids are finding out the cool things dragons can do. Not only will they learn more about their dragons, they'll also discover new ones and battle against enemies as they explore worlds they never dreamed existed.Also, the relationships between Hiccup and Stoick, Toothless, and Astrid.
Quote:

Settingnya setelah di Movie. Hiccup menemukan cara untuk menjinakkan dan melatih Naga pada Movienya, Pulau Berk menjadi aman dari perang berkepanjangan dengan Naga (untuk saat ini).

Hiccup beserta teman-temannya Astrid, Fishlegs, Snotface dan si kembar Ruffnut dan Tuffnut menemukan hal-hal menarik yang dapat Naga lakukan. Tetapi mereka menemukan bahwa Naga tidak terbatas pada jenis yang telah mereka temukan. Terdapat jenis Naga Lainnya selain Naga sekitar Pulau Berk, dan Naga tersebut tidak sejinak Naga-naga yang telah mereka lihat selama ini. Nantikan kisahnya di Dragons: Riders of Berk
--------------------
WHAT IS THIS?
Spoiler for Apa itu How To Train Your Dragon?:
Spoiler for Apa Itu Dragons: Riders of Berk?:


-------------------------
TRAILER



-------------------------


CHARACTER INTRO - WITH THEIR DRAGONS
Spoiler for Hiccup Horrendous Haddock III - Toothless the Night Fury:
Spoiler for Astrid Hofferson - Stormfly the Deadly Neddler:
Spoiler for Snotface Snotlout - Hookfang the Monstrous Nightmare:
Spoiler for Fishlegs Ingerman - Meatlug the Gronckle :
Spoiler for Ruffnut and Tuffnut Thorston - Barf and Belch the Hideous Zippleback: