Quote:
INFO ABOUT BOOK 2 "SPIRIT"
Quote:


(TIDAK MEMBACA RULES ADALAH KESALAHAN ANDA)

-Rules subforum TV berlaku juga di sini-
-Gunakan tag spoiler selama 3 hari (minggu s/d selasa) untuk komentar episode terbaru-
-Gunakan tag spoiler untuk prediksi episode mendatang (rules umum subforum TV)-
-Dilarang beriklan, silakan ke FJB bila ingin berjualan-
-Dilarang tanya pertanyaan umum tak berguna (seperti: "kapan episode baru?", "ada subtitlenya gak?", "kapan ada di Indonesia?", "nungguin pahe", dan semacamnya)-
-Dilarang one liner (contoh: "ijin download gan", dll.)-

KONSEKUENSI
+1 Bata dari TS & Kaskuser yang mengetahui pelanggaran rules
(harap tuliskan komentar pelanggaran waktu memberi Bata.)

TIDAK ADA PENGECUALIAN
(termasuk jika TS yang melanggar rules)
Quote:


The Legend of Korra is an American television series set in the Avatar universe as a spin-off of Avatar: The Last Airbender. The new series will take place seventy years after the end of the Avatar: The Last Airbender story arc with new characters and settings. The protagonist of the new series, Korra, the Avatar after Aang, is a hot-headed and rebellious young woman from the Southern Water Tribe who is "ready to take on the world". The series will follow Korra as she faces an anti-bender revolt while mastering the art of airbending from Aang and Katara's son, Tenzin.
Quote:
The Legend of Korra @ Facebook
The Legend of Korra @ Nick.com
Korranation @ Tumblr
Avatar @ Wikia.com
Quote:
■

-Waterbender

■

-Earthbender

■

-Firebender

■

-Airbender

■

-Nonbender/Unknown
Korra
(Janet Varney)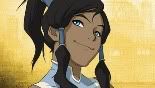 She is the Avatar immediately succeeding Aang and the main protagonist of the series. She is a talented bender, eager to learn. Hotheaded and rebellious, Korra relishes her role as "The Chosen One".She also has a polar bear dog named Naga as her animal guide.



Mako




(David Faustino)




He is a firebender who grew up on the streets of Republic City with his younger brother Bolin, who introduces him to Korra. Tall, lean, and handsome, he is a skilled participant in pro-bending and the captain of the Fire Ferrets, of which Korra and Bolin are members.



Bolin




(P.J. Byrne)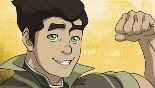 He is an earthbender who, along with his brother Mako, becomes friends with Korra. He shares a deep bond with his brother and keeps a fire ferret named Pabu. Bolin is enthusiastic and optimistic and, as a pro-bender, enjoys all the attention he receives from his girl fans.



Tenzin




(J.K. Simmons)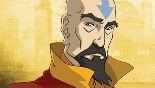 He is the youngest son of Aang and Katara and an airbending master. A calm and serious man, he carries a great burden to protect not only Korra, but also Republic City. Tenzin resides on Air Temple Island with his pregnant wife, Pema, and his three children, Jinora, Ikki, and Meelo.



Amon




(Steve Blum)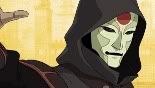 He is the charismatic and mysterious leader of the Equalists, whose ultimate goal is to create equality through an anti-bending revolution. He wears a mask to conceal his face. A nimble and stealthy fighter, Amon is fearless in facing his opponents, regardless of their bending skills.